Gathering and implementing mobile customer feedback is the best way to truly understand how you can improve your mobile experience, but approaching your feedback strategy can be tougher than it seems.
In this post we are talking about all things mobile customer feedback: 
The importance of gathering mobile customer feedback

How to gather mobile app feedback 

Tips to get better in-app feedback
The importance of gathering mobile customer feedback
1. Your Customers Expect to be Heard
Data shows that customers expect to be interacted with, and those interactions heavily influence retention. 51% of consumers expect companies to ask them for feedback directly, which may explain why the volume of feedback is low for companies who don't bother asking.
Not only do customers expect it, it's also a strategic investment. Unprompted, companies typically only hear from ~1% of their customers. Through proactive engagement and creating customer feedback loops, our customers had an average response rate of 13 percent for their in-app surveys.  In turn, our customers are able to be more dollar efficient, can better prioritize product planning, and can expand their loyal segment of customers through listening and responding.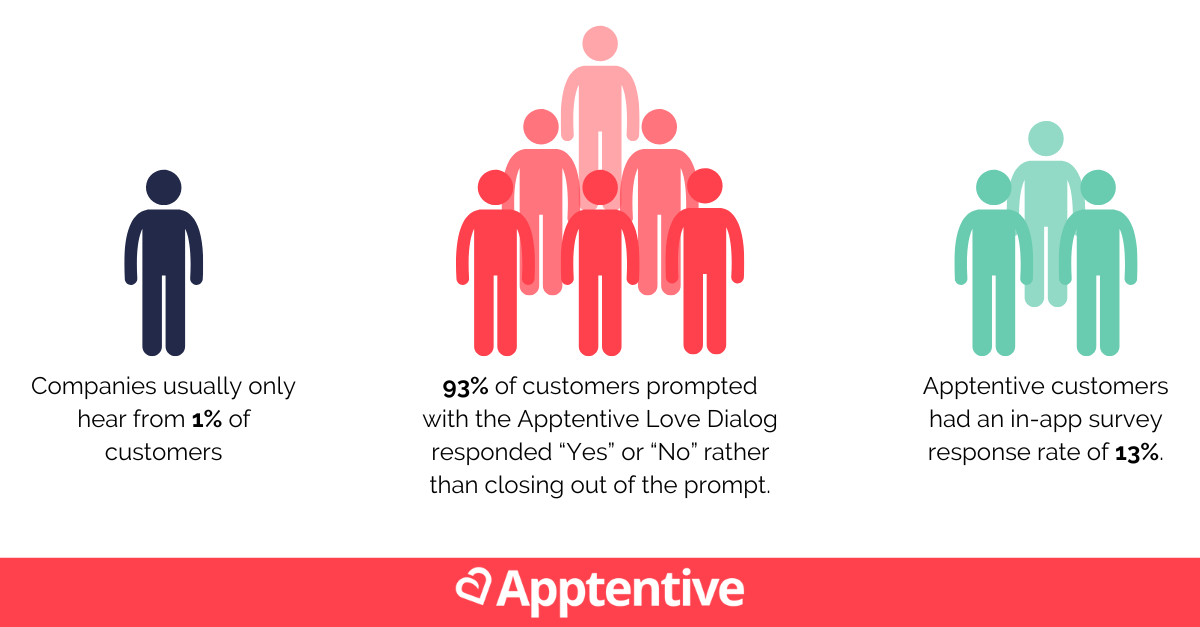 Data from 2022 Mobile Customer Engagement Benchmark Report
2. Knowing When to Ask for Feedback is Tough
When it comes to timing, let the experts help. Encouraging feedback is about starting a conversation with a customer, but the most important component is asking for feedback at the right moment in order to give conversations the best opportunity to begin. For example, mobile devices can be more personal than desktop devices as they are kept with people all the time, so the "right moment" in a mobile experience will look different than it would on a desktop, tablet, or other connected device.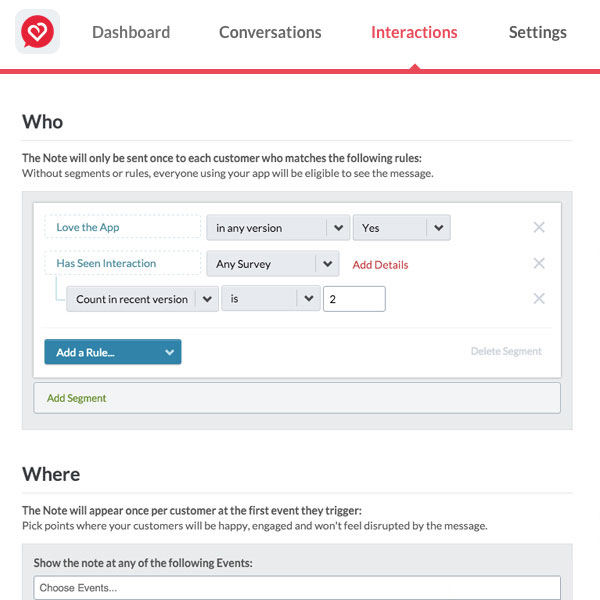 This snapshot from Alchemer Mobile (formerly Apptentive) Notes shows the intricacies of asking for customer feedback at the right time.
It's crucial to understand your customer journey and to pick out the best communication points within your app's experiences (e.g. after a customer has completed a purchase, if they view a certain page, when they complete a level, etc.) to find the right time to ask for feedback. 
3. Feedback Should Drive Your Product Roadmap
Thinking about feedback and new feature development in the context of identifying your fans first, and then learning from them, is an accelerant to roadmap development. A positive outcome of identifying your fans is identifying the people who are most likely to say great things about you and who've already raised their hand and said, "We love this brand."
Consider using surveys to gather feedback on a new feature, open-ended text fields to learn more about your customers' engagement experiences, or proactively reach out with messages to encourage customers to engage. The insights you gather should inform your product roadmap and rally your development team around a single point: the customer. If you allow customers to help you prioritize, you can bet you'll be closer to delivering a great experience than you would be doing it on your own.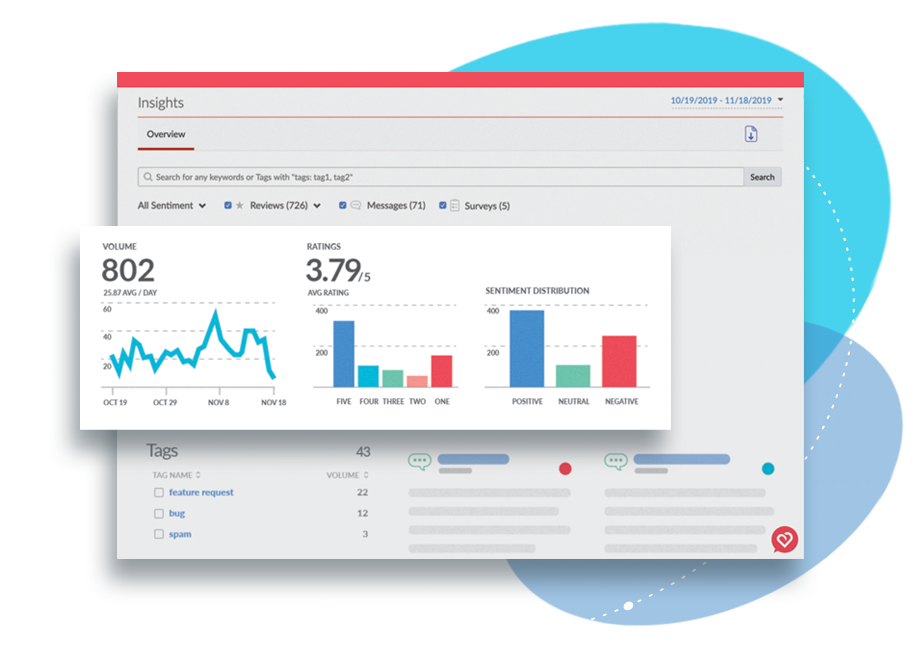 This snapshot from Alchemer Mobile (formerly Apptentive) Insights shows feedback that helps brands drive their product roadmaps.
4. Being Proactive Helps Loyal Customers Deepen Their Relationships
Loyal customers are in a league of their own. If a customer says, "I'm a huge fan. What you're doing is great. You allow me to complete the task I came to complete, and I enjoy using your app," that's the best case scenario. Building loyalty may not be easy, but it's always worth it, especially as loyal customers have a very different path that you can take them on.
The best way to give your customers a positive experience? Communication. Reach out, engage them, and make them feel valued. And in fact, we've found that simply interacting with customers, proactively and respectfully, can increase three-month retention by as much as 400%.
How to gather mobile app feedback
There are systems and tools you can set up quickly and easily to get the most out of customer feedback such as:
In-app surveys

NPS+

Love Dialog

Rating prompts

Message centers
In-app surveys
Fun fact: The number of surveys sent in 2021 increased by 12% year-over-year.
There's a reason why surveys are so popular: Companies can collect and analyze both quantitative and qualitative feedback from customers. Mobile surveys can also be powerful in understanding customer sentiment. When it comes to mobile, short surveys with specific asks (like feedback on a new feature) are effective and efficient.

In addition to content, the timing of surveys is critical. A survey that interrupts a customer's in-app experience usually does more harm than good. For example, you wouldn't want to send a survey right when someone is about to check out because it might distract them from the ultimate goal of making a purchase.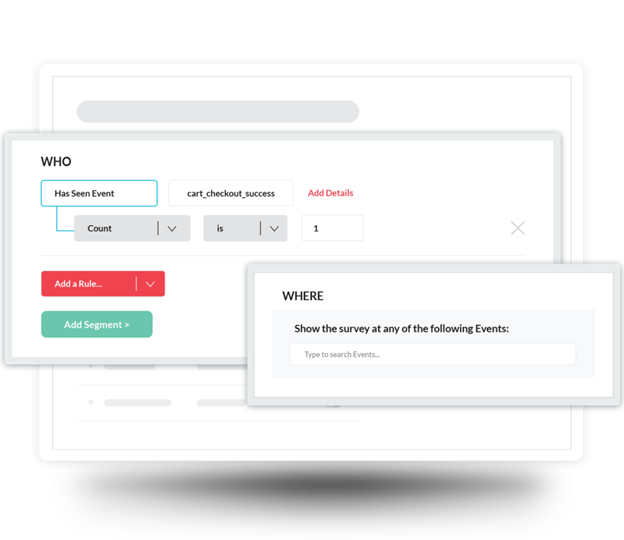 NPS+
We know NPS will never go away. Too many companies rely on this metric, and we acknowledge that for many of you reading this right now, your performance is often measured on NPS. We absolutely think there's value in having one metric that gives you a pulse on your entire customer experience. The problem is that the world is different today than it was when NPS began. Most companies are only hearing from less than one percent of their customer base, which can be dangerous.
Today, everyone has their mobile phone in their pocket at all times, and people are more accessible than ever. You have a unique opportunity to gather much more valuable and actionable customer feedback if you evolve NPS to NPS+.
NPS+ is the simple solution our team devised to meet our customers' needs while still sticking to our beliefs about actionable customer feedback. The goal of a Net Promoter Score-type survey should be to determine the path necessary to change detractors, neutral customers, and even promoters to strong brand advocates. NPS+ does just that.
By simply asking customers, "Why did you choose this score?" after the traditional rating question and allowing customers to provide unstructured feedback, we have helped companies to contextualize the NPS score and to understand where their customers think they're doing well and where they need to improve — and made the survey valuable and relevant for the end customer.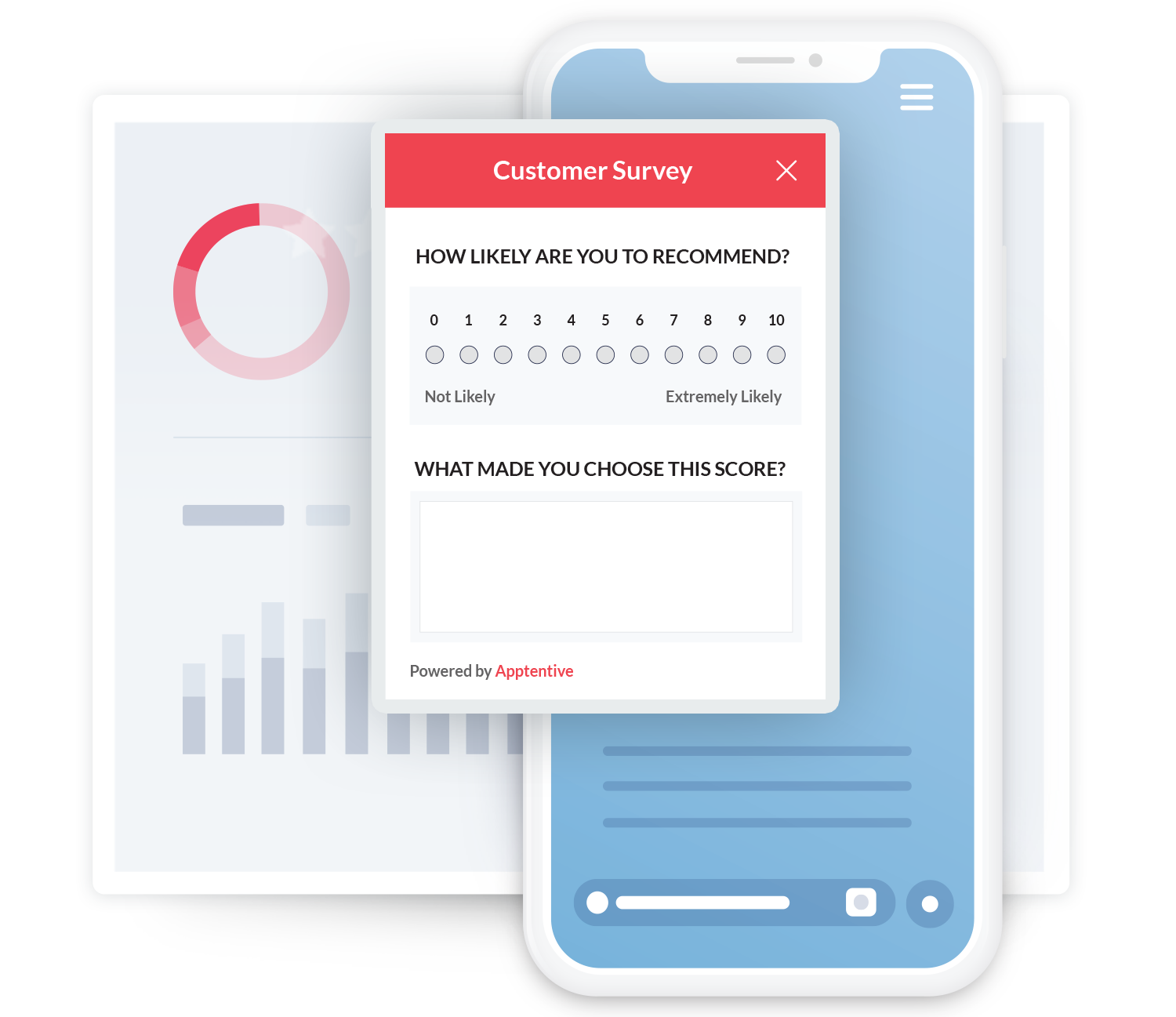 The Alchemer Mobile (formerly Apptentive) Love Dialog
The Alchemer Mobile (formerly Apptentive) Love Dialog is a unique way to gauge customer emotion in the moment. Our Ratings Prompts help you understand how customers feel about your app by asking a simple question: "Do you love our company?" The answer to this question can then help you understand where people fall in terms of sentiment.
If customers don't express satisfaction for your app and answer "No" to the Love Dialog, you have an opportunity to gain valuable feedback on the issues encountered, mitigate any problems, and turn the experience into something they DO love.
Ratings prompts
One of the few places customers give feedback is in the app stores in the form of ratings and reviews. If you have a low star rating in the app store, that's indicative of one (or both) of the following: There's an issue in the app that needs fixing and/or you're not getting your biggest fans into the app store. In fact, most brands only hear feedback from about one percent of their customers.
In order to overcome this challenge, you should implement a tool that prompts the right people at the right time to leave a review at the app store. Not only will you be able to capture the feedback of more happy customers (and therefore improving your app store rating) but you'll also be able to hear from more people who would have otherwise remained silent (we call this the silent majority).
By selecting the appropriate people to prompt, it ensures that happy customers rate your app publicly, while unhappy customers give you direct, actionable feedback.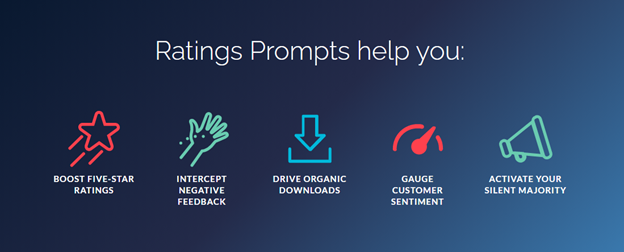 Message center
When customers experience an issue, have feedback, or need a fast response, it is essential to have a channel through which they can easily contact you. A message center provides a two-way conversation channel to do just that.
As we mentioned in the section above, you can set up your mobile feedback system so that unhappy customers are directed to your message center rather than the app store. This also eliminates friction for the customer because if they need help at that moment, they don't need to go searching for where to submit feedback, send an email, or take any extra steps to get help.
When you capture the right people at the right time and redirect them to the most efficient communication channel, you're improving the mobile customer experience.
Tips to get better mobile customer feedback
1. MEET THE CUSTOMER WHERE THEY ARE
All too often, brands require customers to leave the mobile app when a question or problem arises. If the customer is using your mobile app, give them a way to provide you feedback directly from the app. Don't disrupt their experience by sending them out of the app to a webpage or to email or Twitter. A disrupted experience typically leads to less action, which means there's a high likelihood you're left with a frustrated customer and no feedback.
2. BE PROACTIVE
Solicit feedback proactively by messaging your app's customers at an opportune time, or at the right mobile moment, with a message showing you care about their experience and opinions. Even if the customer does not currently have feedback, prompting keeps your internal feedback loop top-of-mind with customers. That way, the next time they do have an issue with your app, they'll remember that they can communicate those issues directly with your team—rather than the route of impersonal and indirect app store reviews.
3. BUILD A TWO-WAY FEEDBACK LOOP
Effective feedback loops should be a frictionless part of the customer experience and designed in a way that resonates with the needs of a mobile customer: quick, non-intrusive, and optimized for mobile screens. To see this optimization in action, consider how you prefer to communicate on mobile.
If you're anything like us, you prefer texting to calling, don't like to write out long responses on a mobile device, prefer to answer in short-hand, and expect any requests on your time, such as survey requests, to be cognizant of your time.
The result is a mobile-optimized feedback loop, a communication channel specifically designed with your mobile customer in mind. These channels (often manifesting in feedback forms, in-app surveys, and two-way messaging) can be built into any app or effortlessly integrated with a mobile communications tool like Alchemer Mobile (formerly Apptentive).
4. RESPOND TO CUSTOMER FEEDBACK
Once a customer does provide feedback, let them know that it's valued! Customers should know that their feedback isn't go into a black hole. Take the time to respond to each customer who leaves feedback. Regardless of whether the feedback is positive or negative, recognize it for what it is—a gift—and give thanks.
If the app feedback contains a suggestion or bug report, let the customer know where this issue stands in your roadmap. And once that issue has been fixed or that suggestion has been implemented, reach back out to inform the customer of the impact their feedback made.
5. ACT ON FEEDBACK
Use your app's feedback to continually improve your product. Regardless of whether the feedback is positive or negative, recognize it for what it is—a gift—and give thanks. Customer feedback provides publishers with pre-validated ideas to fix or improve their apps. These insights should inform your product roadmap and rally your development team around a single point: the customer.
Conclusion
I'm going to take a wild guess and assume that at this point, you understand the importance of mobile in-app feedback and you're itching to get started if you haven't already. Incorporating these mobile feedback tools and strategies will drive more engagement, gather higher-quality customer feedback, and help inform your product roadmap.
If you are interested in seeing how Alchemer Mobile (formerly Apptentive) can help you collect critical customer feedback on mobile, request an Alchemer Mobile (formerly Apptentive) product demo!