Customers want to be heard. Product feedback is the ideal way to hear from specific customers and understand their needs before they move to one of your competitors. Proactively gathering feedback allows you to quickly identify and solve their pain points. Here's how to better collect and act on product feedback from your customers.
What is product feedback?
Product feedback is any kind of qualitative or quantitative feedback from customers about your product or experience. This feedback can be left on message boards, on social media, in app store reviews, through online surveys, and more.
Why product feedback matters
When brands proactively solicit feedback from customers, they're able to better identify pain points and eliminate friction faster.
Product feedback helps brands:
Better understand the customer journey
Create products and release features customers want
Continuously iterate and improve upon existing products
Quickly identify issues within the product and customer experience as a whole
Improves customer relationships and retention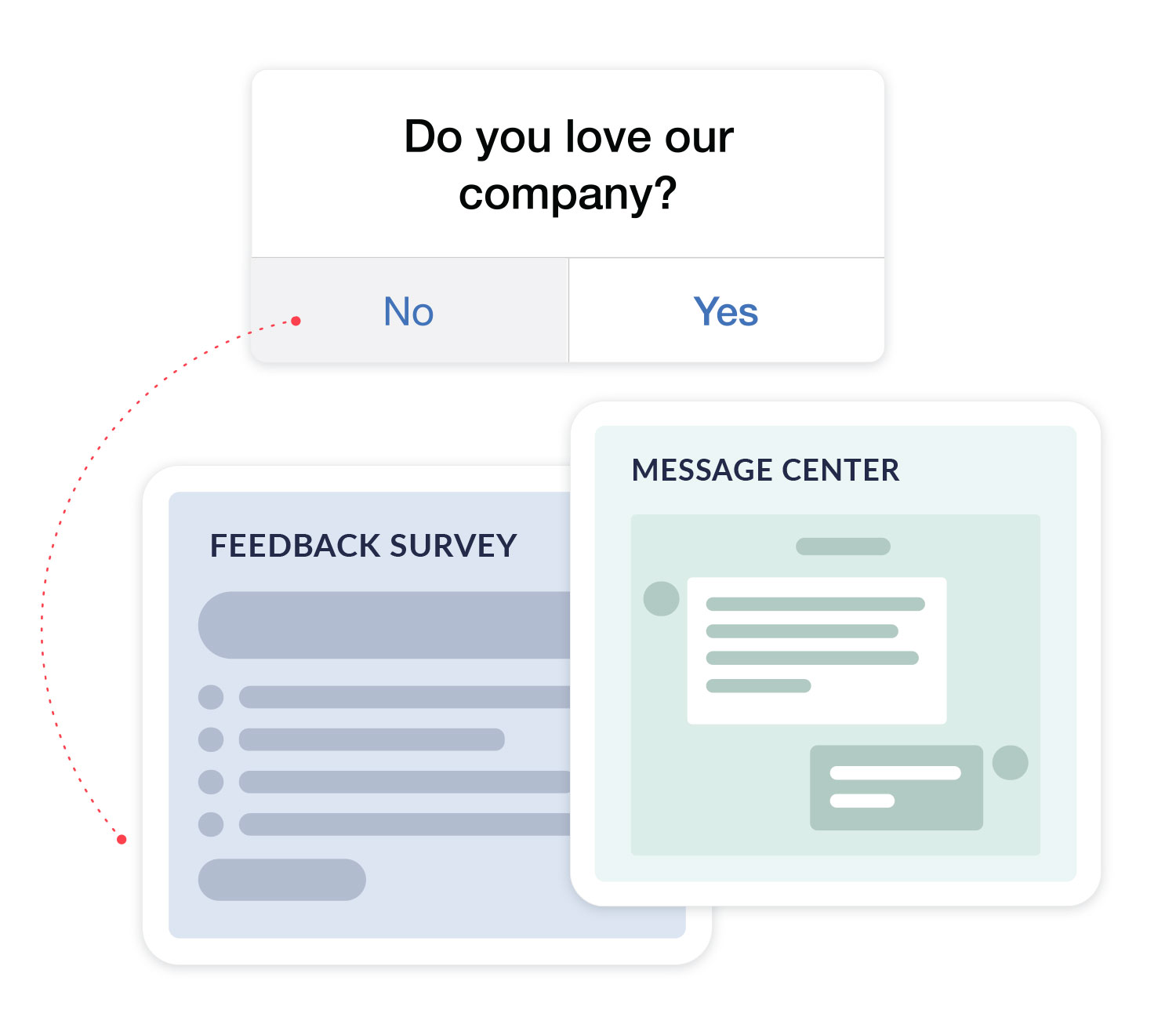 7 ways to collect and act on product feedback
Ask the right questions…
Do you know how your customers feel about your app or website? What about a particular feature you are planning to roll out or have rolled out? How do you know which feature will have the biggest impact on your customers?
To answer these questions and more, you must start by asking yourself two questions:
What do I want feedback on? Perhaps you're looking for feedback on a specific product feature like login or the mobile order and pay experience.
What kind of feedback do I want? For example, do you want strictly quantitative feedback like NPS? Or are you looking for more qualitative feedback where you'd benefit from an open-ended answer box?
If done right, asking the right questions can take the guesswork out of your mobile strategy. These answers provide a mechanism for dissecting a customer's experience with your app and gives them a voice to express suggestions and critiques. In turn, insights can be used to re-shape your customer experience landscape.
…to the right consumers
At Alchemer Mobile (formerly Apptentive), we talk a lot about targeting the right customers at the right time and in the right places because it's important to create a seamless customer experience. Understanding the mobile customer journey and mapping it out is critical for achieving this goal. If you can identify different points in the customer journey where it makes sense to ask for certain feedback, you can then target that specific cohort without interrupting their experience or creating more friction.  
Run in-app surveys
In-app surveys are an incredibly powerful tool for conducting mobile research and improving mobile product roadmaps. And fun fact: The number of surveys sent in 2020 increased by 50% year-over-year (Alchemer Mobile (formerly Apptentive) 2021 Benchmark Report).
There's a reason why surveys are so popular: Companies can collect and analyze both quantitative and qualitative feedback from customers. Mobile surveys can also be powerful in understanding customer sentiment. When it comes to mobile, short surveys with specific asks (like feedback on a new feature) are effective and efficient.
In addition to content, the timing of surveys is critical. A survey that interrupts a customer's in-app experience usually does more harm than good. For example, you wouldn't want to send a survey right when someone is about to check out because it might distract them from the ultimate goal of making a purchase.
Determine NPS+
NPS will never go away. Too many companies rely on this metric, and we acknowledge that for many of you reading this right now, your performance is often measured on NPS. We absolutely think there's value in having one metric that gives you a pulse on your entire customer experience. The problem is that the world is different today than it was when NPS began, and in its current form, NPS is broken.
Today, everyone has their mobile phone in their pocket at all times, and people are more accessible than ever. You have a unique opportunity to gather much more valuable and actionable customer feedback if you evolve NPS to NPS+.
NPS+ is the simple solution our team devised to meet our customers' needs while still sticking to our beliefs about actionable customer feedback. The goal of a Net Promoter Score-type survey should be to determine the path necessary to change detractors, neutral customers, and even promoters to strong brand advocates. NPS+ does just that. By simply asking customers, "Why did you choose this score?" after the traditional rating question and allowing customers to provide unstructured feedback, we have helped companies to contextualize the NPS score and to understand where their customers think they're doing well and where they need to improve—and made the survey valuable and relevant for the end customer.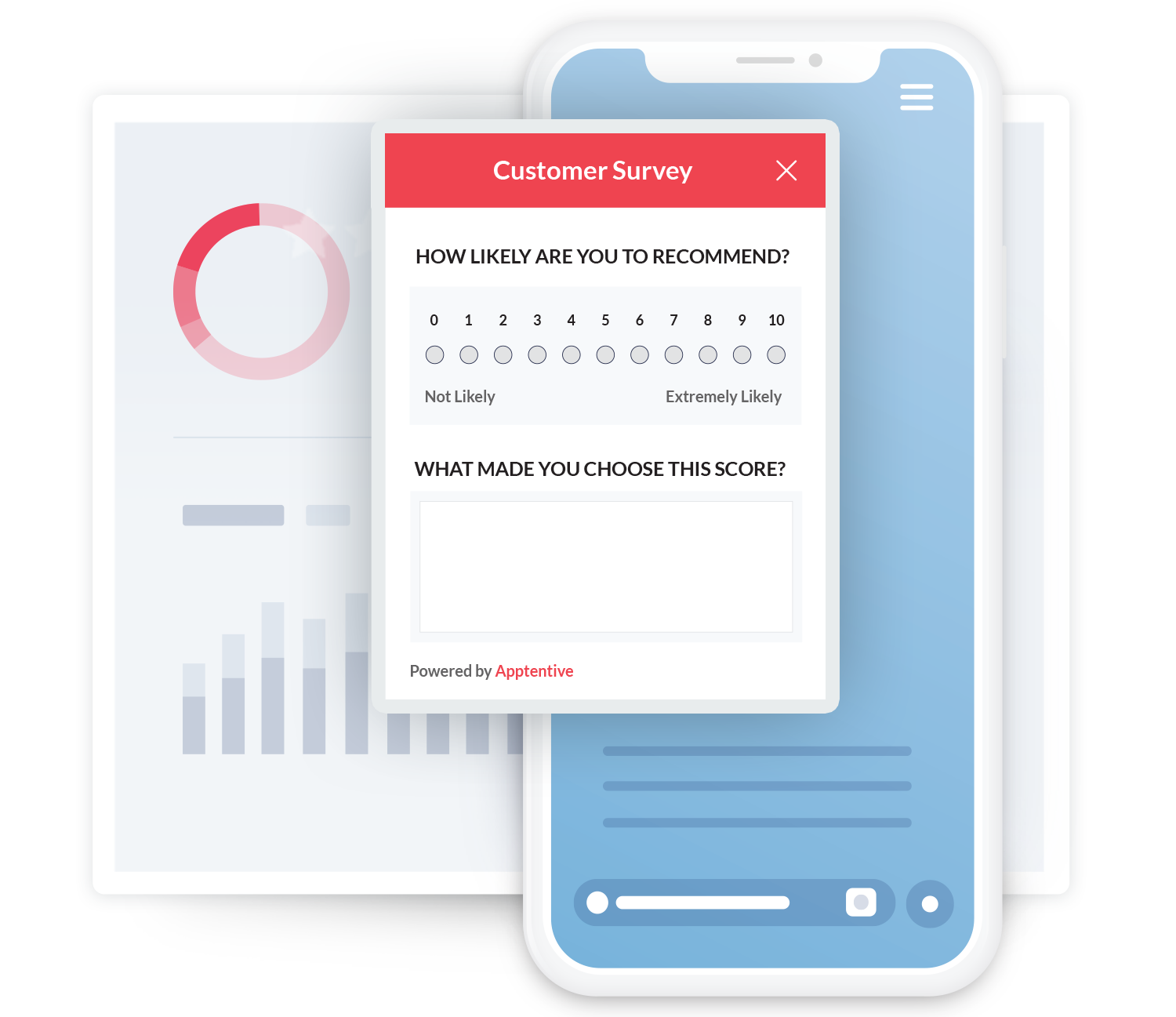 Keep a consistent pulse on feedback
Understanding true customer sentiment to drive product feedback can only be done by keeping a consistent pulse on how your customers feel about their experiences. This doesn't mean checking in once in a while; it requires checking in regularly in a proactive manner.
The Alchemer Mobile (formerly Apptentive) Love Dialog is a unique way to gauge customer emotion in the moment by asking a simple question: "Do you love our company?" The answer to this question can then help you understand where people fall in terms of sentiment. If customers don't express satisfaction for your app and answer "No" to the Love Dialog, you have an opportunity to gain valuable feedback on the issues encountered, mitigate any problems, and turn the experience into something they DO love.
Leverage two-way communication channels
When customers experience an issue, have feedback, or need a fast response, it is essential to have a channel through which they can easily contact you. A message center provides a two-way conversation channel to do just that.
You can set up your mobile feedback system so that unhappy customers are directed to your message center rather than the app store. This also eliminates friction for the customer because if they need help at that moment, they don't need to go searching for where to submit feedback, send an email, or take any extra steps to get help.
When you capture the right people at the right time and redirect them to the most efficient communication channel, you're improving the mobile customer experience.
Integrate what you learn into your product roadmap
What good is feedback if you don't use it to make data-driven decisions? It's not enough to just collect customer feedback and let it sit – you must analyze and act on it. It may seem obvious, but far too many businesses collect customer feedback and then let it sit.
A very easy way to use customer feedback is to continually improve your product. Customer feedback provides publishers with pre-validated ideas to fix or improve their experiences. These insights should inform your product roadmap and rally your development team around a single, centric point: the customer.
---
Ultimately, analyzing product feedback looks different for every business depending on what questions are asked and where it's collected. But regardless of the what and the where, the feedback you collect is only as good as how you process it.