From our favorite retailers to our favorite restaurants, today's customers place great value on every interaction they have with a brand. Whether they visit a storefront, see a Facebook ad, or download a mobile app, each interaction is a make-or-break opportunity for a brand to drive lasting customer loyalty—or to lose the customer forever—based on how well they've anticipated customer needs.
When it comes to mobile customer experience, the expectations people have for the exchange is just as high as they have for all other engagement points, and in some cases, much higher. But mobile requires an entirely new set of rules and best practices to help shape a strong customer experience, including channels and opportunities that don't exist in the desktop world.
This post shares eight tips to help reshape your mobile customer experience around customer centricity, and ultimately, to help you drive lasting customer loyalty.
1. Turn customer centricity into action
Companies hoping to stay relevant and competitive through mobile channels need to ruthlessly incorporate the customer into their decisions. This requires changing customer centricity from a theoretical discussion into an action. The only way to get your team to take action on customer centricity is to make sure they have access to information that allows them to make informed decisions, not guesses.
The list of sources to get information on the customer is long, and includes customer surveys, ratings and reviews, past purchasing behavior, favorited items, etc. But to make the best decisions, your team should have explicit data that has come directly from customers' mouths (surveys, ratings and reviews, etc.) as well as from implicit data (favorited items, past purchasing behavior, etc.).
The point is, your team needs data points in order to make customer-centric decisions. Guessing what the customer wants and acting on it is not customer-centric behavior. Guessing does a disservice to both your team and your customers by wasting everyone's time prioritizing the wrong tasks and increasing the potential for a disjointed customer experience.
2. Identify your fans
Another way companies can improve their mobile customer experience is by identifying and activating their fans. For example, Amazon has figured out how to identify who their fans are—Prime members and Echo owners—and they also know that their fans spend more than the average customer. On average, Echo owners spend $1,700 a year on Amazon and Prime members spend $1,300 a year. That's compared to the $1,000 spent on average by Amazon customers who aren't "fans."
Your fans are the customers you can test new features on, collect feedback, and iterate on the product before releasing to everyone. We make it easy to identify your fans with our Love Dialog, which boasts a 91% response rate.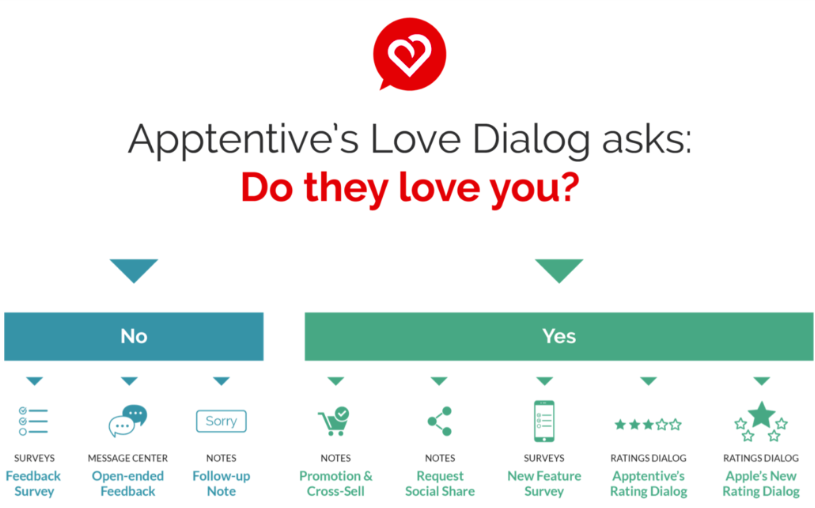 Once you know who your fans are, you can collect invaluable feedback on specific moments in their customer journey using micro-surveys, send them reminders to use their soon-to-expire coupons with Notes, and more. Your fans are your most valuable customers, so knowing who they are is key. From there, you can ensure they know you care about them as a customer, keep them invested in your brand, and create innovative new offerings that will make their experience even better.
3. Use customer feedback to prioritize your product roadmap
Using customer feedback to prioritize your product roadmap might seem like an obvious strategy, but very few companies actually do it. Your customers expect you to ask them for feedback, so there is a massive opportunity to essentially have an insurance policy on your roadmap, and to ultimately improve their experience.
With in-app surveys, you can collect clear data points about which features to prioritize. Take Alchemer Mobile (formerly Apptentive) customer Erika Engelsby's story for example:
When Erika worked as a Product manager for Starbucks, her team felt fairly confident that Starbucks customers wanted to be able to order and pay via the mobile app. To help them prove the demand for this feature before expending resources to build it, they used Alchemer Mobile (formerly Apptentive)'s in-app surveys to ask customers how important mobile order and pay was to them.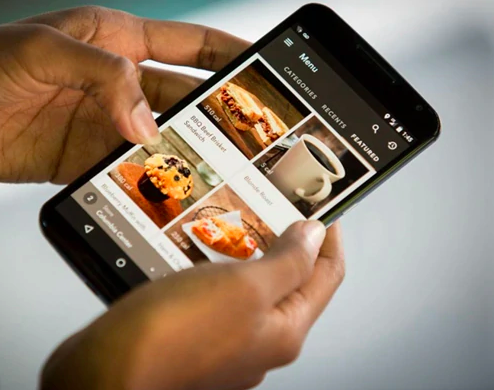 In the span of a week, they received a large volume of responses that were overwhelmingly in favor of building mobile order and pay. Not only was her team able to prove customers wanted this feature, they were able to get substantial feedback on the MVP. With that data in hand, they were able to get buy-in from the leadership team. As a result, mobile order and pay was prioritized and delivered two quarters earlier than originally planned.
The ability to quickly gather a lot of feedback frequently allowed them to prove out their future product roadmap and built trust that they were going in the direction customers wanted.
4. Personalize experiences for your customers
Not only does personalized engagement create an exceptional customer experience, it also significantly increases the amount of time customers spend in your app. Customers who are proactively engaged with are four times as likely to use your app after three months.
The context in which messages are delivered to customers, or rather, finding the right "mobile moment," is everything. The way we use mobile apps, and even the way we keep our devices on our person during most of our waking hours, have opened the door for deep personalization opportunities. But what happens when a mobile experience is handled incorrectly by a brand and comes off as disruptive rather than helpful? That is what we call the wrong mobile moment.
Finding the right mobile moment looks different for every brand as the placement, timing, and customer segment the in-app message is intended for will vary due to endless variables. To start, think about the in-app message you're sending to figure out timing and placement. If the message is proactive, it should occur after customers take a high-value action within your app (like completing a purchase or a level) rather than in the middle of an action. If you're asking customers to leave feedback through a survey, it should occur at a non-disruptive moment rather than interrupting the action the customer came to take.
By identifying who to talk to and where in the app to talk to them, you can elevate your mobile customer experience by avoiding annoying, impersonal, irrelevant messages.
5. Give customers a voice by being proactive
Did you know customers expect you to ask them for feedback directly? 51% of consumers reported they expect companies to ask for their feedback across all channels (email, phone, in-store, online, in-app); that number is even higher for consumers who prefer to leave feedback in-app (64%).
The best part? App customers are very willing to give feedback; 98% said they're likely to do so when asked. The key is to be proactive.
To start, you must measure what percentage of customers you hear from. The more customers you receive feedback from, the more cohesive and customer-centric your product can become.
Mobile app customers are hard-pressed to leave feedback in any form, and the wall between customers, publishers, and the app stores makes it all-too-easy to forget that there are real people on both ends of the app. Most brands today may think they build products around their customers, but in reality, they only hear from less than 1% of their customer base, which we call the "vocal minority." That means about 99% of their customers are in the "silent majority" and not being put at the center of their product roadmap.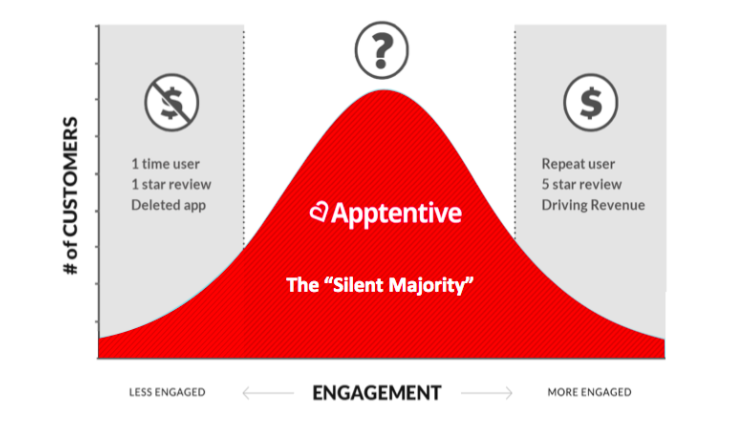 If you're not proactively asking for feedback, you're leaving an opportunity on the table to keep your finger on the pulse of your app customers, improve customer happiness, and increase your bottom line.
6. Make mobile shopping ultra-convenient
Convenience has become a commodity and has moved from 'nice-to-have' to 'need-to-have.' There are several ways to make shopping more convenient for your customers.
To start, implementing mobile payment options is a must for eCommerce companies working to improve their mobile customer experience. Mobile payments streamline the checkout process by removing the need to pull out credit cards, loyalty cards, coupons, and more. Take two retail giants for example: Kohl's and Nordstrom.
Kohl's has created a robust mobile payment feature that allows customers to scan once to pay, activate their discounts, and earn loyalty points.
Nordstrom doesn't have their own mobile wallet like Kohl's, but they have implemented fingerprint checkout in their app. The ability to save your payment information and scan your fingerprint to buy your items is ultra-convenient—and maybe a little dangerous for those of us who like to shop too much.
In both examples, the ease of mobile purchasing increases dramatically for customers, ultimately providing them with an improved mobile customer experience.
7. Measure success
Executing a strategy to improve your mobile customer experience is the first part of the battle, but measuring success is equally important. You'll never know how much progress you've made if you aren't tracking along the way.
How can you measure the effectiveness of your app's customer experience? Consider the following six metrics (and read our post on the topic for deeper explanations of each):
Use an app analytics tool to report regularly on metrics like number of downloads, app usage, lifetime value, retention, MAU, DAU, ARPU, and more
Gather in-app feedback (as detailed above) for more detailed sentiment explanations
Keep track of (and respond to!) app ratings and reviews
Understand user sessions by looking at average session length, frequency of sessions, bounce rate of various pages, and activity per sessions
Look at detailed customer demographic data to better understand usage patterns
Track customer sentiment through NPS
8. Do your research and continue learning
The amount of content created around improving mobile customer experience can be overwhelming to digest, but it's crucial to continue learning from the experts in the field to keep your CX in tip-top shape.
To make it easier for you to find the best tips around, we put together a detailed list of our top 10 customer experience-focused resources so you can learn from others who put customers at the heart of their digital mobile experience. Below is the quick-list of our favorites, but we certainly recommend reading the entire piece through.
Looking for more tips to help improve your mobile customer experience? Leave your thoughts and/or questions in the comments below to get the conversation started.