While customer acquisition, ratings and reviews, and social proof are the most externally visible success indicators for your brand, customer retention is an integral part of the health of your organization. Even if we're just talking about a mobile app in the grand scheme of a much larger company, customer retention is a major health indicator and can provide valuable insight into the overall customer experience.
Let's dive into it.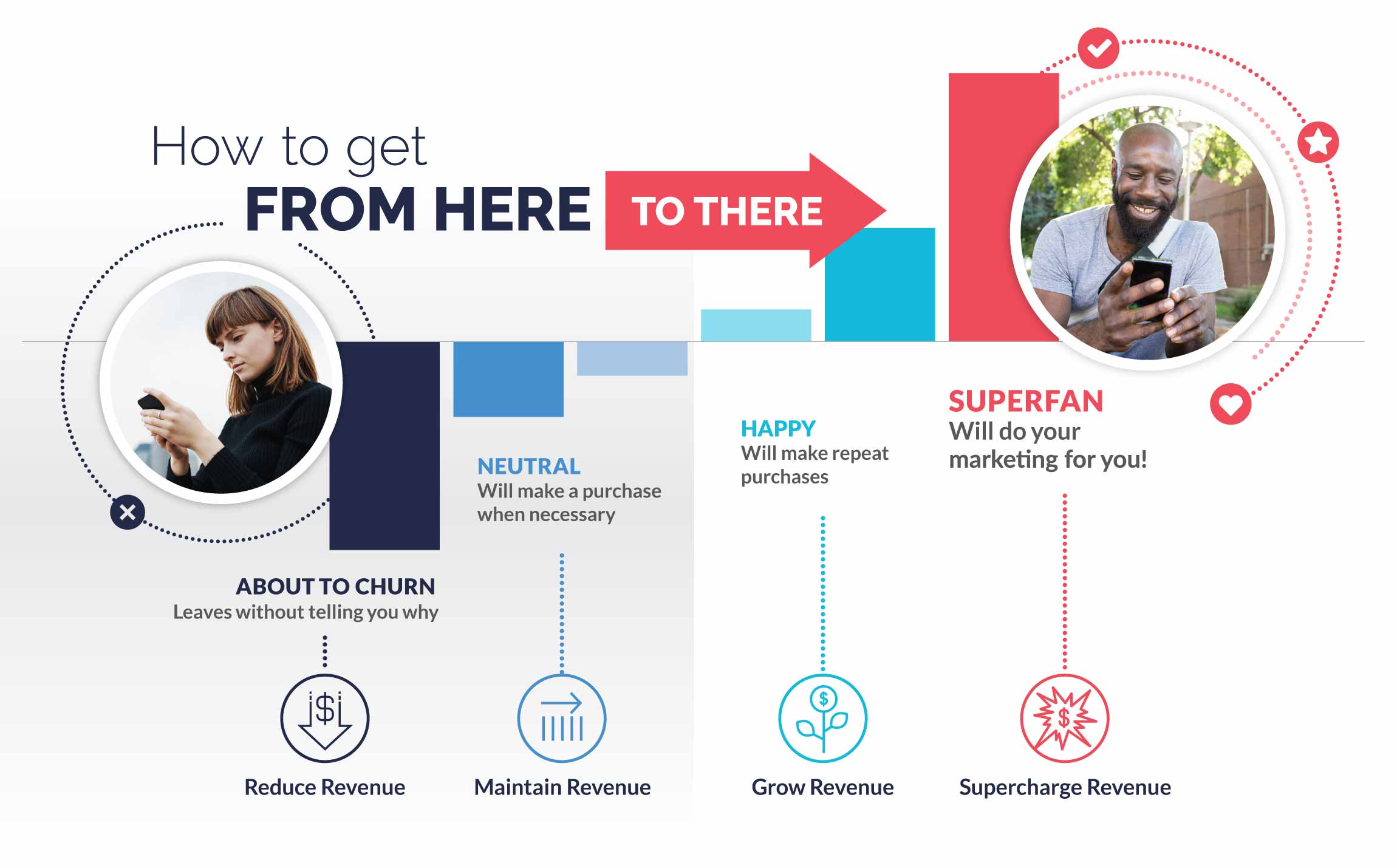 Customer retention definition
Customer retention refers to a brand's ability to convert customers from one-time buyers to repeat purchasers. Higher retention rates means less customers jumping ship to spend money with your competitors. Retention rates are an indicator of whether or not your product or service is high-quality and valuable.
The importance of customer retention
In general, retaining customers tends to cost less than acquiring new ones and offers additional benefits through improving overall lifetime value. App retention can also be used as a trust signal around how well your brand knows its customers.
Product teams: Customer retention matters to product managers because it's generally directly related to their mobile app experience. People uninstall apps because they're buggy, don't work as expected, have poor design, or are missing features. Without a feedback system in place, product managers won't receive this feedback before it's too late. But if they collect and analyze mobile feedback on a regular basis, they can proactively solve issues and make positive changes before customers jump ship. When customers stick around for a while, it also gives product teams the unique opportunity to seek feedback and track the behavior of the same customers over time. This can give deeper insight into the mobile customer journey and help identify what keeps loyal customers happy.
Marketing teams: The value of customer retention is much more directly tied to ROI for marketers. When customers are happy and stay active on the app, it gives marketers an opportunity to activate those fans to essentially do marketing for them. Retargeting the happiest customers who are the most loyal and directing them to the app store can improve ratings and reviews, and therefore impact customer acquisition as well. When retention is high, marketing teams can constantly keep a pulse on brand sentiment and customer happiness. This gives insight into the overall brand image and customer experience, furthering the ability to manage brand reputation. When marketing teams proactively gather feedback from customers, they can better understand the least and most favorite things about the brand and therefore help inform marketing strategy accordingly.
Strategies to improve customer retention
Activate fans to amplify your brand: Increase customer retention by increasing the volume of authentic five-star ratings and improving the quality of your reviews. Use your most loyal fans to drive customer acquisition and do your marketing for you.
Precisely target the right people at the right time and place: In-app targeting and segmentation allows you to get the right message to the right people at the right time. Prompt happy customers for reviews, and resolve issues directly with unhappy customers.
Get more out of CSAT and NPS: Augment customer NPS data with customer sentiment and track changes down to the individual level. Knowing the 'why' behind your NPS score can help you understand the necessary changes needed to keep customers happy – and therefore keep them around longer.
Measure and analyze your online reputation: Pinpoint trends, changes, and themes in your online reviews and mobile surveys to help better understand the customer experience in real-time. When changes happen, intervene quickly before customers churn.
Create a loyalty program: According to RetailMeNot, approximately 80 percent of customers are more loyal to brands that offer rewards programs and 70 percent are more likely to participate in a loyalty program if they can access it through their mobile device. Develop a loyalty or rewards program to incentivize customers to stick around longer and therefore increase lifetime value.
Actively communicate with customers before they get a chance to churn. If a customer submits a support ticket or indicates unhappiness with your product, be sure to close the communication loop and let them know their voice was heard (and hopefully their problems were solved). Always proactively seek feedback so you can intervene before customers leave.
Give customers a voice in deciding what goes on a brand's product roadmap. This helps resource-stretched teams build features that both drive business goals and keep customers happy. It also helps customers feel heard and feel more invested in the future of your brand. When customers care and are given a voice, they're more likely to stay loyal.
Measure and act on emotion data. This allows brands to better understand customer sentiment and make changes accordingly. When you consistently keep a pulse on the customer experience, you can quickly identify when things go wrong and make any changes necessary to keep customers coming back.
To learn more about marketplace retention rates as well as retention by app category, read Alchemer Mobile (formerly Apptentive)'s 2021 Mobile App Engagement Report.
---
Ultimately, converting customers into fans is one of your greatest opportunities for improving customer retention and loyalty, as well as reducing churn. To do this, you must understand why customers feel the way they do – especially when their emotions change over time. When you accurately measure shifts in customer sentiment and the 'why' behind the churn risk, you can intervene at the right time and place before it's too late. Prevent customer churn, increase customer retention, and improve the mobile customer journey by listening to feedback.
Ready to get started? Let's chat!