Voice of the customer solutions include the process of capturing, analyzing, and acting on data about customer expectations, preferences, likes, and dislikes. 
When brands have a deep understanding of the voice of the customer (VoC), they can utilize VoC data to gauge customer sentiment, increase customer loyalty, and make better informed product decisions. 
A voice of the customer solution is more than just a recurring NPS survey. A complete VoC solution takes multiple feedback methods into account and leverages each of following four steps: 
Capture

and collect VoC data

Analyze

feedback, look for trends, and gauge sentiment 

Take action

and use VoC data to address customer wants and needs 

Close the feedback loop

and let customers know their feedback was addressed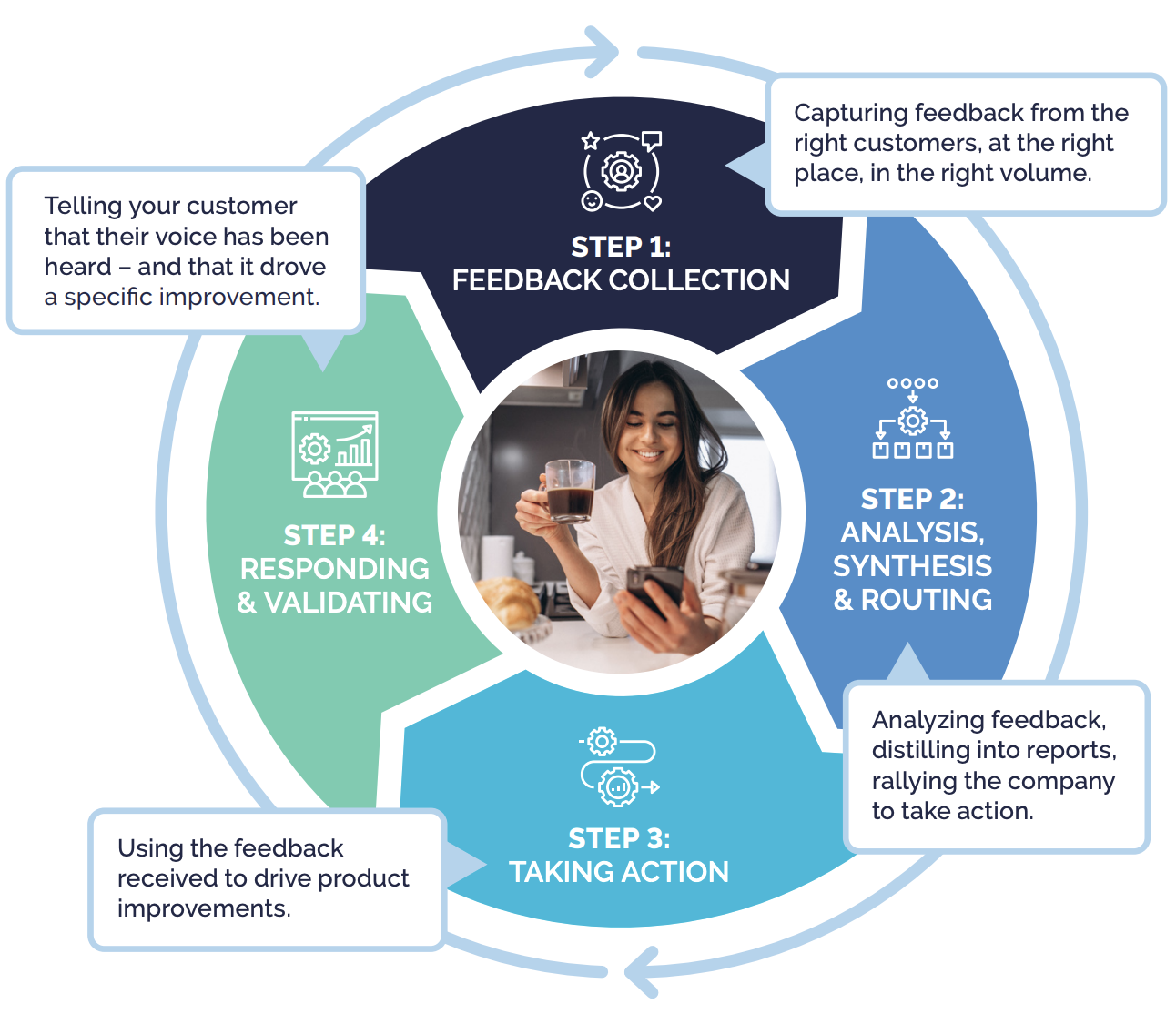 Voice of the customer solutions are becoming more prevalent, as brands see the value in a holistic approach to VoC. But some companies are already way ahead of the game. 
Let's take a look at three brands that are effectively using voice of the customer solutions!
JetBlue uses a VoC solution to inform product roadmap prioritization
Challenge: JetBlue's product roadmap approach was siloed. They set macro product goals without being able to holistically listen to the voice of the customer or address smaller issues. 
The product team at JetBlue wanted to put the entire customer voice in one channel and learn more about their customer's experience on mobile. The team wanted to use this data to identify areas for improvement and prioritize their product roadmap accordingly.

Capture
The first step in JetBlue's voice of the customer solution was to gather mobile customer feedback on their in-app booking experience and overall app experience. They first targeted people at specific moments, such as 24-hours after a booking. JetBlue used an Alchemer Mobile (formerly Apptentive) Note that asked customers to opt-in to a survey where they could ask more detailed and specific questions.
This targeted approach allowed the JetBlue team to ask specific questions to the right audience about the booking experience, ease-of-use within the app, and how likely they would be to book another flight through the app.
Analyze
With this VoC data in hand, they analyzed the results within Alchemer Mobile (formerly Apptentive)'s Insights dashboard. By putting all of their customer voices in one channel they were able to uncover trends and common themes in the customer feedback provided.
Act and close the loop
JetBlue then used these actionable insights to inform their product roadmap and take action on key areas for improvement, particularly around their mobile booking experience. Implementing a VoC solution helped JetBlue shift their focus from automatically following product roadmap milestones to incorporating customer feedback in all major product decisions. 
Using feedback to drive your product roadmap mitigates the risk of making assumptions about your customers and rallies product teams around improving customer experience.
Dunkin' gauges customer sentiment with their voice of the customer solutions
Challenge: With 631,000 monthly downloads and 15,000 menu combinations, Dunkin' is constantly releasing new and updated versions of their mobile app. The team at Dunkin' wanted to be able to gauge customer sentiment before and after these new updates were released.
Listening to the voice of the customer was critical for the product team at Dunkin' because they need to understand if each update negatively or positively impacts customer sentiment. If the impact is negative, Dunkin' wanted to be able to quickly learn why, and take action to address the change in sentiment.

Capture
Dunkin's voice of the customer solution revolved around pairing the Love Dialog with in-app surveys. With the Love Dialog, Dunkin' prompted customers with the singular question, "Do you love our app." If the customer responded "no" they then asked the customer to complete a survey on why they are having a negative experience.
Analyze
Dunkin' then used this emotional data to gauge overall sentiment after they released a new version of the app. The product team was able to quickly determine if customers liked the new update to the app and also uncover any issues that customers were having after the update.
Act and close the loop
Dunkin' could quickly address the root causes behind the customer's negative experience because they had a read on overall sentiment, along with survey data on why people were expressing negative emotion. 
For example, Dunkin' was able to identify important customer wants and preferences. They learned that customers wanted the option to select more or less ice in their coffee and the ability to select sprinkles or not. These simple requests were quickly implemented within the app and communicated to customers.
Pilot Flying J uses VoC insights to improve customer loyalty
Challenge: The Pilot Flying J team gathered the bulk of their customer feedback through app store reviews. While this qualitative feedback provided value, app store reviews generally come from the vocal minority of customers, who feel very strongly one way or the other about an app. Given this, app store reviews often fail to reflect the desires and feelings of the majority of customers.
Pilot Flying J wanted to get more feedback from their most loyal customers, not just the most vocal. The Pilot Flying J product team set a goal to build more features that aligned with what was most important to their loyal customers.

Capture
To accomplish this goal, Pilot Flying J implemented a unique voice of the customer solution that focused on collecting feedback from their brand's most loyal customers. But they first had to identify who their biggest fans were. 
The Pilot Flying J product team utilized Alchemer Mobile (formerly Apptentive)'s Fan Signals® to segment their customers based on expressed sentiment. As they captured VoC data through the Love Dialog, Fan Signals automatically segmented their customers into one of several Fan Signals groups, based on customer Love Dialog responses over time.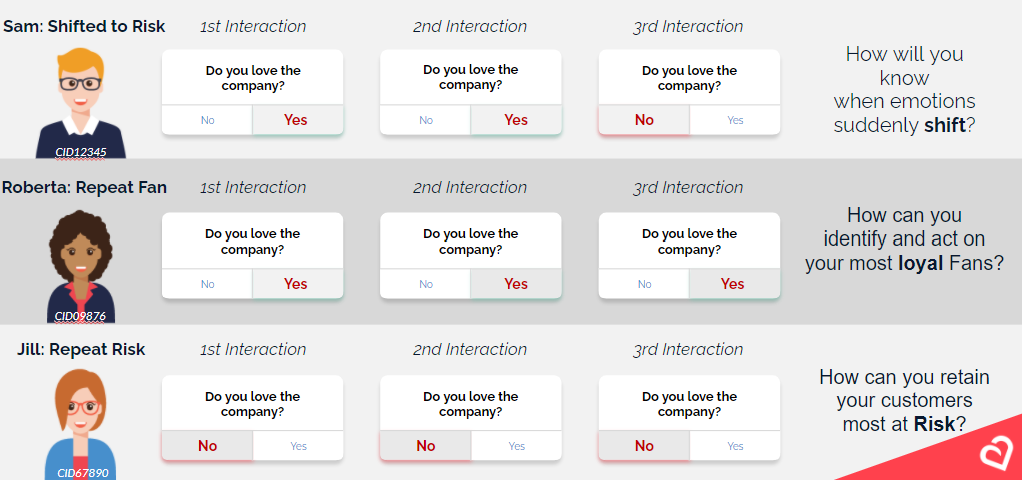 After identifying their most loyal (and happiest) customers, Pilot Flying J created a satisfaction survey to ask which actions within the app brought customers the most value.
Analyze
The product team at Pilot Flying J heard from 18,000 customers in just four weeks. The volume of survey responses was high enough to identify key themes, both from the structured and unstructured portions of the survey.
Act and close the loop
After listening to the voice of the customer, Pilot Flying J was able to isolate high-impact features that had the greatest impact on their already loyal and happy customers. These findings allowed their developers to use time more effectively and spend less time on features that customers did not prioritize. 
Pilot Flying J's VoC solution helped them maintain and grow relationships with their most loyal customers. By prioritizing feedback from already happy customers, they were able to keep them happy and promote long term customer loyalty. 
Conclusion
As you can see from these three very different examples, voice of the customer solutions look different for each brand. What matters most is that you have a system and process in place to capture, analyze, and act on the wants, preferences, and needs of your customers. 
Your customers want to be heard, so why not listen!
If you are ready to create or improve your own voice of the customer solutions, and want to see how Alchemer Mobile (formerly Apptentive) can help, request an Alchemer Mobile (formerly Apptentive) product demo!