Your customers are already on their phones – meet them where they're at through in-app feedback collection. This eliminates the amount of steps customers have to take to give you feedback, which further increases the number of people willing to give you that feedback.
In-app feedback is also immediate, so you get insight into what's happening in real-time. This allows you to quickly make changes, pivot your product roadmap, and improve the customer experience before customers move on to your competitors.
Why you should be collecting in-app feedback
In-app feedback allows you to better understand the performance and experience of your app. Product feedback is the ideal way to hear from specific customers and understand their needs before they move to one of your competitors. Proactively gathering feedback allows you to quickly identify and solve their pain points.
It allows you to have insight into the overall customer experience and larger brand perception. Many times, customers use in-app feedback channels to provide feedback not just on the app itself, but other experiences they've had with your brand (for example, their experience in-store when they picked up the coffee they ordered through the app). This deeper understanding allows you to connect the dots between your different points of contact along the customer journey, providing a more seamless and cohesive customer experience.
How app feedback benefits customers
When customers feel their feedback is both welcomed and valued, they report higher satisfaction and a greater affinity for your brand. According to a survey we conducted with app users across the United States, we found some pretty astonishing correlations between feedback and an improved customer experience:
87.8% of those who have had a company respond to their feedback report being more likely to do business with that brand.

89.2% who have had a company address and resolve a complaint indicate being left with a more positive view of the brand as a whole.
A lack of investment in gathering in-app feedback is a red flag to customers that the entire customer experience is lacking, which may deter them from becoming loyal to your brand.
How app feedback benefits revenue and product
Happy customers mean happy mobile product managers . When customers feel heard, engaged, and valued, their satisfaction grows. And when customers are satisfied, the rest of the metrics follow suit. Satisfied customers are more likely to stick around (increased retention), likelier to use your app more (increased usage and ad revenue), more willing to pay for in-app purchases (increased revenue), and more apt to share your app (increased referrals).
And all of this means a healthier bottom line.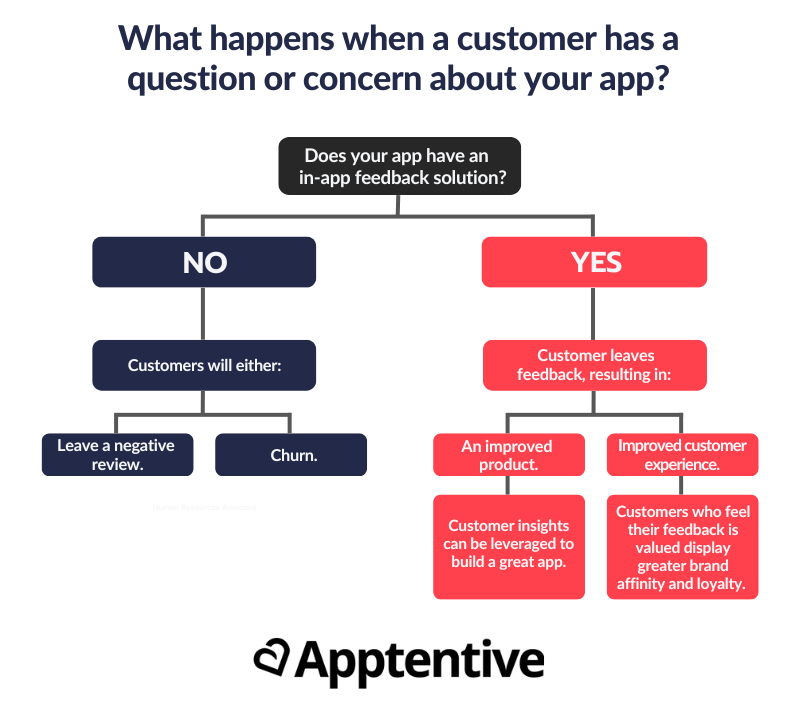 Beyond its ability to aid in customer support, app feedback has a number of other benefits, chief among which is data. Whether it's qualitative or quantitative, app feedback consists of actionable data on the wants, needs, and preferences of your audience. These, in turn, can be leveraged to guide app's next update and prioritize features and bug fixes based on customer demand.
Examples of in-app feedback collection
Cart abandonment survey
A cart abandonment survey allows you to gain insight into improving the checkout experience from those who aren't completing purchases. You should target customers who have added items to their cart, not removed items from their cart, and not completed check out.
After improvements have been made to the checkout experience, follow up with the guests who originally gave you feedback to help drive adoption and increase purchases.
For example, a large national retailer we work with recently launched a survey on their multiple iOS apps to gather feedback from purchasers immediately after checkout. This survey revealed differences in customer sentiment depending on app/brand and insight into purchaser behavior.
Some of their survey questions included:
How likely is it that you would recommend us to a friend or colleague?
What was the main purpose for using the app today?
How satisfied are you with the clarity and price of promotions?
Please tell us the most important thing we can do to improve the app.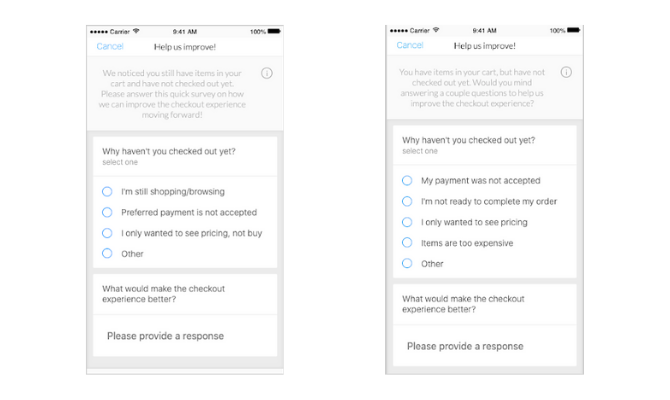 Checkout confirmation survey
This type of survey allows you to gain insight into improving the checkout experience from those who just completed a purchase. If you run this type of survey, be sure to not interrupt guests as they are attempting to add payment or complete their order. Instead, target guests immediately after they complete checkout OR are exiting the confirmation screen.
Some example survey questions:
How would you rate the checkout experience?

(Followed by): Please tell us more about why you gave us that rating

How can we improve the checkout experience?
What is your preferred payment method?
What new features would you like to see added to the checkout experience?
What new features would you like to see in the app?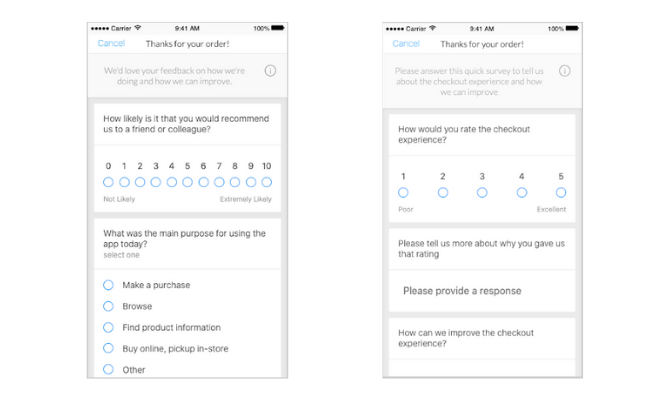 The best in-app feedback tools
In-app mobile surveys
Mobile surveys are powerful in understanding sentiment, but only if they're shown at the right place and time within the app, to the right consumer segment. Through mobile, short surveys with specific asks (like feedback on a new feature) are effective and efficient. According to our latest Benchmark Report, there was a 12% increase in the number of surveys sent in 2020 from 2021.

Ratings and reviews
One of the few places customers give feedback is in the app stores in the form of ratings and reviews. If you have a low star rating in the app store, that's indicative of one (or both) of the following: There's an issue in the app that needs fixing and/or you're not getting your biggest fans into the app store. In fact, most brands only hear feedback from about one percent of their customers. In order to overcome this challenge, you should implement a tool that prompts the right people at the right time to leave a review at the app store.
Not only will you be able to capture the feedback of more happy customers (and therefore improving your app store rating) but you'll also be able to hear from more people who would have otherwise remained silent (we call this the silent majority).
By selecting the appropriate people to prompt, it ensures that happy customers rate your app publicly, while unhappy customers give you direct, actionable feedback.
Message centers or two-way feedback portals
When customers experience an issue, have feedback, or need a fast response, it is essential to have a channel through which they can easily contact you. A message center provides a two-way conversation channel to do just that. As we mentioned in the section above, you can set up your mobile feedback system so that unhappy customers are directed to your message center rather than the app store. This also eliminates friction for the customer because if they need help at that moment, they don't need to go searching for where to submit feedback, send an email, or take any extra steps to get help.
When you capture the right people at the right time and redirect them to the most efficient communication channel, you're improving the mobile customer experience.
→Download the guide: NPS is Broken: 6 Strategies for How to Fix It
What to do with your in-app feedback
Analyze your data
It may seem obvious, but far too many businesses collect customer feedback and then let it sit. The first step to leveraging feedback as fuel for your business is to analyze it critically in order to understand what customers really want.
Analyzing feedback looks different for every business depending on what questions are asked and where it's collected. But regardless of the what and the where, the feedback you collect is only as good as how you process it.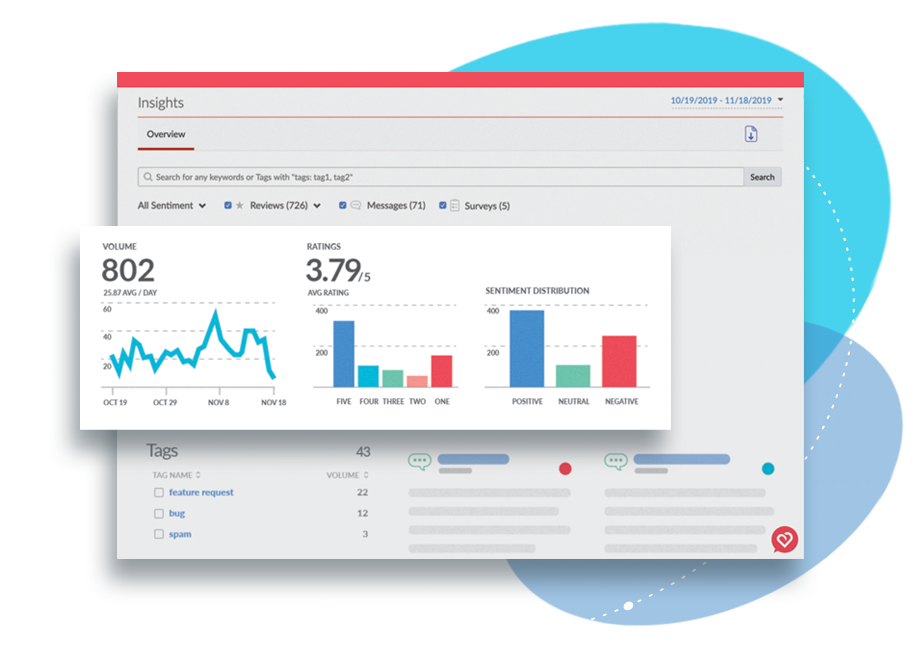 Of course, the process is smoother if you can look at all of your customer feedback in one place—especially if you are able to drill down feedback to the individual consumer level, which goes one step further than looking at customer segments. To learn more about how to tie cross-experience feedback to a central, consumer-focused point, we'd love to chat!
Share with your team
While it can be easy to assume customer feedback is owned solely by product managers, in reality, it impacts your entire organization. Marketers, product managers, customer success managers, and everyone in between can benefit from understanding what customers want, so it's important to share it with all stakeholders across your organization.
Integrate what you learn into your product roadmap
What good is feedback if you don't use it to make data-driven decisions? It's not enough to just collect customer feedback and let it sit – you must analyze and act on it. It may seem obvious, but far too many businesses collect customer feedback and then let it sit. A very easy way to use customer feedback is to continually improve your product.
Customer feedback provides publishers with pre-validated ideas to fix or improve their experiences. These insights should inform your product roadmap and rally your development team around a single, centric point: the customer.
Let feedback influence your marketing initiatives
Feedback doesn't just impact your product. Listen to customers to find ways to adjust your marketing initiatives, like running deals around certain products or time frames, adjusting language to better resonate with the group, and more.
Create closed-loop, two-way communication channels
Once a customer does provide feedback, let them know that it's valued! Customers should know that their feedback isn't going into a black hole. Regardless of whether the feedback is positive or negative, recognize it for what it is—a gift—and give thanks.
Effective feedback loops should be a frictionless part of the customer experience and designed in a way that resonates with their needs: quick, non-intrusive, and optimized for whatever device they're engaging with, especially when it comes to mobile.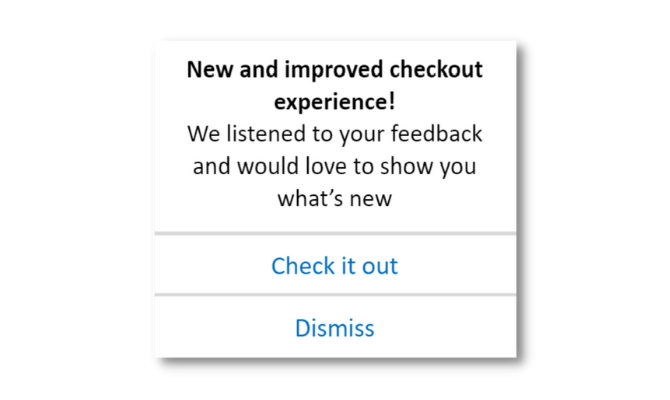 Now that you know how to collect in-app feedback and what to do with the feedback you collect, it's time to get to work!
But before you begin, always remember the golden rule: All feedback is good feedback, regardless of the medium through which it is collected. Whether the sentiment is positive or negative, feedback is insanely valuable and should always be treated as an opportunity to learn how you can make a better product for your customers.
Conclusion
It's time to start communicating with your customers where they already are: in your app. When asked for correctly, customer feedback will help improve your business by benefiting revenue, product, and data collection, but most importantly, will have a positive impact on your customers which helps drive their loyalty.
To get started, grab your free copy of The Mobile Feedback Checklist and start putting customers at the center of your mobile communication strategy.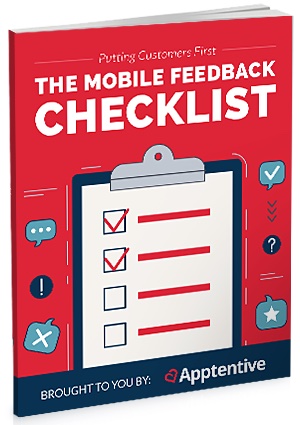 If you are ready to see how Alchemer Mobile (formerly Apptentive) can help you collect, analyze, and act on in-app feedback, request a product demo!