Early in October of 2020, the inaugural North American Customer Centricity Awards recognized those organizations delivering an outstanding customer experience. Alchemer (formerly SurveyGizmo) was a finalist in the Customer Centric Culture Category. The only technology company in the final eight.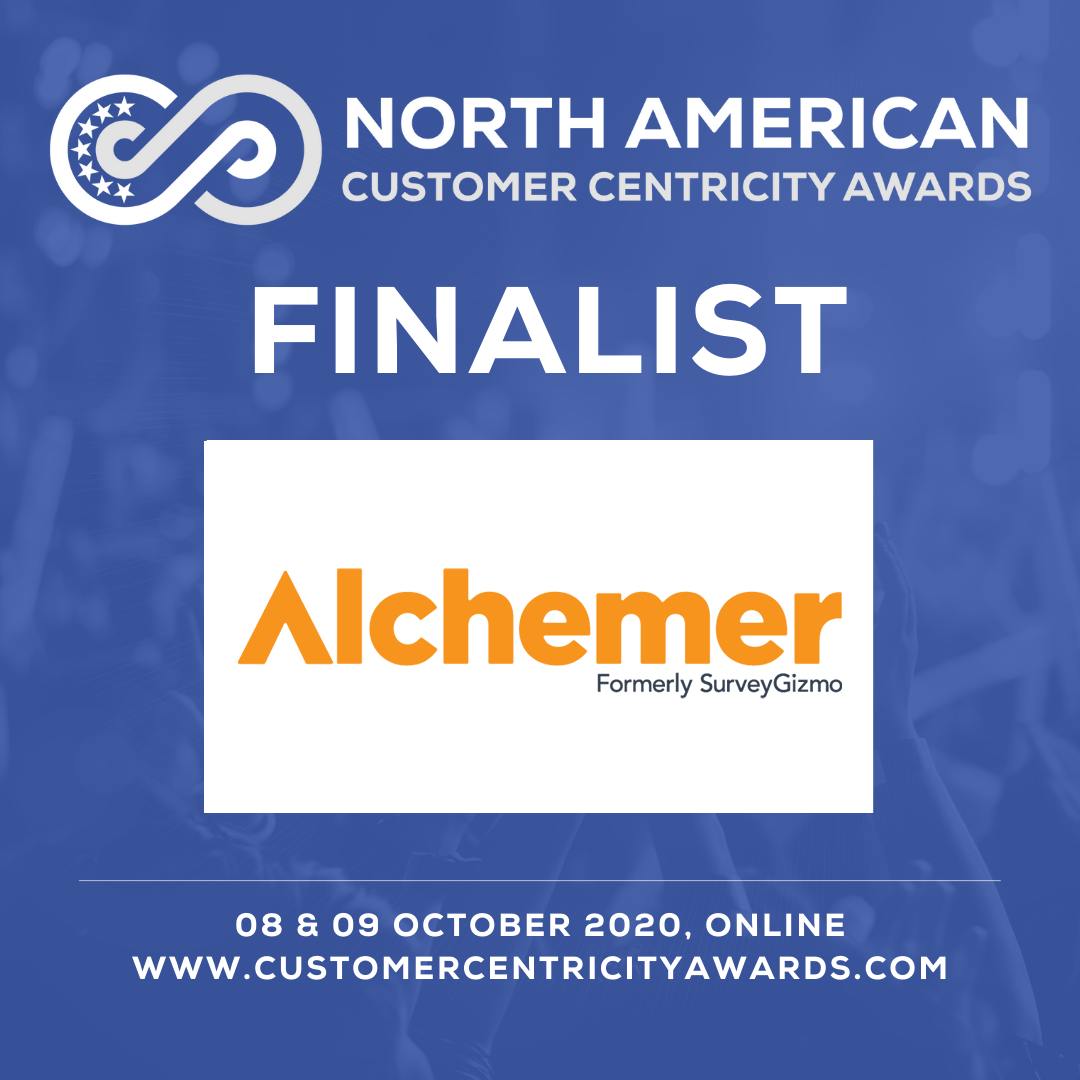 Vanessa Bagnato, Director of Enterprise Solutions for Alchemer, attended the virtual conference, so we talked to her about the experience.
Alchemer: What were your biggest takeaways from the conference?
Vanessa: I think the biggest takeaway for me was how proud I am of our customer-centric culture. I got a chance to review the other finalists' programs and submissions, and we definitely deserved to be a finalist. The Support Heroes at Alchemer have led the way in putting customers at the center of what we do. Company-wide, we focus on solving real customer challenges, and most of those come from the conversations our sales and support people have with customers every day.
Alchemer: What did you feel was missing from the conference?
Vanessa: There were a lot of great examples of successful customer-centric cultures and why companies should strive to be customer-centric, but not a lot of help for people wanting to get there. Many attendees seemed to ask questions such as, "How do you handle large amounts of customer feedback?" or, "How do you really close the loop with customers?" Nobody really talked about the processes and steps to becoming customer-centric.
The conference did a great job of getting people excited about becoming customer-centric. It also left us with an opportunity to explain how you can turn a Voice-of the Customer (VoC) program into becoming a customer-centric company.
Alchemer: Isn't having a Voice-of-the-Customer program the same as having a customer-centric culture?
Vanessa: That is one of the beliefs that many attendees had at first. But as the conference went on, those people quickly realized that VoC was just one piece of the puzzle and that one program doesn't solely make a business customer-centric. 
Alchemer: What are the other pieces?
Vanessa: It's a culture-shift, for starters. Becoming customer-centric is going to require executive sponsorship to work across functions. We looked at how we built a customer-centric culture at Alchemer, and then talked to others who are leaders in the category. All of these companies, including all of the finalists in this category, shared five common elements, that we believe make customer-centricity a reality. 
Executive sponsorship and demonstration 
An active VoC or Customer Experience (CX) program 
Intelligent feedback routing and automation 
Enterprise-wide visibility into the feedback from customers
Customer-driven decision making 
Alchemer: Can you give a brief overview of what you mean by Executive sponsorship and demonstration?
Vanessa: A change as core to the business as moving to a customer-centric culture, will need executive sponsorship because the nature of becoming customer-centric involves more than one department. The executive team needs to believe in the importance of collecting customer feedback, and they must demonstrate their belief in the system if you're to get any traction extending it throughout the organization.
Alchemer: You're saying an active VoC or CX solution is a building block to customer centricity?
Vanessa: Yes, you need to start with a means of collecting customer feedback. Once you have executive sponsorship, they'll want to start capturing the voices of your customers. The organization will put a program in place, assign ownership, and set metrics. The challenge is then putting that feedback into motion so that your customers feel that your company is making decisions based on things they say. Only then can you route that feedback automatically to the people who can act on it. 
Alchemer: What do you mean by intelligent feedback routing and automation?
Vanessa: Collecting feedback is very important, but what you do with it at that point determines the depth of how customer-centric your company truly is. Putting that feedback into the hands of the right person to take action on it is key. A low NPS or CSAT score can be remedied within minutes if somebody is notified and reaches out to the customer. This takes a certain degree of automation and routing. Intelligently automating your feedback system to automatically notify a customer service or sales rep when feedback is received, allows your team to deal with customers individually quickly. It also gives time back to your team because nobody is tasked with taking that information and determining who to send it to.
In turn, when the product is updated using that input, the feedback comes back around, and a sales rep or customer service rep can reach out to the customer to thank them for their help and show how the problem has been fixed. This restores the trust of the customer that they will be heard.
Alchemer: And this is how you create enterprise-wide visibility into the feedback from customers?
Vanessa: Exactly. When feedback is automatically routed throughout the organization, everybody can see what customers like, don't like, and don't care about. While a customer support person might deal with the initial feedback, if a product bug or problem is found, that can be routed, automatically, to engineering or development, along with the customer's exact words. At Alchemer, this means that every employee can read every piece of feedback, unfiltered by subscribing to a Slack channel.
Alchemer: Does this make the end-goal to show that your company customer-driven decision making?
Vanessa: Showing isn't really enough. To become a customer-centric company means that you bring customer feedback into all meetings and uses that feedback to drive key decisions across all departments – from product, to marketing, to sales. This leads to larger changes in the customer experience, while still having addressed their individual feedback. Studies show that even B2B customers are expecting an Amazon-like buying experience, regardless of what they're buying. The only way to build that effectively for your market is to learn what customers want and need, and then deliver on it. In other words, make decisions based on what your customers tell you.
That's what customer centricity is all about.