Build Better Voice of the Customer Programs
with Alchemer
Don't just hear from your customers – learn to delight them with Alchemer
---
Building strong Voice-of-the-Customer programs can inform decisions across every aspect of your organization. It gives your customers a voice, so they can help you build a truly customer-centric business – one that's responsive to their needs and exceeds their expectations.
Alchemer gives you everything you need to build a powerful VoC Program. With it, you can capture, analyze, and act on VoC feedback. Use customer-voice surveys to easily collect VOC feedback from customers at every stage of their journey, then infuse it into everyday operations using the systems you already have in place.
With unmatched flexibility and a robust feature set, Alchemer lets you ask the right questions at the right time. Customizable workflows, reports, and integrations allow data from your VoC program to feed initiatives across your business. Alchemer is easy to implement too. The Alchemer platform was voted the easiest to deploy by G2, with go-live times scoring 39% faster than the industry average.
Isn't it time to improve your listening skills, act faster on insights, and elevate your business? To find out how Alchemer can help you build a better Voice of the Customer program complete the form on the right or call us at 1-800-609-6480.
Learn about Voice of the Customer Programs
By accessing and using this page, you agree to the Terms of Use. Your information will never be shared.
Collect Context-Rich Feedback
With more than 40 question types and advanced survey logic, you'll put the right VoC survey in front of the right people at the right moments throughout the customer journey. From website popups to social to email, deliver a customized survey experience across all channels. Your customers will feel engaged, and the insights you gather can lead to real change across your organization.
Close the Loop Faster
With Alchemer VoC survey software plus advanced workflows, email triggers, and integrations help you close the loop quickly, elevating positive feedback while notifying the right people when negative feedback is received. And this translates into real value across the entire customer journey.
Collaborate Securely
To foster a culture of communication and collaboration, you need to build your voice-of-the-customer program to inform departments across your organization with VoC feedback.  However, not every employee needs access to all your data. With flexible security-based user, team, and role designations, you have complete control of who can build and edit collection mechanisms, modify workflows, and consume data. Alchemer has extensive security measures and privacy protocols that make it easy to be compliant with GDPR, HIPAA, PCI, and other security standards and regulations.
Visualize Your Data
Alchemer delivers data visualization capabilities that allow you to filter and segment your data by market, customer, interaction point, and more. By putting a narrative to your data, you can create voice-of-the-customer reports that enable all key stakeholders to quickly understand what they're seeing, and more importantly, how they can take action on it.
Integrate with Everyday Systems
Alchemer helps you integrate feedback into the systems that already drive your business (such as Salesforce, Service Cloud, Microsoft Dynamics, Tableau, and HubSpot). Our open API allows you to build custom integrations, so you have unlimited flexibility in data movement. By integrating great feedback into core systems, you can immediately take action on the VoC feedback you receive.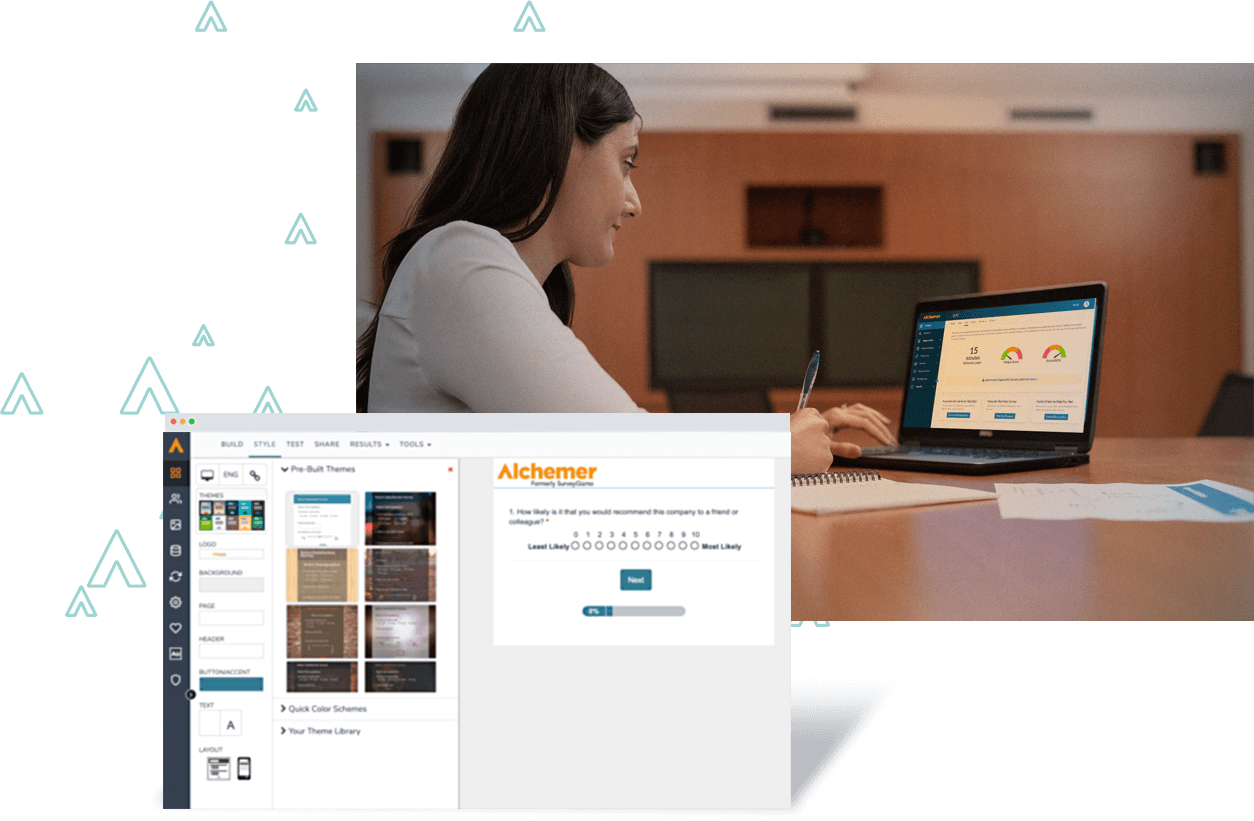 The Voice-of-the-Customer platform with all the tools you need
You probably already know what a VoC program is, why you need to have one, and the benefits that are expected to come from implementing one. Now, it's time to execute. Alchemer offers the power and flexibility to set up a VOC program that fits your unique business and customers. Alchemer supports you at all points of your VoC program execution.

To learn more, call us at 1-800-609-6480 or complete the form at the top of the page. If you want to give Alchemer a trial, click the button below.


Get your tailored solution plan
By accessing and using this page, you agree to the
Terms of Use
. Your information will never be shared.
Why Listening to Your Customers is So Important
A business that takes the input of their customers into consideration will go a long way. Here's why:
Alchemer for Voice of the Customer Programs
Alchemer offers capabilities that allow you to collect feedback from customers at all stages of their journey. It doesn't matter what the size of your organization is. From start-ups to large, enterprise businesses, we have solutions that will fit your unique organization to provide huge benefits: We do this in a few ways:
Let Alchemer help you implement a successful Voice of the Customer program today!
Alchemer features an easy to use interface and out-of-the-box templates that allow you to quickly launch your VoC program and start making improvements. Get started today!
Get your tailored solution plan
By accessing and using this page, you agree to the
Terms of Use
. Your information will never be shared.