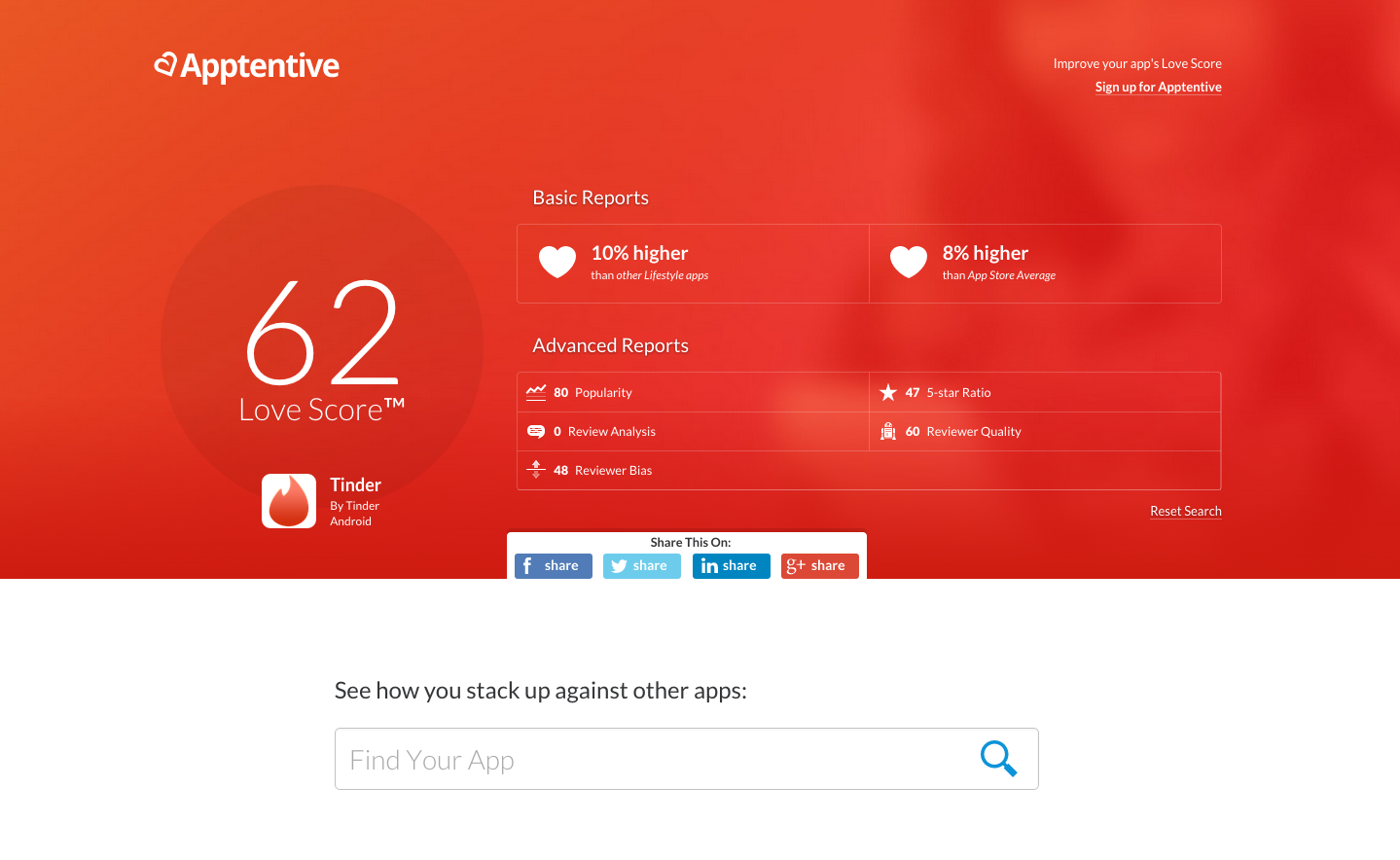 Like it or not, online dating is an increasingly large part of today's matchmaking, with over one third of marriages in the U.S. resulting from online dating. With Valentine's Day right around the corner, we thought it was fitting to take a moment to share how mobile has changed the dating scene and what we can learn from the success of Tinder and other dating apps when it comes to designing with engagement in mind.
For those of you not among the 50 million users who swiped right to find a date on Tinder in 2014, Tinder is the matchmaking app developed by IAC setting the online dating world on fire. Its premise is simple: Tinder syncs with your Facebook account (your photos, your likes, and your friends) to provide a glimpse into your compatibility with nearby singles. As you browse through photo after photo of potential matches, you can play 'hot or not' with photos alone or dive deeper by checking out who you know in common and what Facebook pages you both like. By 'swiping right' on a potential match's photo, you're effectively saying "I'm interested" – and if they swipe right on yours, you'll be 'matched' and you can begin messaging that user within the app. By 'swiping left,' you'll never see that user on Tinder again and move on to the next photo as you 'keep playing.'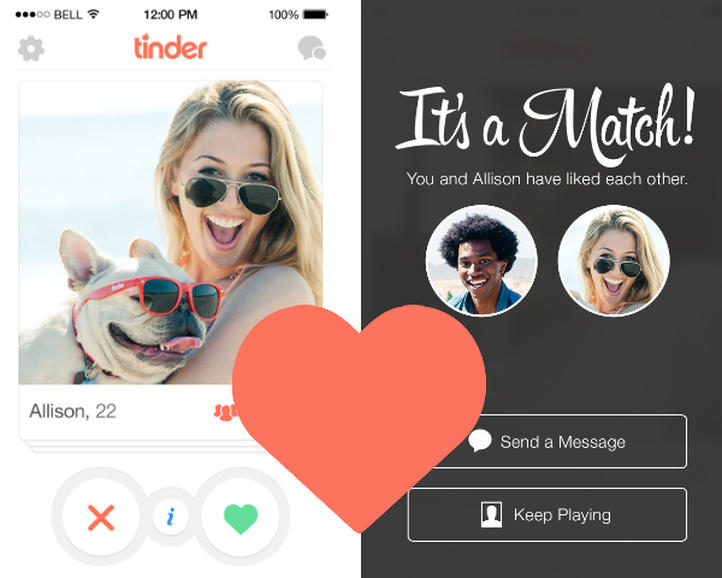 Interesting enough concept. But online dating has been around for years. What is so unique about Tinder that's given rise to a new phenomenon of sore thumbs and "Tinderitis" due to its sheer addictive power. How has Tinder been able to achieve explosive growth when so many other dating apps have come out short?
The answer is by building incentives for engagement within the core of the app's functionality.
Leading the Way in Mobile Customer Engagement and Love
Combining the best of first impressions, gamification, and flattery, Tinder has quickly become one of the most engaging apps in the market. Back in October, a company representative shared some astonishing engagement statistics with the New York Times. Accordingly, Tinder-ites log on to the app an average of 11 times a day. To put that number into perspective, two of the most frequently used app categories – weather and news – are opened an average of 3.7 and 5.2 times a week, respectively. Even more astonishing, women spend as much as 8.5 minutes swiping right or left to potential matches during each session while men spend 7.2 minutes – adding up to 90 minutes of Tinder each day.
In our own holistic evaluation of the customer experience, Tinder walks away with an impressive Love Score of 62 – showing the app to rank 10 percent higher in "Customer Love" than comparable lifestyle apps, with 47 percent of all reviews falling into the 5-star category. The Alchemer Mobile (formerly Apptentive) Love Score™ is an amalgamation of an app's performance across five categories: App Store Ratings & Reviews Popularity, Reviewer Quality, Reviewer Bias, Customer Sentiment, and the Ratio of 5-Star Reviews to Total Reviews.
Recognizing Engagement as a Critical Business Driver
While online dating is a naturally addictive category, Tinder reaches significantly higher levels of engagement than competing lifestyle and dating apps – and that's all credit to how developer IAC designed an engagement framework within the very core of the app.
There's an undeniable allure to Tinder. You have an album full of nearby singles at your fingertips. While some call it superficial, Tinder was designed to replicate real-world dating. You don't have a personality quiz or access to everything from dietary restrictions to astrological sign, like you do in some competing apps, to gauge a fit. You just have a photo, a first impression. Tinder leaves the rest up to you to figure out.
Except in contrast to trying to pick up a match at a singles' bar, in Tinder, there's no need to build up the nerves to talk to someone, no expensive drinks to buy to help you make that first introduction, and no awkward pick-up lines (okay, maybe some). Simply swipe right and Tinder's engagement framework will take care of the rest. You'll get a push notification or in-app alert every time you're 'matched' with another user and every time a match messages you. Each alert lures you back into the app – out of curiosity, excitement, or whatever it is. The result? A highly engaged customer base that can't help but open the app 11 times a day.
And it's only getting more engaging with each iteration.
In June of 2014, IAC sought out ways to make Tinder even more engaging, introducing the "Moments" feature to Tinder. Using this Snapchat-like feature, users can share photos with their matches – who can then like the photo as an easy conversation starter. Moments are only visible for 24 hours – providing yet another reason to check into the app on a consistent basis.
And just last month, Tinder made its first acquisition, buying out the ephemeral photo sharing and messaging app Tappy. Tinder co-founder Sean Rad commented on the 'acqui-hire:' "We're growing and recruiting like crazy. It's incredibly difficult to find talented people to join us fast enough to keep up with our roadmap for 2015, which includes some ambitious plans. When I spoke with [Tappy co-founder] Brian, we found that our goals for two separate products were such a great match."
While Tinder has yet to reveal its plans, speculation has it that Tinder will effectively hire the Tappy team (while shutting down the original Tappy app) to continue building out its 'Moments' messaging feature. The Tinder team is well on the path to taking the leap from a dating app to a social network, incorporating the best engagement features of Facebook messaging, Snapchat photo sharing, and online dating into a single platform.
Tinder Up Your Own Engagement
We've already seen that an engaged audience is a loyal audience – and with that loyalty, comes increased retention and an improved average revenue per user. So what lessons can we, as app developers and marketers, take away from Tinder's success?
First, don't expect engagement to come naturally. You'll need to proactively promote engagement by laying in place all the tools your customers could possibly need to see value in interacting with, and frequently returning to, your app. This comes down to developing your app with customer experience and engagement in mind. Whether this means building in peer-to-peer messaging, incorporating prompts and alerts (that don't suck), or providing a channel for collecting feedback within the app comes down to the needs of your individual customers.
Second, frequently step back and look for ways that engagement can be further improved. What signals are your customers sending? How are they using your app, and how can their experience be improved? For Tinder, this came down to introduce ephemeral photo sharing and social networking capabilities. For your app, your answer may lie in listening to the voice of the customer.
Regardless of what your unique solution is, the key takeaway here is that engagement should not be seen as something outside of your control. Customers can only engage with an app if there's something inherent that calls them back again and again to see continuous value in your app.
For tips on improving your app's engagement and customer experience, download our free guide on improving your mobile app's Love Score. In this guide, you'll see tips for both acquiring and retaining mobile customers by optimizing around each of the five metrics included in our proprietary Love Score methodology.