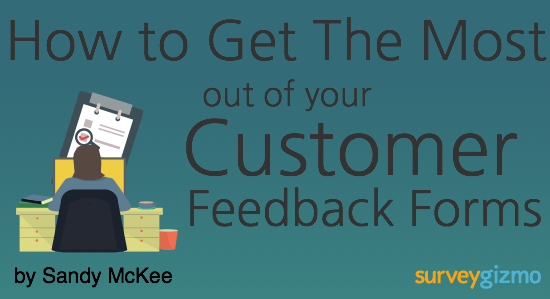 Your sales have dropped. So has customer retention. You wonder what could you be doing better.
You probably have some ideas, but the best way to get the answers to this question is to ask your customers for candid feedback.
Maybe you are already asking them if they are satisfied. If so, is the data telling you what you need to know?
To turn your sinking numbers around, you need feedback that is:
Timely
Relevant
Action-oriented
Here's how to get it.
Timely Feedback Is Essential
The best time to collect feedback is shortly after a customer interaction. You will get the most out of the feedback while recall is fresh in your customers' minds.
At the same time, you need to give your customers enough time to try your product. Timing is tricky – if you wait too long you will lose the chance to collect the feedback you need.
The longer you wait, the greater the chance that your customer will have already formed a solid opinion, and if the experience was a negative one, there will be little you can do.
If they have already jumped shipped, your opportunity to keep them as a customer is long gone.
So, exactly how long should you wait? The answer depends on the price point of the item.
Higher priced items are usually more sophisticated and take longer to evaluate. If your customer drove off the lot with a new car, wait until they have had time (a few weeks) to experience how it handles on the highway, country, and mountainous roads before asking for feedback.
Because it was a high priced ticket item and the fact that they are probably driving it every day, they are not likely to forget the experience.
Lower priced items on the other hand, take less time to appreciate their full value. For these items, ask for feedback a week from the date of the purchase.
If however, a customer came in to have one of the an item serviced, follow up within a day to ask about the service they received.
'Feedback collected straight after service delivery is 40% more accurate.'- Gartner
Turn negative experiences into positive ones
Set up a customer satisfaction survey or post-purchase survey that is automatically triggered shortly after the interaction. Feedback collected immediately following a service is far more accurate.
Use an automated notification system when negative feedback is received to ensure immediate action is taken. This will allow you to immediately catch a bad experience and turn it into a good one.
Real- time feedback allows you to act quickly so you can resolve the issue before it escalates. It also creates a lasting memorable experience that is more likely to convert an angry customer into a loyal one.
Don't neglect less obvious customer touch points. An often overlooked opportunity to seek customer feedback is right after they have signed up for a trial, demo, newsletter, or Webinar.
These are the perfect times to ask your customers what they are struggling with, what features they are looking for, or simply why they signed up.
 You can learn a lot about what your customers' need and value.
Another key opportunity to seek feedback is when a customer returns.
Identify loyal customers and when they return, and then ask them why they did. Observing customer behavior and listening to why they acted the way they did, builds connections and gives you necessary feedback to make intelligent decisions.
How to Increase Customer Happiness

A free guide to tracking and improving customer satisfaction.

Get Ebook
Make Your Feedback Form Relevant
The goal of your survey is to understand what your customers' value and what you can do to better deliver it.
Think about each customer interaction and tailor your feedback form for that transaction. Avoid feedback that leaves you wondering how best to improve the situation.
Your feedback questions should pertain to your customers' experience. A purchase and a return, for instance, are completely different experiences. Your feedback form should reflect this.
Keep your form short and simple by using survey logic to hide questions that are not relevant.
If you are delivering both a product and service split up the questions so that you can distinguish whether they are satisfied or dissatisfied with the product or the service they received.
Use a grid style question type like this:

Feedback Forms Should Collect Action-Oriented Data
One of, if not the most important question you can ask is, "why". Knowing why your customers rated you the way they did gets to the heart of the matter and allows you to determine what actions to take.
There is no point in collecting data you don't know what to do with. It frustrates respondents and makes them lose trust in you.
While an overall satisfaction score is nice to know, it doesn't give you actionable data. Our own documentation expert, Bri Hillmer, sums it up best with this recent statement:
There is nothing more frustrating than a satisfaction response without the why. Think about it. I cannot act on the number alone. A response without the why is simply not actionable.
Follow your rating questions with an open text question type that lets your customers tell you why they selected the rating they did.
Remember that it is not merely about collecting the data, it's how you act on feedback that really makes the difference.
Close The Feedback Loop
Customers will be encouraged to give input if they feel you are listening and are sincere about resolving their issue.
Closing the feedback loop is critical because it builds trust – a necessity for increasing customer loyalty.
It's surprising how many companies neglect this step. If you've done the work, why not reap the benefit by letting your customers know that you heard them and that they are driving change for the better. They will it appreciate it.
Here are two very startling statistics about customer feedback:
Forty-three percent of those surveyed stated that they don't complain/leave feedback because they don't think that the business cares. Is it any wonder that most companies don't hear from unhappy customers?
Of those same customers, 81 percent said they would be willing to leave feedback if they knew they would get a fast response!
Your customers want to know, within a reasonable time, not only that their problem has been resolved, but how the failure occurred and what you are doing to make sure it doesn't happen again.
Make the most of customer feedback by letting your customers know that you have taken action.
Be sure to share the feedback internally as well. Organizational communication is just as important when it comes to closing the loop.
Applaud loudly when your employees are successful in doing so, so that others will follow their example.
Don't focus on the negative aspect but instead emphasize how the employee was able to take a bad experience and turn it around. Remember, your goal is to make improvements to the service delivered and you should congratulate your staff when the objective is achieved.
Feedback Forms Build Customer Relationships
Building customer relationships is the lifeline of your business. Feedback allows you to establish and maintain a healthy customer communication flow. But you will only be successful if your customers see change as a result of their feedback. As Whitney Wood of the Phelon Group says "Change is the most powerful currency to reward vocal and consultative customers."
Related Articles:
Gleaning Customer Insight from Customer Feedback Surveys
Other Related Articles
What is Voice of the Customer (VoC) – A Guide