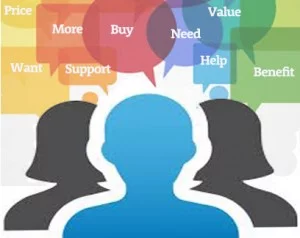 As a digital marketer, you are probably looking for ways to improve your ad copy and web content to attract more leads. While a consumer research study will give you the information you need, you are probably leery of launching one knowing that your customers are already suffering from survey fatigue.
The good new is that there is another alternative. If your organization uses feedback surveys you can tap into these to collect customer insight.
At Alchemer, we collect data at various points of the customer journey to determine how we can improve our product and service. To shed more light on who these customers are and what they are doing, all I need to do is to add an additional question to these feedback surveys to get the insight I need.
You too can tap into your feedback surveys to learn more about your customers and their behaviors so that you can better address their needs.
Here's how:
Collect Feedback Throughout the Customer Journey
First, you need to identify key customer touch points where you can generate a feedback survey that asks customers about their experience and expectations.
Let's start with the top of the sales funnel and work our way down to identify where you can gain customer insight.
Collect Feedback Using A Website Intercept Survey
Consumers today are doing their shopping research online. You have 8 seconds to convince your web visitors of the value of your offer. You need to show them that you understand their problem and have the solution.
A website survey is a good way to go to find out if you are meeting visitors' needs.
We installed a website intercept before we designed our new website to understand who was searching our site and what they were looking for.
Knowing who are visitors were, what they were specifically looking for in a survey tool, and their sensitivity to price points, allowed us to design a website that was appealing to our primary persona and ultimately increase conversions.
Since our redesign, we have been running an a/b split test to perfect our message and design. You can bet that we will periodically set up a website intercept to determine if there are any changes in the market.
Let's move to the next stage of the sales cycle, onboarding.
Customer Experience Feedback
The primary call-to-action on our website is signing up for a free trial. Our onboarding team nurtures these trial leads to convert them to paid customers by providing phone and email support. This often results in a project consultation, demo, or a training Webinar.
Our onboarding staff follows up each interaction with a personal email that contains a survey link in the signature line asking for customers' feedback.
This survey asks respondents to rate their satisfaction with their last interaction. By adding a question that asks respondents about the type of survey project they are working on, we can learn a bit more about who these users are and what they are doing.
Knowing whether is it a consumer satisfaction, employee engagement, or post event survey that they are working helps me understand the type of content we should be writing to nurture these leads.
This may seem to contradict best survey practices not to ask additional questions that aren't related to your main goal, but in this case, the question aligns with the initial survey goal.
It provides consumer insight that lets us know if we need to beef up our documentation, add more features, or provide more assistance for a particular project type.
Trial Customer Feedback
During the trial period, we send out an email every few days to ask the new user how their survey project is coming along. This email also provides tips on best survey practices as well as tutorial and documentation resources.
When a trial has expired we trigger an email that asks the respondent to rate their trial experience and to leave comments about what they liked or the challenges they faced.
Adding a question to this feedback survey that asks if the respondent if they are switching survey vendors and if so why, provides insight as to how our tool compares to our competitors and what features these customers value the most.
User Testing Feedback
Our development team frequently runs user testing when designing or enhancing a product feature.
If you are conducting your own user testing, you can use an on-line survey as a script to see how intuitive a task is and then ask post-test questions to find out what users like, don't like, or would recommend improving the application.
Customer Training Feedback
Our training team conducts several live Webinars each week. The Webinars range from Getting Started for those who are beginners, to Advanced Logic and Reporting for our power users.
Registration for these Webinars only requires a name and email address. Keeping the registration form short increases signup so we don't ask for any additional information when registering.
After each Webinar, we email registrants with a recorded link to the Webinar and asking for their feedback. In addition to rating the Webinar content and the instructor's knowledge, we ask for their job title so we have more insight into who these customers are.
Documentation Feedback Survey
Many of our customers prefer to find the answers to their questions on their own. When they have searched our online documentation and tutorials, we ask them if they found the documentation helpful.
Not only does this tell us where documentation needs to be improved, it tells us which features our customers want so that we can focus development efforts on the right ones.
Customer Support Feedback
It is highly likely that your support team is collecting feedback after a customer service interaction. The main goal of this survey is to increase satisfaction and secure repeat business.
This is your opportunity to learn about customer frustrations so that they can be turned into advantages. Ask customers where they encountered problems so you have an understanding of which features or areas need to be enhanced.
Feedback Forms Do Not Replace Research Surveys
There is nothing like a well-designed market research survey to help you understand your audience. These should be conducted on a periodic basis. As David Ogilvy said:
"Advertising people who ignore research are as dangerous as generals who ignore decodes of enemy signals"
But in the meantime, there are plenty of opportunities for you to gain consumer insight along the customer journey.
Take advantage of your feedback surveys to glean information about who your customers are and what their expectations are. Knowing what is important to them will allow you to write the perfect ad copy and web content that will generate more leads.
Other Related Articles
What is Voice of the Customer (VoC) – A Guide