After surveying our customers, we thought it might be helpful to create a top-ten list of the best survey software solutions for market researchers. To create the list, we turned to G2.com, where actual users score the products they use (you can visit G2.com to check our work).
Market researchers told us that Question Types were very important to them, as was ease of implementation and time to go live. Here are the results.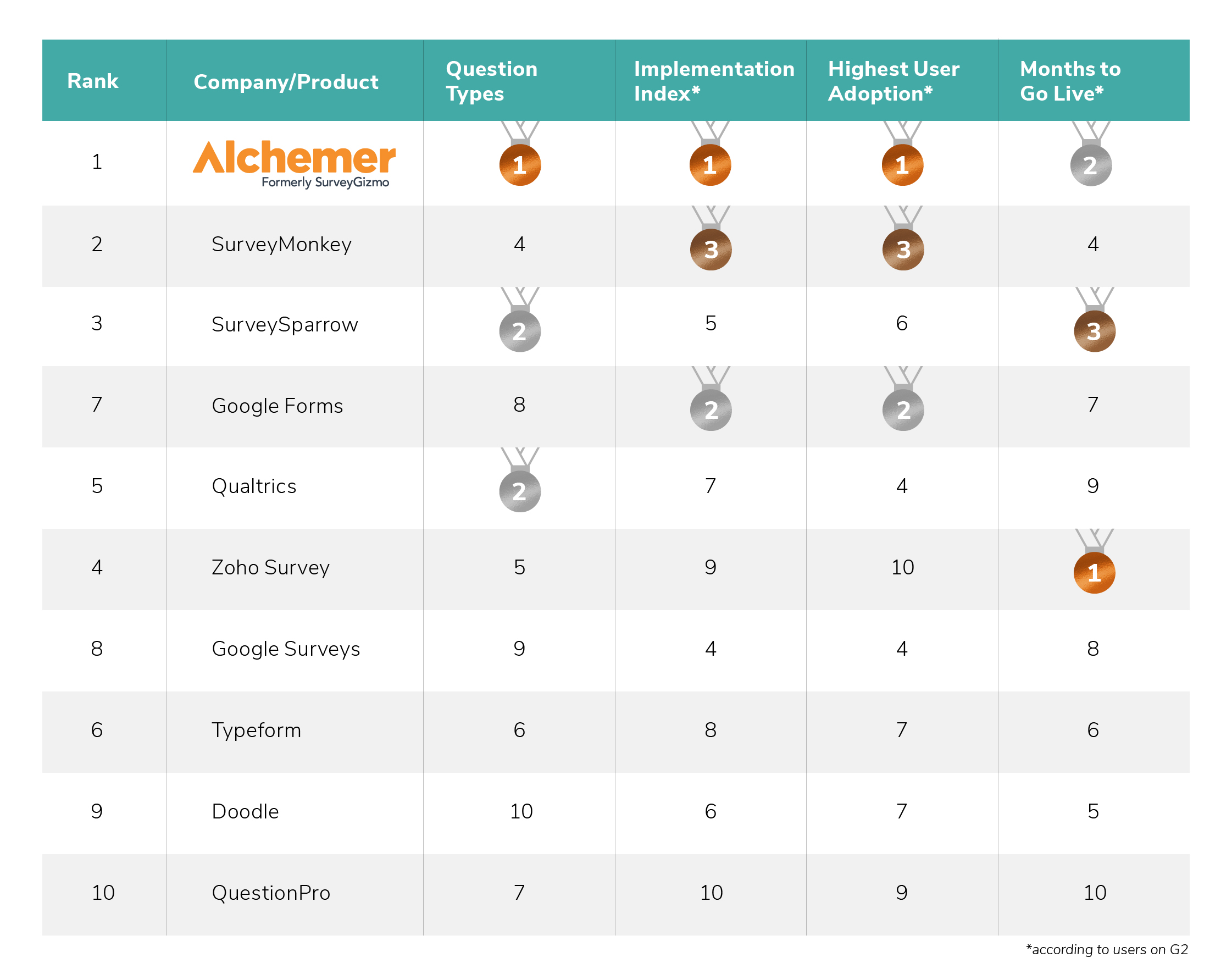 Question Types
Alchemer Collaborator, our entry-level survey solution, offers 25 question types, which puts it ahead of SurveySparrow and Qualtrics, which offer 22. SurveyMonkey comes in fourth with 21. Alchemer Professional adds Cascading Menus and Custom Matrix question types for a total of 27, while Alchemer Full Access offers 43 – almost double the closest competitor.
Alchemer Full Access includes a Custom Question Developers Kit, which allows you to create a question type that doesn't currently exist. Cornerstone Research used this to create a way to pull song hooks from a database and play them when a participant clicks on the question.
Implementation

Alchemer scored higher in G2's Implementation Index than even Google Forms. There really is no implementation or deployment time, regardless of the solution you choose. Even when you deploy Alchemer enterprise-wide, it's more of an onboarding than implementation. Adoption for Alchemer is the highest as well.
Time to Go Live
In this category, Zoho Survey placed first with Alchemer hot on their heels in second. That said, many customers go live with their first survey within a day on Alchemer. The HR manager at a well-known sporting company fielded her first survey halfway through her first product training. The addition of Alchemer University allows people to build complex surveys with advanced question types quickly and easily.
Learn More
Read The 2022 Buyer's Guide to Market Research Software to see what market researchers find most important in a solution.
To do your own research, you can visit G2.com at https://www.g2.com/categories/survey. Or you could start a free trial and see for yourself why G2 users say things like this: