Discover the Market Researcher Survey Solution of Choice

Alchemer delivers twice as many question types and more responses. Get the insights you need, with no extra costs.

Getting great feedback comes from asking the right questions and collecting statistically relevant results. This is why Alchemer offers you:
Twice as many question types as SurveyMonkey or Qualtrics.
No per-response charges or other hidden costs.
With Alchemer's online market research software, you can perform Advanced Logic, Max/Diff, Segmentation, and Conjoint analysis. Plus, you can easily integrate your feedback into business intelligence tools and other business solutions.
Alchemer market research survey software and enterprise feedback software was voted the easiest to deploy by G2 again for the fall of 2021. Alchemer also scored 37% speedier time to go-live than the industry average with a 34% higher adoption rate according to G2.com. And, there are no surprise costs when you collect more survey responses than expected.
Modal Title
By accessing and using this page, you agree to the
Terms of Use
. Your information will never be shared.
Modal Title
By accessing and using this page, you agree to the
Terms of Use
. Your information will never be shared.
43 Built-In Question Types
Collect exactly the data you need with customizable market research question types from multiple choice to Likert Scales.
Branching & Skip Logic
Show only the questions and pages that matter to your respondents with easy to design advanced logic.
Virtually Unlimited Questions & Responses
Ask as many questions as you want to as many people as you need. No hidden fees or additional charges. Just data.
Advanced Reporting Tools
Create and customize advanced reports like TURF, cross tabs, and comparison faster than ever before. Even export directly to SPSS for deeper analysis.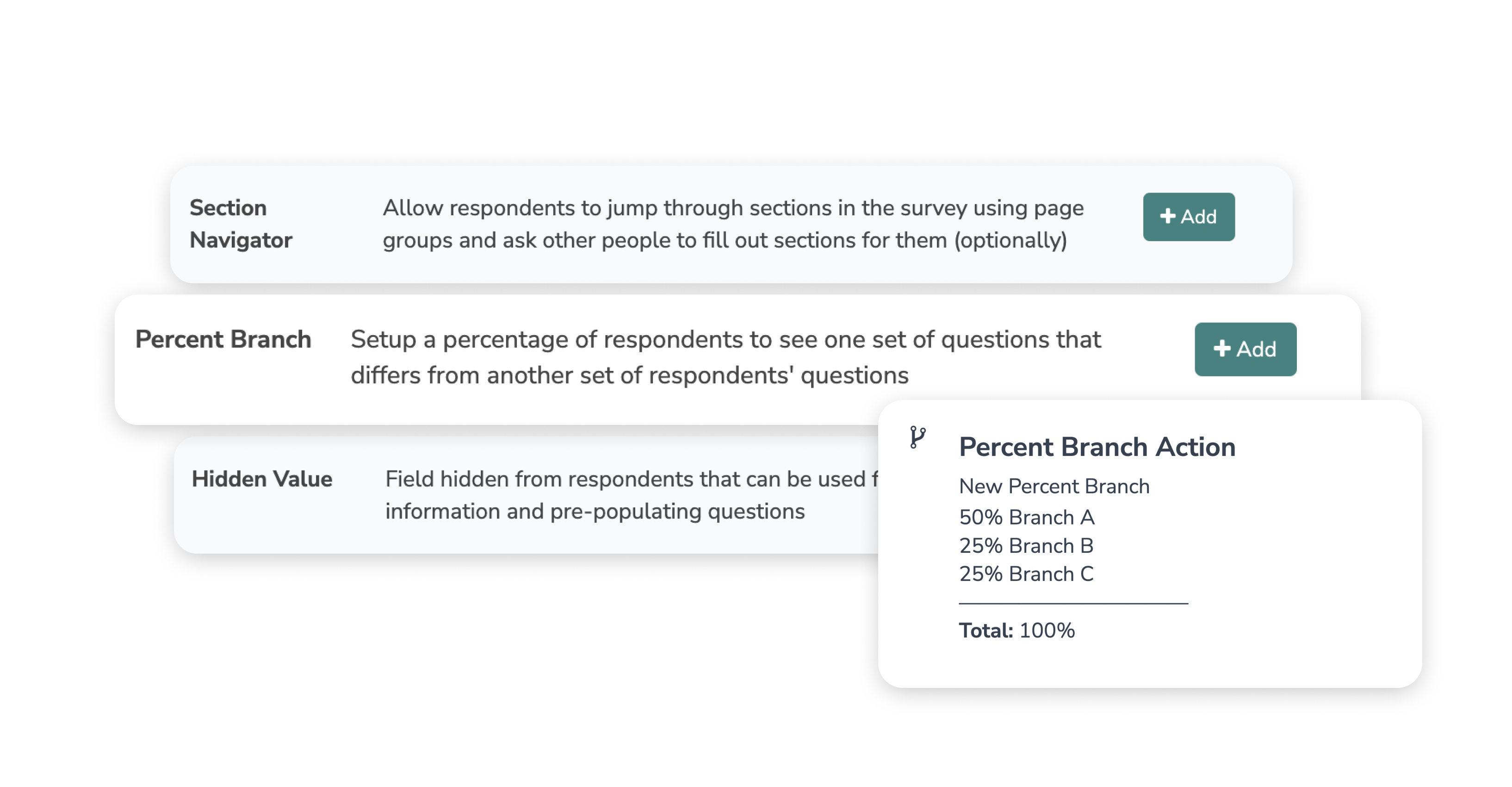 Work faster and smarter with Alchemer
Alchemer market research survey software delivers easy-to-use features that allow you to fine-tune your market research surveys, automate processes, trigger workflows, and get your work done faster with more accuracy.
You get:
Advanced Survey Logic – including question logic, page logic, and skip logic, as well as quotas and disqualifications.
Built-in Actions – including the ability to automatically send an email triggered by respondent behavior; you can also push/pull data to and from outside platforms.
Easy Integrations – with third-party software like Salesforce, Microsoft Dynamics, Tableau, and Google Sheets, as well as the option to create custom integrations with tools you already use.
Complete Brand Control – including branded URLs and domains as well as custom themes and styling.
Advanced market research reporting tools with advanced reporting for in-depth market insights
Your market research survey results are meant to drive real decisions and change for your company and your clients. Alchemer's built-in market research analysis tools and reporting tools include:
TURF – Stands for Total Unduplicated Reach and Frequency. These reports give you a glimpse of the market potential.
Cross Tabulation – Data is compared cell by cell for accuracy.
Data Visualizations – Question types can be customized using charts and other visual options.
Fall Off Reporting – Respondent problems are reviewed for issues like survey abandonment.
Segmentation – Responses are compared using various criteria to see if there are correlations or causations in the data.
Filtering – Quickly filter through the data using parameters that enable you to highlight the most relevant information based on your question.
Alchemer also makes it easy to export raw data to multiple file types, including SPSS, Excel, and CSV.
It's your data, just the way you want it.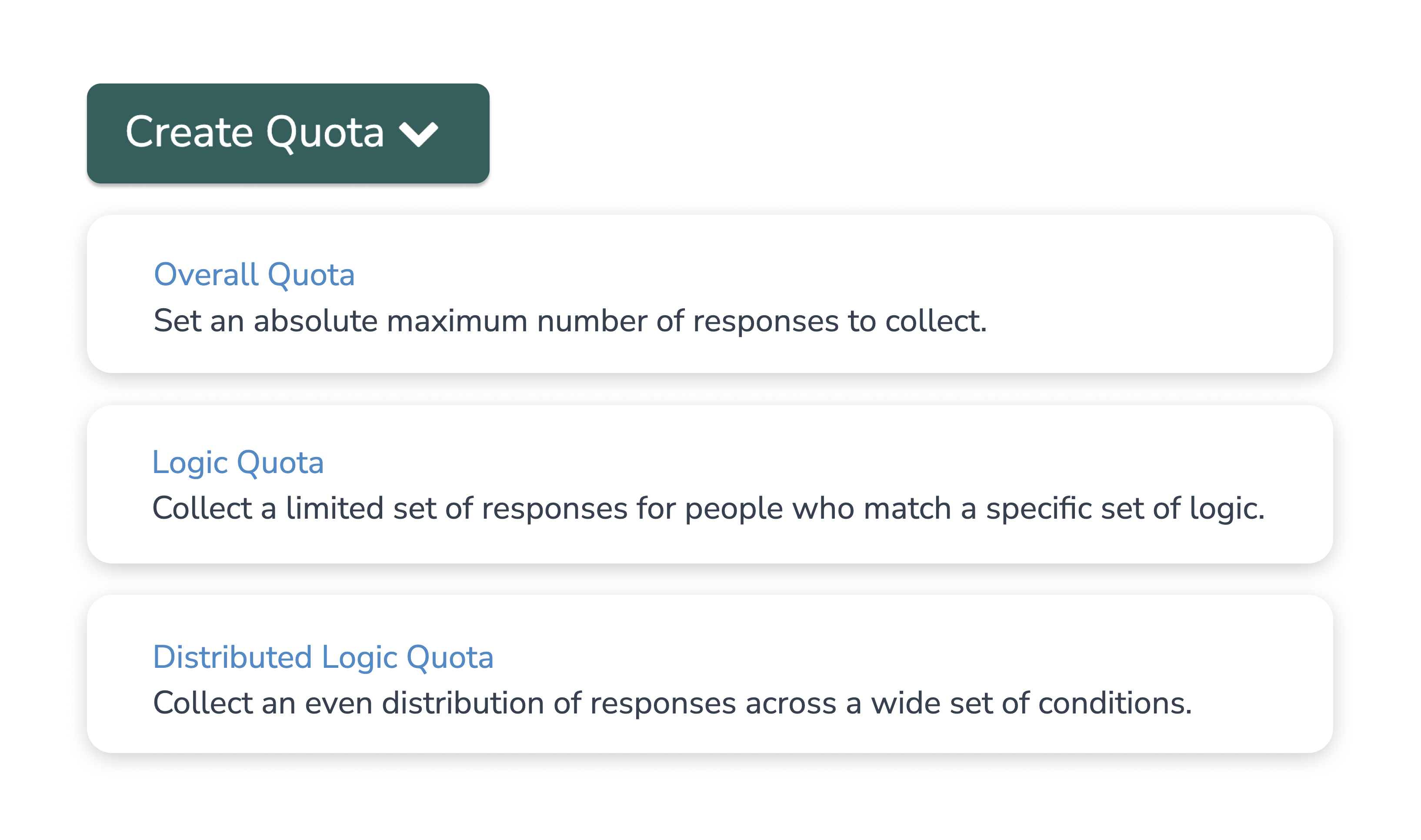 Survey solutions for every step of the market research process
Alchemer does more than just one type of data collection. In fact, the software is flexible enough to address all of your market research and customer research needs, including:
Awareness
Attitudes and Perception
New Product Research
Market and Customer Profiling
Customer Retention
Workflows and more
Plus, we have panels when you need to find audiences beyond your lists.
Start Your Free Trial Today
Alchemer offers the industry-leading survey solution for market researchers. All Alchemer solutions come with more questions and responses than the other key players. Plus, our Alchemer University integrated learning system helps you get up to speed faster, get answers when you need them, and build the best surveys easily.
Get your tailored solution plan
By accessing and using this page, you agree to the
Terms of Use
. Your information will never be shared.