Panel Services: Clean and Quick Responses When You Need Them
---
Learn from the panel experts
Watch the on-demand webinar, A First Timer's Guide to Panels, to learn how to start the panel process and what to expect. Alchemer panel leads Wendy Wyss and Bret Kershner outline what anyone would need to know before starting the panel process. Expert panel buyers will also take away plenty of advice and tips from this helpful webinar.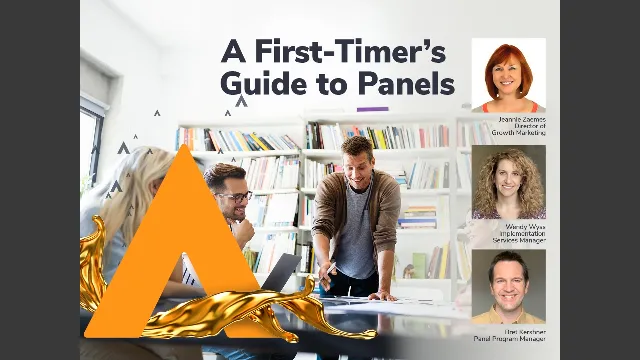 ---
Your ideal online sample audience, made simple.
When you need insights on your products or services, you need respondents from the right audience and you need them now.
Panel respondents are the solution. By using Panel Services, organizations like yours can reach their desired target audience faster and more efficiently than ever before.
Our dedicated panel program manager will work with you to determine the right audience to get the data you need, and will work with one of Alchemer' s most trusted panel suppliers to negotiate the best price and ensure high-quality results. You'll have qualified survey responses faster, and we'll filter and clean the data so you can get straight to analyzing.
Want to do it yourself?
Our self-service Survey Audiences lets you choose smaller audiences (as few as 50 respondents) quickly, easily, and affordably. You can find it inside the product. Just create your survey, test it with our system, select your criteria, and you can be gathering results within an hour.
To learn more about Panels, download the brochure today. To get started, call 1-800-609-6480 or email your account manager or sales today.
Get Your Panel Services Quote Today
By accessing and using this page, you agree to the Terms of Use. Your information will never be shared.
Get qualified survey respondents, faster
Collect Any Kind of Data
You create your survey, we'll handle the rest. We pride ourselves on being a one stop shop for delivering your audience and bringing you back clean, concise data.
Top Professional Panels
Alchemer has access to over 50 million panel respondents  worldwide. We'll consult your project and deliver a specialized audience to fit your exact needs.
Quick Launch for Quick Results
Our team can launch most projects within hours of receiving your completed survey, with data collection starting on the same day.
Clean, Accurate Data
People often speed through surveys – it's just the nature of today's world. We filter and clean your results to disqualify bad data, so you pay for only the best responses.