Alchemer provides individuals, teams, and enterprises with the most flexible and easy-to setup-and-use survey and feedback software on the market.
For more than 16 years, Alchemer has delivered market-leading software to customers in organizations around the world. Our technology is used in all industries and by companies of all sizes. We adapt easily to all uses cases, including Marketing, Market Research, Product, Customer Experience (CX), HR, and Customer Service. We have been recognized in both the 2020 and 2021 Gartner® Magic Quadrant™ for Voice of the Customer and by G2 reviewers for our superior survey software. (#1 in Question Types, Reporting and Analytics, Branching and Skip Logic, Templates, Permissions, and BI Tools Integrations, to be specific.)

From survey software to enterprise customer-feedback management, Alchemer helps organizations understand and transform how they engage with their markets, customers, and employees. And with more advanced capabilities than SurveyMonkey and lower expense and complexity than Qualtrics, it's no wonder why thousands of organizations of all sizes choose Alchemer.
Alchemer is the right fit.
Modal Title
By accessing and using this page, you agree to the
Terms of Use
. Your information will never be shared.
Fast
Fastest speed to value means you can begin realizing value in days — not months.
Flexible
Market-leading flexibility means Alchemer adapts to your business needs – not the other way around.
Secure
Industry-leading, enterprise-grade security protocols keep your data protected.
Easy
A user-friendly platform allows anyone in any department to create, manage, and report on projects.
Build and run the best surveys

With twice as many question types as SurveyMonkey and Qualtrics – and no per-response charges — our advanced yet easy-to-use survey software will help you and your teams better understand your markets, customers, and employees.
Feedback software for enterprises

Alchemer empowers organizations to take action on feedback at the speed of now. Advanced data collection and analysis tools are made powerfully simple – so teams throughout the business can create and launch projects right away. Our single, hyper-flexible platform provides the tools every department needs to succeed along with industry-leading security standards and data privacy guardrails that Information Security requires.
Alchemer is the answer for customer-centric transformation.
You might want to run a simple survey. You might want to change the world. Alchemer is the only solution that helps you transform into a truly customer-centric company. By making sure the voice of the customer is heard loud and clear across every decision you make in every department. Hyper-personalized and actioned around the customer – from finding them to keeping them. With Alchemer, you gather customer feedback and data your way, but in a way that ensures your customers feel truly heard.
Surveys
The root and backbone of any survey software is allowing you to collect customer data (survey). Nobody has the expertise within this foundational function like we do at Alchemer. But only Alchemer allows you to do it your way. Within the systems you already use. From the simple to the ambitious. With flexibility and security.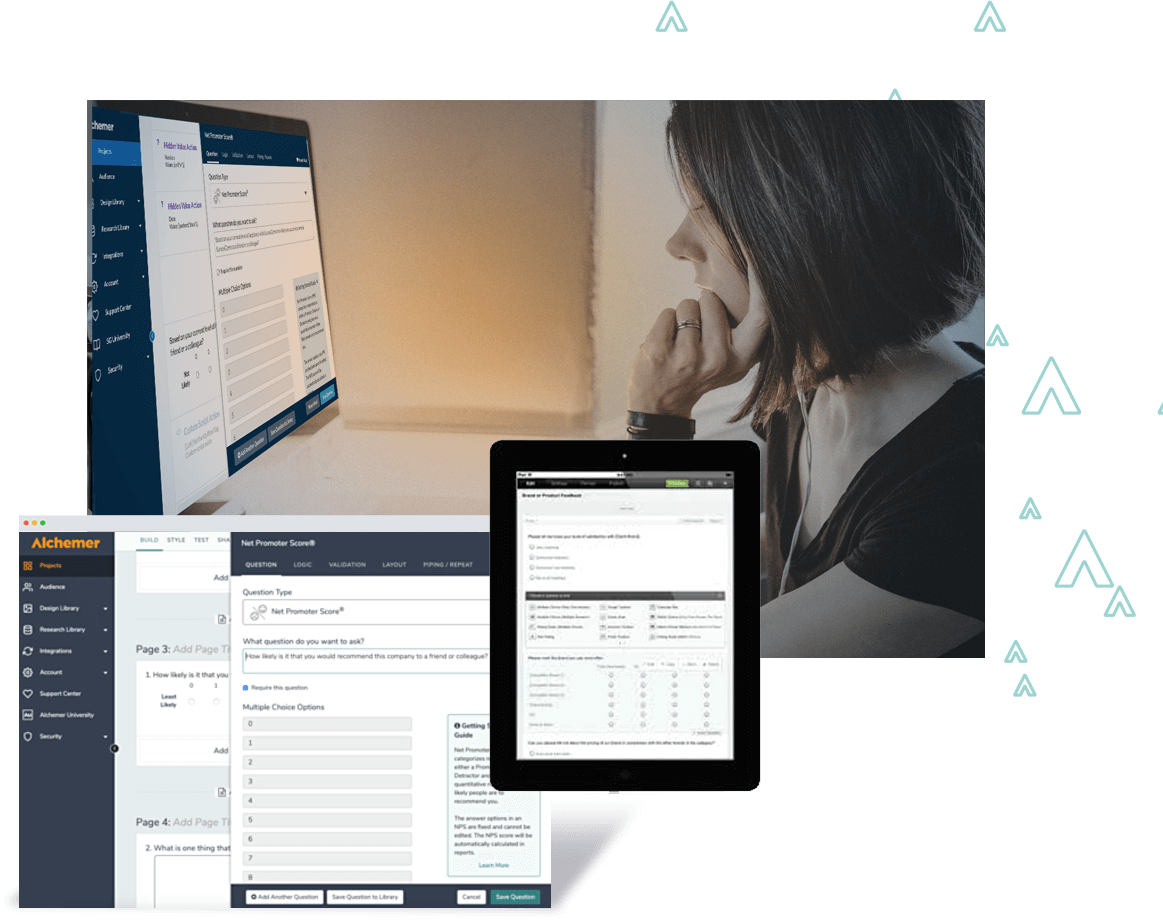 Workflows
We allow you to workflow what you collect. Around your entire enterprise. Workflow based on logic, based on integration, based on whatever your needs. And while there are standalone workflow products on the market, we collect and workflow feedback to make sure your customers are at the center of your business. With Alchemer, their voices flow between departments and systems to make sure everyone hears the same voice and responds to it according to their relationship with it.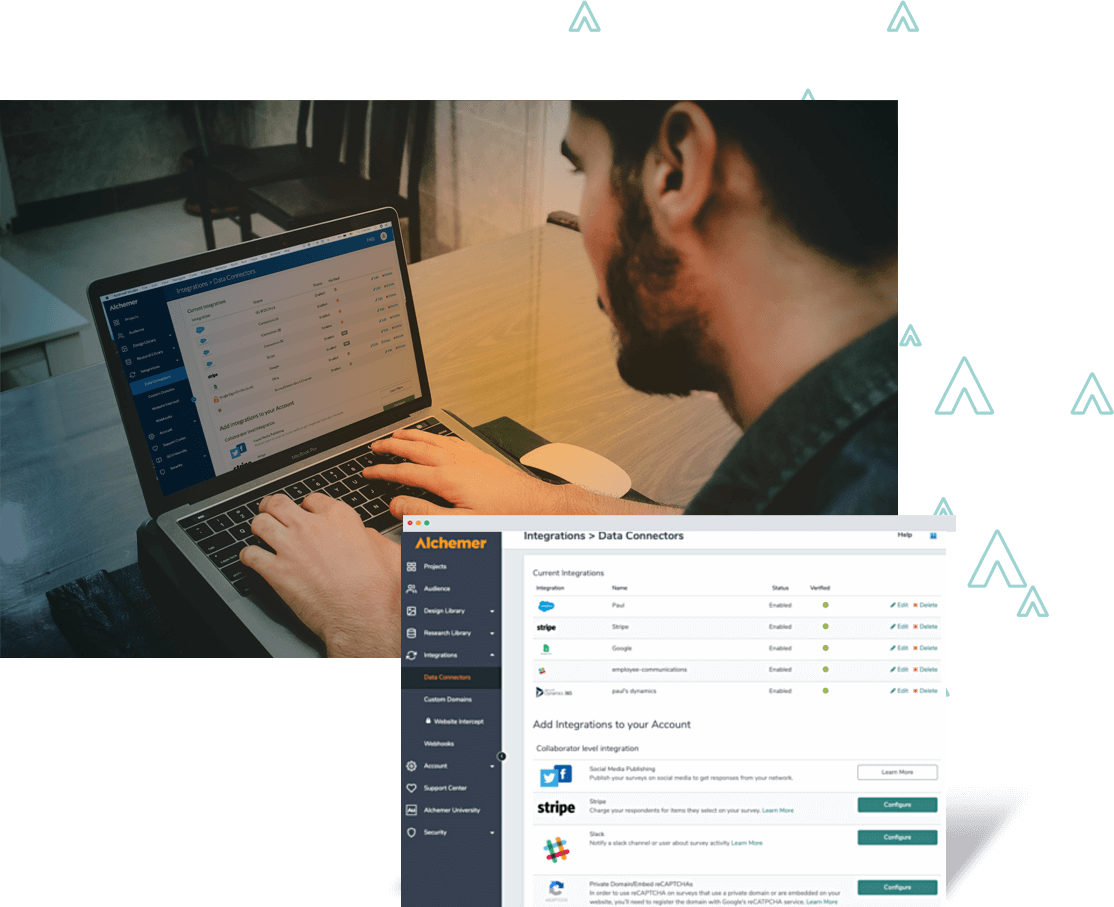 Audience
We help you to identify, access, and manage your audience. And we integrate lots of ways to let you do this. We partner with panel providers like Cint and Lucid. But we also allow you to connect with Salesforce to grab a customer list or into Hubspot to grab a prospect list. We allow you to access. And manage. And communicate.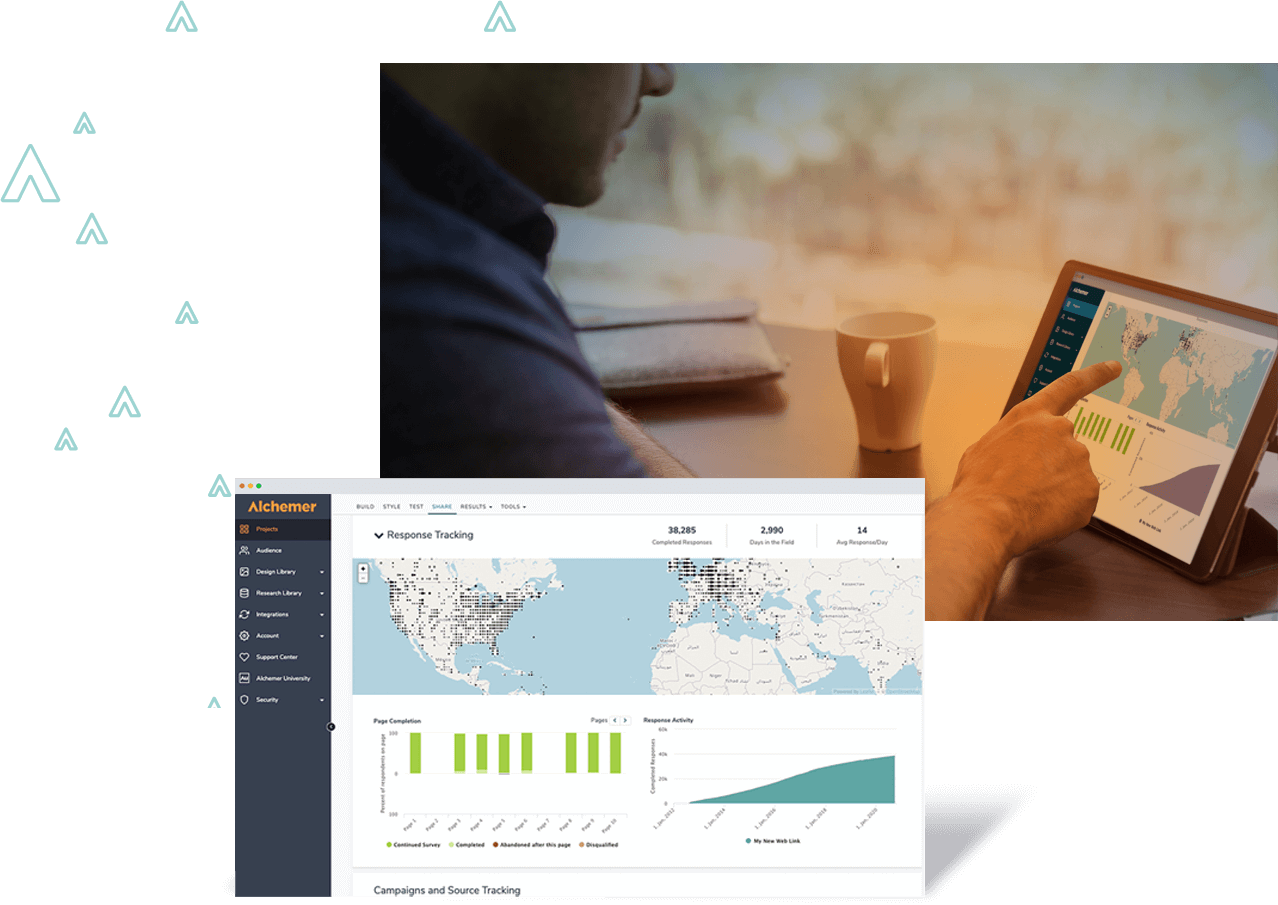 Communicate
We have lots of different ways of communicating with your audiences. We provide email tools, SMS text tools, video, and audio tools. So you can communicate back and forth – and interactively – with either the people providing the feedback or with those who are analyzing it.
Analyze
We believe the most powerful way to analyze your customer is in combination with other organizational data. To put it another way, we're not here to create one more analytic silo. We think it's better to combine and leverage the Business Intelligence applications, sales software, analytics tools, and dashboards that your company already loves and uses – in a seamless way.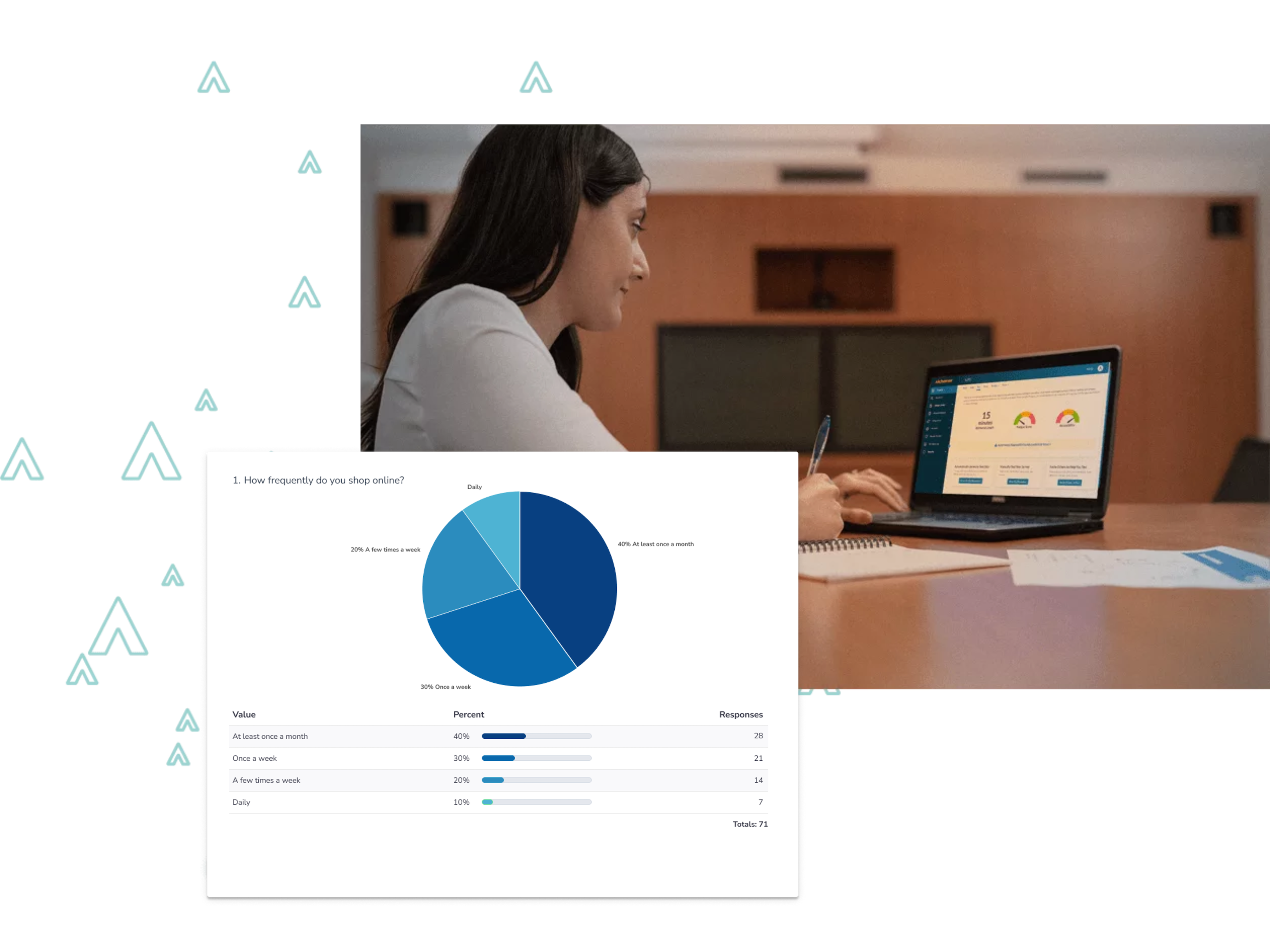 Make your feedback transformative by doing something with it. Today.
Alchemer is a robust and powerfully transformative voice of the customer tool that's also flexible and secure. You can survey. You can workflow. You can manage privacy and democratize at the same time as you control.
Find
Customer identification. First you have to find them. So this is about helping marketing and market research do their thing with more power. Flexibility. And security. To do more than just listen. To act.
Get
Customer acquisition. You found them, now you have to get them. This is where we help sales and sales operations build customer relationships. Authentically and powerfully.
Keep
Customer Success. We think every customer ought to be a best customer. So we help customer success and customer experience connect and respond. So you can keep your customers. Heard and seen.
Are you ready to turn feedback into gold?
Request a demo
By accessing and using this page, you agree to the
Terms of Use
. Your information will never be shared.
Request a Demo
By accessing and using this page, you agree to the
Terms of Use
. Your information will never be shared.
By accessing and using this page, you agree to the 
Terms of Use 
. Your information will never be shared.