Safely and Efficiently Organize Reopening Your Offices
---
Reopening offices is fraught with challenges and risks. How do you create a workplace with the appropriate protocols and safety procedures in place to ensure that your employees are safe and feel safe coming back to work?
The Alchemer Return-to-Work Solution arms HR teams with repeatable, trackable processes that employees can easily follow when returning to the office. Using these simple tools not only protects your company but also helps employees feel safer because they know there's a routine in place to formally manage workplace safety.
Here's what you get:
• Daily Return-to-Work Assessments for employees and on-site visitors, including email confirmation verifying approved access into the office to help people know when they should stay home.
• Temperature recording at reception for approved on-site employees and visitors to help everybody feel safe.
• Daily and cumulative reports for tracking who was in the office on what date.
• Desk Reservation workflow, including email confirmations and reporting to help maintain social distancing.
• Visitor and Contractor Request workflow with pre-configured approval process and email notifications to maintain a safe workplace.
Of course, all the data you collect is safeguarded and GDPR and CCPA compliant through Alchemer.
Get Started
By accessing and using this page, you agree to the Terms of Use. Your information will never be shared.
The Processes You Need for a Safe Return to Work
The Alchemer Return-to-Work Solution is pre-configured with end-to-end workflows that can be customized to fit your needs and implemented quickly. You can use it straight out of the box, with no professional services, coaching, or training required. Results can be automatically reported to HR, so you can track who is at work, where they're working, and how everybody is doing.

The goal is to help everybody return to work safely. With the Return-to-Work Solution processes in place, employees will feel more confident returning to the office while simultaneously mitigating corporate risk.

To learn more call 1-800-609-6480, or email your account manager or sales today. 
Modal Title
By accessing and using this page, you agree to the
Terms of Use
. Your information will never be shared.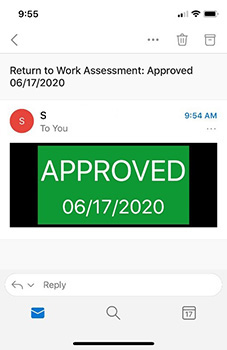 Get Approved Daily
Employees and Visitors complete the Return to Work Assessment on the day of their scheduled visit. If they meet requirements, they receive an email certifying their approval. The email is then shown at the front desk, from a safe distance, so the receptionist can validate their entry.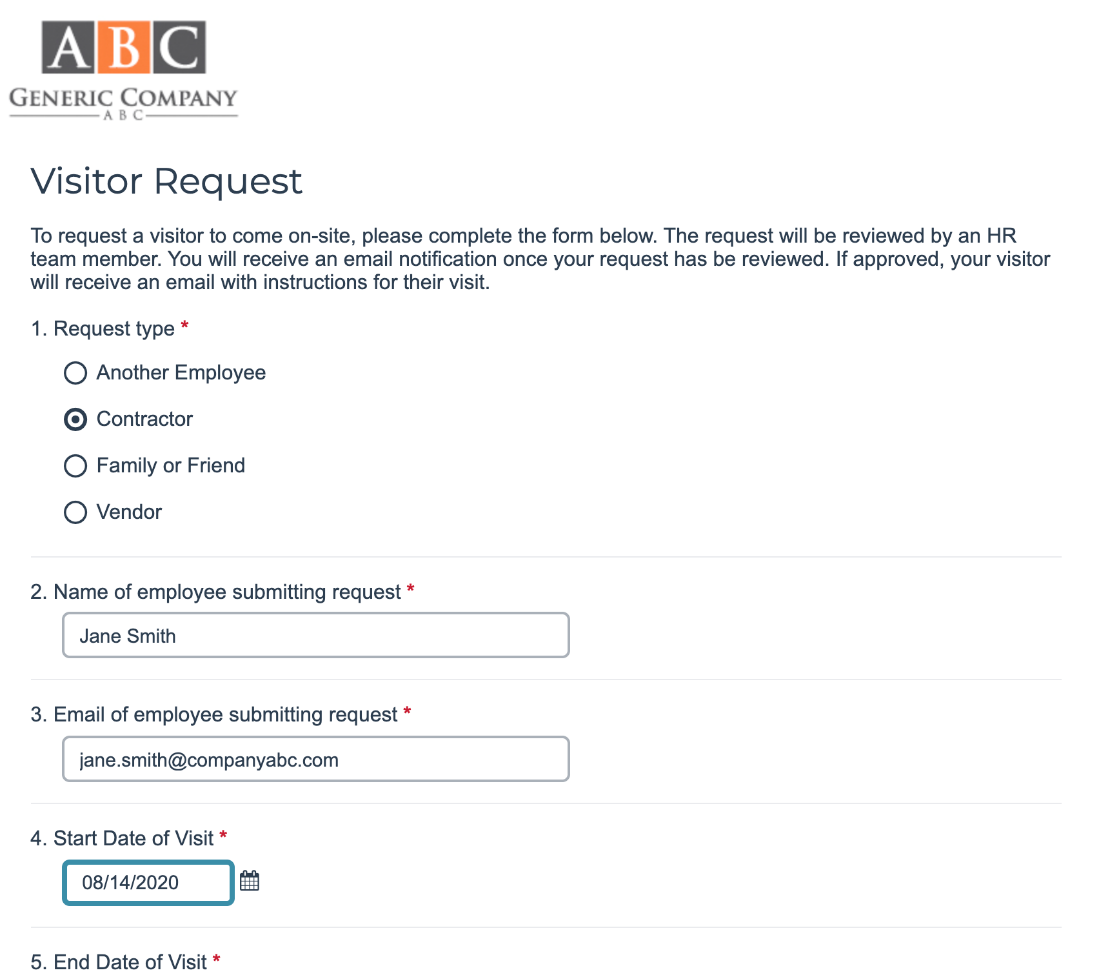 Request a Visitor
Employees can request approval for a visitor to come onsite at the office and provide the HR approver with the details to assess necessity and safety. HR receives an email notification and once an approved or declined status is assigned, the employee receives an email update and the visitor receives an email with instructions to follow on the date of visit.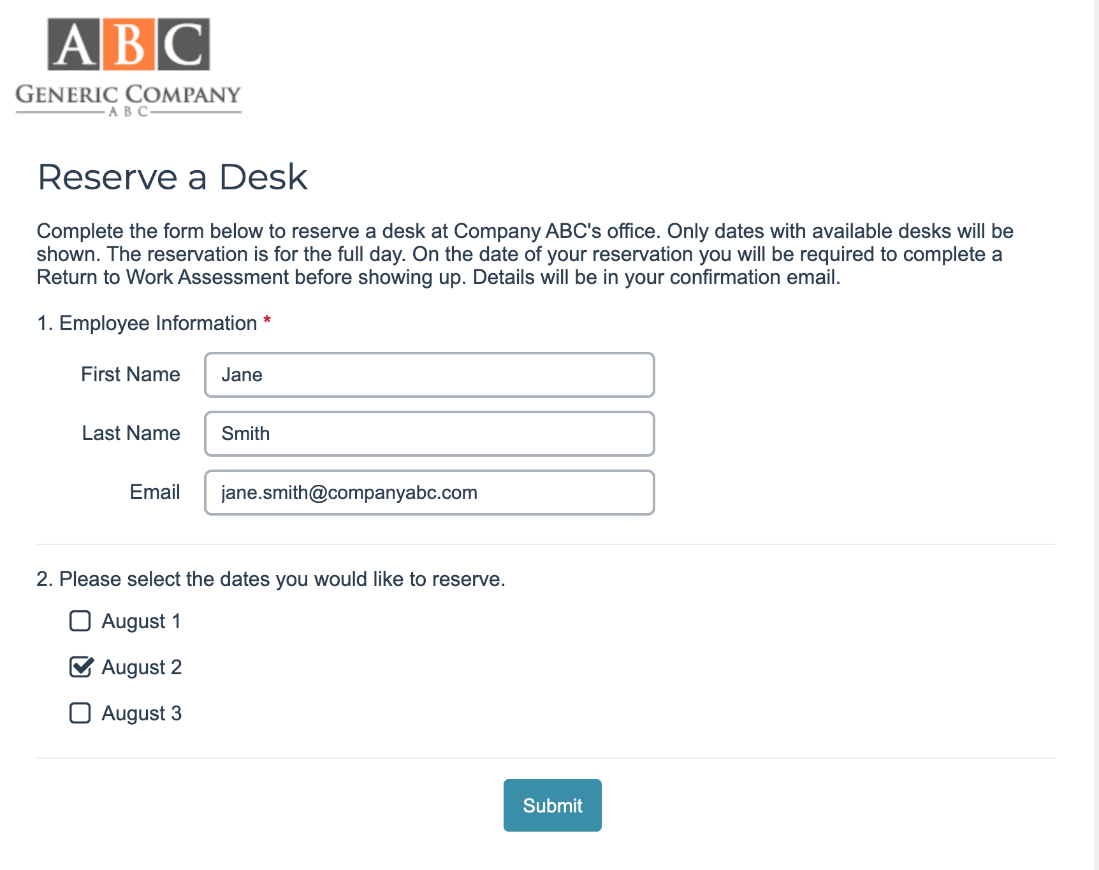 Reserve a Desk
To manage the number of employees accessing the office, HR can have employees reserve a desk in advance. Employees receive an email confirmation, and instructions on completing the Return to Work Assessment on the date of their reservation.
Free Template: The Employee Connection Pulse
Keeping a pulse on your workforce with most everyone working remotely is no easy task. To help you with a quick check-in, Alchemer created the Employee Connection Pulse. With ten quick questions, you can see how people feel about management, their teams, and their work. It takes employees about five minutes to complete the survey, and we recommend sending it out every two weeks (don't worry, there are no additional fees for surveying more often with Alchemer).

The Employee Connection Pulse is free to those with a paid Alchemer subscription. You will find the template in Survey Templates, in the Employee Category.
Modal Title
By accessing and using this page, you agree to the
Terms of Use
. Your information will never be shared.