When it comes to App Store Optimization (ASO), most brands think about keywords, compelling copy, screenshots, or the perfect icon. These elements are all important, but ratings and reviews are the crucial element of App Store Optimization that can make or break your overall ASO marketing strategy. 
In this post, we are talking about why this is the case and providing advice on how to improve your app store strategy.
What is ASO Marketing Strategy?
An ASO marketing strategy focuses on improving an app's rank, discoverability, and reputation in an app store. Similar to how a search engine indexes websites, the App Store and Google Play store incorporate a range of factors including app store keywords, downloads, and reviews when deciding which apps to show first in search results and top charts. 
ASO is a way of ensuring your app meets all of these ranking criteria and rises to the top of a search results page.
Why are ratings and reviews so important to your App Store Optimization strategy?
Ratings and reviews directly impact customer acquisition
App ratings and reviews have always been a key metric that affects customer acquisition. The lower the star rating, the less likely customers are to download the app, and the data is there back this up: 
79 percent

of customers check ratings and reviews before downloading a new app. 

Moving from a three star app to a four can lead to an

89 percent increase

in conversion.

90 percent of customers consider star ratings as an essential part of their evaluation of an app.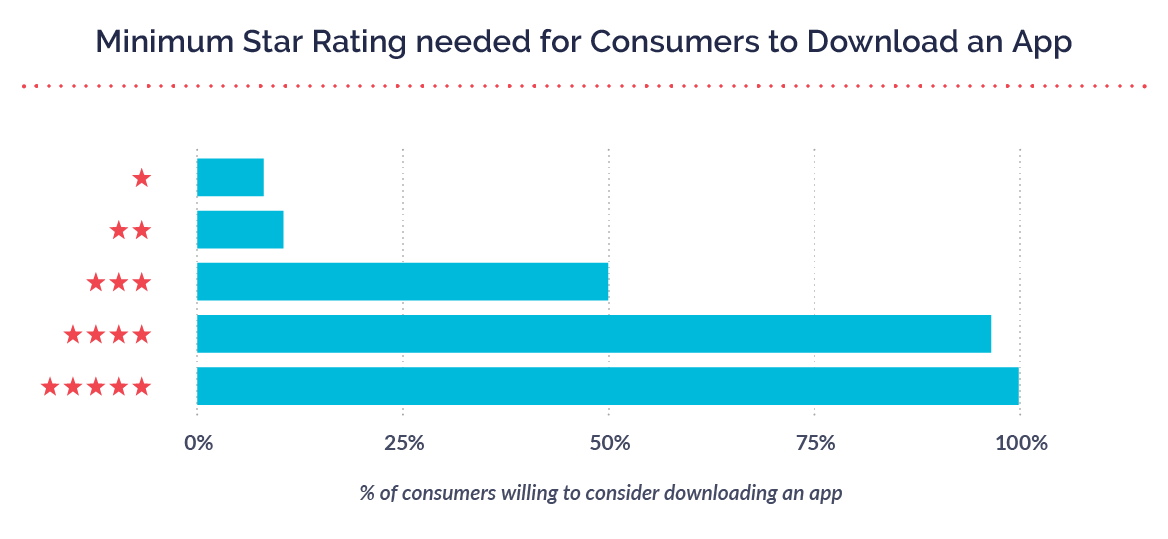 Brands are now prioritizing ratings and reviews because they know the cost of a low app rating. For the 1000 apps included in our 2022 Customer Engagement Benchmark Report, the average star rating was 4.67.
With such a high average rating, brands with a poor star rating stand out more than ever. A low star rating is a difficult hurdle to overcome and emphasizes the importance of ratings and reviews in your ASO marketing strategy.

How does this impact ASO marketing strategy?
Thankfully, if your mobile app has a low star rating, all is not lost. Your App Store Optimization strategy might just need some shifting. To start, brands struggling with poor ratings and reviews should start monitoring and acting on customer feedback.
Customers don't leave feedback just for other customers to see, they also provide feedback so that brands hear them. Consistently monitoring app ratings and reviews is an essential aspect of a strong app store strategy. 
If you don't keep a regular pulse on customer sentiment, your brand will always be doing damage control around ratings and reviews. 
With a tool like Insights, you can monitor your app store ratings and reviews and start acting on the findings derived from app store feedback. Insights is an AI-powered analytics tool that helps you:
Quickly identify customer experience issues or UX problems

See trending feature requests to help prioritize roadmap using real time customer feedback

Identify comments that tell you how customers compare your products to competitors

Understand and analyze open-ended feedback at scale

Monitor trends and improvements in customer feedback over time as features are released to address customer issues
To summarize, incorporating an analytics tool into your ASO marketing strategy helps you address the product and CX issues that are driving down your app store rating.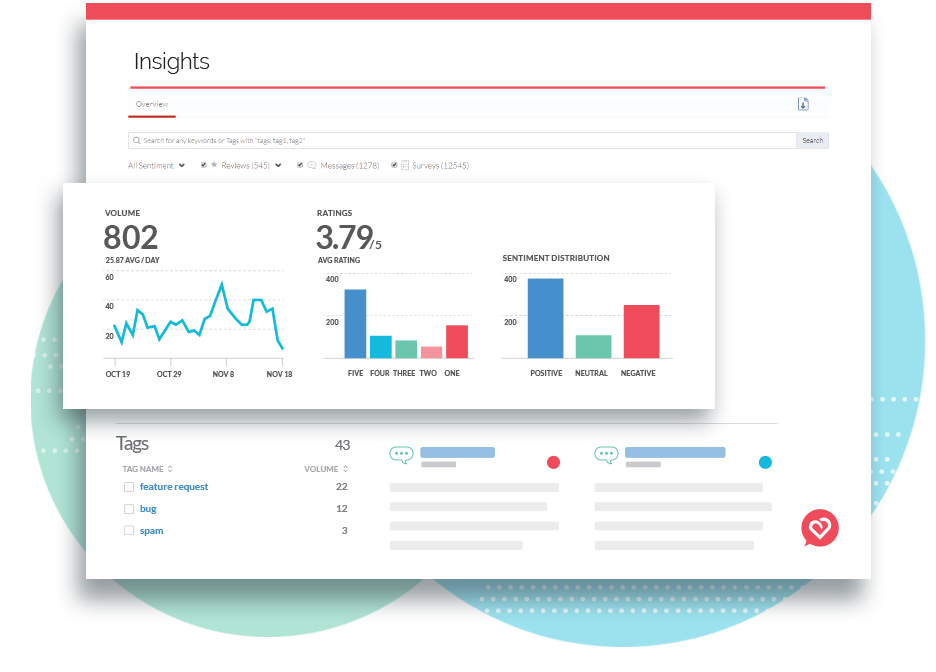 App ratings affect your app store search ranking
63 percent of IOS and 58 percent of Android customers find new mobile apps through app store search engines. While neither Apple nor Google have revealed in-depth specifics about how they calculate app store search rankings, it is clear that rating quality and quantity are a significant ranking factor. 
A few years back, we analyzed the 500 top-ranked apps, and found the highest correlation between ratings (both average rating and rating count) and ranks than any of the other factors we tested.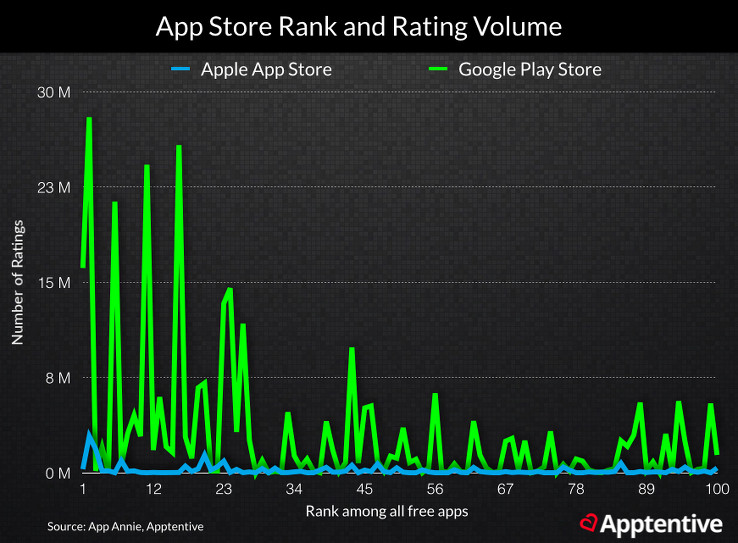 Across the board, apps with a large volume of positive ratings dominate the top charts.
In 2022, it is extremely rare to find an app on the top charts that doesn't have an average rating of at least four stars. If you take a look at the top charts for the iOS App Store, the top ten free apps typically have at least a few hundred thousand ratings with some established apps having over 10 million. 
Rating volume and quality have a tremendous impact on the discoverability of your app, and that is why incorporating strategies to increase both is critical to your overall ASO marketing strategy.
How does this impact ASO marketing strategy?
Once again, low app store ratings and volume are fixable. Brands just need to adapt their app store strategy and change the ways in which they ask for ratings and reviews. 
Customers are hard-pressed to leave feedback in any form, and the way digital customer feedback is gathered is often clunky, time-consuming, and distracting from the goal the customer came to accomplish.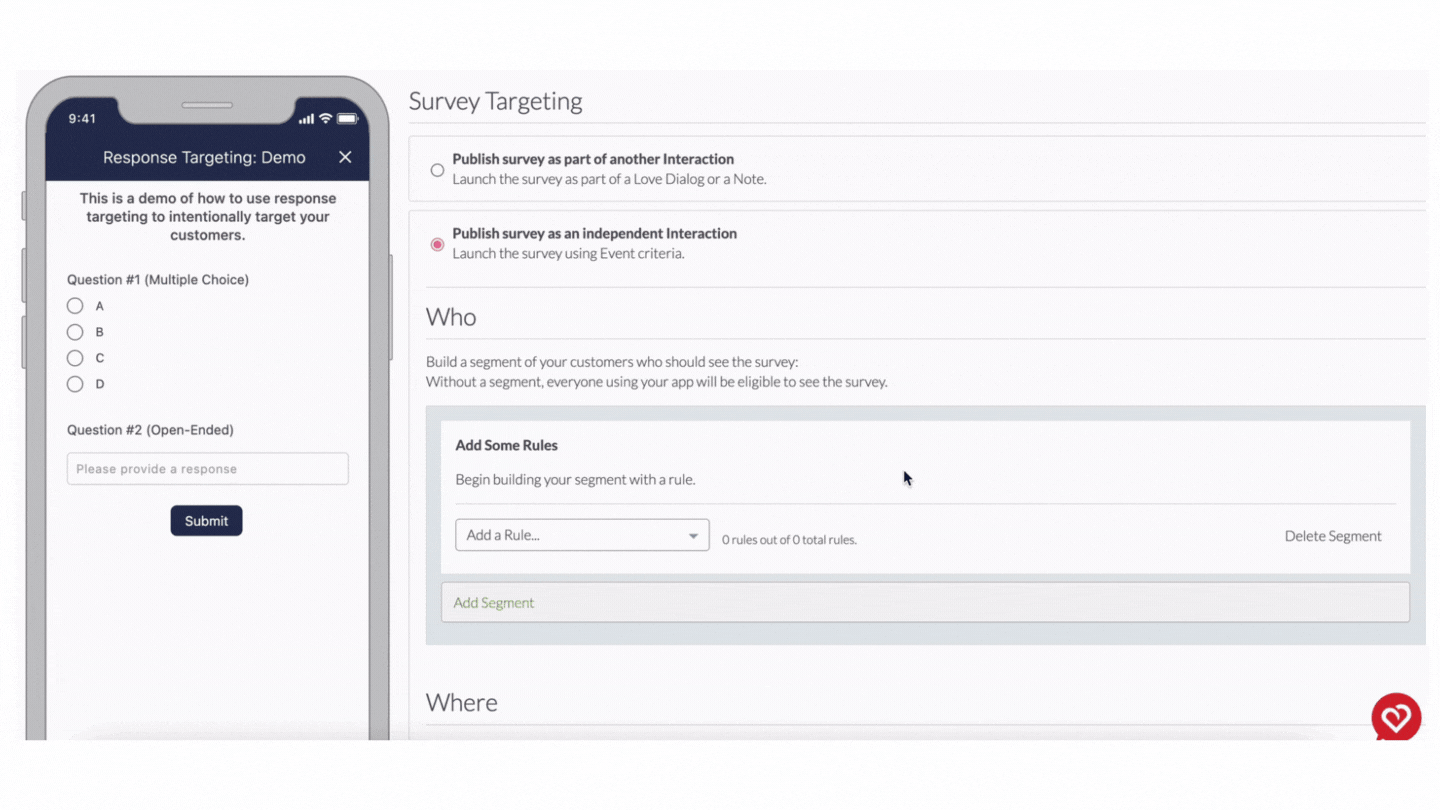 This is why brands need to evaluate who and when they ask for feedback, especially for app ratings. Let's dive into each of these elements:
Who: We recommend starting with the Love Dialog when determining who to prompt with rating dialogs. The Love Dialog is just a simple question: "Do you love our app?". Depending on the answer you receive and who you receive it from, you can learn so much about their emotion towards your brand and app. 
When a customer says they love your app by answering "yes" to the Love Dialog, you can follow up with them at a later date to ask for an app store rating. Since you already know they love their experience, you know they will likely provide a positive review and a higher app rating.
Remember, all feedback is important. So, for the customers that say "no," provide them with an in-app survey to better understand what is impacting their experience.
When: Finding the right mobile moment to prompt customers with the rating dialog can be tricky. It's important to target mobile customers at the right time within their in-app experience. If you ask for a rating at the wrong time and interrupt their experience, customers may give you a low star rating even if they do love your app.
Think about your experience while shopping at your favorite retail store. In-store sales associates won't interrupt you in the middle of a conversation to ask if you need their assistance, and they won't ask you if you need a fitting room before you've picked out any items of interest. 
In the same way, in-app targeting allows you to communicate with specific customers once they have engaged with your app at a time that will not detract from their in-app experience.
It is important for brands to proactively ask customers for a rating at the right time and place within the in-app customer experience. This is a key component of any strong ASO marketing strategy, because this process drives continuous rating and review volume. These ratings are also more likely to be positive because brands are asking the right customers at the right time.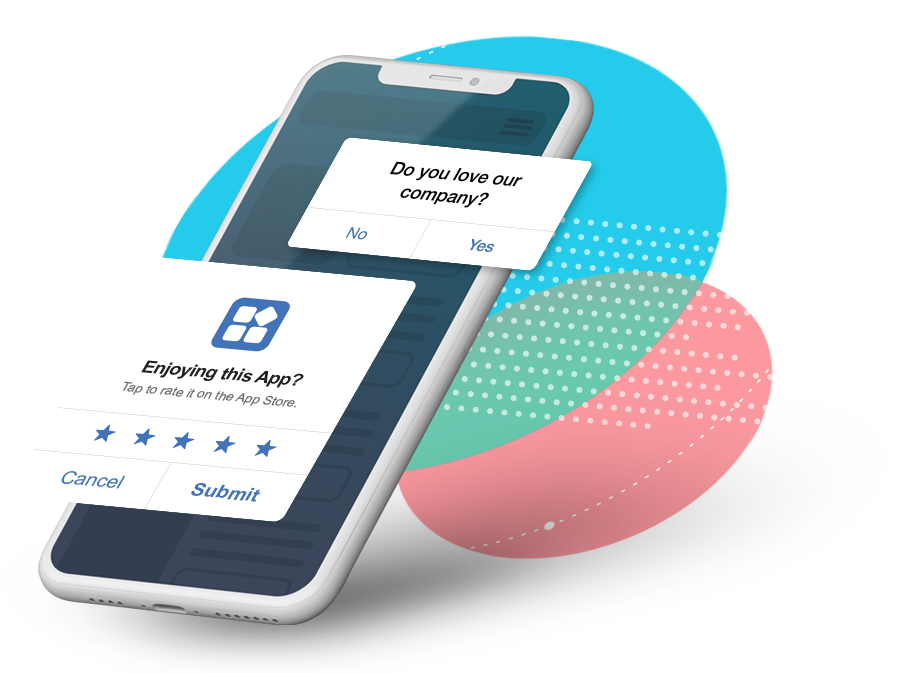 Conclusion
App Store Optimization is more than just updating your copy and product screenshots from time to time. A successful ASO marketing strategy focuses on monitoring customer sentiment through existing app store feedback, while taking targeting actions to drive new positive ratings and reviews.  
Alchemer Mobile (formerly Apptentive) has been helping brands with ratings and reviews for over a decade. If you want to see how we can work together, request a product demo!