The information age leaves us drowning in new insights, perspectives, and ideas each and everyday. We can find what's happening in the world instantaneously and within a click or two. This is no different for your company when it comes to searching out product feedback from your customers and target audience to build the foundation of a modern voice of the customer program. Feedback may be currently living in parts of your organization that you're not aware in no small part due to the sheer fact that it's easier than ever to share your thoughts, opinions, and feelings on products in the marketplace.

If you're not taking advantage of the amount of information you can get from your customers on your product and areas you can improve, you're missing a major opportunity to stay market relevant — despite how great your product may be.
In this post, we are going to to focus on the importance of capturing any and all feedback when it comes to how people use your product, why they use your product, and what they could potentially use your product for — this is integral to a high-functioning voice of the customer program.
Impact of VOC on your business
When you start typing "voice of the customer" into Google, some of the related searches people search for say it all when it comes to big picture impact of VOC: What is critical to quality? With a well-built and consistently managed VOC program, the quality of the product is at it's best at any given time. With a VOC program, organizations will also start to see:
Higher customer retention, trust, and loyalty

Lower churn rates

Bigger market share

Competitive advantage

Product/market fit
"Voice of the customer is the customer's voice, expectations, preferences, comments, of a product or service in discussion. It is the statement made by the customer on a particular product or service." – SixSigma Institute
Collect the good, the bad, and the ugly for a dynamic program that helps fill gaps and identify potential issues. Just because the feedback may not all be good, doesn't mean it's useful; in fact, I'd assume that if you collected all super great feedback on your product, it would remain stagnant when it comes to product innovation or growth, and your customers would never be offered something new. After long, product relevance would fall flat.
Information collection methods you can use right now to strengthen your VOC program:
Focus groups

Market research

Customer face-to-face interviews

Super-user feedback

Employee interviews from other departments outside of product (i.e. marketing, sales, customer service)

Surveys
For more information on collecting data from each of the above methods, read our earlier post in the VOC series here.
How to take the feedback and turn them into action items for your product team
When customers purchase your product, they have their own set of expectations which unquestionably vary based on purchase price, their existing relationship with and perception of your brand and organization, and the ultimate end-use of the product. For the example here — of taking feedback and turning it into a action item that be prioritized and put into motion — we used an example I'm sure a lot of our audience has experienced while using a public restroom.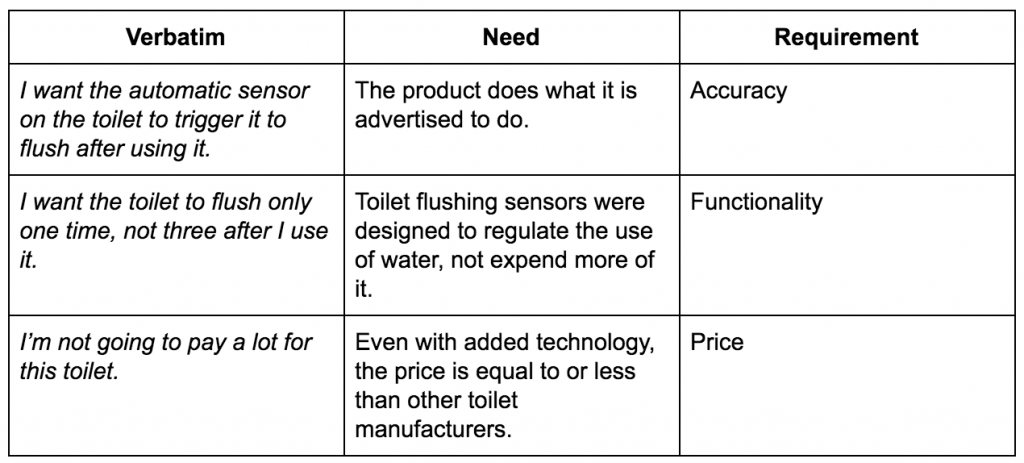 Translating core user/customer experience feedback carries the product to be in the prime of its lifecycle at all times while also solving adoption barriers for the end-users.
Uncover the feedback from hiding!
As mentioned above, feedback on your product lives and breathes in many different areas and comes in through a variety of channels a product team may not know. Take a look into:
Marketing:

Social media channels they manage, feedback from live events such as tradeshows or conferences

Many times marketers are approached by users of the organization's product and is an easy way to start a conversation at a tradeshow. The conversation typically takes the form of "I know someone in my organization that uses your product, and they are so frustrated because this functionality doesn't work." This is the type of feedback loop that needs to be in place even if at the service holding marketing event does not seem like the priority of a product manager.

Customer Service

: The nature of service and help inquiries

Sales:

What functionalities customers ask sales reps to show or explain more about