The following data and information on Travel apps is from our 2022 Mobile App Customer Engagement Report.
Subcategories for Travel Apps: Transportation, Hospitality & Tourism, Auto
In 2021, Travel began its road to recovery following interstate, national, and global travel restrictions brought on by the pandemic. The mobile investments teams made to Travel apps in 2020 paid off in 2021, fast-tracking the comeback Travel brands desperately needed after a year of uncertainty and low engagement, particularly in Transportation and Hospitality and Tourism. The Auto subcategory experiences less volatility in 2020, and saw 2021 benchmarks in-line with the year prior as a result.
"When customers interact with our world-class employees, their satisfaction skyrockets. But what about all those times when one of our famous customer service Red Coats isn't right around the corner? We see Fly Delta [the app] as a way to complement their expertise and extend their warmth and problem-solving savvy beyond traditional Delta touchpoints to make travel a part of the journey you can look forward to," Ed Bastian, CEO of Delta Airlines
The Travel apps from our research are separated in three subcategories: Transportation, Hospitality & Tourism, and Auto.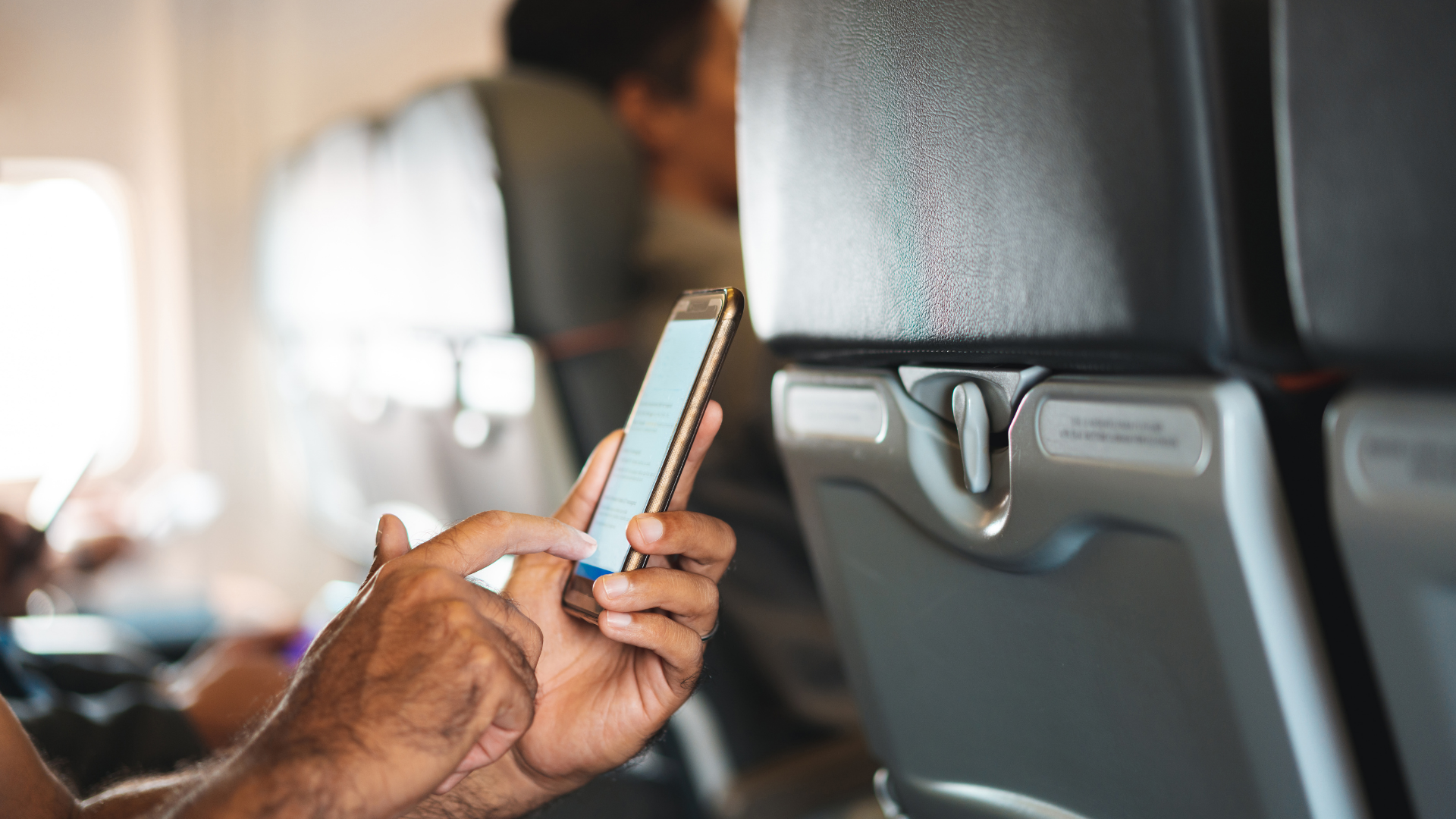 Data included:
Ratings and reviews
Retention
Interaction and response rates
Surveys
Popular phrases
Popular phrases with sentiment distribution
Consumer sentiment
Expressed customer emotion
Shifted emotions
Expressed consumer sentiment by subcategory
Shifted emotions by subcategory
Retention rates for Fans and Risks
Summary of Travel Apps in 2021
Last year, people were on the go again, using Travel apps in abundance after a year of sticking close to home. Mobile teams capitalized on increased activity by asking for more feedback, which resulted in impressive ratings. In every subcategory, Travel apps saw more ratings (153,654) than overall average (85,540), especially on iOS. Transportation apps went up the most with a 50% year-over-year increase; Auto and Hospitality and Tourism saw slight lifts.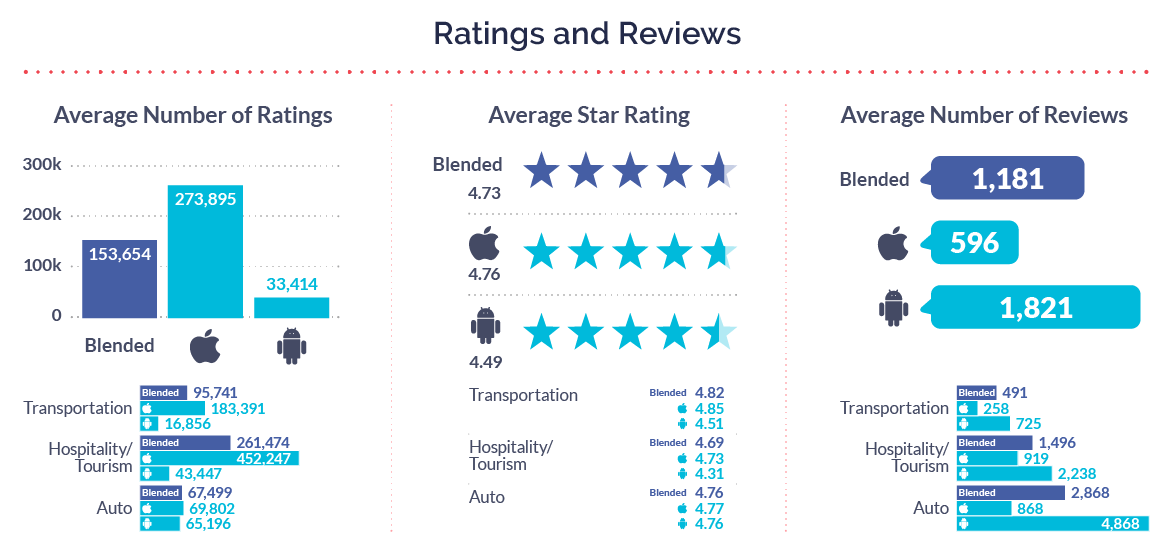 Average star ratings for Travel apps were higher than the maco average (4.67) in every subcategory: Transportation (4.82), Hospitality and Tourism(4.69), and Auto (4.76). Additionally, both iOS and Android saw a shift in star distribution, with app ratings from four stars moving toward five stars. More five-star reviews is indicative that people were happier with the apps and overall brand experiences.
Retention benchmarks for Travel apps were up from 2020 throughout the year: 30-day was 51%, 90-day was 46%, and annual was 33%. These benchmarks are lower than overall benchmarks for retention (67% 30-day, 58% 90-day, 44% annual), primarily due to usage expectations; people don't travel every day so the apps are used less frequently, but it doesn't mean that consumers are disengaged or that they've churned. 90-day retention after seeing a Love Dialog was extremely high for this category at 76% (79% overall), but particularly in Auto at 85%.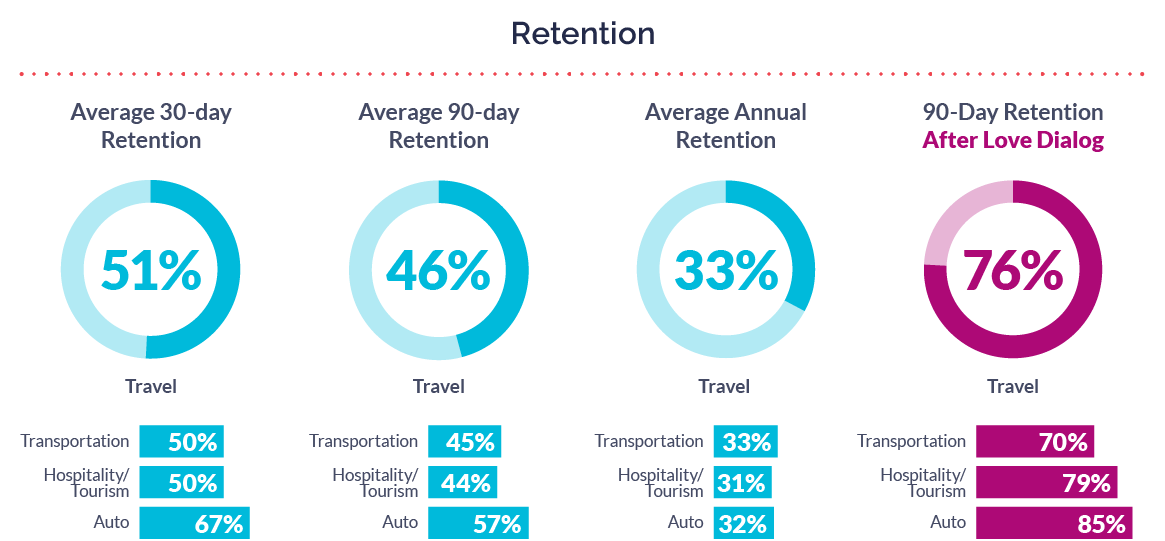 Simply interacting with more consumers drove the great retention gains shown above. Mobile teams working in Travel clearly prioritized talking to their consumers early in their journeys, and as a result, the average interaction rate was 24% (26% overall average). In 2020, interaction rates went way down as brands only wanted to reach out to consumers with the most critical messaging during the height of the pandemic. In 2021, brands were able to have more free conversations with their consumers. And the increase in interactions did not come at the expense of response rates, which were extremely high at 94% (91% overall).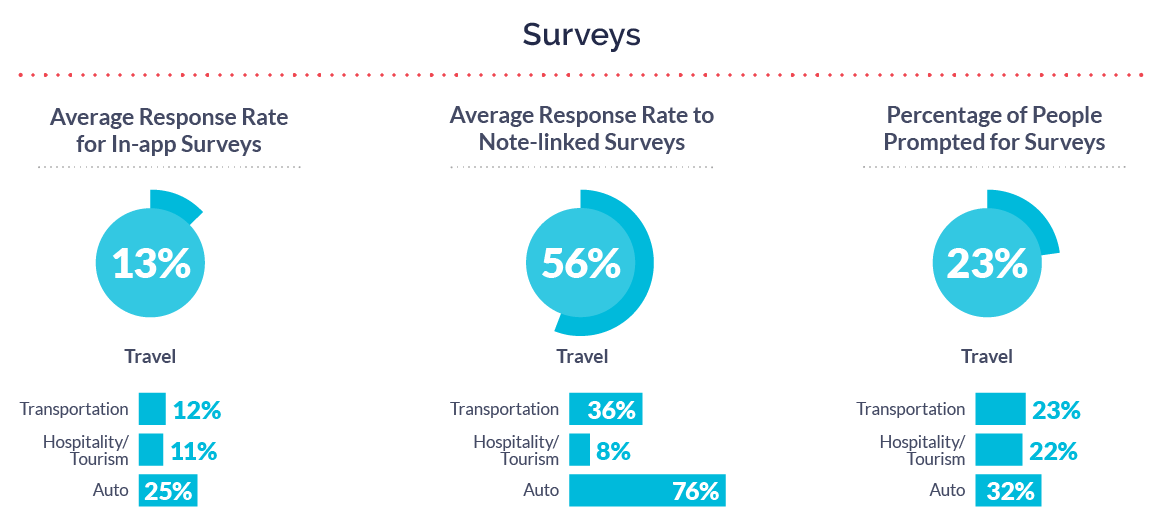 As a result of talking to more consumers, Travel apps benchmark for ​​Love Percent went down slightly to 65% (64% overall), mostly on Android (60%). Transportation was the subcategory that was affected this the most, with a Love Percent of 57%. When teams tap into more of their silent majority by talking to more people, they get a more representative picture of how people feel. Sometimes, they aren't happy, but it's better to know in order to get the opportunity to act.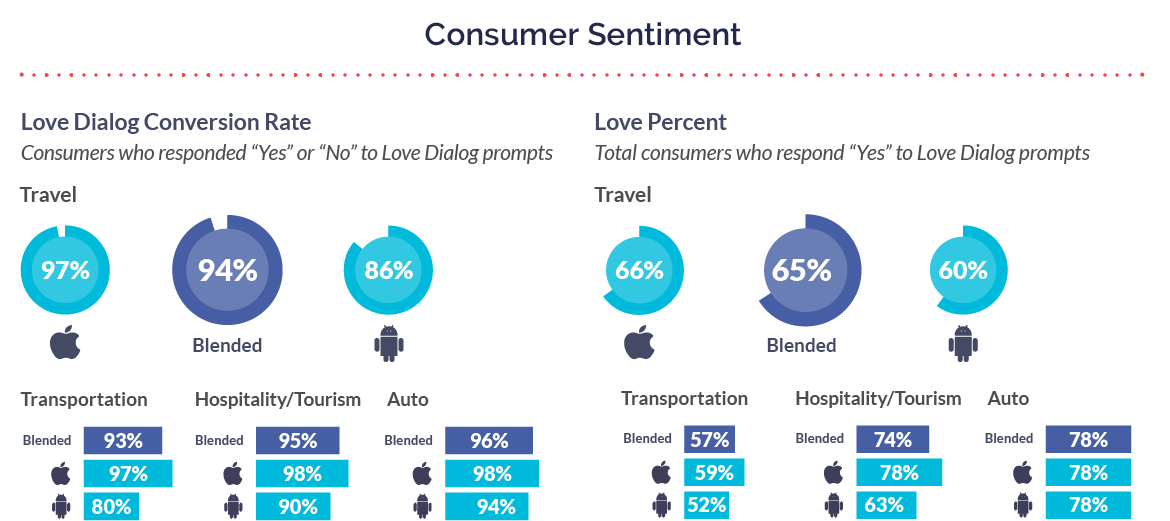 Bonus reading and resources
Want to see how the Travel category compares to the macro trends we identified in our 2022 Mobile Customer Engagement Report? Download your copy here.
Additional benchmarks for Travel apps