Finding the right survey solution for your enterprise is as much about knowing what you want to do with surveys as understanding how to navigate your internal approval processes.
Most survey solutions will help you with a simple poll of how people feel or help you build a form to find out what people want to eat. But when it comes to building complex surveys for market research, customer experience, employee experience, or more, you need a solution that is more business software than consumer.
This chart outlines key metrics used by IT and Operations teams to select software ideal for their enterprise business.
How Enterprise Survey Solutions Stack Up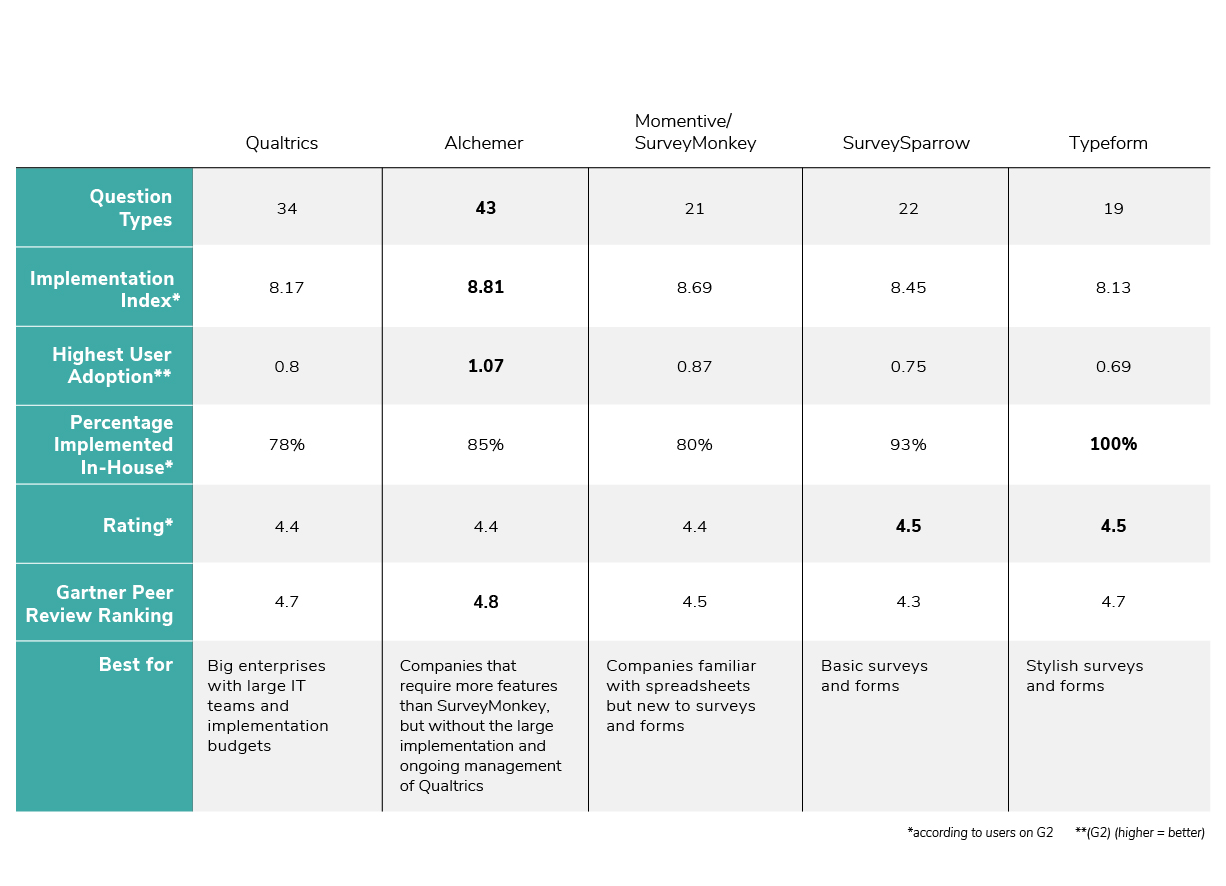 An examination of each company reveals additional details:
Qualtrics
From customer insights to market research to concept testing, Qualtrics CoreXM is the central research platform that allows anyone to capture experience insights and take action. More than 11,000+ of the world's best brands rely on Qualtrics to power their most critical business decisions.
What users like: In-application reporting, analytics,
What users dislike: Limited flexibility, typically
What IT/InfoSec likes: Typically, Qualtrics is a safe solution
What IT/InfoSec dislikes: Requires long and complex implementation, often using professional services or consultants. Also requires IT involvement in any customization.
What Procurement likes: Easy vendor approval, one source for billing
What Procurement dislikes: High costs, unpredictable expenses for responses
Alchemer
Every market research, employee, or customer-feedback program begins with asking questions and gathering feedback. Alchemer (formerly SurveyGizmo) offers almost twice as many question types as the competition. This makes Alchemer the logical choice for serious researchers, companies surveying large groups, teams that run surveys often, and ongoing customer satisfaction surveys because there are no per-response charges.
What users like: Variety of test and question types, advanced piping and logic, flexibility, unlimited questions and virtually unlimited responses, ability to add video
What users dislike: Platform translates through browser settings, customization, email actions
What IT/InfoSec likes: Ability to centrally administer policies, ease of implementation, highest user adoption, GDPR and CCPA compliance, SOC2, ISO 27001 certification
What IT/InfoSec dislikes: Offers limitedadmin controls
What Procurement likes: Affordable pricing for an enterprise, volume discounts, no charge per response
What Procurement dislikes: Pricing for occasional surveys
Momentive/SurveyMonkey
SurveyMonkey is a provider of web-based survey solutions, trusted by millions of companies, organizations, and individuals alike to gather the insights they need to make more informed decisions.
What users like: Simple, easy to use, not complex
What users dislike: Lack of complexity, lack of question types, frustrations with reporting
What IT/InfoSec likes: Fairly easy to deploy
What IT/InfoSec dislikes: Lack of IT/InfoSec oversight
What Procurement likes: Initially affordable
What Procurement dislikes: Unexpected costs (80 cents per response over 10K)
SurveySparrow
SurveySparrow is an end-to-end omnichannel experience management platform that bundles Customer Experience and Employee Experience tools such as NPS, Offline, Chat, Classic, and 360° Surveys, which are mobile-first, highly engaging, and user-friendly. The conversational UI lets your surveys deliver a chat-like experience and increases survey completion rates by a whopping 40%.
What users like: Mobile survey building, conversational UI
What users dislike: Lack of question types, limited design and formatting, no white-labeling
What IT/InfoSec likes: Easy to use, no training
What IT/InfoSec dislikes: Poor support
What Procurement likes: Low entry cost
What Procurement dislikes: Poor value compared to other solutions
Typeform
Power your brand's interactions with beautifully designed, professional-looking online forms & surveys that people just love. Collect feedback, sign people up to events, receive job applications, take payments, create engaging quizzes or interactive stories.
What users like: Stylish surveys, ease of use, qualitative results
What users dislike: Limited capabilities, lack of qualitative results
What IT/InfoSec likes: Easy to deploy
What IT/InfoSec dislikes: Lack of compliance, poor support
What Procurement likes: Low entry cost
What Procurement dislikes: High cost per response, poor value compared to other solutions