By Vanessa Bagnato, Director of Enterprise Solutions, with Jenny Lewis, Director of Sales for Enterprise Account Management, and Nolan Frazier, Director of Sales for New Business
When the customer drives the sales process, everyone wins. Buyers demand an experience that is hyper-personalized to meet their exact needs. According to a study by Hannover Research, more than half of B2B customers will pay higher prices for tailored product and services recommendations. Getting to know customers and solving their unique challenges helps sales teams win more opportunities and land larger deals. It also helps businesses reduce churn and nurture customer relationships.
Unfortunately, when it comes to creating a customer-centric sales experience, not many organizations put the customer at the center of their sales process. Their CRMs are filled with data about the customer and little to no insight on the customer's expectations, past conversations, buyer values, or win themes. Their processes are driven by opportunity tracking, internal goals, and persona templates – not true customer needs. It leaves closing the deal to guesswork and interpretation instead of capturing customer's feedback.
The Alchemer Sales Motion Optimizer Solution changes all this by putting the customer at the heart of the sales process. It helps you listen to your customers by capturing feedback at every stage, recording it, and embedding it into the systems you already use. By giving you the insights you need to truly understand your customer's needs and how you can help solve their problems, you can personalize the sales motion process – creating the customized experiences that engage customers and close more deals.
Enhancing the Sales Motion Process
Jenny Lewis, Director of Sales for Enterprise Account Management at Alchemer, is passionate about building and mentoring high-performing sales teams. She has seen firsthand how traditional sales culture lacks customer focus.
"Too often, the sales motion process is one-sided and it's about talking more than listening," Jenny says. "We talk about who we are and what we can offer. We tell the customer how our sales process works and what will happen next. Yet, many salespeople fail to take into account who the customer is and what they need."
Determined to put the customer at the center of sales efforts at Alchemer, sales leadership is working closely with the company's solutions team to put the Sales Motion Optimizer into action. "This is transforming our sales process," explains Jenny. "It helps to ensure that we let the customer tell us what they need. This also helps us align our internal checkpoints around their goals. Not only can we demonstrate value once, but we're able to build on it throughout the entire sales process."
The Sales Motion Optimizer is helping Jenny and the rest of the sales leadership team truly understand what our customers are looking for when buying our product. In turn, this helps to build a strong, effective sales team.
The solution provides insights into both won and lost opportunities, which quickly uncover problem areas and coaching topics so that the sales leaders can effectively mentor their reps. Having this accurate, up-to-the-minute data and client information without ever having to leave Salesforce helps the sales reps save a significant amount of time.
Benefits for New Business
The solution is also positively impacting the new-business side of the sales team. Nolan Frazier, Director of Sales for New Business at Alchemer, believes that the Sales Development team is getting up to speed faster and providing more valuable customer insight when handing a lead off to a sales rep.
"We needed to enhance our discovery stage and more accurately capture what the customer wants and needs," says Nolan. "When we can see that a customer spent the time to fill out a pre-discovery call survey, we know they're committed to attending the call. And we don't have to guess at what they want and need, based on a phone call with a sales development rep."
Better data during the discovery stage is leading to a better prioritization of opportunities. In addition, as a customer transitions through the sales stages and handoffs between sales team members, there's an exact record of the customer's feedback and not an interpretation of it.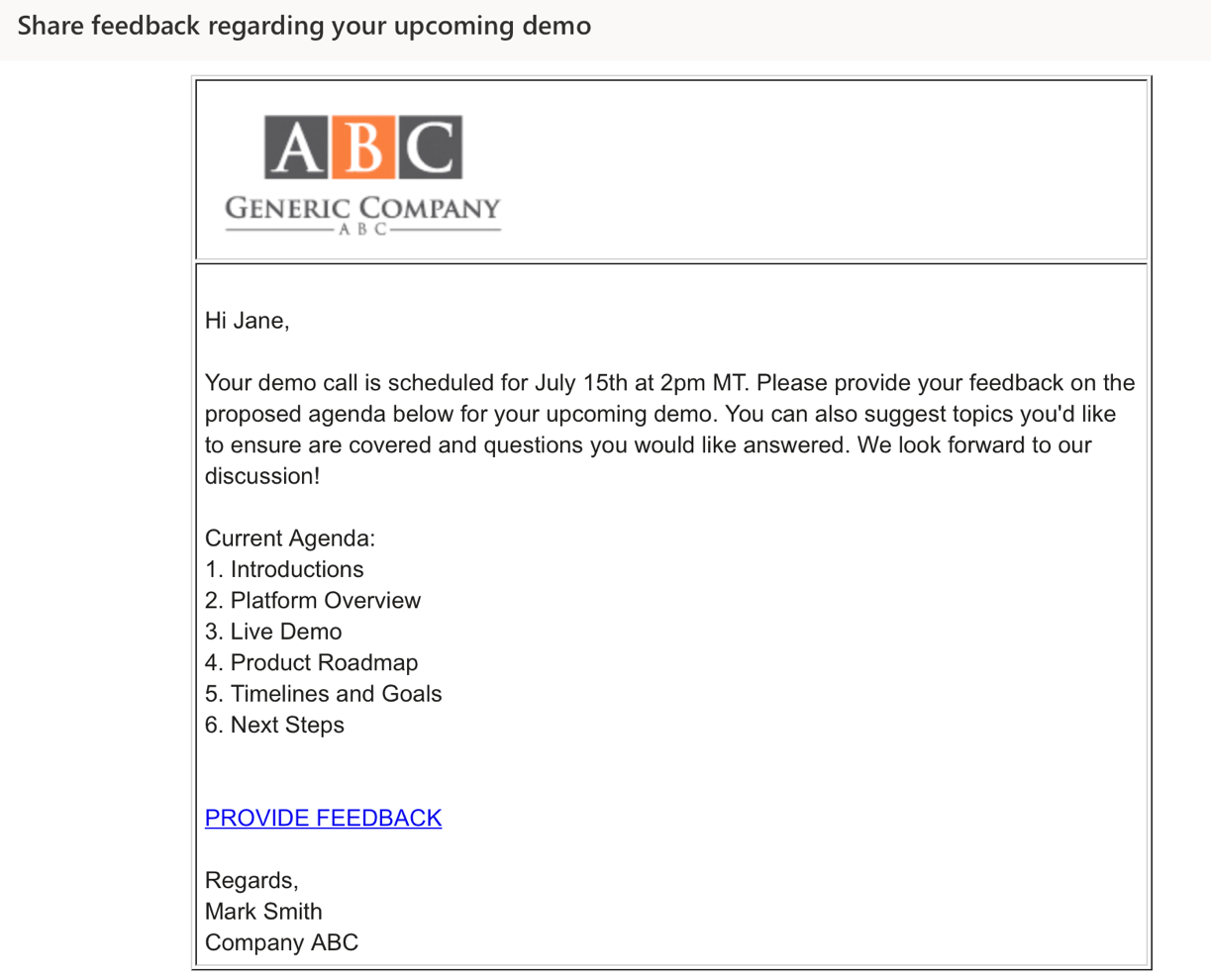 Let Customers Tell You How They Want to Buy
In today's marketplace, a customer-focused sales motion process is imperative to success. According to a recent study, 89% of business customers expect companies to understand their needs and expectations. Gathering and acting on feedback is what makes this possible. Your response to what you learn proves to the customer that you are truly listening and want to solve their problems.
From discovery to demos, closed-won/lost, to onboarding, the Sales Motion Optimizer collects your customer's feedback across the entire sales process. It allows customers to tell you exactly how they want to buy and why, so you can meet and exceed their expectations.
You get an exact transcript of the problems they are looking to solve, why they are interested in your product, and their decision-making criteria. You will know what's going right and what's going wrong every step of the way. And because the feedback is recorded in their own words within the CRM, nothing gets lost in translation.
As a result, you have instant visibility into how each sale needs to evolve to best meet your customer's needs. Armed with this knowledge, you can quickly gauge how to engage with customers, prioritize opportunities, and pinpoint areas of improvement. It also makes it easy for everyone on your team to follow the same, unified process. As the customer progresses through each stage, the sales rep knows exactly what process to follow and which assessment to send.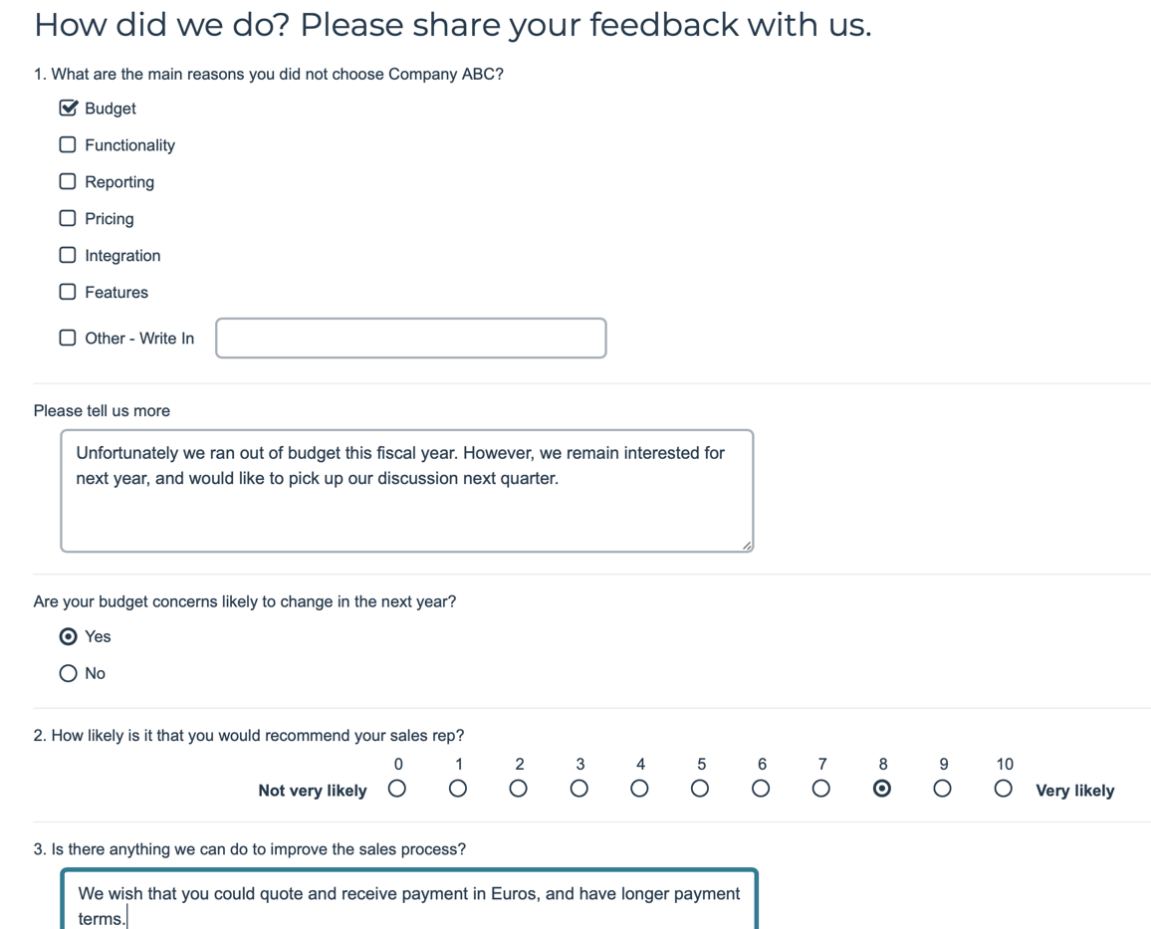 Build a Single Source of Truth – and Integrate it with a CRM
Having a single view of the customer goes a long way to support customer-engagement goals. Yet in many organizations, customer data can be found scribbled on notepads, sitting in spreadsheets, or scattered across multiple platforms. The information that does make it into CRMs is often incomplete and incorrect.
According to Lewis, "When a deal is lost, it can often be attributed to the salesperson misunderstanding the customer or not recording information correctly. With the Sales Motion Optimizer, this is no longer an issue."
The Sales Motion Optimizer includes a centralized Sales Portal that houses all the assessments and workflows out of a single repository. The Sales Portal can be integrated with a CRM, where all feedback is pushed immediately to the correct record. As a result, your sales team has access to clean, real-time data within the systems and processes they use every day.
The integration with Salesforce's CRM enables the Sales Portal to be embedded directly within the CRM, so sales reps never have to leave the platform to send an assessment or review feedback. With direct integrations and our REST API, the Sales Motion Optimizer can also integrate feedback with Microsoft Dynamics and other CRMs.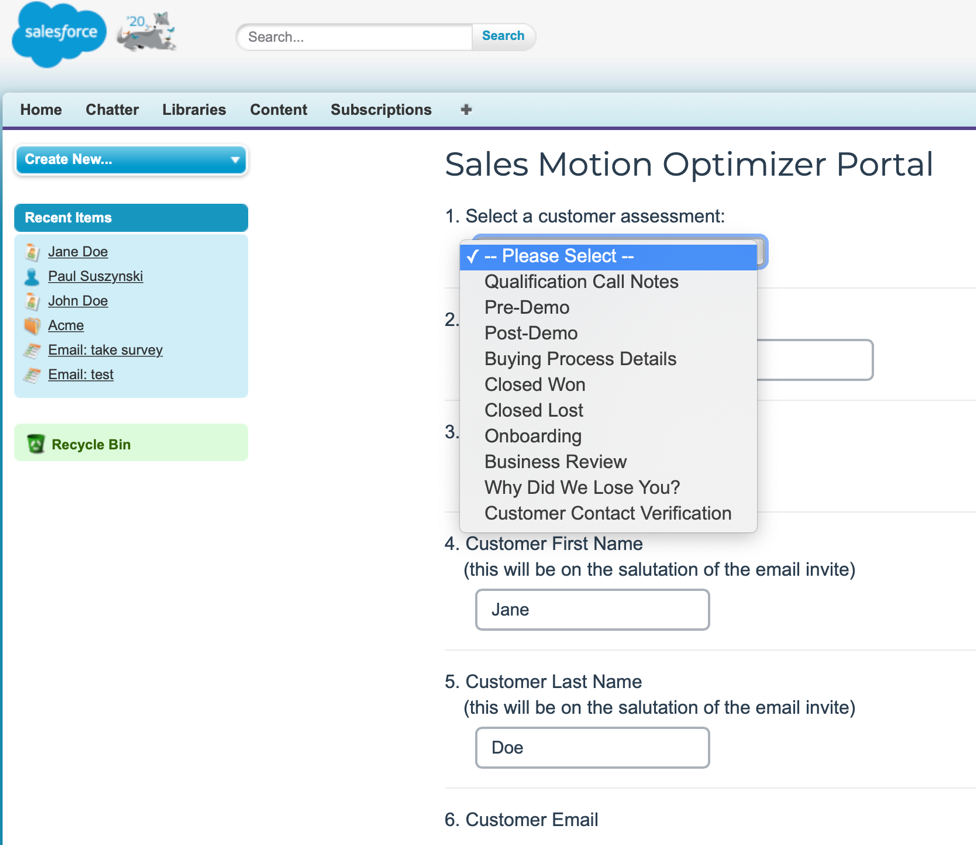 Optimize Your Sales Motion Process Without Recreating the Wheel
The Sales Motion Optimizer makes it easy to build a unified framework, so everyone on your team – salespeople, managers, and sales operations – are all on the same page. It also enables you to engage with your customers in the way they want to engage with you.
With valuable insights at your fingertips, you can deliver hyper-personalized buying experiences to your customers – and this translates into more closed-won opportunities. Best of all, you don't need to recreate your processes to make it happen. Configurable assessments, workflows, emails, and branding allow you to tailor the solution to meet your own sales stages and sales motion process.
Implementation is easy too. The solution includes five hours of consulting from our professional services team so you will be up and running in just 30 days. To learn more about the Sales Motion Optimizer Solution, download the solution sheet, call 1-800-609-6480, or email your account manager or sales today.
Close more and larger deals by personalizing your customers' buying experience
---
Your sales motion is the lifeblood of your selling process. When you optimize it to bring customers to the center of your sales process, you drive larger deals and get more customers.
80% of customers say the buying experience is as important as the product when making a buying decision. When you look up a customer in your CRM do you see much more than a name, email, and purchase history? The Sales Motion Optimizer Solution lets you deliver a hyper-personalized sales experience to your customers because you listened and captured their needs and expectations. Your customer's feedback will help to enhance the sales motion process to better meet their expectations, and this leads to closing more deals because you're better solving the customer's challenges.
The Sales Motion Optimizer includes:
• Ten pre-configured, feedback assessments to capture customer feedback
• A centralized Sales Motion Portal to share insights and best practices
• Full integration with Salesforce and Microsoft Dynamics
• The ability to embed the Sales Motion Optimizer Solution into Salesforce
• Safeguarded GDPR and CCPA compliant data
• Gold Customer Success Services
With the Sales Motion Optimizer solution, you'll have the information you need to grow customer relationships, close more and larger deals, grow your team, and build a sales organization that is customer centric.
To learn more about the Sales Motion Optimizer Solution call 1-800-609-6480, or email your account manager or sales today.
Set Up a Demo
By accessing and using this page, you agree to the Terms of Use. Your information will never be shared.
Optimize your Sales Motion
Discover how easily you can optimize your sales motion using the tools you already have in place.
See How to Best Engage With Customers
Unfiltered, real-time feedback data lets you quickly gauge what's working in your sales-motion process, making it easier to pinpoint areas of improvement and prioritize opportunities. You'll know how to best engage with your customers and where to focus your training and coaching efforts within your sales teams. And with all your feedback data fully integrated into your CRM, you can quickly upgrade your team's performance. No matter the deal size or customer stage, each sales rep will be tapping into the same, unified sales process.
Build a Customer-Centric Sales Organization in 30 Days
Embed customer feedback into every sales decision
With pre-configured assessments for every journey stage, plus customizable workflows, and email notifications, embedding customer feedback into your sales process has never been easier. And with six hours of onboarding coaching from our Professional Services Team, you can roll out a streamlined sales motion process in as little as 30 days.
Integrate with Your CRM
Round out your CRM data with detailed customer feedback
Full integration with Salesforce and Microsoft Dynamics means you can automatically push all feedback into the customer's record. And because the Sales Motion Portal can be embedded directly into Salesforce, reps can collect and view customer data without having to leave the platform your sales teams uses every day.