By Vanessa Bagnato, Director of Solutions Marketing
For overburdened information security teams, evaluating vendor and enterprise risks can quickly consume department time and budgets. Many organizations rely on a piecemeal approach, delivering one-size-fits-all assessments using a combination of PDFs, documents, and emails. This inflexible, time-consuming process is marred with issues and ends up frustrating both staff and vendors. Add in the time needed to calculate raw and residual scores manually, and you have the makings of an efficiency nightmare.
While there are vendor and enterprise risk management tools available, their prohibitively high licensing fees and setup costs are hard to justify. What's more, their functionality can be limited and inflexible, eating away at the very efficiencies information security teams hope to gain.
A Solution in the Making
Desiree Robinson, Director of Information Security and Compliance at Alchemer, was all too familiar with this reality. Determined to revamp the company's risk-assessment program, she set out to develop a flexible and automated process so that her team could focus their efforts on managing and mitigating risks instead of being bogged down by manual risk evaluations and validations.
To do this, she and our Solutions team leveraged the Alchemer platform's inherent flexibility and functionality to design a more efficient process. This collaboration resulted in the Risk Assessment Solution: our comprehensive suite of pre-configured surveys with templated questions, workflows, and reports – all designed to streamline the process of identifying and reporting on vendor and enterprise risks.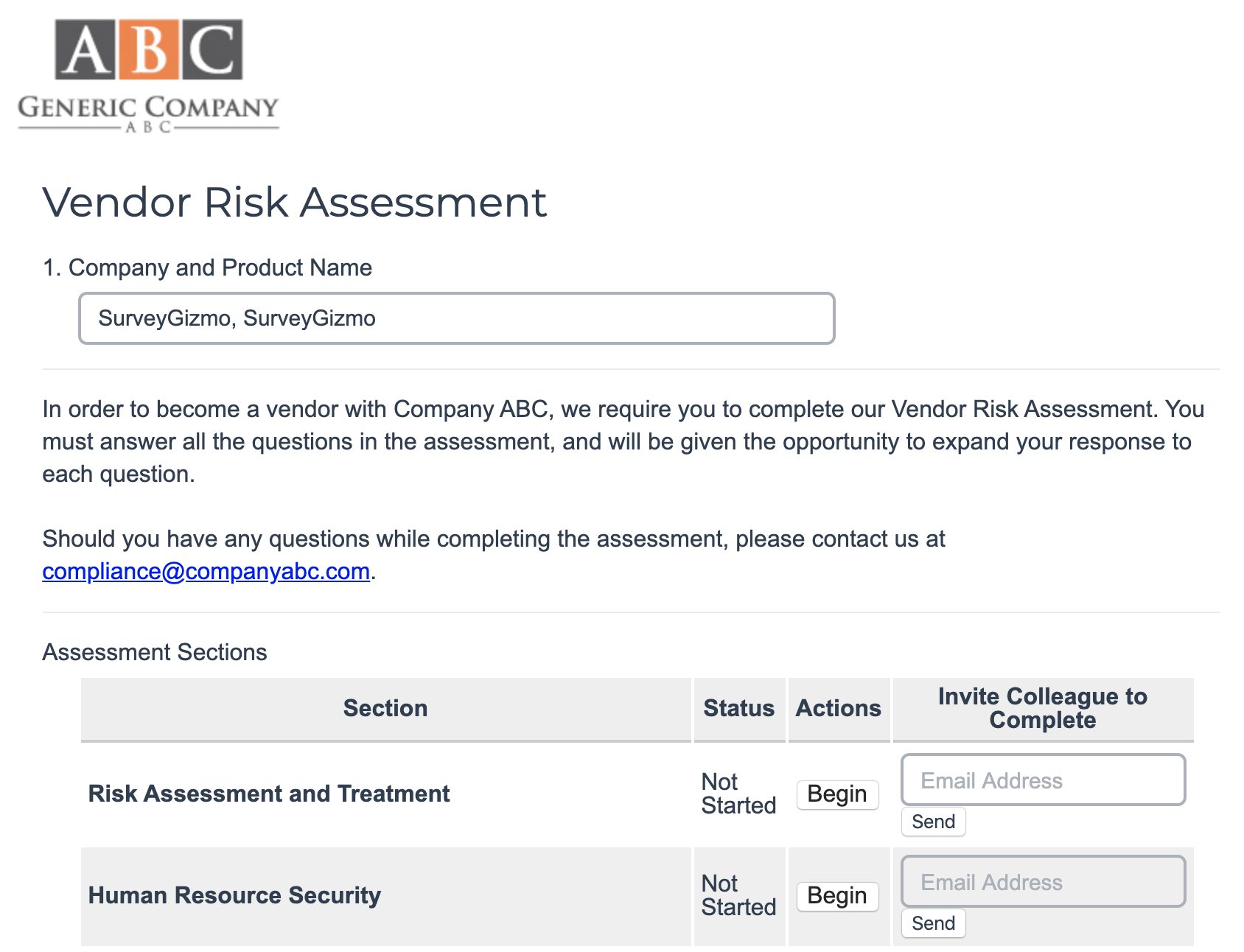 What Took Days and Weeks Now Takes Hours
As a result, what once took days and weeks to complete now takes just hours, giving valuable time back to not only the information security, but also legal, procurement, IT, and other departments throughout Alchemer.
With our Risk Assessment Solution, you can now take advantage of this same process. It allows you to operationalize risk feedback across your entire organization, making it easier to identify and assess risk – and to build a more robust information security program.
A Look Under the Hood
Allowing you to create your own flexible, repeatable process for capturing and evaluating risk companywide, the Risk Assessment Solution includes:
Customized Third-Party Vendor Assessments. The sheer volume of vendor requests can tax valuable resources. And vendors can quickly become frustrated with blanket assessments that often include irrelevant questions. The Risk Assessment Solution eliminates both of these issues, so you can easily oversee the vendor request process for both internal requestors and vendors.
Here's how it works: When an employee wants to onboard a new vendor, they complete an Internal Vendor Request Assessment. The assessment is automatically sent to Information Security, where a customized vendor risk assessment is created and sent to the vendor based on their vendor type and risk level. Once completed, risk scores can be adjusted, creating an auditable trail of raw risk and residual risk for each vendor.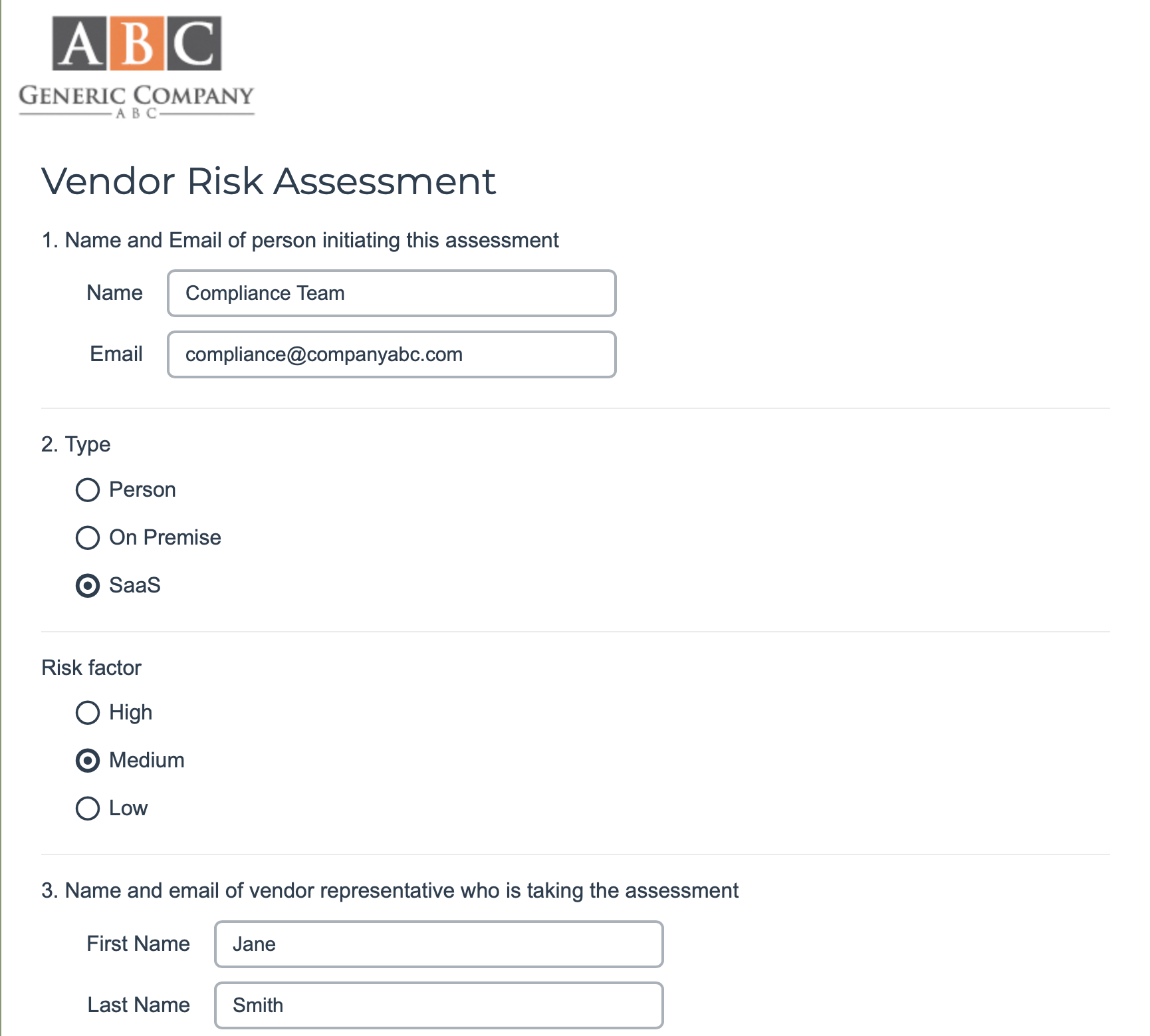 Bottom-Up Enterprise Risk Assessments. Driving business priorities across the organization; the importance of your risk register cannot be overlooked. Yet, all too often, risk registers are built from the top-down, limiting visibility and accountability of risk management at all levels of the organization.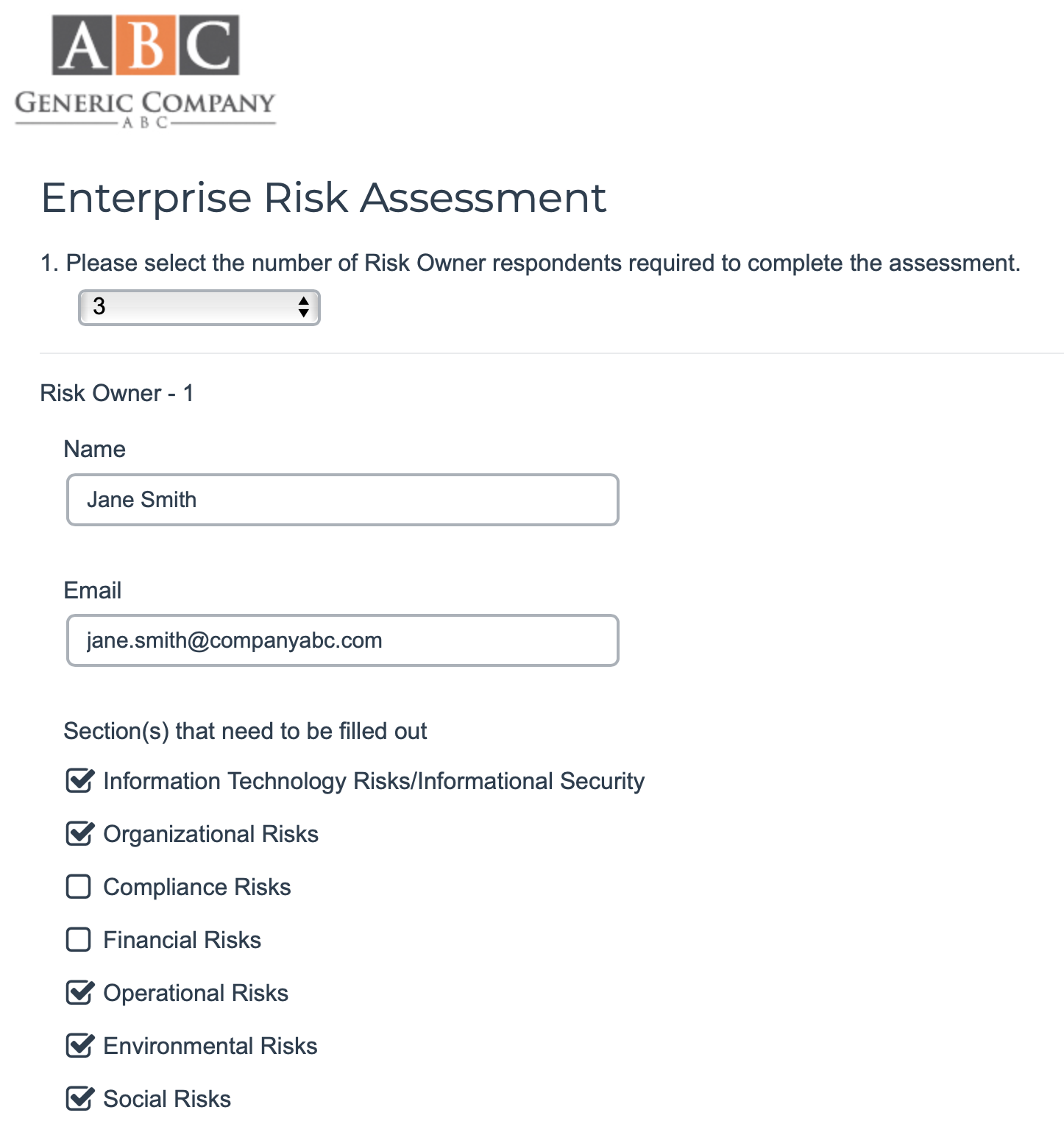 With our Enterprise Risk Assessment, you can survey both risk owners and risk managers on identified risk types, allowing them to assign risk ratings.
For example, you can assign Level 1 risk owners specific sections to complete. They, in turn, can assign sections to Level 2 risk managers. Adding more depth to the process, multiple risk owners and managers can also enter risk ratings for the same sections. As a result, you get a bottom-up view of risk that facilitates departmental accountability for risk mitigation within their areas.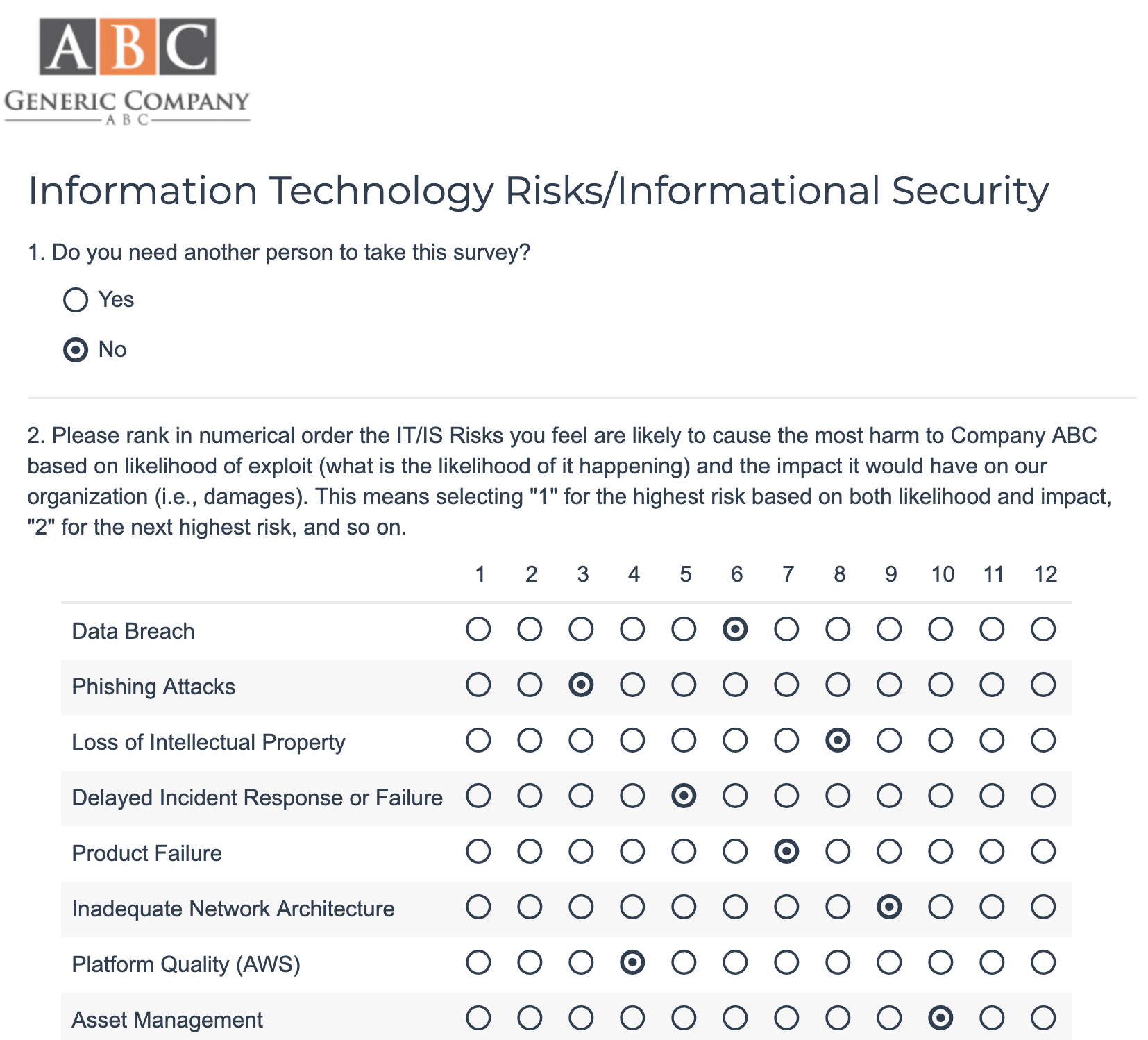 Going from Reactive to Proactive in 30 Days
With pre-configured surveys, workflows, reports – and up to 10 hours of onboarding coaching from our Professional Services team – you'll have everything needed to build a better risk assessment program in just 30 days. Your team can focus on being proactive, effectively managing, and mitigating risks to propel your business.
For more information on how the Alchemer Risk Assessment Solution can help you perform vendor risk assessments in hours not days, click here.