Ten years ago, Mike Saffitz, Andrew Wooster, Sky Kelsey, and I started Alchemer Mobile (formerly Apptentive). When we started this company, we thought a lot about what we wanted to be true in the future. Each of us had our own motivations, but at our core, we believed that:
The Internet has a massive power to connect people
The unique power of mobile is its personal nature
Each and every human deserves a voice
Ten years into this journey, I'm proud that those beliefs continue to ground, shape, and define what we are building at Alchemer Mobile (formerly Apptentive).
We forged our commitment to our customers from day one with our very first customer, Chewsy.  Sitting with their team at coffee shops, we worked side-by-side to successfully integrate our SDK together. This began a culture of customer-focused behavior that led to inviting our customers into our development process, visiting them in their offices, and talking about this thing called customer love.
Moving the team to Seattle feels great. pic.twitter.com/5Hc50g8c

— Robi Ganguly (@rganguly) July 13, 2012
We repeated it regularly: "It shouldn't be weird to say 'love' and 'software' in the same sentence." We'd say this to each other and our customers; every day, every month, every quarter, every year.
We built and shared a view of the future that gave every customer a voice. We advocated on behalf of the customer because we knew it would lead to better experiences.
At first, people would object to this idea by saying things like, "There's too much feedback" or, "We already know what people are going to say." But we would nod our heads and keep working because we knew that wasn't true.
When we partnered with product teams and sat alongside UX designers, we learned that the survey industry wasn't meeting the needs of digital experience teams. These formulaic, routinized offerings ignored the key advantage of a mobile device: that it's personal and uniquely YOURS.
My first official event since joining team @apptentive and totally loving it! pic.twitter.com/WKwGFNfG

— Red Russak (@RedRussak) January 17, 2013
In late 2013, the 10 millionth consumer was heard from using Alchemer Mobile (formerly Apptentive). As a team, we started to hear the same result from our customers: They could get high response rates AND hear from a lot more of their customers. This led to better product experiences and therefore higher customer lifetime value.
By 2015, we'd helped some of the world's largest brands listen to over 100 million people.
After listening to 100 million voices, we had a pretty firm data set to tell us something else: Companies actually practiced customer love were the most successful.
Teams and companies full of customer love regularly welcome more feedback. In fact, they seek it out. They open themselves up to critique because they know it can make them better. They look at the data as an additive to their ultimate goal: customer delight.
In those two years (2013-2015), we saw 10x growth in the number of customers who were heard from using Alchemer Mobile (formerly Apptentive). But we hadn't increased our customer base by 10x. So, what was happening here? How were our customers giving so many people a voice? The answer: Our customers were being more proactive. This helped them get faster, ship more regularly, land more launches, and ultimately grow their loyal mobile customer base. They had fewer arguments about whose opinions mattered because they prioritized the voice of the customer first.
Ironically (and counter to the original objections we heard when we started), with more high-quality customer feedback it became easier and easier to listen to the customer and build better experiences.
So here we are, 10 years in. We've given a voice to one billion consumers. We look around and see a lot of people talking about customer love. But it's not just our customers these days. Truly customer-focused companies are not afraid of using the word "love" anymore.
When Stewart Butterfield said, "Slack's growth to date has been driven by customer love," and when T-Mobile proclaims, "We love our customers," it makes us smile. We're proud to be part of something much much bigger than just our team.
10 years in, we've been given many gifts here at Alchemer Mobile (formerly Apptentive). Trusted with the hopes and dreams of our customers. Trusted to deliver the voices of their customers—every day. The gift of trust, the gift of feedback, the gift of adoption—we take all these gifts quite seriously. We appreciate our customers because we love them. We practice customer love on the good days and the bad.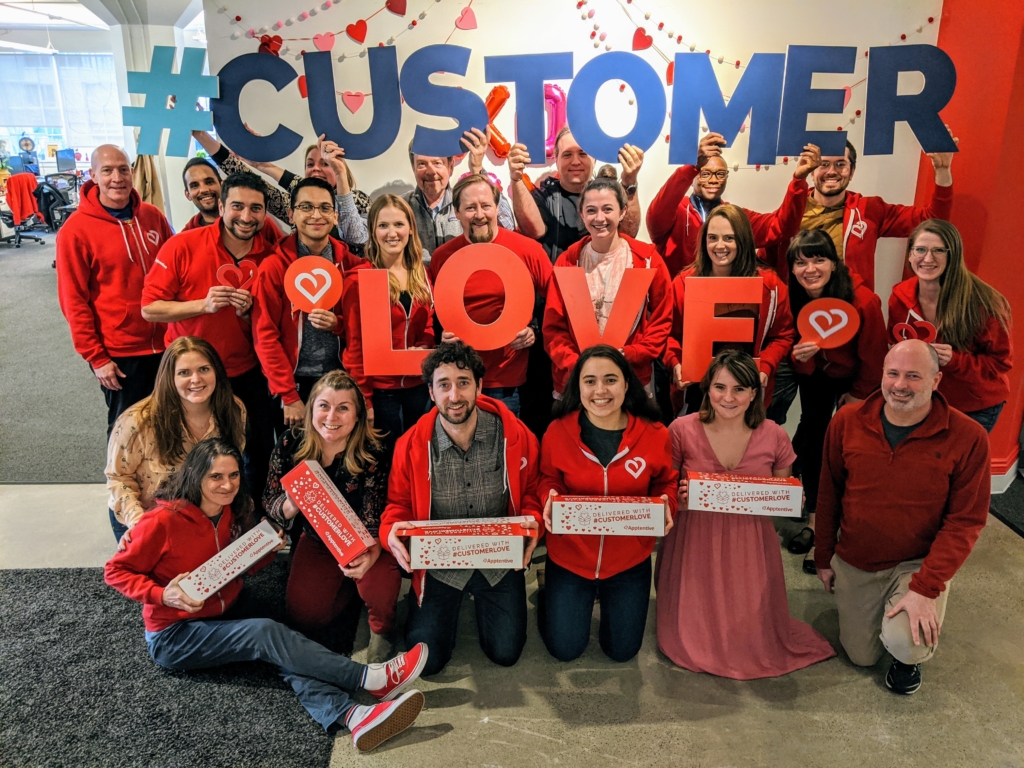 Last year, we found out that someone was trying to trademark the term "customer love" here in the U.S. But why would you ever trademark the term "customer love?" Isn't that the opposite of the ideas embodied in it? We believe more people should be practicing customer love. They shouldn't be afraid to talk about it, to name it, or to demonstrate it.
So, in return for the many gifts we've received over the last 10 years, we decided we needed to deliver a gift of our own: We had the trademark invalidated. We don't think any one company should own customer love. We want EVERY company to practice it, talk about it, celebrate it, and live it.
It's been 10 years since we began this journey. We've helped hundreds of companies listen to over one billion people. There are eight billion voices out there in need of being heard. We have a long way to go to accomplish our mission of giving every customer a voice, and we're not going to get there alone. We hope all of you practice customer love along with us.