Alchemer drives customer-centric transformation while safeguarding customer data
Louisville, Colorado, December 15, 2020 — Alchemer, one of the world's leading customer experience (CX) and voice-of-the-customer (VoC) platform providers, today announced that it has earned ISO 27001 certification from NSF International.
"Properly managing customer information and ensuring data privacy is critically important to our customers," said, David Roberts, CEO of Alchemer. "Earning our ISO Certification demonstrates our commitment to keeping our customers' data safe and private."
About ISO 27001 Certification
ISO 27001 certification demonstrates that an organization has invested in the people, processes, and technologies to protect their customers' data. It provides an independent, expert assessment of whether an organization is protecting their customers' data at the highest levels. The certification is achieved through an accredited certification body (in this case NSF-ISR) and provides evidence that the accredited company is managing information security according to international best practice.
"ISO 27001 compliance is becoming increasingly important as regulatory requirements such as GDPR and CCPA require organizations to protect customer, consumer, and personal data," said Dave Barr, CTO of Alchemer. "Alchemer connects companies with their customers and employees. Our customers need to know that we're doing it to the highest standards of data security and privacy."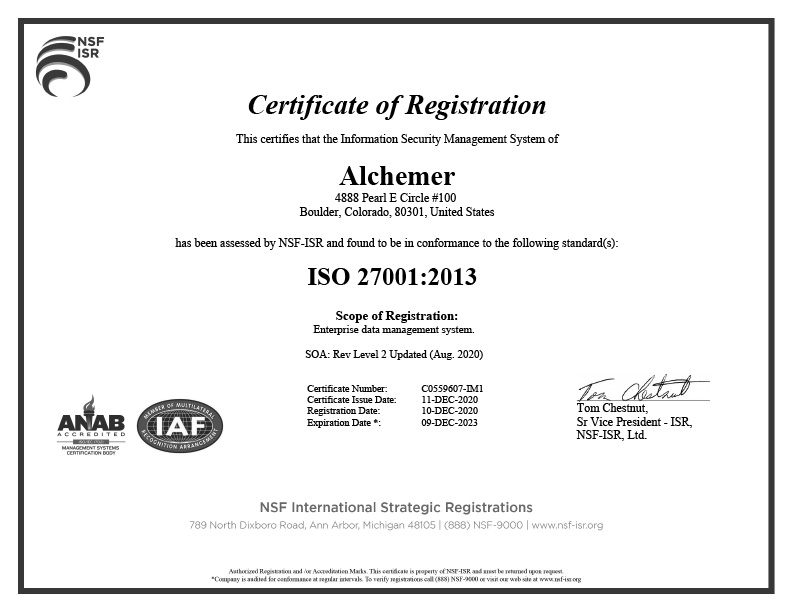 About NSF International Strategic Registrations (NSF-ISR)
NSF International Strategic Registrations (NSF-ISR, nsf-isr.org) is a leading global certification body known for its superior technical expertise and customer satisfaction. Through the highest level of integrity, the NSF-ISR mark is known as the gold standard of the certification industry. NSF-ISR offers comprehensive management systems registrations to internationally accepted standards for quality assurance and environmental protection for the automotive, aerospace, chemical, energy, medical and manufacturing industries (e.g., ISO 9001, ISO 14001, ISO 45001, AS9100, IATF 16949, etc.).
About Alchemer
Alchemer (formerly SurveyGizmo) transforms customer feedback into operational gold to create customer-centric organizations. Alchemer provides a customer-experience platform and pre-packaged solutions that enable businesses to collect and act on feedback to find, get, and keep more customers and employees. Only Alchemer puts customers at the center of everything a company does by integrating feedback directly into the systems and applications that power the organization today. Alchemer serves more than 15,000 global customers and 30% of the Fortune 500.
For more information about Alchemer, visit Alchemer.com.
Contact:
Alchemer
Connect Marketing
Sherri Walkenhorst
sherriw@connectmarketing.com
(801) 373-7888