Although all apps are published to the same app stores, customer expectations and use cases vary tremendously between app categories. It's important to remember that all apps aren't expected to be created equal, and app publishers shouldn't all take the same approach to engagement and user experience.
In order to fully understand how your app's experience compares with the market, it's important to look at benchmarks in your specific app category. Metrics of success look different across industries based on differences in customer engagement opportunities and goals.
Our 2019 Mobile Benchmarks by App Category report looks at trends and differences across popular app categories, with a focus on Finance apps. Below is a taste of the Finance-focused data featured in the report, including a "scorecard" showing average engagement and feedback benchmarks for apps in the Finance category and category-specific tips for success. The Finance-focused data and recommendations make it even easier for you to analyze your current strategy, without comparing yourself to apps in other categories who approach feedback and engagement differently due to industry needs.
Profile of an average app in the Finance category
Apps in the Finance category have many unique hurdles. Their frequency of use is lower (e.g. consumers don't open the app every day), the in-app actions they take are lower (e.g. consumers don't browse but rather tend to have one or two tasks in mind), and consumers tend to use fewer apps in the Finance category than they do in Shopping or Media.
But despite these hurdles, Finance apps are uniquely positioned for incredible engagement opportunities, and app publishers are capitalizing on the opportunities that arise. Below is a profile of an average app in the Finance category to give you an idea of how your engagement and feedback strategy currently performs.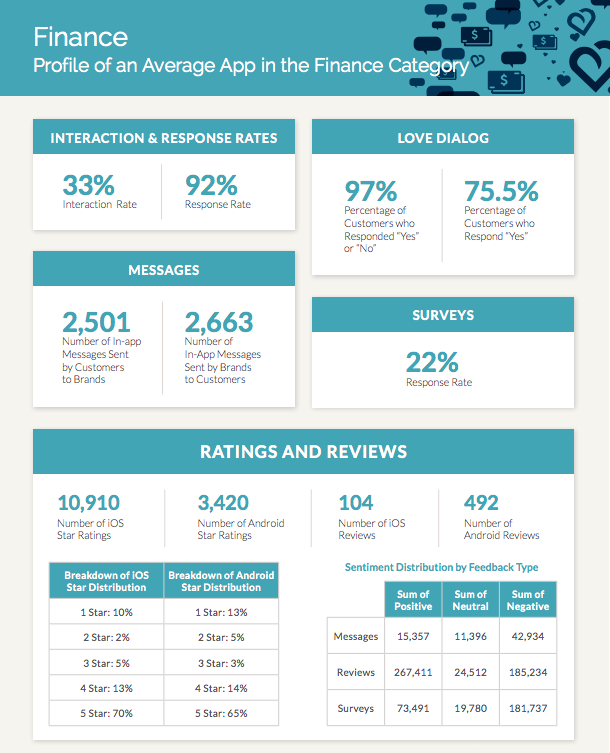 Sentiment is the emotion behind customer engagement and is at the heart of understanding, measuring, and improving our relationships. When you monitor sentiment, you try to measure the tone, context, and feeling from customer actions. We tracked sentiment for apps in the Finance category, and here's what we found.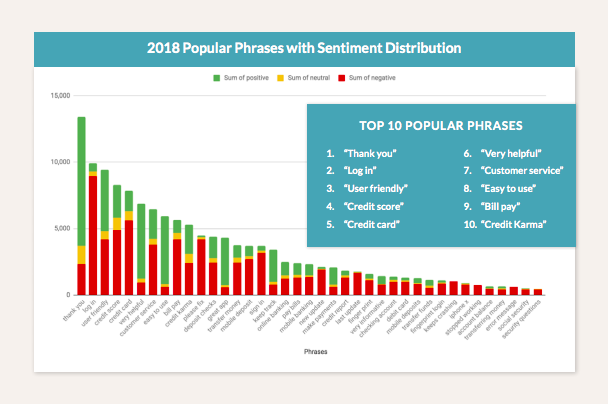 3 tips for Finance app success
1. Let customer feedback drive your product roadmap
Apps are now a deciding factor for where people put their money, where before it was based on the physical location of branches. Our world is mobile, and so are our expectations as consumers. With mobile banking, the branch experience has become secondary to the digital experience, largely thanks to mobile apps.
In many ways, the shift towards digital makes gathering feedback from customers easier—but only if you ask for it correctly. Consider using surveys to gather feedback on a new feature, open-ended text fields to learn more about your customers' engagement experiences, or proactively reach out with messages to encourage customers to engage. The insights you gather should inform your product roadmap and rally your development team around a single point: the customer. If you allow customers to help you prioritize, you can bet you'll be closer to delivering a great experience than you would be doing it on your own.
2. Offer strong security
Having your financial information at your fingertips comes with a catch: security. Between GDPR and the almost daily emerging stories about the ways in which Facebook, YouTube, Twitter, and other social platforms are being abused by political and criminal actors, the average person now has a much greater understanding that their data is being used constantly and not necessarily with their permission. As such, it's imperative financial apps have a robust sign-in process to protect customer's information. For example, fingerprint authentication is a great start in making signing in to finance apps both secure and convenient.
Finance apps also need to go the extra step in protecting their customers' privacy while soliciting for feedback. If you're using a third-party vendor to assist you in gathering customer feedback, make sure you partner with one that is able to gather feedback over time that's tied to one profile, but that can still stay anonymous when needed.
3. Be proactive
The best way to give your customers or members a positive experience and to encourage them to engage with your app more regularly (which, based on the data above, Finance apps desperately need help with)? Proactive communication. Reach out, engage them, and make them feel valued. In fact, we've found that simply interacting with customers, proactively and respectfully, can increase three-month retention by as much as 400%.
Providing a place to receive feedback is a great start, but most customers only reach out unprompted if they have an issue that they need help fixing. To get in front of customer frustration and to gather feedback from the bulk of your customers, you need to make a proactive effort to show how important feedback is to you. To do so, let customers know you are listening and want their feedback by proactively engaging with them at smart times throughout their digital experience. For example, you can start with a simple survey asking a question about their recent experience, but without waiting for them to run into an issue to trigger the survey. Most customers aren't used to being asked for feedback and need encouragement. Be there for them and include a "Give Feedback" button in the menu or a well-timed prompt asking for feedback as a way to show customers you care.
Now it's your turn
As the above categorical data shows, being customer centric is not an option anymore. It's no longer a nice-to-have; it's the need of the hour.
We release this category-specific benchmark data so Finance brands can understand how effectively they measure their customer experience, communicate with their customers, and earn customer love. If after reading you've realized you've missed the benchmark, we want to help. Connect with us to discuss your options and see how Being Alchemer Mobile (formerly Apptentive) can move you closer toward these benchmarks immediately.
Note on methodology: This report includes data from over 800 unique Android and iOS apps across all app categories, from January 2018 to December 2018. The data was captured by interactions deployed using Alchemer Mobile (formerly Apptentive)'s mobile communication platform. Benchmarks vary depending on the nature of the vertical and the data in this report will be useful for companies to see how they stack up against the overall market as well as against others in their category.