The ability to leave app store reviews is meant to serve as a way for app publishers to communicate (although one-way) with their app's customers about the experiences they've had with the app. However, many customers use app store reviews to leave feedback about experiences that have nothing to do with the app itself, which muddles the validity of reviews across all apps.
Here's an example: During the 2016 election, most major newsrooms incorporated facets of the election into their apps, whether through streaming debates, publishing news, etc. Due to the popularity of major elections and the ease of streaming apps now offer, new downloads across news apps were high. However, the quality of their app store reviews were…not.
To keep the playing field neutral, let's take a look at the Apple App Store reviews for the CNN and Fox News apps during the months of October and November.
Here's a quick peek reviews on the CNN app:
And here are a few reviews from the Fox News app during the same timeframe: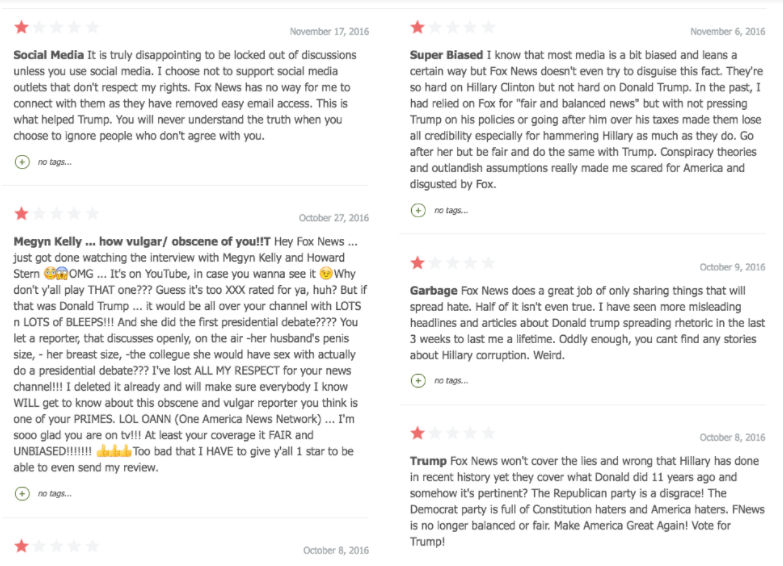 As you can see, none of the above reviews have anything to do with either product: the apps. The reviews aren't helpful to people considering downloading the app, and they definitely don't help the apps' mobile teams improve their customer experiences. These reviews are full of emotion from customers, which is valid (and valued!) for the companies to listen to, but the app stores are not the right place for it.
So, what do you do when your app store reviews aren't really about your app, but are about other aspects of your business? Here are a four ways you can encourage better app store reviews and funnel the right feedback to the right place.
4 Tips for Better App Store Reviews
1. Find out what people are saying
You can't improve unless you know where to start. Before you begin, spend time looking through your current app store reviews in order to understand what your customers are saying through looking at trending topics, pain points, and everything else.
To make this process simple, we offer a product called Public Reviews that takes pain out of categorizing, and allows you to quickly and efficiently tag information from your public App Store and Google Play reviews, which is reflected in your Alchemer Mobile (formerly Apptentive) dashboard. To get started, visit the Reviews tab inside Alchemer Mobile (formerly Apptentive) and add tags to your reviews, like Feature Request, Bug, or Promoter. Then, use the filters to analyze groups of reviews by tag, star rating, or time period. It's all stored in Alchemer Mobile (formerly Apptentive), so your team can collaborate as you tag and monitor your review content.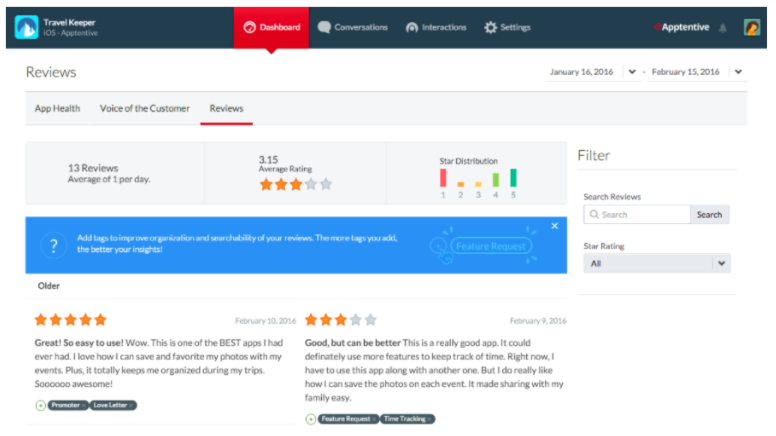 2. Give customers a better outlet for feedback
Why are people going to the app stores to express their thoughts on issues that fall outside of your app? Perhaps they don't have another method to communicate with you. If people feel like nobody is listening, leaving an off-topic app store review may be the only outlet to voice their frustration, which is a lose-lose for both the company and the customer.
It's up to you to make it easy for customers to get in touch with you. Two-way communication in an app is crucial to driving customer happiness and building trust, and giving customers an outlet to voice their frustrations directly with your team is a great place to start. Sometimes just providing the option to share feedback is enough for the customer to feel supported, along with allowing your team to receive valuable feedback directly from the best focus group of all: real customers. At Alchemer Mobile (formerly Apptentive), we encourage our customers to use what they learn from their customers in-app experiences to improve their customer experience. All feedback is good feedback, so long as it ends up in the right place.
Shameless plug: You can easily turn your app into a communication channel through Message Center, Alchemer Mobile (formerly Apptentive)'s two-way messaging product. Message Center helps you gather feedback, solve customer problems, and stay on the pulse of customer sentiment, without being disruptive or sending customers directly to the app stores.
3. Proactively communicate with customers inside your app
If you implement a process of proactively soliciting and collecting customer feedback in your app, you can take quality assurance into your hands and identify any issues at the onset to swoop in with an immediate solution–one that builds value and earns loyalty.
Proactive communication can take many forms. At Alchemer Mobile (formerly Apptentive), we've found mobile-first surveys and well-timed feedback forms to be among the most effective channels. Regardless of what channel you choose, the most important thing is to be available for your customers. Customers don't want to invest the time to undergo the six-step process of leaving an App Store review, but often, it's their only choice. The more choices they have, the more you control the flow of feedback and the more insights you can collect.
Our research has shown that customers want to be engaged and messaged, as long as it's in a respectful and relevant manner. Out of the millions of interactions we've analyzed, we've found that customers who are proactively engaged are 4x likelier to stick around three months after registration than those who see no brand engagement. In other words, communication pays.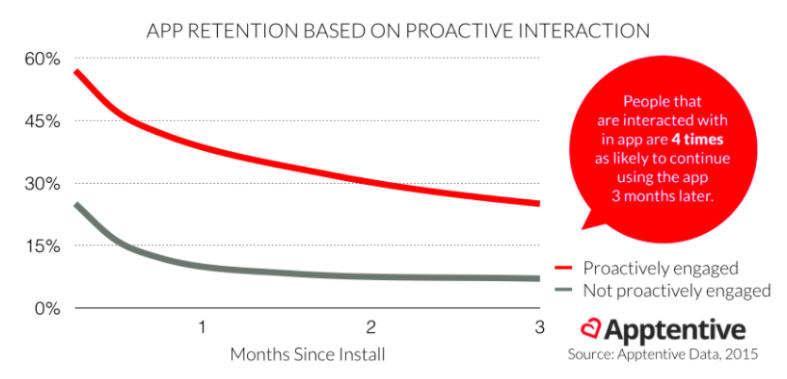 4. Create a plan to handle negative reviews—no matter the topic
The reality is this: You will get both positive and negative app reviews, and they're equally important to the process of understanding customer sentiment and building a better mobile experience. Making the most of your negative reviews—regardless of their topic—is all about changing your mindset from, "This feedback is useless," to, "What can I learn about my customers based on this feedback?"
We've written extensively about managing negative app reviews, but at a very high level, here are a few tips:
View all feedback with a positive intention: Most customers who share their thoughts really do want to have a better experience and aren't trying to be mean. Set your expectation accordingly.
Avoid being defensive: Again, most customers aren't trying to be mean or rude in their feedback. Approach each piece of feedback with an open, grateful mind rather than putting your guard up right away.
Acknowledge the feedback: Sometimes just being heard is enough. Tell the customer you've received their feedback, and bonus points if you include next steps around what you'll do to fix it.
Apologize: We're not perfect people, and neither are our apps. When a customer points out a valid concern, take the high road and apologize to them for providing a sub-par experience.
Avoid the trolls: Unfortunately, the interwebs will always have trolls. This type of feedback is exceptionally dangerous because it can draw you into an argument that undermines your credibility. Avoid it whenever possible.
Looking ahead
While you may not be able to control the types of reviews customer leave about your app, you can ensure their feedback gets to the right place within your company so it can be responded to in a timely manner, and implemented whenever possible. All feedback is good feedback, especially when it ends up in front of the right people.
Do you employ additional strategies to encourage app-focused reviews within the app stores? We'd love to hear about them! Leave your thoughts in the comments below.