Welcome to this week's installment of our Outside the Checkbox series! Each week we share creative, real-world examples of how people use Alchemer to simplify their lives. In addition, we provide actionable instructions to help you incorporate these use cases into your own life.
---
For any successful business, it's imperative that employees are engaged and that they feel they're in a position where they can grow and build their skillset to ultimately deliver more value to their organization.
But for some companies, especially ones without a dedicated HR department, performance reviews can quickly go from a useful feedback tool to an inactionable timesuck.
Without efficient workflows in place to perform and record performance reviews, the process can easily become a mundane routine that occurs every six months, or however often your business chooses.
How do you ensure that employee performance reviews are tightly managed, are an efficient use of time, and yield actionable insights into how various people and teams are performing?
Alchemer can easily be leveraged to streamline employee performance reviews. When the time comes for an employee's performance to be assessed, managers and employees alike can automatically receive evaluation forms that upon completion are packaged and distributed to all relevant parties. Review data will then be conveniently stored in a central location for future access and reference.
Below you'll find a step-by-step guide for how to streamline your employee performance review process.
How to Streamline Employee Performance Reviews
Step #1: Create a Survey
If you've used Alchemer before, you know that creating a survey is both simple and intuitive. If you need to refresh your memory, all of the information you'll need to get started can be found HERE.
At Alchemer, the Support Team uses our platform to conduct biannual Employee Performance Reviews. Prior to a Hero's biannual review, both the respective Support Team Lead and the Support Hero are sent the same survey.
Throughout this post we will use the Support Team Employee Performance Review survey as an example. Think of the Support Lead as a Manager, and the Support Hero as an Employee.
On the first page of the survey, the Employee is asked to submit their name and email, as well as the name and email of their Manager.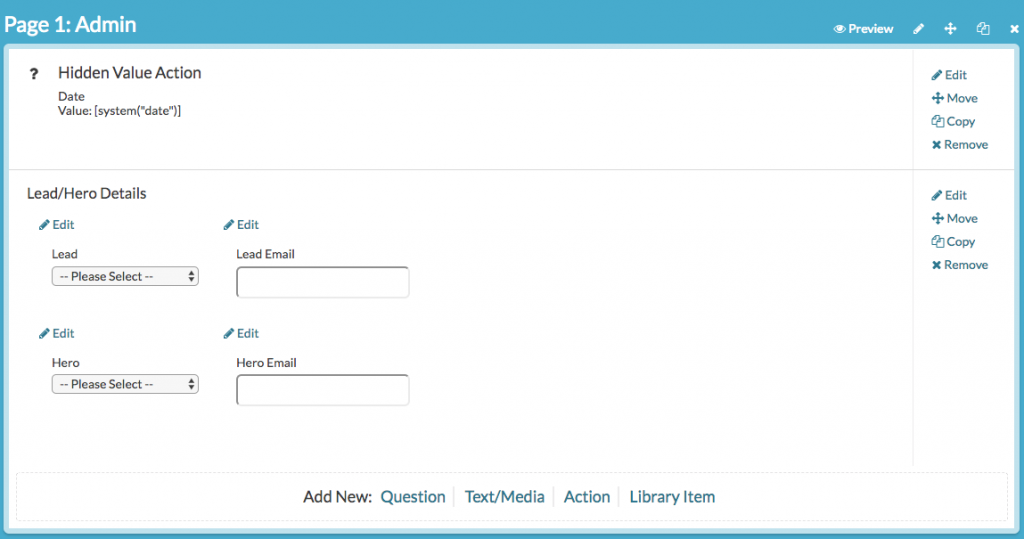 On the following pages, you'll want to add any questions that you want the Employee to answer in order to get a feel for their perspective on how they've been performing.
Alchemer's Support team uses the following questions in their Employee Performance Reviews:
What do you feel are some of your greatest wins/successes over the past six months?

What would you like to improve on and what are some experiences you've learned from?

Are there any obstacles that I can help remove?

What are your goals for the next six months?

Are there any concerns you have going forward?

How would you grade your overall performance for the last six months?

5 – Exceptional. I've been extremely good at this. I'm open to suggestions for continuous improvement.

4 – Good. I've done my job very well. I'd like to get better.

3 – Average. I've done my job adequately. There's room to improve.

2 – Bad. I've been bad at my job and it's affecting my performance.

1 – Extremely Bad. My job performance has been extremely poor.

Why did you give yourself that grade?

Rate your job satisfaction, and describe the contributing factors that you accounted for.
Step #2: Establish a Signature Requirement
Once your employee completes this Self-Evaluation, you'll want to ensure that they provide their signature for your records.
The Signature question type allows your survey respondents to add their signature by using their mouse or touch screen. The Signature question includes both a field for respondents to sign, as well as, a textbox to type their full name.
On a desktop and most laptops, the Signature question type looks like this: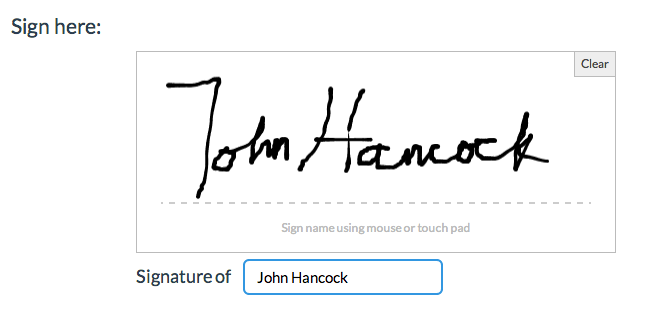 Step #3: Set Up Email Actions
Next you'll want to set up Email Actions, so that upon completion of the survey the Employee receives an email with a PDF attachment of their Self Evaluation form. You should also set up an Email Action so that the Manager is alerted that the survey has been completed, and he/she receives all relevant documents.
Add your Send Email Action to the final page of your survey.
Provide a Name for your Send Email Action – this is an internal name that will not be visible to your survey respondents.
Customize your email Subject ("New Response Notification" by default).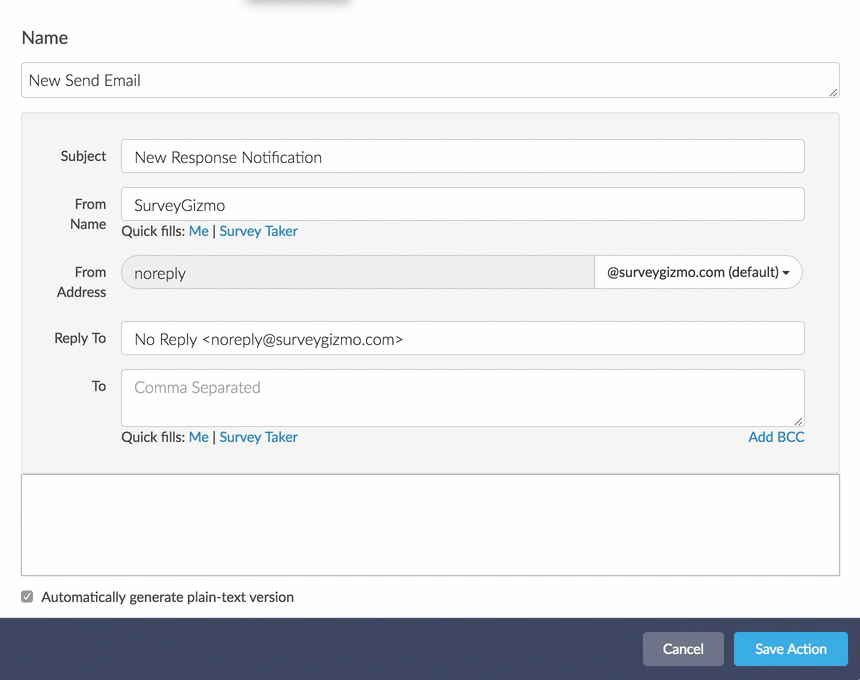 Set up the From Name, which will be auto-populated with Alchemer. This will display as the from name and address in the message. If you need to set a custom From Address you will need to create a Custom Email integration. For this, you'll need to be a Alchemer Account Administrator.

If you have a Custom Email integration, you can choose your from address via the dropdown menu available in the From Address field (if it has not been populated by default).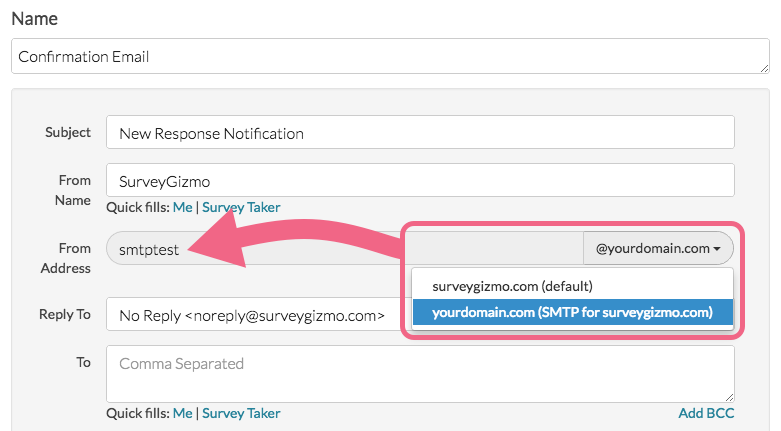 If you wish to receive replies, you can specify a Reply To Name and Address.

Add your recipient(s) to the To field. Here you'll want to add the Employee and Manager email addresses from the first page of your survey.

Step #4: Add PDF Attachment to Email Actions
On the Advanced tab, the option to Attach a PDF Review creates and attaches a PDF file that includes all question responses from your survey.
You can choose to include page titles and numbers, question numbers, text elements, quiz score results and hidden values.
In the PDF settings field, you can specify a filename for the PDF. The survey title will be used by default.
You're all set! With all of this set up, when your Employee fills out their Self Evaluation form, they will receive an email with their responses in PDF format, which they can then bring to their performance review meeting. The Manager will also receive two PDFs – one with their own responses, and one with their Employee's responses.
Not only will both parties now have the proper documents for reference during the Employee Performance Review, but from now on, all review data will be conveniently stored in Alchemer. That means that when it comes time for the Employee's next performance review, all documentation will be easily accessible.
---
Stay tuned for future installments of our Outside the Checkbox series!
Read Outside the Checkbox Vol. 1: Expense Reports
Read Outside the Checkbox Vol. 2: Event Registration and Payment Collection
Read Outside the Checkbox Vol. 3: New Visitor Check-In Kiosks
Read Outside the Checkbox Vol. 4: Streamlining Organization-Wide Requests
Read Outside the Checkbox Vol. 5: Using Web Intercepts
Read Outside the Checkbox Vol. 6: Creating Effective Training Modules
Do you have a creative or interesting way that you use Alchemer? We'd love to hear from you! Sound off in the comments below, or feel free to send a note to marketing@surveygizmo.com.
A Recap of Outside the Checkbox Thus Far