What kind of travel apps do people actually want to use? Apps that are easy to use, add convenience to their travel, and make it easy to talk directly to the company. These three value propositions make travel apps actually enjoyable to use, reduce the stress of traveling, and in turn, increase brand loyalty.
To help the travel industry identify what features make apps great travel companions, we put five apps (Airbnb, Delta, Expedia, Choice Hotels, and MGM Resorts) through the ringer. Below, we evaluate each app based on their ability to meet and exceed our expectations in their ease of use, convenience, and communication. After putting each app to the test, we chose a winner in each category.
Read on to see which travel app takes the cake!
Ease of use
Traveling can be complicated, which is why a travel app should simplify our lives by being easy to use. If an app isn't intuitive, we'll end up spending more time than it's worth figuring out how to accomplish our goals. Apps should have a smooth login process and an intuitive user experience (UX).
First up, Airbnb. Airbnb's app is super easy to use and is beautifully designed. Logging into the app for the first time (which, let's face it, is usually a big pain) is straightforward and clean.
Once you're in, the app is clearly organized. It is easy to quickly find what you're looking for in the app—whether that's a place to stay, things to do, details about upcoming/past trips, or your account information. When searching for a place to stay, Airbnb makes it really easy to enter in all of the pertinent information (dates, number of people, filters to refine search results based on other criteria). The end search results are enjoyable to scroll through.
When you click on a property you're interested in checking out, everything you could possibly want to know about the listing is readily available. It's easy to read customer reviews, house rules, cancellation policy, and basically any other nitty-gritty detail you need to know to make your decision to book.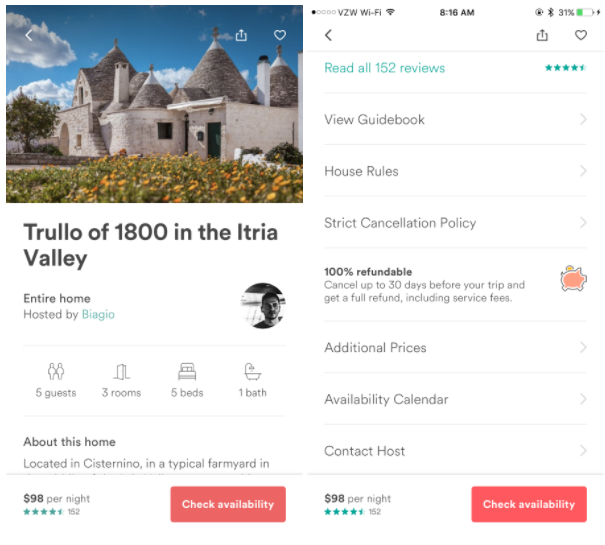 If the listing you're looking at doesn't meet your criteria, Airbnb offers suggestions of similar places at the bottom of the details page so that you can efficiently continue on your search for the perfect place. You can also save listing in different folders organized in a way that makes the most sense for you (in my case, by city) to narrow down your options and keep yourself organized.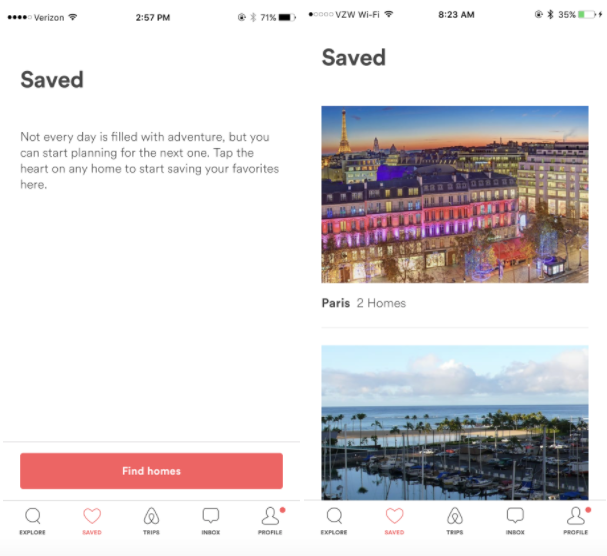 All in all, Airbnb has a beautiful app that is ultra easy and fun to use.
Now let's take a look at Delta's app. Delta's app is designed to assist their customers' travel journey from start to finish and it is fairly easy to find what you're looking for inside the app. The app's UX prioritizes flight searches and information on booked flights, which makes sense.
Critically, the Delta app enables you to easily search for and book flights. You can even change the way costs are displayed for flights to be shown in USD, Miles, or Miles + Cash, which is really nice for travelers looking to take advantage of their SkyMiles (Delta's loyalty program). The flight booking process is simple and walks customers through step by step; starting with destination and date, flight options, seat choice, luggage needs, on through checkout.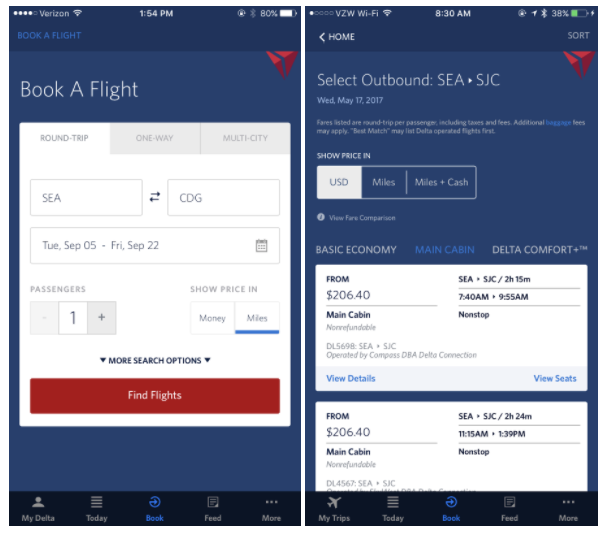 Their app also allows travelers to view details about upcoming trips and their SkyMiles account. While SkyMiles account details are automatically pulled into the app upon login, you have to manually search for upcoming trips by entering the confirmation number and your name. The app would be easier to use if all of the traveler's information was automatically included in the app.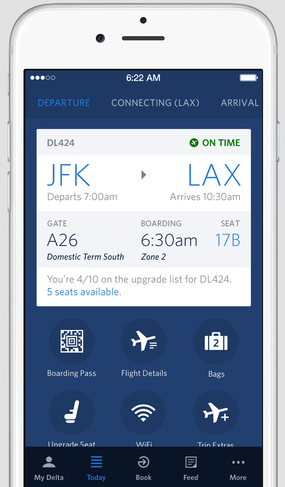 Secondary app features, such as airport maps and a luggage tracker, aren't prominently featured but are still easy to find.
Overall, the Delta app is easy to use but has some room for improvement.
Next up, Expedia. Their app's layout is straightforward, which makes it easy to find whatever it is you came for. However, once you start your search for travel accommodations, things get a bit hairy.
Entering your trip's details is tricky—the calendar popup that allows you to refine your search results by date is fickle. You MUST press "done" instead of "search" once you've chosen your dates, otherwise, the search will revert back to the auto-populated dates; this is really easy to miss. It took me a few tries before I figured out why the dates were not saving correctly and I'm probably not the only person who has searched for a hotel for the wrong dates.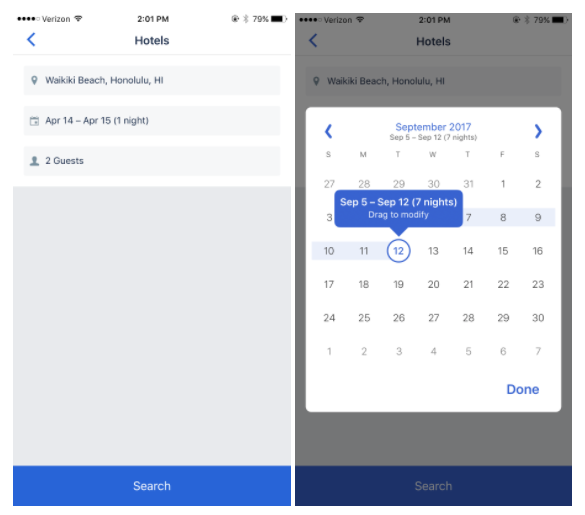 Once you get past the calendar issue and to the search results, though, the ease of use improves slightly. Travelers are able to refine and sort their search results by price, star rating, recommended, and hotel name. And once you find a hotel, it's easy to view different rooms, prices, and to book.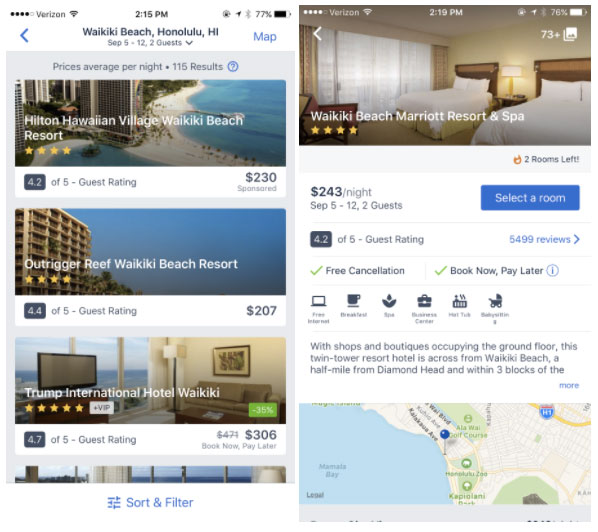 Overall, Expedia's app appears to be easy to use, but it is too easy to accidentally search for travel accommodations for the wrong date, which means you're knocking on disaster's door.
On to Choice Hotels. While it is not the most aesthetically beautiful app, it is easy to search for a hotel, which is presumably the main reason people download the app in the first place. Logging in is simple and they give you the ability to use the app as a "guest"—aka you don't have to create a Choice Hotels account if you don't want to, which is always appreciated.
The app's UX is simple and lets customers quickly find and book hotels, see details of their upcoming and past stays, view their rewards information, and complete a customer profile for a more personalized experience.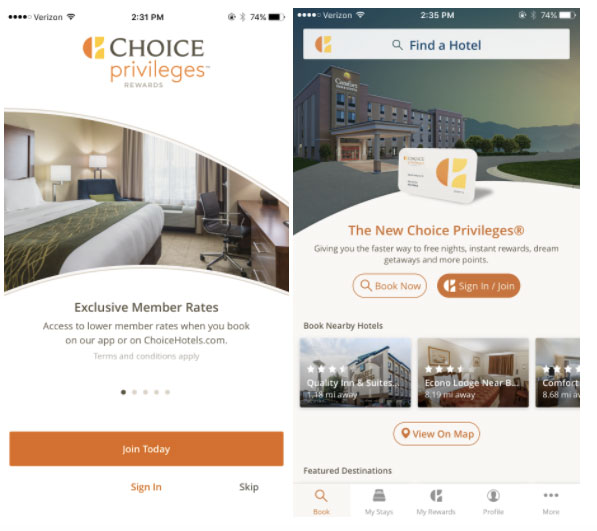 Overall, the Choice Hotels app is really easy to use.
Last but not least, MGM Resorts. MGM Resorts doesn't require you to sign in to use their app (yay!) but does give you the option to sign in on the homepage for a personalized app experience.
MGM's app is noisy, but it's fairly easy to explore the features their app includes. You can search by category for rooms, entertainment, restaurants, nightlife, offers, M Life Moments (rewards) or by specific resorts. It also appears to have a simple in-app booking process.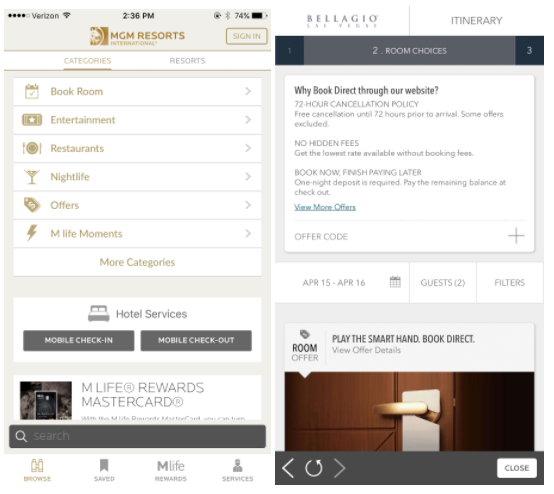 They are trying to fit a lot into this app, making the MGM Resort app a little challenging to navigate.
So, who came out on top?
Winner: Airbnb. Their app is beautiful, simple, and comprehensive.
What's are the takeaways? Travel apps are easy to use when they don't overload customers with a ton of information all at once. Airbnb and Delta's app experiences were specifically designed to walk customers through the search and booking experience one step at a time. Travel apps with clean, simple designs with prominently shown features tend to be the easiest to use; especially for a traveler who is using the app on the go and needs to find something quickly. In this case, less is more.
Convenience
For travel apps to be useful, they must make traveling more convenient. We tested each of the five apps to see which have features that make traveling less stressful. We're looking for the ability to compare choices, check-in, helpful information we might need to know during our stay, and more.
Airbnb's app makes searching for, saving, and booking a place to stay ultra convenient. You can quickly book a trip and easily communicate with your host directly in the app.
For added convenience, the app includes city guides and experiences to help you get the most out of your trip. The guides include maps, a bio about the person who created the guide, and a list of recommended hot spots (including descriptions, insider tips, hours, phone numbers, websites, and directions on how to get there—pretty much everything you need to know aside from a yelp review).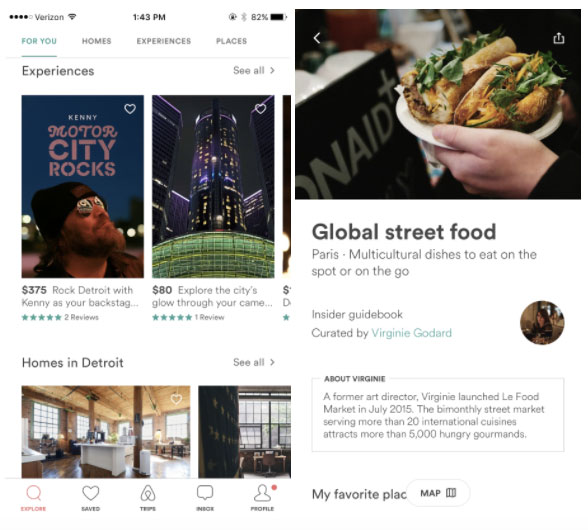 The cherry on top? You can add city guide destinations to your itinerary to keep track of all of the places you want to go and see. When you add something to your itinerary, you can include the time and date you want go. However, it's not at all clear how to access your itinerary. (I still haven't found it… insert confused emoticon.)
Overall, Airbnb's app is convenient and goes the extra mile.
Next up, Delta. Most importantly, you can search for and book flights in Delta's app. Once booked, you can check-in and download your boarding pass via the app. You can also look up details about your loyalty account, upcoming flights, and past flights.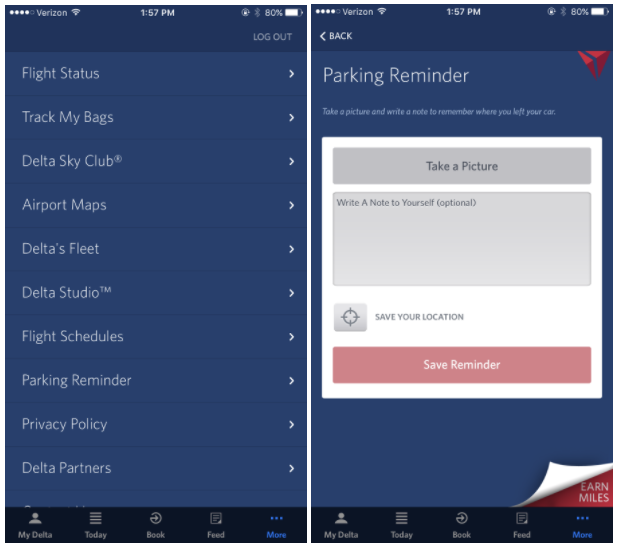 On top of that, you can access airport maps, track your bags, and check your flight status. Overall, Delta's app eases the pain of flying by giving customers a place to track all of their important information in their app.
Let's take a look at Expedia. Their app lets you search for hotels, cars, flights, activities, and bundle deals. It also lets you discover different destinations from "staff picks" in case you're not sure where you want to go yet.
Not only can you search for all of your logistical travel needs in Expedia's app, you can book directly in-app. You can also access information about your upcoming trips, hotel address, and maps.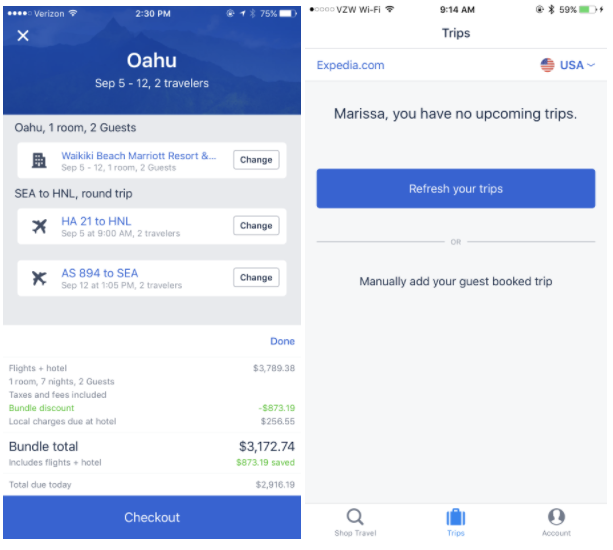 Overall, Expedia's app makes booking your travel accommodations as convenient as they can within the parameters of their service.
Now it's Choice Hotels' turn. Their app lets you search for lodging and book directly in-app. They provide detailed information on each hotel listing, including the amenities offered, location, rooms available, star rating, and even provide a virtual tour. The Choice Hotels app also lets you track your rewards points in-app with a personalized, detailed Rewards page.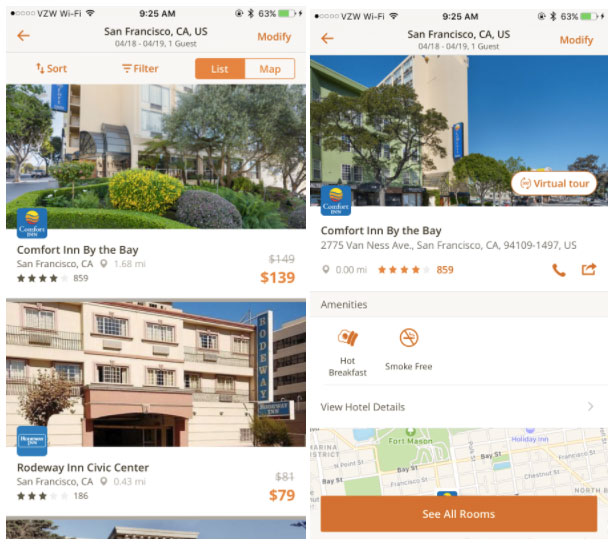 When booking a hotel via the app, you have the ability to save your credit card information to make booking easier in the future. You can also view the details of upcoming and past stays via the app. The Choice Hotels app is missing a few key feature of convenience, though—customers can't check in or out via the app.
Overall, the Choice Hotels app is convenient, but could go a step further to make their customers' travel journey smoother.
Now, MGM Resorts is up to the plate. MGM's app lets you book rooms directly in-app, but also takes it a step further by letting customers check in and out via the app.
Customers can search for activities inside MGM Resorts as well, however, it's a sort of look but don't touch situation. Even though you're able to book rooms in-app, the same isn't true for activities. It would be a big value add if MGM included the ability to make restaurant reservations or buy tickets for entertainment directly in the app.
MGM Resorts enables customers to take care of a lot of their travel needs in the app, such as pay for parking, book a cabana, and manage their booked itinerary. They also list Yelp ratings where applicable, which is really helpful.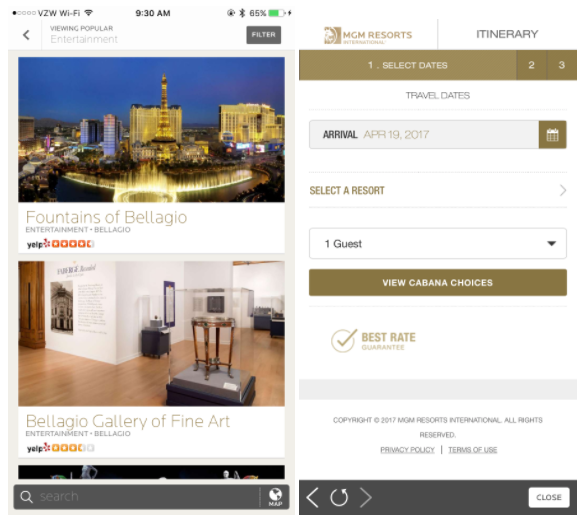 Overall, MGM Resorts has the capabilities you'd expect from a travel app (room booking, etc), but they take convenience the extra mile by including small features that make all the difference.
Winner: Delta and MGM Resorts tie.
What are the takeaways? Convenience extends beyond travel companies' traditional offerings and embraces a comprehensive approach to helping their customers throughout their travel journey. When designing their app, Delta considered their customers pain points from the time they arrive at the airport to the time they return. Delta has nothing to do with where you park, but giving you a place where you can easily remember and access your parking information helps you have a better experience (which you'll end up associated with Delta) and encourages you to return to the app; it's a win-win.
Go above and beyond to help your customer have a great trip and they'll be more likely to travel with you again.
Communication
In-app communication is a core piece of the customer experience equation. Without communication, customers are left to their own devices and so are brands. If a customer experiences issues with the app or their experience with the brand and don't have easy access to the company, they'll turn to Facebook and quite possibly never return.
On the other hand, if a company doesn't communicate with their customers—ask questions, check-in, etc.—how will they know what their customers want and how they're enjoying their experience with the brand? They won't, which leaves them to make assumptions. And you know what happens when we assume…
We're looking for clear communication throughout the entire customer experience, the ability to leave feedback in the app, and in-app notes that assist us throughout our travel needs.
Airbnb's app started on the right foot by clearly laying out the information required for login. Once logged in and searching for a place to stay, Airbnb makes an effort to help customers understand exactly what they're paying for by showing a breakdown of the cost of booking.
Customers are able to quickly send messages to hosts directly in-app, which is a necessity for anyone booking an airbnb. They also tell you what is refundable on the payment screen to avoid misunderstandings. During the checkout process, they show you how many steps are left before you're done booking.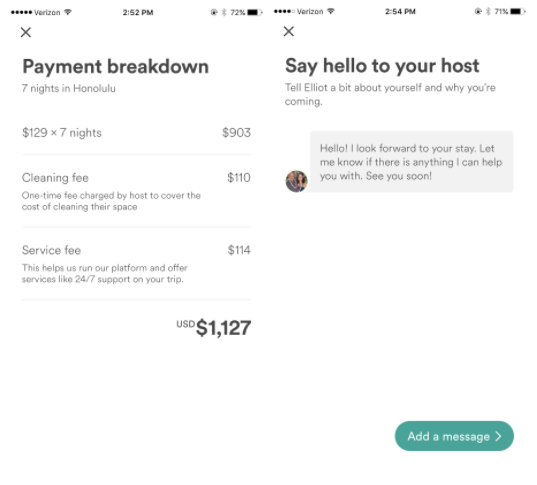 Prior to booking, customers must agree to house rules before they can finish the booking process to help ensure both the host and guest are on the same page. Outside of booking lodging, Airbnb also shows you how many steps are left before your guest profile is complete.
Airbnb makes leaving them feedback through their app straightforward by including a "Give us feedback" page where customers can leave open-ended feedback or report bugs.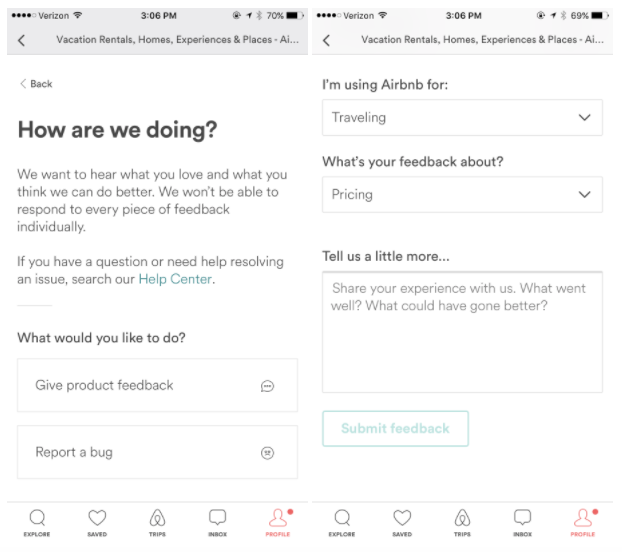 Overall, Airbnb makes communication a priority in their app.
Next up, Delta. One of the most important pieces of information when you're flying is changes to your flight (delay, gate change, etc.), which is why it's smart of Delta to include notifications for passengers.
While Delta has a contact us page in the app, the only option is to call their customer service line. Despite the lack of in-app feedback capabilities, they do offer customers the ability to call customer service representatives for specific language and disability needs.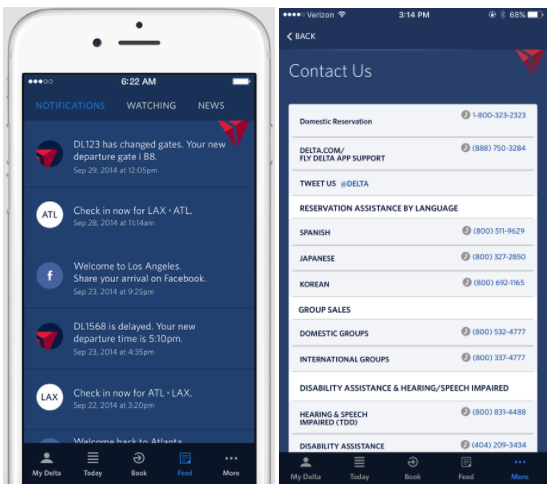 Overall, Delta communicates with passengers about their impending flights, but the barrier for having a conversation with Delta is high compared to other travel apps that make communication a top priority.
Now let's evaluate Expedia's in-app communication efforts. Like Delta, Expedia sends customers alerts on their upcoming flights and even notifies customers of hotel check-out times.
At first glance, Expedia impressively has an entire section in their app dedicated to communication. Upon deeper inspection, however, it is a little misleading. Their "support" section gives customers the option to ask for booking support or app support, but both options require the customer to leave the app to either call a customer service representative, go to the Expedia website, or look at an FAQ. Their "communicate" section give customers the option to rate the app or tell a friend (which opens up an email template). While those options aren't inherently bad, they don't go far enough. Customers should have access to give feedback or ask for help directly in the app; being taken out of the app to do so is not a positive customer experience.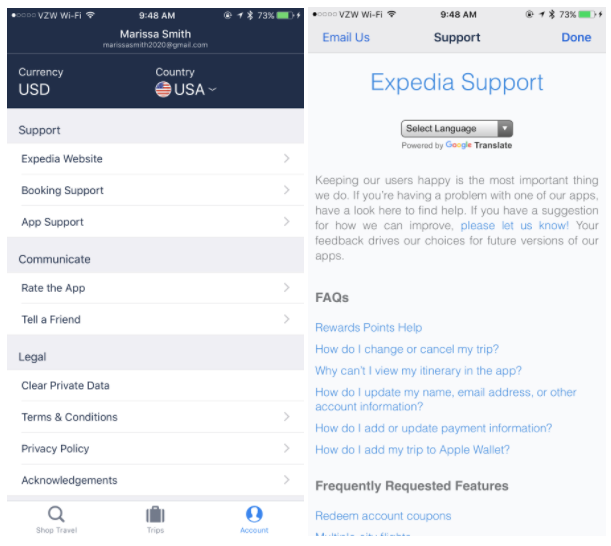 Overall, the Expedia app is communicative but has a ton of room for improvement.
Choice Hotels is up next. The first screen customers see after downloading the app is the sign-in page, which clearly communicates the benefits of becoming a member of their Choice privileges reward program without being intrusive. It's a nice introduction to the program and is convenient to sign up for directly upon login. They also give you the option to skip login, which is nice. The "My Rewards" page in the app gives customers a comprehensive overview of the benefits of signing up if you didn't take the time to scroll through the perks on the login page.
Choice Hotels offers customers the option to leave open-ended feedback directly in the app. They also have a "rate us" section and a "customer support" section (which is a list of phone numbers customers can call).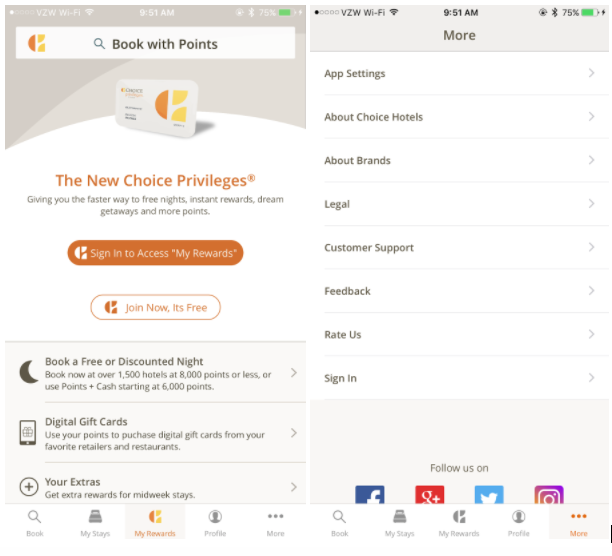 Overall, Choice Hotels proves they take customer communication seriously by putting support, feedback, and rate us abilities all in one place.
Last up, MGM Resorts. Their in-app messaging isn't very specific. For example, when I tried to book a room at the Bellagio, an offer code was listed in a banner at the top of the page, but it didn't explicitly say what the code would save. Instead, it said if I used the offer code, I would receive the "guaranteed best rate". That left me when more questions than answers…
Unfortunately, MGM Resorts doesn't include a single point of contact for app customers. There isn't a support page, or a feedback page, or even a phone number listed.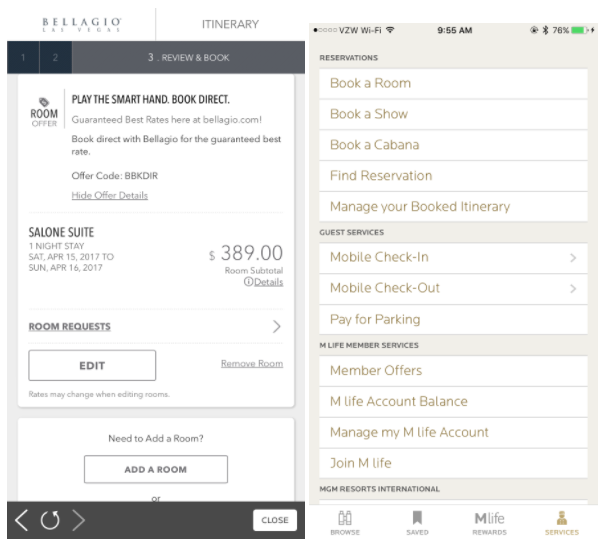 Overall, MGM Resorts' app needs a communication overhaul.
Winner: Airbnb and Choice Hotels tie.
What are the takeaways? Communication is a key component of what makes travel apps useful. Good communication starts from the beginning and guides customers through the onboarding process, continues after a purchase has been made, and allows the customer to reach out with questions, comments, or concerns directly in-app at their convenience. In-app communication is a two-way street and when it is prioritized, the customer feels heard and the brand gains invaluable customers insights.
Takeaways
Unless you're a frequent globetrotter, travel apps are only useful on occasion. Their infrequent use means it's even more critical for travel companies to make their mobile apps worth the space on our phones. To be worthwhile, travel apps must be easy to use, convenient, and make communication a priority.
After assessing Airbnb, Delta, Expedia, Choice Hotels, and MGM Resorts mobile apps on the three value propositions listed above, we determined Airbnb came out on top in all three categories. While Airbnb had company, their customer experience consistently exceeded our expectations. For travel brands looking to create successful mobile apps, Airbnb should be your go-to app for inspiration.
What travel apps do you love? What other requirements do you consider necessary for travel apps to have? We'd love to hear your thoughts below!