by Mike Cronley
Exporting the data you collect in Alchemer to a CSV or Excel format can create some challenges when you try to sift through the exports to view your survey response data simply. Fortunately, we have a few tips to help!
In the example survey below the respondent answered the first two questions this way.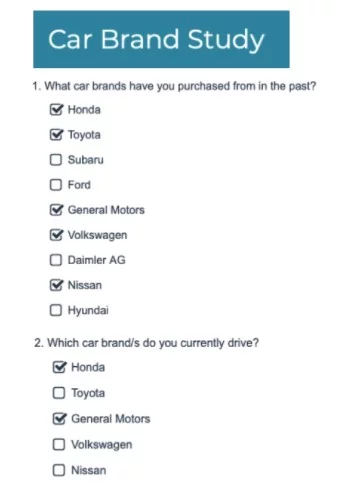 Problem:
The export generated for those questions will look like this:

However, this is not the easiest export to read for three reasons:
1. Each column's width needs to be expanded to view the complete question title. 
2. The question numbers aren't visible.  Where does question one end and question two begin? 
3. The answers for the two checkbox questions are spread out across numerous columns. 
Solutions:
1. Use an alias for the question titles.
Using an alias for the question title replaces the title with a shorter name for the export.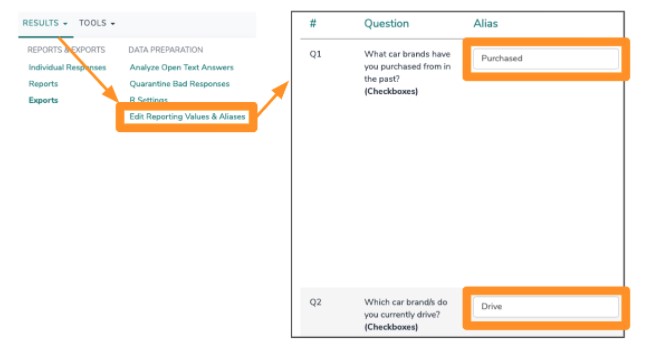 2. Customize the Header Format to Show Question Numbers.
Customizing the Header to show question numbers enables those numbers to appear in the column headers.
3. Select Show checkboxes as a Single Column.
Selecting Show checkboxes as a single column will make all checkbox answers appear in one column.
To make the changes for steps two and three go to: Results > Exports > CSV/Excel > Create Report > Settings.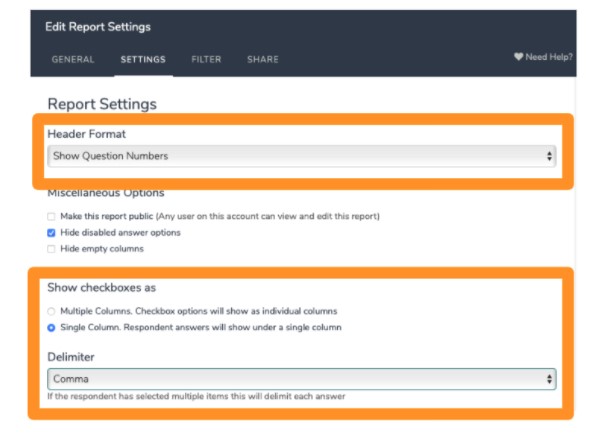 Now when the export is run it will display like this:

The question numbers and the aliases appear in the headers. The checkbox answer options selected are grouped together in one column.