As the weather gets colder and people brace for a potential second shutdown, mobile app marketing has never been more important.
The reality of life during a pandemic means more screen time. More people are staying home and connecting with friends, coworkers, and loved ones through their mobile devices. Mobile entertainment such as news and gaming has increased as well. And as we head into the winter months – which means fewer opportunities to safely enjoy the outdoors – we anticipate this to accelerate even more. Consequently, this means there's never been more of an opportunity to reach new customers and engage with current customers in new ways.
Let's quickly align on some definitions.
What is mobile app marketing?
Mobile app marketing relates to customer engagement across all stages of the lifecycle – from acquisition to retention and loyalty. The key to successful app marketing is reaching the right people at the right time with the right message. How do you get more people to download your app? How do you retain app customers? These are the challenges mobile app marketing aims to solve.
What is digital transformation?
Digital transformation is the buzzword of the year, it seems. Essentially, it is a blanket term used to describe the integration of digital strategies and technology into a business. This can be internal innovations adopted to enable employees to work remotely during coronavirus or it can be the use of omnichannel digital marketing strategies (and much more). Although digital transformation can refer to a lot of different things, it always refers to the adoption of technology to fundamentally change business. In today's framework, we'll be talking about app marketing's role in digital transformation with an emphasis on how it impacts product and mobile marketing teams.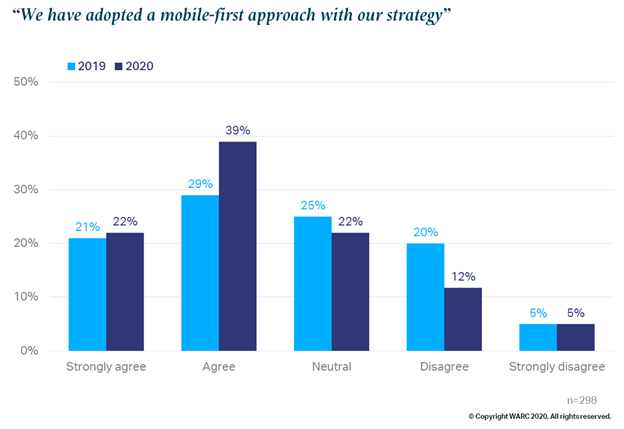 Here are the key ways in which app marketing impacts digital transformation.
Building community has moved almost entirely online
Brands can't host events or gatherings right now, so they have to find ways to replicate the in-person experience on mobile. This means creating consistent digital experiences is absolutely essential. While brands might have been focusing on how to create viral sensations or one-hit-wonder campaigns, the real value lies in consistent, engaging, community-enhancing experiences.
It's easier to know where to spend advertising budgets
Concentrating ad spend on mobile – as opposed to physical or in-person ads – is the new norm since that's where most of your customers are. When mobile marketing teams spend less time trying to figure out where to target their customers, they can now focus those efforts on developing creative ways to do that on mobile.
Messaging carries new weight
While marketing teams are spending less time developing strategies for in-person, this means they need to refocus those efforts on messaging. The mobile space is so noisy right now, what you say and how you say it is more important than ever. When you no longer have to worry about where to reach customers, you can focus on what you're saying. Messaging is one of those business components that transcends individual departments. What marketing teams decide to share with customers and prospective customers impacts how customer service teams manage complaints, how leadership speaks to the media, and so much more. This is the heart of digital transformation and why app marketing is so impactful.
Budgets are down which means loyalty and retention are more important than ever
While mobile ad spend has decreased and there's less of an emphasis on customer acquisition, retaining current customers and increasing their lifetime value has never been so critical. While loyalty and retention are typically seen as a marketing strategy, the entire organization impacts this from customer service to product to leadership and beyond.
Marketing teams are the first to hear from customers
Marketing teams are often the first to hear about customer requests, which gives them the power to relay this to the rest of the company. For example, mobile marketers typically have tools in place to collect in-app customer feedback. As this feedback can be gathered and analyzed in real time, mobile is often the first line of defense. Just because your team is hearing feedback in-app doesn't mean all of this feedback will directly be about the app experience. Marketing teams looking at this feedback can flag bugs quickly to the product team or larger messaging failures to leadership. They can also quickly follow up with these customers, which is key to reducing and preventing churn.
Are you ready to boost your mobile marketing efforts and start engaging with customers in-app? Need strategies to collect, analyze, and act on customer feedback quickly? We've got you covered – connect with us today.