Accurate, up-to-the-moment data is the lifeblood of CRMs like Salesforce. Without regularly updated information, sales and marketing efforts just won't be as effective, and surveys are a quick and easy way to keep records current.
Alchemer has offered a direct integration to Salesforce for years, but as both platforms have evolved it became clear that the time had come for an upgrade.
There are several important new components and features, all of which have been designed to make it easier than ever to combine the power of surveys with your Salesforce account.
New Salesforce Lead Form Question Type

For users who are tracking leads in Salesforce, there's no longer any need to manually set up individual actions to push and pull data into your lead records.
This new question type automatically handles all of that for you!
The Salesforce Lead Form will auto create all of your fields for your lead into subquestions, but you can also choose to remove individual subquestions if they aren't applicable.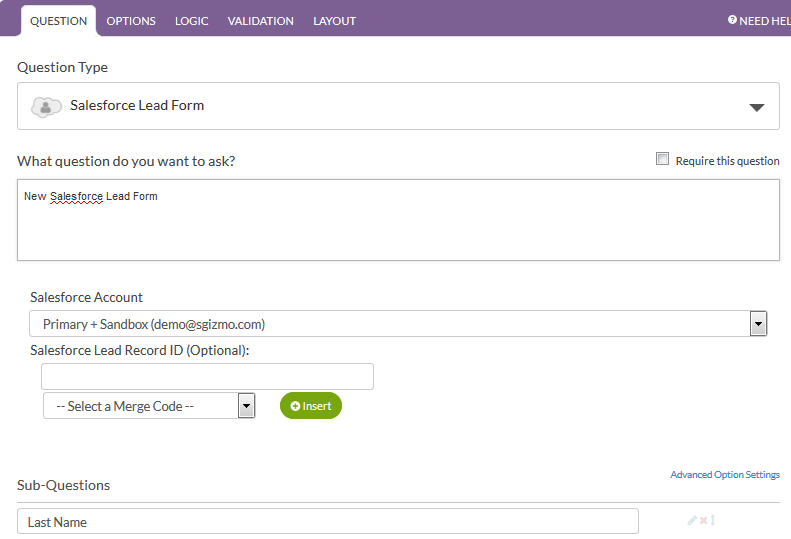 It's important to keep in mind that any fields that are required in Salesforce will also be required in your Alchemer Lead Form.
Add Multiple Salesforce Accounts to One Alchemer Account

Many users need to use Alchemer to update data in more than one Salesforce account, and our new integration makes this possible.
You can also set up both a Primary and Sandbox Salesforce account, allowing you to test outside of a live environment. Now you can safely experiment with custom fields, interdependencies, and other advanced survey functionality.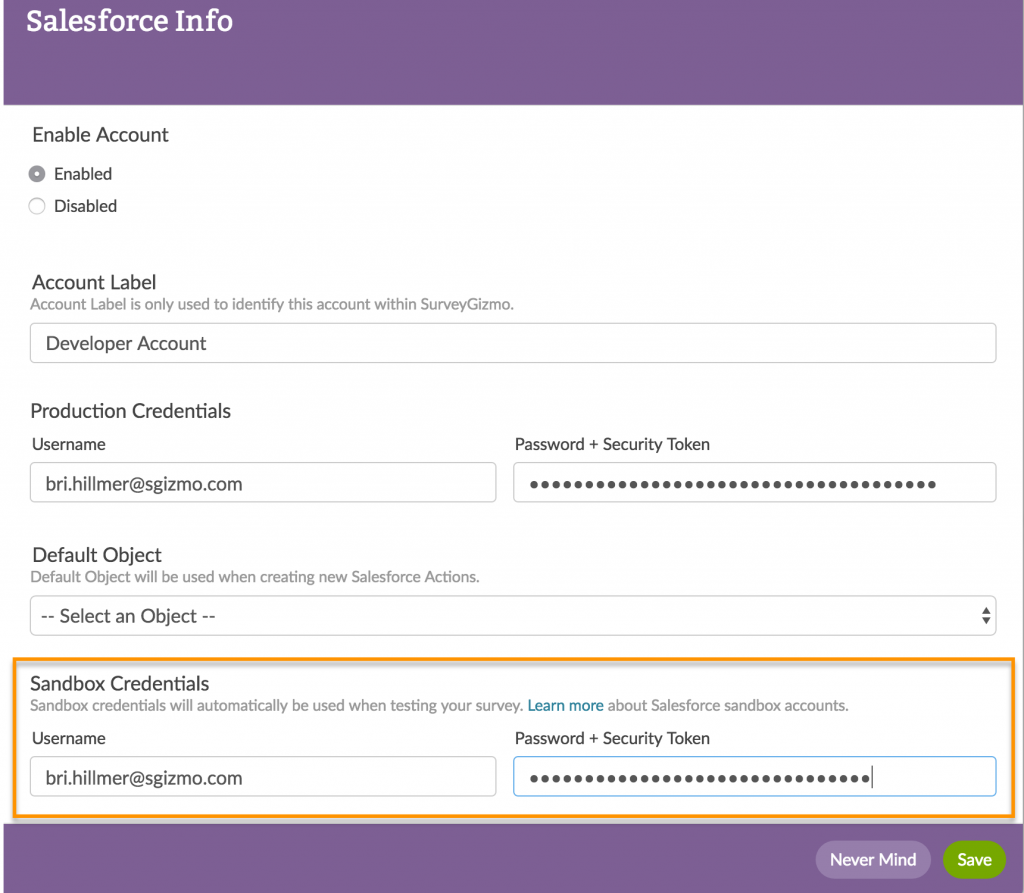 Test responses will always use your Salesforce sandbox account if the credentials are present; these responses include:
Any response recorded via the New Test Response or Invite Others to Test buttons on the Test tab.
Any response recorded via the Invite Others to Test option in Build > Preview.
Any response recorded via Build > Preview that is selected to be recorded.
Verify Your Salesforce Status

Our new integration displays your integration's status on the Integrations page, so you never have to wonder if your surveys are really sending data to Salesforce.
Status options are:
Green checkmark: credentials have been verified for the integration
Yellow line: the credentials are incorrect
N/A: no information is available, so the integration cannot be verified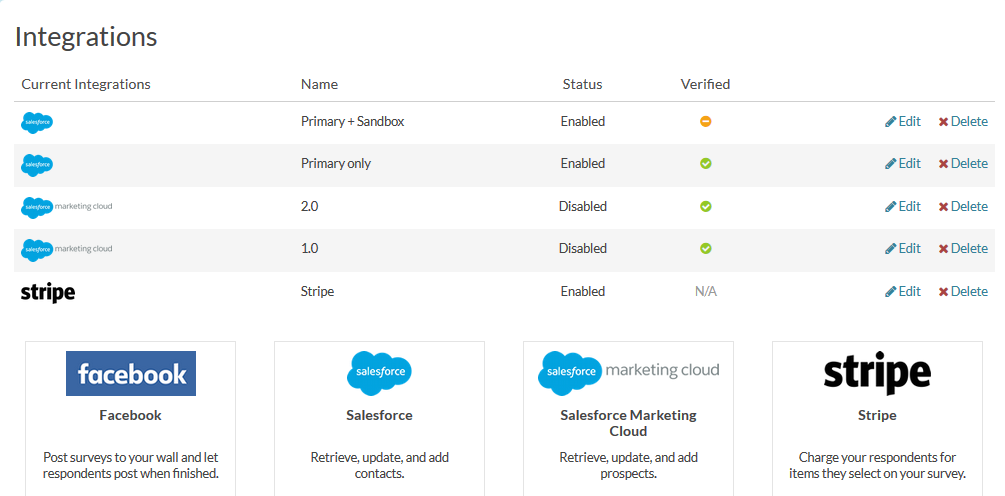 We've also incorporated error messaging with this newest version, giving you the option to alert people via email when we detect an authentication error in a live survey.
This often happens when a Salesforce security token or password is changed, and our error messages prevent live surveys from encountering
problems.
You also have the option to get an email notification when a pull or push action fails for any reason. These notes will tell you exactly what failed and why, so you can troubleshoot any issues as they arise and avoid missing out on any data.
Configuring Your Salesforce Action in Alchemer

It's now much simpler to create the initial integration between Salesforce and Alchemer. This includes a query builder that eliminates some manual work for less technical users: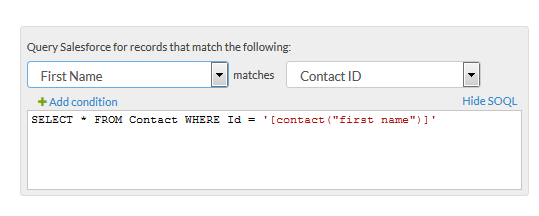 The integration setup also reminds you which fields are required in your Salesforce account, so you won't forget them when setting up corresponding fields in Alchemer.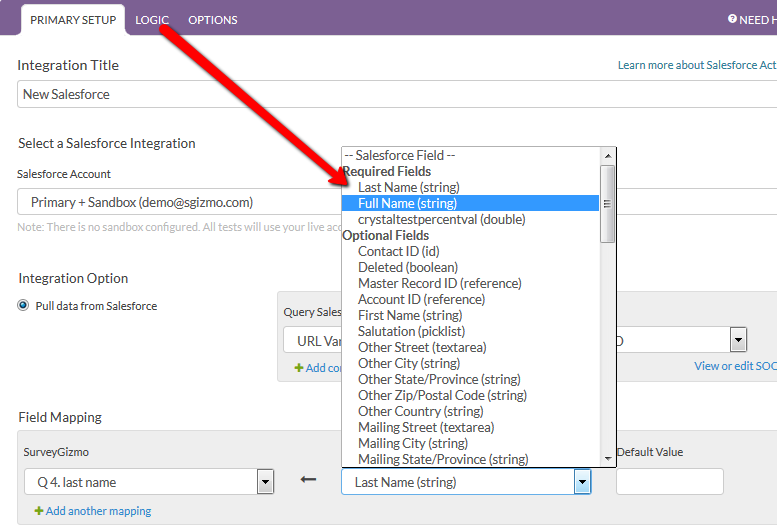 Finally, you'll notice the addition of the Upsert Option, a sophisticated push action that will update a Salesforce record if it already exists, or create a new record if it doesn't, when a form is completed.
Keep Your Salesforce Records Current With Surveys

It's now easier than ever to keep your Salesforce data current and actionable with a Alchemer integration.
We have more plans to strengthen this connection in the future, so be sure to drop us a comment if you have ideas or suggestions for how you'd like to use Alchemer and Salesforce together.