Alchemer Workflow powers always-on surveys and feedback making it easy to close the loop with customers and employees
By Peter Zaidel, Director of Product Management for Alchemer, and Vanessa Bagnato, Director of Product Marketing for Alchemer
We launched Alchemer Workflow in February because 71% of feedback professionals say closing the feedback loop is challenging due to a lack of resources, difficulty identifying feedback that requires a response, not knowing what to say, and delays in responding in a timely manner.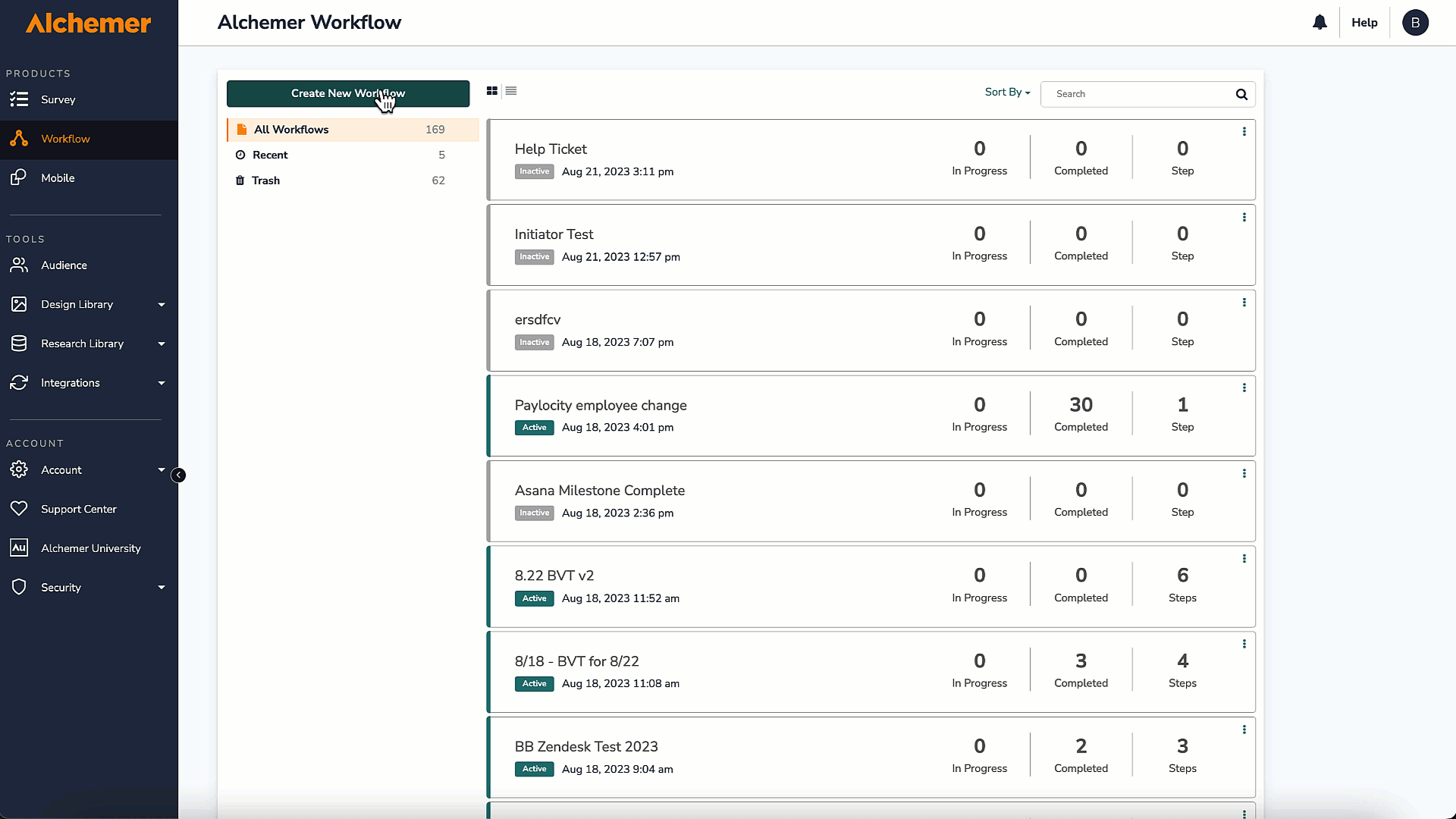 With the addition of Alchemer Workflow Initiators to Alchemer Workflow, you can listen to events from your third-party enterprise software such as Salesforce, Salesforce Marketing Cloud, Salesforce Service Cloud, Zendesk, and others – to automatically initiate surveys and feedback requests in the context of your customer's or employee's experience. Alchemer Workflow Initiators allow you to hear from customers and employees when it matters most and within the context of your key business events.
For example, Alchemer Workflow can listen to Salesforce and initiate a survey whenever a sales stage changes. When an opportunity closes, the customer is sent a survey about their experience during the sales process. Uniquely, Alchemer Workflow can intelligently and automatically route customer feedback to the right place in the organization to ensure action is taken on the feedback.
In Human Resources, a new employee signing their acceptance letter creates an event in your HCM (such as Workday, Paylocity, ADP, or UltiPro). Alchemer can listen for that event and automatically engage your new hire to understand their experience in the first 30, 60, and 90 days. An employee's feedback can then drive a response, for example providing additional detail on company benefits if an employee signals confusion or misunderstanding.
Alchemer Workflow initiators are configured entirely within the Alchemer platform, so there is no need to involve administrators for Salesforce or any other enterprise solution.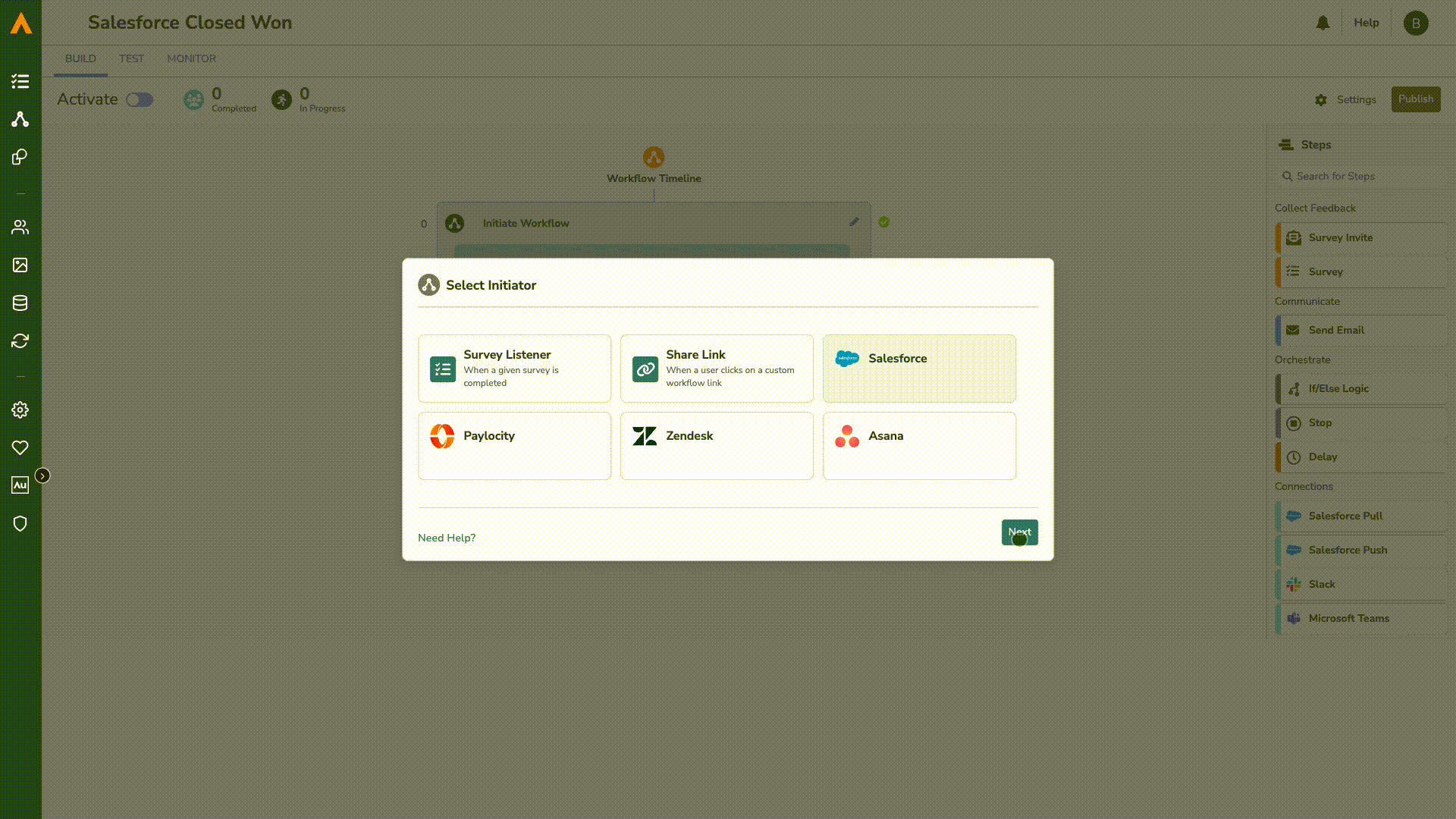 This means that key events in your enterprise software can initiate an always-on workflow, including:
Sales stage changes initiating onboarding and sales satisfaction surveys
Service case closes initiating a customer satisfaction survey
Changes in employment or benefits status trigger employee surveys
Key project milestones are reached in project management software
Basically, any event in most enterprise software systems can initiate a workflow.
"We believe that feedback only makes sense in the context of the customer's experience. Alchemer Workflow allows our customers to launch surveys and feedback workflows based on specific events," said Alchemer SVP of Product, Ryan Tamminga. "Like all Alchemer products, Alchemer Workflow with Initiators is super easy to set up and configure."
Alchemer enables a wide range of other use cases throughout the organization because Alchemer Workflow Initiators work with virtually any application software. This allows companies to hear from and close the loop with customers and employees when it matters most.
Alchemer Workflow Initiators are included with Alchemer Workflow at no additional cost to existing and new Alchemer Workflow customers.
Contact your Account Manager or CLICK HERE to learn more and request a demo.