From NPS survey results to concept testing feedback, your survey data tells a story.
With Alchemer's latest product updates, Alchemer ensures that your stakeholders can see the full story of your survey data.
And because Alchemer is committed to the security of our customers' data, these new, industry-leading features ensure that the full story of your data is available to those who need it…and secure against those who don't.
Introducing Enhancements to Alchemer Report Sharing
In order to make informed decisions, business stakeholders need to have access to the full story of their feedback data. Otherwise, they may be making decisions without specific, critical context.
That is why the team at Alchemer is now empowering stakeholders, without having to log into Alchemer, with tools to drill deeper into their feedback information.
Stakeholders can now filter report results by answer in order to gain more clarity and context into subsets of data.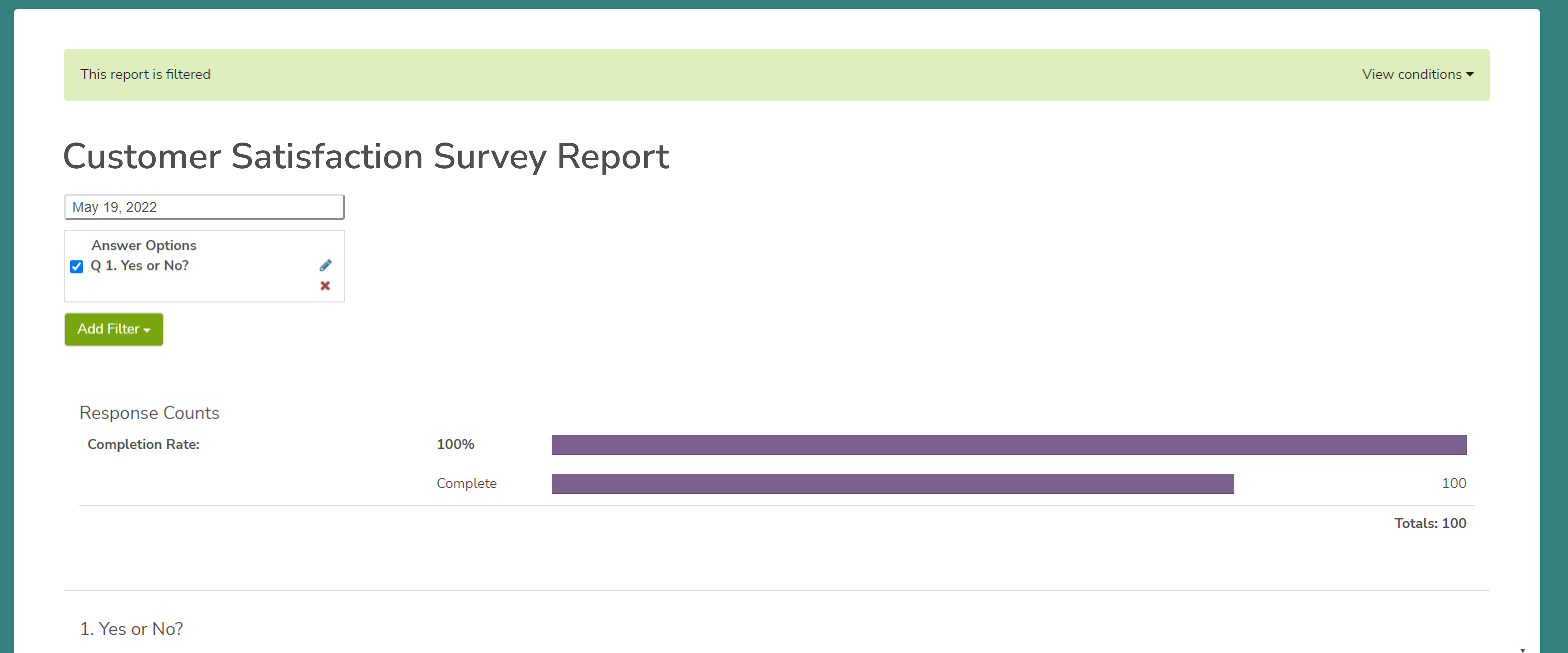 This means, for example, that your Chief Marketing Officer can access an NPS report and use new filters to show only answers from Promoters while she's on the go, giving her more clarity into their specific feedback in the context of all respondents. Seeing the responses of this subset of respondents in context ensures that her team can better target marketing messaging to fit their needs.
Or, as a Market Researcher, you can share a report with your clients or teams, allowing them to drill into subsets of data in reports generated from their studies in real-time – all without an Alchemer account.
Plus, these enhancements can be turned on or off – so if you prefer to send shared reports without filters available, they can be hidden with the click of a button.
But that's not all.
Alchemer is committed to the security of our customers' data, and that starts with our enterprise-quality data security features and controls.
We have just released industry-leading features that put more security controls in the hands of our users, ensuring that they can manage access to shared reports.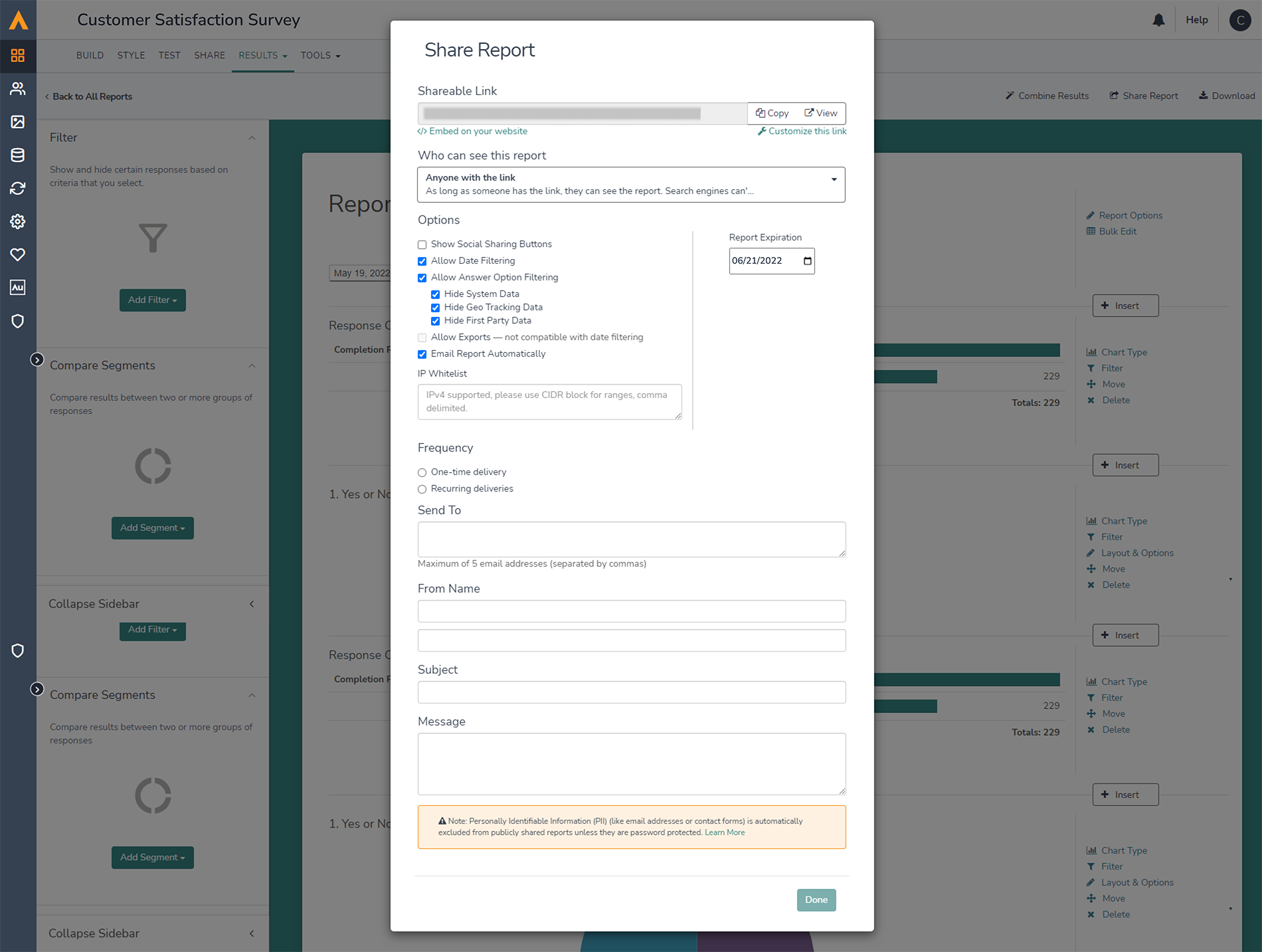 You can find the following new features now available in your Alchemer account:
IP Whitelisting: Ensure that only users within your organization can access your shared report by adding a single, series, or range of IP Addresses.
Link Expiration Date: Some things just aren't meant to last forever. Adding a new Link Expiration Date to your shared report ensures that past a certain date, your shared report can no longer be accessed.
Global Password Protection: Account Administrators on the Enterprise platform can now set a new account-wide permission which ensures that all shared reports are password-protected or accessed by only logged-in users within the organization.
With these new enhancements to report sharing, you can send reports with even greater confidence, knowing that Alchemer gives you the tools to remain secure against those who shouldn't access your information.
Even More Enhancements to the Alchemer Platform's Account Summary Page
Last month, the Alchemer team brought new account-wide usage and survey data to life with enhancements to the Account Summary page.
This month our team has brought even more visibility into account-wide activity.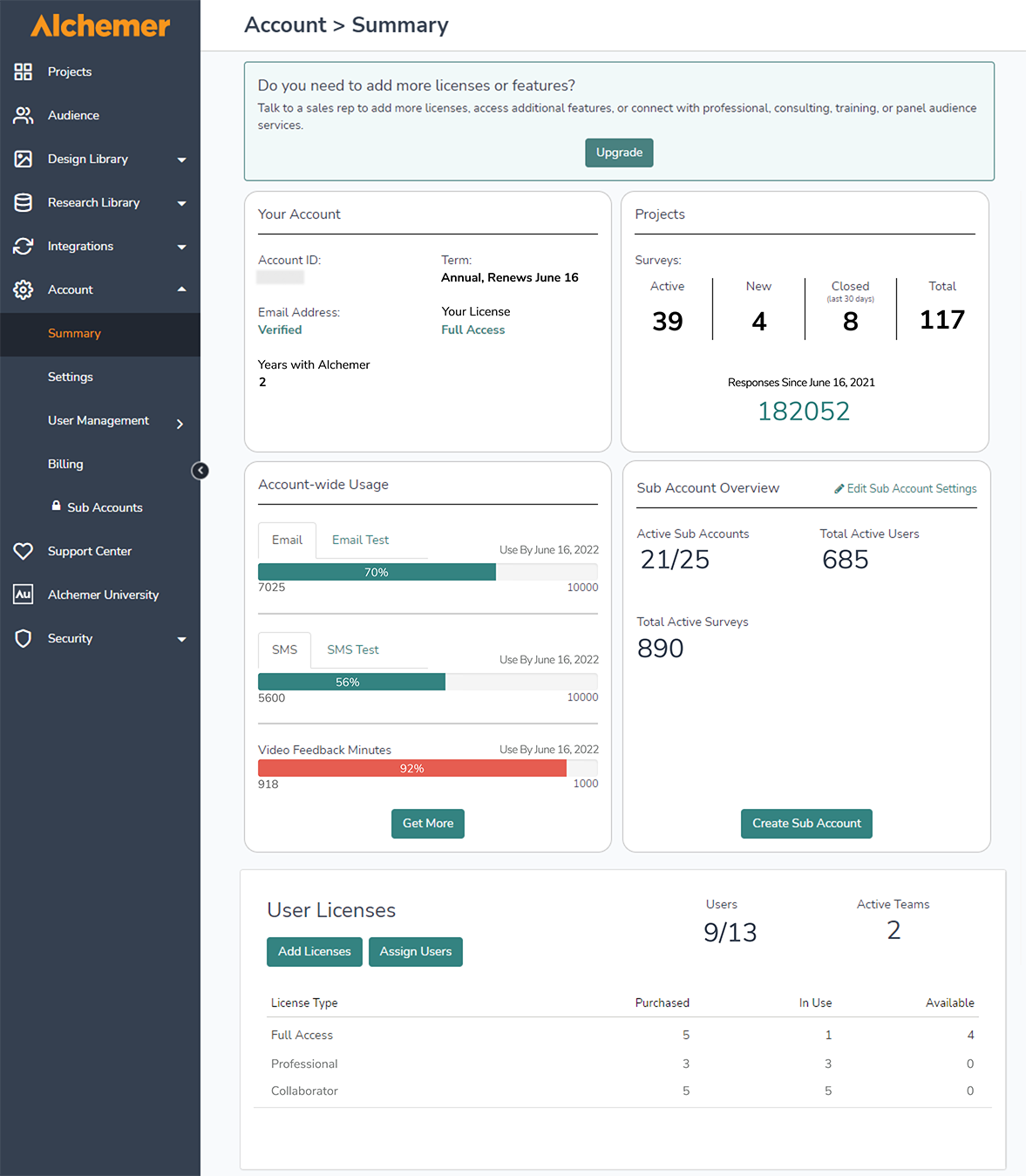 Account Administrators can find the following new features live in their Alchemer account:
Responses Since Renewal: See the total number of survey responses collected in your account since renewal.
Users and Teams: See the total number of users compared to licenses purchased, and number of active teams.
Sub Account Overview: Organizations with Sub Accounts will now see a summary of metrics collected across all their Sub Accounts in a single location. Metrics include number of Active Accounts, Active Sub Account Users, and Active Sub Account Surveys.
See it In Action
These enhancements are now live in Alchemer. For more information, check out our help documentation or talk to your Customer Success Manager if you have any questions.
Not an Alchemer customer yet? What are you waiting for?