Let's be real: product management can be challenging. Between interfacing with multiple teams, coordinating release schedules, prioritizing customer happiness, driving the mobile product roadmap, and endless other activities, it's easy to get caught up in the hustle, bustle, and stress that is product management. Take time to pause, take a breath, and re-energize yourself through the words of some of the world's most inspiring product leaders. Here are some of our favorite product management quotes to leave you inspired to pave the way toward customer centricity.
Key qualities a product manager should possess
Product managers wear a lot of hats and require a wide range of skills. We've selected product management quotes for each of the selected key qualities:
Effective communication
Strong leadership
Strategic thinking
Data-driven approach
Technical expertise
Passion for products
Inspirational product management quotes
Effective communication
"A great product manager has the brain of an engineer, the heart of a designer, and the speech of a diplomat." – Deep Nishar, Vice President of Product at LinkedIn
"If we focus on collecting stories in our customer interviews, opportunities will emerge from those stories." – Teresa Torres, Product Discovery Coach at Product Talk
"People think focus means saying yes to the thing you've got to focus on. But that's not what it means at all. It means saying no to the hundred other good ideas." – Steve Jobs, Apple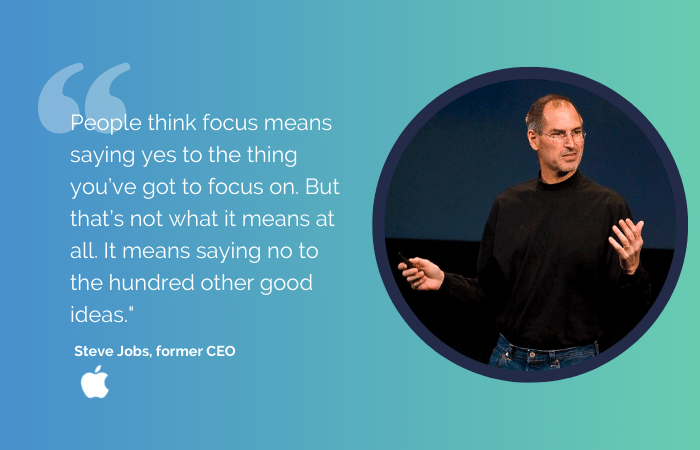 Strong leadership
"Great products are engineered when product managers truly understand the desired outcomes by actively listening to people, not users." – Michael Fountain, former Director of Product at Alchemer Mobile (formerly Apptentive)
"Building a great product is a creative, chaotic process which you won't get right every time, so you have to also be learning from success and failure." – Gibson Biddle, former VP of Product at Netflix
"If you are not embarrassed by the first version of your product, you've launched too late." – Reid Garrett Hoffman, Entrepreneur
"All things aside, there is one role that all product managers play, and that is of a problem solver. That's what the product manager role is all about – finding out problems, figuring out the best ways to solve them, and increasing the business value in the process." – Josh Fechter, CEO and Co-founder of Squibler
"Always have empathy for your customers." – Jesse Owens II, Product Director of Digital Payments at MasterCard
"The biggest product management challenge is resource alignment. Team sizes are always changing and frequently lopsided. Some weeks you have plenty of design bandwidth and no iOS, others you have no design and all iOS. Having a deep backlog of well prioritized projects is key to operating an efficient team." – Ethan Hollinshead, Senior Product Manager at Strava
Strategic thinking
"Only move forward with creating a product that will be 'above the bar.'" – Brian Lawley, CEO and founder of the 280 Group
"Know your value add. I've seen three main PM archetypes: engineer turned PM, designer turned PM, and businessperson turned PM. As a member of the latter bucket, I recognize that I could never out-engineer an engineer or out-design a designer. Instead, I leverage my knowledge of our business and customers to better prioritize what features make it onto the roadmap and help my team understand why we're building those features." – Lauren Chan Lee, Director of Product Management at Care.com
"Customers are who we build our apps for, so we want to give them what they want and need, while empathizing with their struggles and frustrations. For me it's not necessarily the mantra of the customer is always right, but do everything with the customer in mind." – Jason Pace, Software Engineering Manager at Alchemer Mobile (formerly Apptentive)
"No matter how beautiful the visual design is, if it fails to help our users achieve their goals, it's bad design." — Crystal C. Yan, Product at Remitly
"If you keep your eye on the profit, you're going to skimp on the product. But if you focus on making really great products, then the profits will follow." – Steve Jobs, former CEO of Apple
"Be stubborn on vision but flexible on details." – Jeff Bezos, Amazon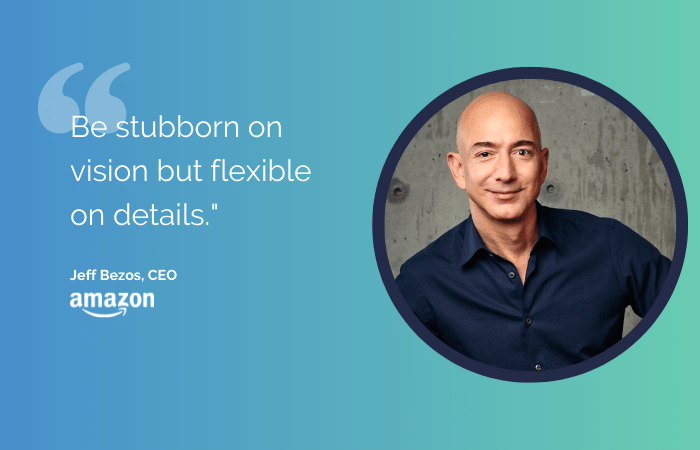 Data-driven approach
"It's a mistake to conflate success with shipping a large quantity of features." – Julie Zhuo, VP of Product Design at Facebook
"A good way to be unsure about something is to ask for one more opinion. More opinions often lead to indecision, not clarity. If necessary, ask for a few, add your own, make a call, and move on. Nearly all decisions are temporary, but stalling is permanent time lost." – Jason Fried, Co-founder and CEO of Basecamp
"Instagram still doesn't have an iPad app. Twitter still doesn't let you edit tweets or search DMs. You can launch with less than you think. You may not even need it, ten years later!" – Sahil Lavingia, Founder and CEO at Gumroad
"Your most unhappy customers are your greatest source of learning." – Bill Gates, Microsoft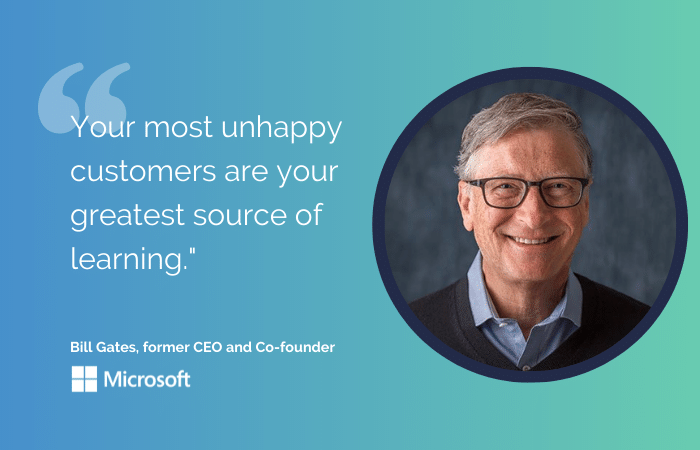 Technical expertise
"Good companies manage Engineering. Great companies manage Product." – Thomas Schranz, Founder and CEO of Blossom
"Great products do less, but better." – Fabricio Teixeira, Designer at Work & Co, Founder of UX Collective
"Building a good customer experience does not happen by accident. It happens by design." – Clare Muscutt, Founder and Director at CXMperience
"Any damn fool can make something complex, it takes a genius to make something simple." – Pete Seeger, Product Director at Docusign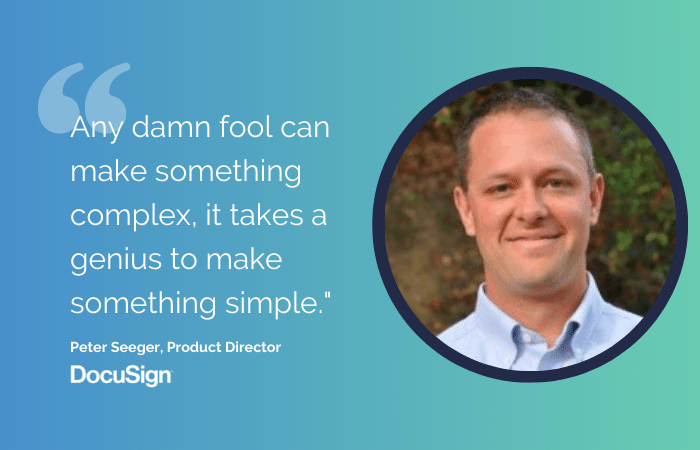 Passion for products
"At the heart of every product person, there's a desire to make someone's life easier or simpler. If we listen to the customer and give them what they need, they'll reciprocate with love and loyalty to your brand." – Francis Brown, Product Development Manager at Alaska Airlines
"A good design shows respect for your customer and you're either respectful of their time or respectful of what it is that they desire, and so it makes it a very fundamental element to everything that you do." – Penny Wilson, Designer and Owner of Penny Wison Design
"At the end of the day, your job isn't to get the requirements right — your job is to change the world." – Jeff Patton, Veteran Product Manager and Consultant
"Customer love means two sides of the same coin to me. On one side is knowing your customer and building fantastic experiences for them. Your dedication and passion to making their life easier and delighting them feeds into the other side. When approached this way, not only will you have a loyal user base, they will also be your strongest advocates and critics." – Andrew Wang, Senior Product Manager at Gap
"Customers are who we build our apps for, so we want to give them what they want and need while empathizing with their struggles and frustrations. For me, it's not necessarily the mantra of the customer is always right, but do everything with the customer in mind." – Jason Pace, Software Engineering Manager at Alchemer Mobile (formerly Apptentive)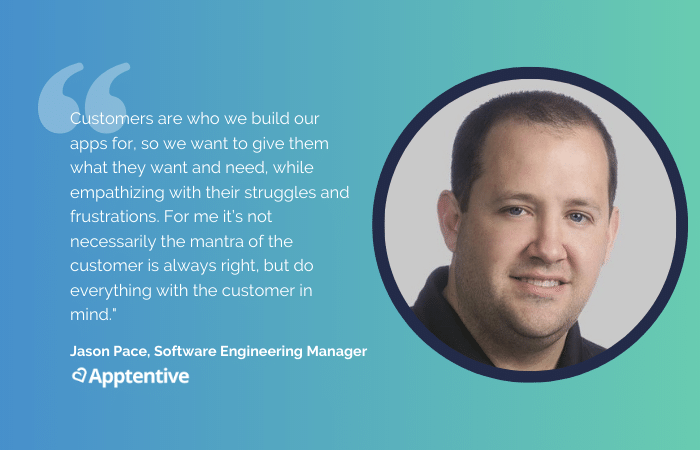 ---
We hope you found these product management quotes interesting and inspiring! Still interested in learning more? Check out some of our other product management resources!