It's hard to write an article about this hot new tech buzzword dubbed "The Internet of Things" without loading it with jargon every other sentence. In this post, we aim to avoid the dense jargon and attempt to break down the amorphous idea that is the Internet of Things in relation to product feedback management. We explain how having a high-level of connectivity can help improve your product — and what to avoid.
Who would have thought that IBM's Watson, created to compete on the popular quiz show Jeopardy! would be helping out with lung cancer treatments? Or that Watson would be used by nearly 90 percent of practicing nurses for guidance? Or that we would be shaping our connection and feedback mechanisms to the intangible storage and processing capabilities of the "cloud" — the very platform the Internet of Things (and Watson) lives and breathes on.
We all know we live in a highly connected world where we can order groceries from Amazon at the touch of a button, close your garage door from your office, or adjust your home's temperature while on vacation. In large part because of the Internet, connectivity has begun to take an entirely new meaning in both our personal lives and our professional ones. This isn't the story here. The narrative we are looking to tell with this article is that the very concept of "always on" completely changes every single aspect of business — from product development to how we market and sell and track revenue.

We've been covering different aspects of product management recently. In our latest ebook, Build Better Products with Intelligent Product Feedback, we introduced the concept of the Internet of Things, and how it relates to product feedback management.
"The potential for products to elicit feedback due to the sheer connectivity of the internet is through the roof. What is one thing you wished your product did better? When is the best time to ask? Consider the possibilities of capturing the feedback while the user is experiencing it," says Christian Vanek, CEO, and co-founder of Alchemer.
An IoT platform and the apps operating on it, similar to the one Watson is built on — IBM Bluemix — are at the core of any IoT system, according to IBM. IoT apps and products need to be:
Quickly composed

Rapidly and securely deployed

Provide insight that

matters
IBM's take on IoT alongside Vanek's is the basis of this post. The possibilities to improve your product using IoT apps is virtually endless, yet, you want to make sure the insights you're gathering from them is useful for your product.
IoT products or devices enable a product manager/product teams to:
Collect and analyze the data from the connected products or devices

Analyze the data in real-time to make agile adjustments to development

Combine your data findings from the IoT with historical purchasing data and other customer usage data to make the product even more relevant to your target audience
Transforming all of that data into insights that help drive decisions
The IoT is a great source of data, but without the ability to analyze it all, the information remains static and doesn't help your product improve, innovate, or cut out the competition. Below are some practical ways to manage the data coming in from connected apps or devices that you can start using today in your product feedback management process.
"For all of its potential, effective IoT data analysis will hinge on better IT infrastructures — data centers, server clusters, cloud-based computer, and more," says Upwork, a web-based platform for freelance professionals to find work and for businesses to find freelance workers. "Businesses that want to leverage IoT data will need to invest in long-term IT architecture planning."
With the amount of data running through network and data centers, more power to process it all is in high-demand. For this, consider upgrading your data processing centers and hire some talented professionals who know how to do the upgrade effectively, safely, and efficiently.
Now your business analysts and data scientists can step into the ring. All of that quality data running through distributed systems — in theory — brings you the whole pile of data that you can turn straight into meaningful change, right? Not quite. As the saying goes, more isn't always better, and we are finding that more and more companies that collect all of this data in an automated way are left in confusion as to what to do with it, and they have too much to sift through to make sense of it.
"IoT data is unique in that it's only really valuable to us if it's actionable, and that percentage of the massive and totally new streams of data coming in — will be a bit easier to manage," says Upwork. "Sifting through this data will be the job of business analysts who know what questions they want their data to answer, and of data scientists who know how to get those answers."
Data volume facts
Connected devices will generate 507.5 zettabytes (ZB) of data per year or 42.3 ZB per month by 2019

1 zettabyte = 1 trillion gigabytes





SOURCE

: Daecher, Amy and Robert Schmid. Internet of Things: From sensing to doing,

Deloitte University Press.

February 2016. Accessed June 17, 2017.
For IoT in context, we've learned that many IoT objectives for manufacturers, for example, is to help lower costs to produce a better result while simultaneously increasing the communicative nature of the product and the end user.
"Traditional database management solutions fall short in satisfying a sophisticated application need of an IoT network that has a truly global-scale," the National Institutes of Health (NIH) reports.

"The core functions — product development, IT, manufacturing, logistics, marketing, sales, and after-sale-service — are being redefined, and the intensity of coordination among them is increasing," says Michael Porter and James Heppelmann of the Harvard Business Review.
To fully understand how IoT are changing the way to do business and develop products, Porter and Heppelmann say that all smart, connected products, from home appliances to industrial equipment, share three core elements:

Physical components (i.e. mechanical and electrical parts)

Smart components (i.e. sensors, microprocessors, data storage, controls, software, an embedded operating system, digital user interface)

Connectivity components (i.e. ports, antennae, protocols, networks)
Porter and Hepplemann suggest to support a revamped IoT infrastructure, an entirely new tech stack needs to be implemented, looking something like this: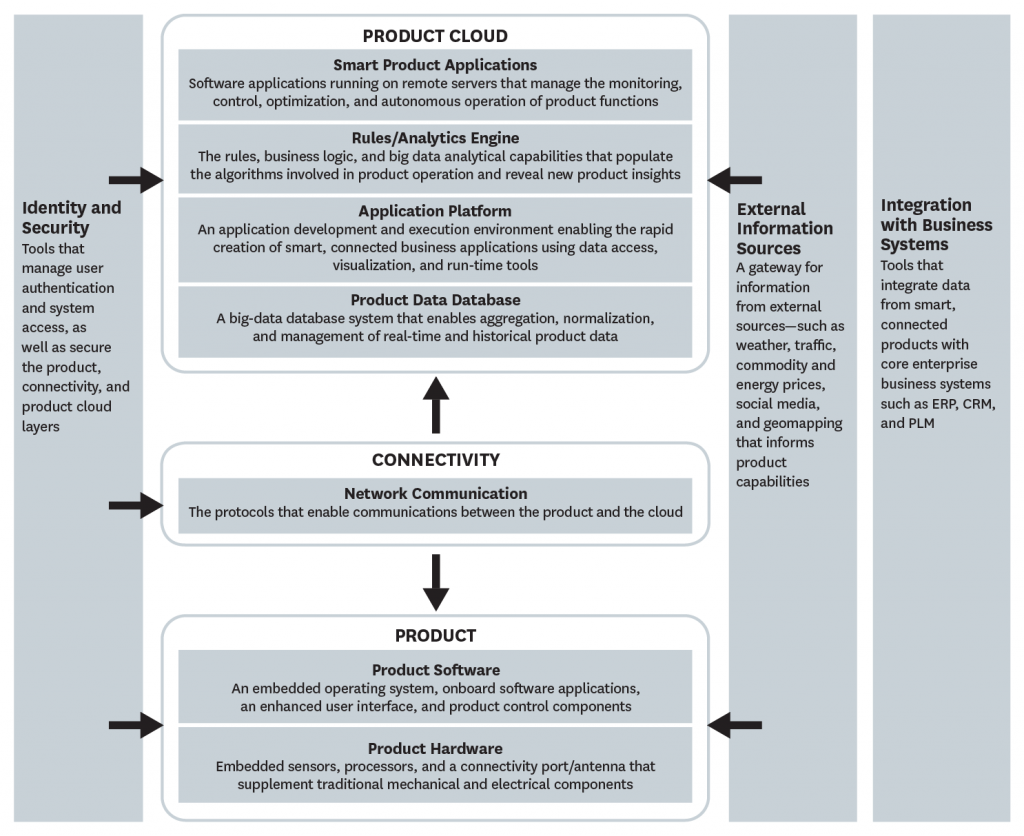 SOURCE "HOW SMART, CONNECTED PRODUCTS ARE TRANSFORMING COMPETITION," HBR, NOVEMBER 2014
In summary, this infrastructure introduces entirely new product capabilities into the conversation. From products being able to report on their own condition and environment, to pulling its own performance metrics, Vanek's earlier statement that the possibilities are through the roof rings even more true the more we learn about the complexities of IoT.
"The new capabilities of smart, connected products alter every activity in this value chain. At the core of what is reshaping the value chain is data," says Porter and Hepplemann.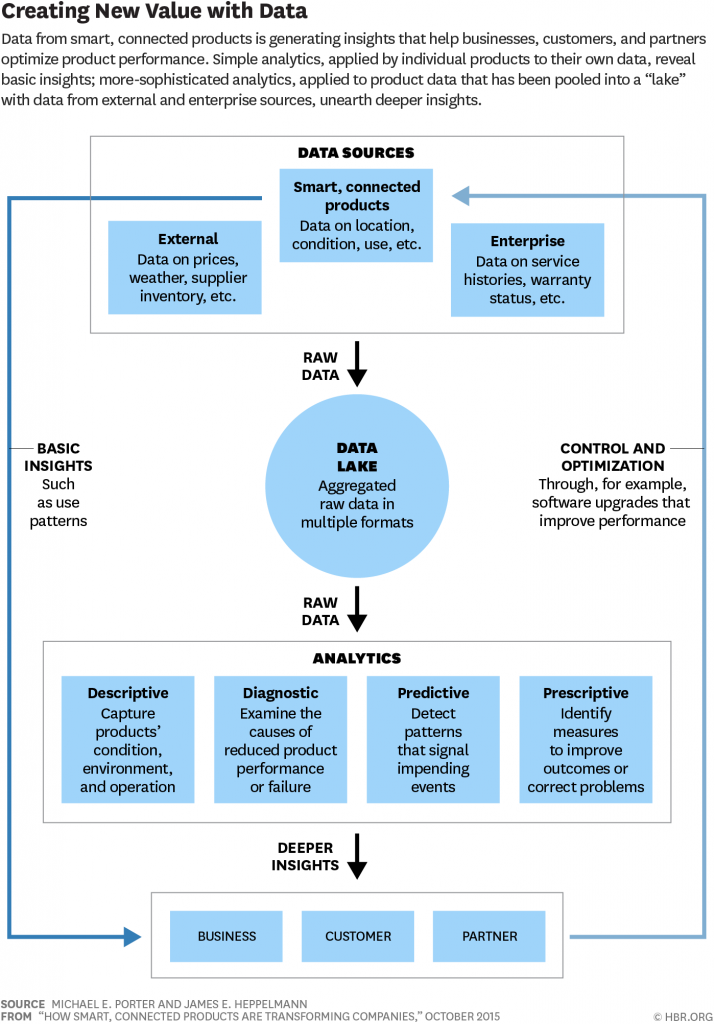 For product managers, figuring out the application of the IoT is a challenge since the scope of it is huge, according to Daniel Elizadle, author, product leader and Stanford professor.
As a product manager, ask yourself:
How will my team and I plan an all-encompassing roadmap that communicates this with the organization?

What do we need to do as a product team and as an organization to prepare for the IoT? Consider how the data will impact each department and how each department could use the insights derived from the data. For example, how marketing uses demographic information may be different from how customer services uses the same insights.

What decisions can be made from the insights?

Do you have a dedicated data analyst and/or data scientist that can help guide you toward best practices of data management and connected products?
One last note
"Increasingly, forward-thinking organizations are focusing their [IoT] initiatives less on underlying sensors, devices, and "smart" things and more on developing bold approaches for managing data, leveraging 'brownfield' IoT infrastructure, and developing new business models," says Amy Daecher and Robert Schmid of Deloitte University Press.
Ultimately, you want product feedback while your customers are using your product so you can build a feedback mechanism that thanks your customers (among many other data collection goals) as well as develops a prioritization system of how you manage that information to make product improvements.
The Internet of Things (IoT) may have changed the way we provide this information, but the framework and essential concept are still there. Let's explore some ways in which you can integrate this into your product feedback process to gather this information.
Tactics to help support product feedback strategies:
Rather than include a registration card with your product, include a URL with messaging such as, "In order to make the most out of this product, visit this website XYZ.com/getting-started."

Always provide a way for end users to give feedback after purchase – such as while they are using the product (if it makes sense to the experience) or shortly after use concludes.

Arm a call center. When someone calls in with a problem, train agents to record the problem with the product.

At every point in which the product and end user interact, you should be able to feed that back into a feedback management tool.
"You want to make the right choice, make the right product, and reach the market at the right time – and at the right price point," says Vanek. "Yet to get the information to act on and communicate throughout the organization, you have to think a little more laterally."
Put simply, to explore the IoT's full potential, experts say: think big, start small, and then scale fast.