Small teams are often asked to do the work of big organizations, especially when it comes to conducting research and developing custom data collection projects. But when small teams are working so hard, time is often the most limiting factor. This is when Alchemer's Programming Services team steps up to help.
Maybe you have a big project coming up, but you're short staffed. You can't hire new programmers fast enough, or you don't want to add to your team just for one project.
Maybe you are a pro when it comes to great survey design, but you need unique question types, advanced analysis, or auto-generated reports, but don't have the time or in-house expertise to build the code yourself.
Maybe you need help overhauling your existing database, creating a new architecture that it is more powerful, more accessible, and more user-friendly than ever before.
Programming Services is for any team that needs the extra help, that doesn't have time to figure it out, and that just wants the project done–and done right.
To get the inside scoop on Programming Services, I sat down with project manager Chris McMurtry to discuss just a few of the many ways Programming Services helps organizations succeed.
What is your elevator pitch for Programming Services?
At our core, we are here to help Alchemer users succeed, no matter what project has been thrown their way.
Our team is made up of professional survey programmers who have been working with Alchemer for years. We know the platform inside and out, and we've seen the incredible ways the software can be used and customized. It's our mission to help users get exactly what they need from Alchemer without having to spend the time figuring it out for themselves.
What can Programming Services do for me and my team?
That's a difficult question to answer because we can do so much.
We can:
Migrate survey data from other services into Alchemer.

Design customized questions based on your needs.

Automate the creation of personalized response reports for every respondent.

Develop the architecture for improving the efficiency of internal systems and platforms.

Create databases for ease of collecting, storing, and analyzing data.

Create custom integrations with the tools you already use.
And that's just the beginning. We've done so much for our clients, and we're always excited by new challenges and applications for the Alchemer platform.
When it comes down to it, we approach every project with the question, "How do we solve this big idea?" Then, we make it happen.
Can you give me an example of a recent project?
Sure! Can I talk about two?
Of course.
One project that comes up a lot is creating a system that generates customized reports for every respondent. Usually our clients ask us to generate these reports as pdfs that then are automatically sent to respondents once they've completed the survey, but we can display the same reports as stand alone web pages, too.
There are tons of reasons our clients want every single respondent to receive their own personalized reports. We've programmed them for surveys that generate personality test results, aptitude test performances, price or service quotes, diagnostic tests, certification quizzes, and financial planning guides.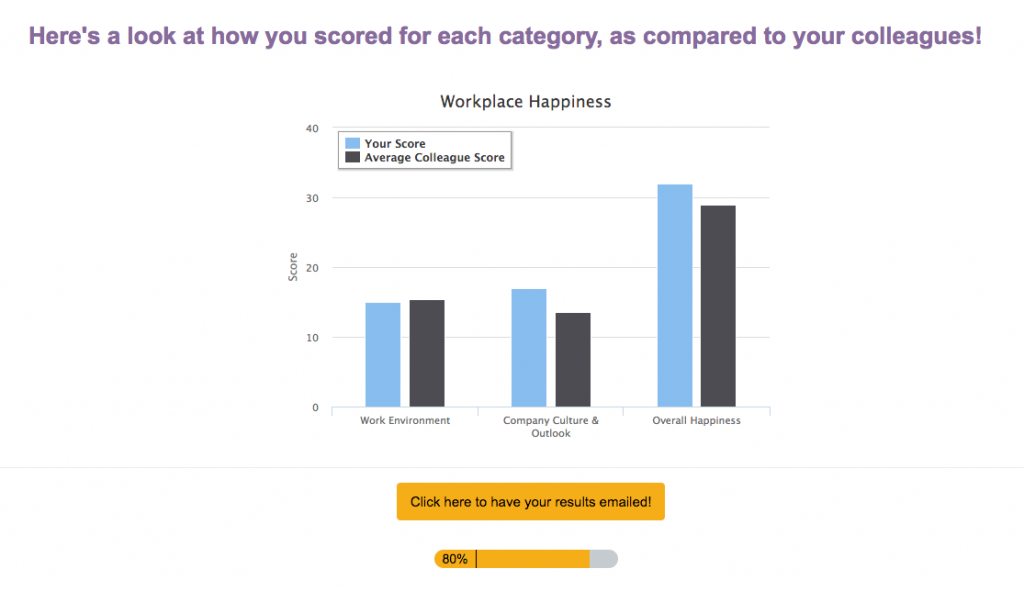 These kind of personalized, automated responses look sleek and professional, and once the generation program is in place, they save so much time. In the case of businesses that use them to generate price quotes, respondents and salespeople alike know exactly where each other stand.
For quizzes tests, these results are very shareable. In the case of personality tests, you naturally want to know what your friends results were, too!
We've created personalized result reports for surveys of all lengths, from 20 questions to 100s.
That sounds fun! What is the other project you wanted to share?
They're big projects, but we love the challenge of creating architecture. By this we mean using the Alchemer software as a platform to create a larger ecosystem for data collection, storage, and analysis.
It's amazing what Alchemer can do by itself, and when our software is combined with integrations, many clients find that they can improve their current workflows and, in some cases, reduce the number of software subscriptions they need to do business.
Currently, we're working on a project that will eventually replace our client's current in-house data storage system. Their current system is their home base for project, supply, volunteer, and personnel management, but it's currently too delicate. Only one person has the authority to submit and maintain entries, which creates a bottleneck when multiple offices submit updates at the same time. Having one person manually update their databases simply doesn't work.
We're helping to replicate the features in the current system and adding the new features they need to create a simplified user experience that everyone can access when they need to. Because their new architecture isn't being filtered through one person, it will be so much faster and easier for the organization to collect and respond to data.
The project's ongoing, but we're excited to see it completed and can't wait to share it with you.
We can't wait to see the final product. If our readers are looking for help on their next project, how do they get in touch with you?
It's easy. They just need to visit the Programming Services page and fill out the form. We are notified the moment the information is submitted, and someone on our team is able to reach out quickly – usually within one business day.
Then, we get the conversation started about what your project needs to succeed – and how we can help get you there.
We look forward to helping with your next project!
Not a Alchemer user yet? Sign up for a free trial today.