by Cameron Settle
Panel Responses are a great resource when you're wanting to collect data from a specific audience. When building your survey there are steps you can take to ensure that the responses you're getting meet the targeted audience you've chosen.
The most effective way to ensure the responses you're collecting meet the chosen demographic would be to screen out responses. If you're purchasing responses from our Panels Team or from our Survey Audience feature, the following steps can help in setting up your survey for success.
The first step you will want to take is to create screening questions in your survey, these are questions that will ensure the responses you collect meet the demographic you've chose for this survey. In this first example, the question would be the Age of the respondent, followed by the Gender which are the most common demographics.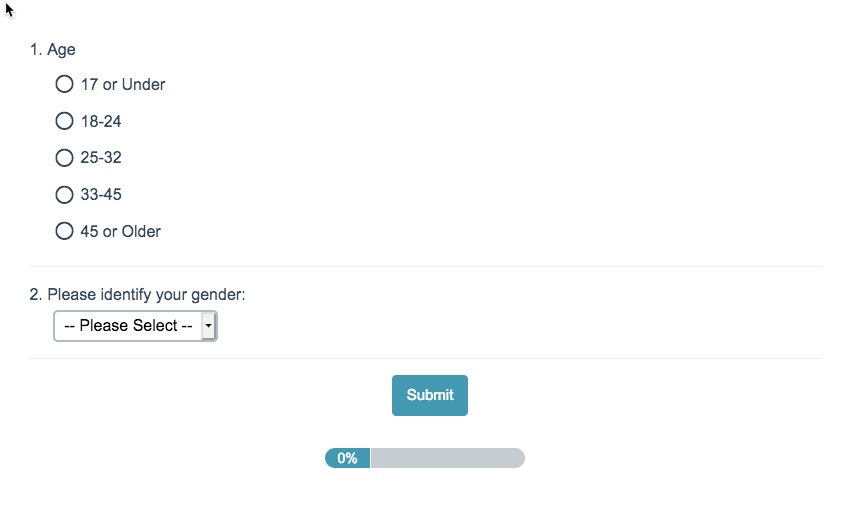 The second step in this process, once you've added all of the questions you need to screen your respondents is to create your Skip/Disqualify logic. This set of logic will be responsible for deciding where your respondents will end up, depending on their answers to your screening questions.

For example, let's say you'd want to screen out anyone who is 17 or under and disqualify those respondents. At the end of your screening page, in this case Page 1, select Skip/Disqualify Logic.
Within this action, under Logic Conditions you may select the question you're going to screen out on. In the example below, I've selected the Age question, along with the answer option for 17 and under. If you want to include additional questions in this disqualification, select "Add Condition" and proceed to select a second question.
The second step in this setup is to select External URL, then enter the Disqualification link that is provided to you by your Panel Company.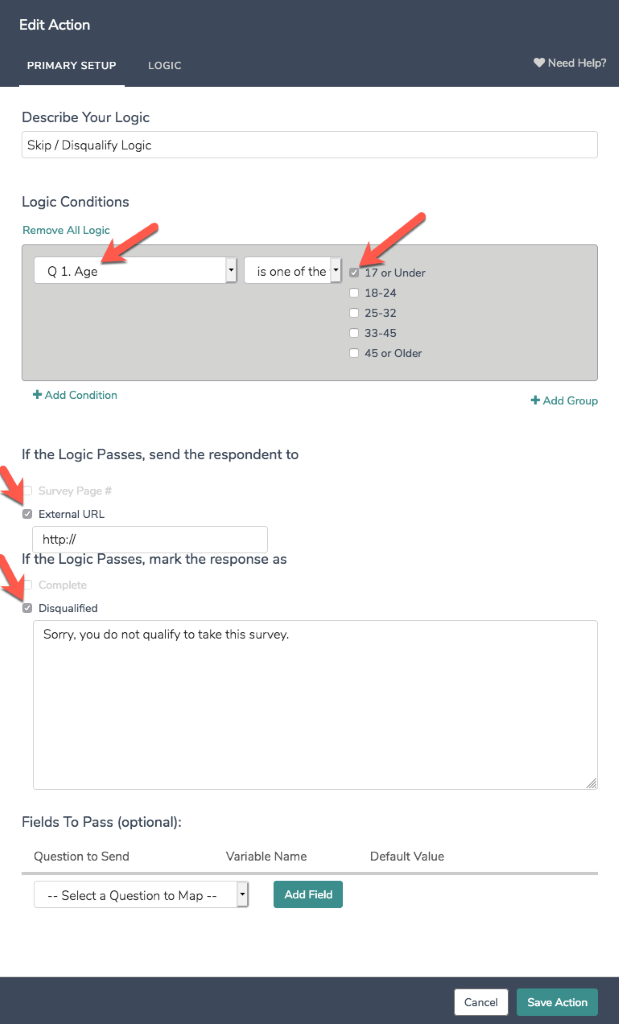 The option for "Fields To Pass" is another important step if your panel company requires this. To view the setup process, please visit our documentation below.
https://help.alchemer.com/help/panel-integration#step-2-store-respondents-panel-ids
If you have any questions about the features mentioned in this article, please reach out to our support team. How to contact support