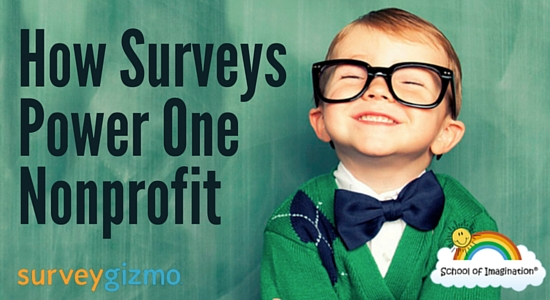 When you think of nonprofits and surveys, the most obvious uses are collecting information about clients and donors. While these types of surveys are undeniably useful, one nonprofit is going far above and beyond the obvious.
Mitch Sigman, co-founder and CEO of The School of Imagination in Dublin, CA, told us how his organization uses Alchemer to increase enrollment, boost donations, reduce administration time, improve hiring, and more.
In fact, this nonprofit uses surveys to power their:
Contact form
Enrollment processing
Assessment tests
Donation collection
Event registration
Qualifying job applicants
Automating administrative task
Since implementing this tool, they have significantly reduced their administrative workload, increased enrollment, and improved online donations by over 200%.
These results are impressive, but most importantly these surveys are letting The School of Imagination focus on impacting on the lives of more children with their programs.
Here is their story and how they have managed to streamline data processing and assessment testing.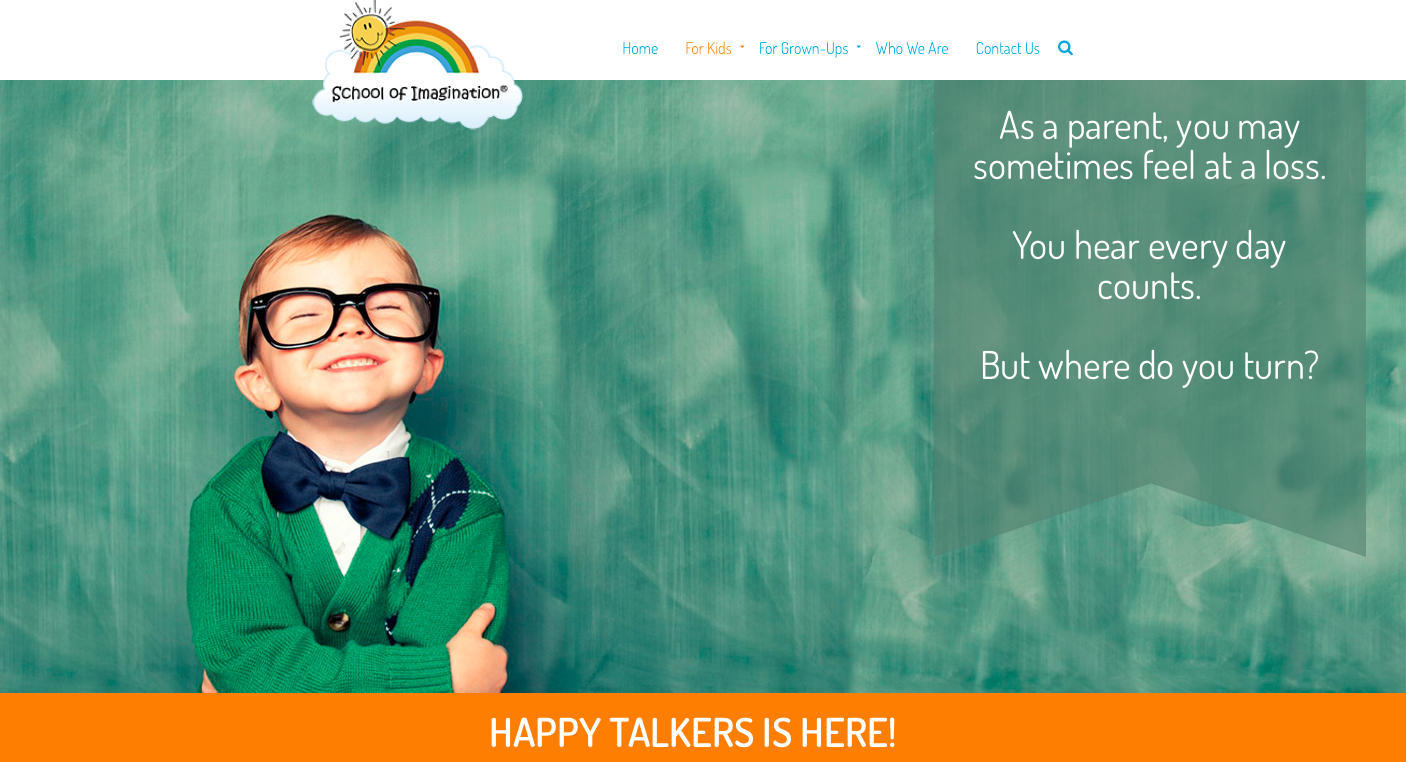 The School of Imagination and Happy Talkers
Let me begin by sharing a little more about this organization and what sets them apart from other child development centers.
The School of Imagination is a preschool with 120 children enrolled and another 200 children waitlisted. They strive to provide an inclusive education by maintaining a normal child development to special needs ratio of 3:1.
Their philosophy of being inclusive means students, despite varying degrees of development and/or disabilities are included in the program to foster empathy, compassion and role modeling.
Happy Talkers is a program at the school developed to maximize each child's success by providing wide range of educational, developmental and enrichment services, including speech, occupational and behavioral therapy services.
The school's mission is to:
Bring out the extraordinary in every child by providing groundbreaking, collaborative, and individualized educational, therapeutic, and family support services in a nurturing and positive environment through the highest quality inclusion program that supports ALL children, encouraging them to become positive influences on society.
Increase Reach With An Online Contact Form
This organization started using Alchemer to collect contact information by embedding a contact form on their new website.
Based on what visitors want, the message is routed to the appropriate staff member for immediate follow up.
Embedding the contact form was easy and knowing that it was secure and all in one place is nice. But the real beauty is in the power of the automated actions that are triggered once the form is submitted.
Since embedding the contact form on our website, an average of 45 new families contact us online, each month. Before, we averaged 2 each month. – Mitch Sigman
Streamlining Enrollment Data Processing
The next process they automated was their enrollment form. Knowing that Alchemer complies with Federal requirements regarding Health Insurance Portability and Accountability Act (HIPAA), this organization confidently collects personal information online and keeps the data encrypted using the project encryption feature.
The Enrollment Form
In order to keep a balanced program where all students thrive and benefit from the diverse student body, they use an enrollment form that is more extensive than most. Questions about each child's key developmental milestones, behavioral patterns, social interactions, dietary restrictions, health issues, and family situation helps them understand the child's learning and family support needs.
Since they are a nonprofit, demographic questions are asked for filing purposes. The last page of the application contains consent for child pickup, outings, sunscreen, etc.
Although lengthy, this comprehensive form ensures that the school can offer the right program and allocate the right resources without having to ask for additional information later.
Data Automation
Magic happens once the data is submitted, turning what was once an arduous week-long process into a fifteen minute one. The Submit button triggers three processes:
First, the information is automatically passed into their Mindbody CRM system to create a profile of the child. This saves administrative time by eliminating manual data entry.
At the same time, parents are immediately directed to a Google Calendar through Zapier to schedule an open house tour of the school and to meet staff members.
This data is also passed into a Google spreadsheet that acts as an open house roster for school administrators. An email notification is also triggered letting staff members know that an application has been submitted.
Moving the enrollment process online has been a huge time saver and has improved communications. What used to take a week now takes 15 minutes! It is so effective we don't worry about applications or messages slipping through the cracks. – Mitch Sigman
Benefit From An Online Assessment Test
But by far, the biggest impact this online survey tool has had on this organization is in the child developmental screening process.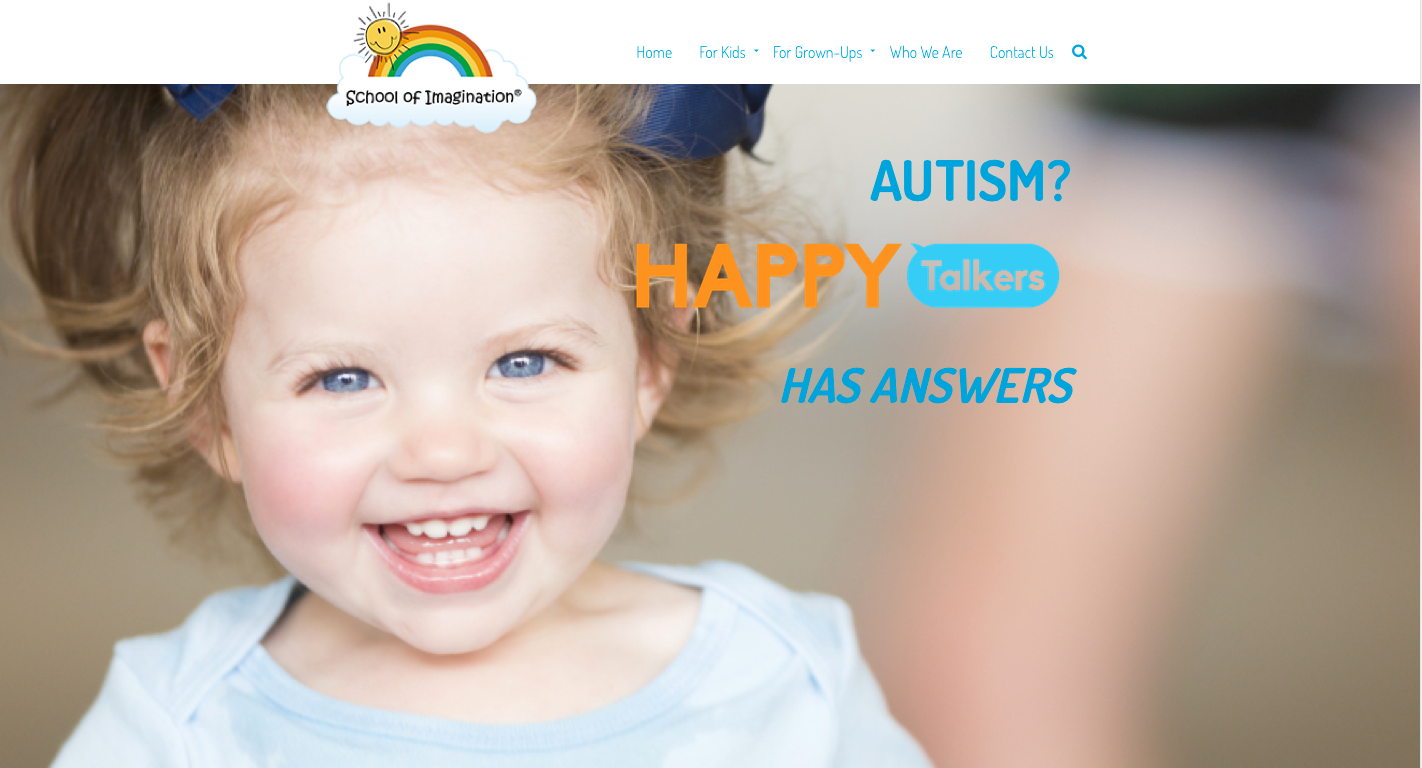 Using a survey to assess autism or other developmental delays has broken down walls and barriers to serving more kids. It has dramatically improved the quality of care and team communication. – Mitch Sigman
Typically child development screenings are a laborious process. By moving the assessment online they were able to shorten the screening process and create a unique experience for each parent who completes the survey.
Using survey logic, we present questions and drill down on challenging areas based on previous answers in order to get a better understanding of the issue.

And because we use the tool's email notification feature, we are able to immediately notify the appropriate person(s) on our team that a family is need of a speech or occupational therapy plan and to take the next step. – Mitch Sigman
Automating the entire assessment process has made it easier for families to get the help they so desperately need. Often these families are at a loss when seeking support. They don't know whom to turn to and the evaluation process can be a long and intimidating journey.
It shouldn't be that hard to get care for these children and support for these families. These families are challenged enough. We want to do whatever we can to make it easier for them to get the help they need.

With customized reporting for the clinicians, our team can now review results much more effectively and efficiently. In the past, we could only screen two to three children each month. Now, we can now serve more than ten during the same period. When every day counts, this small change makes a tremendous impact in the life of a child. – Mitch Sigman
Increase Charitable Contributions With An Online Donation Form
Because Alchemer proved to be an easy and reliable way to collect sensitive information, this organization took yet another step by moving their donation form to the main pages of their website in the hopes of collecting more funds.
Alchemer's Stripe integration for payment processing, removes the security risks and liability burden of collecting personal credit card information.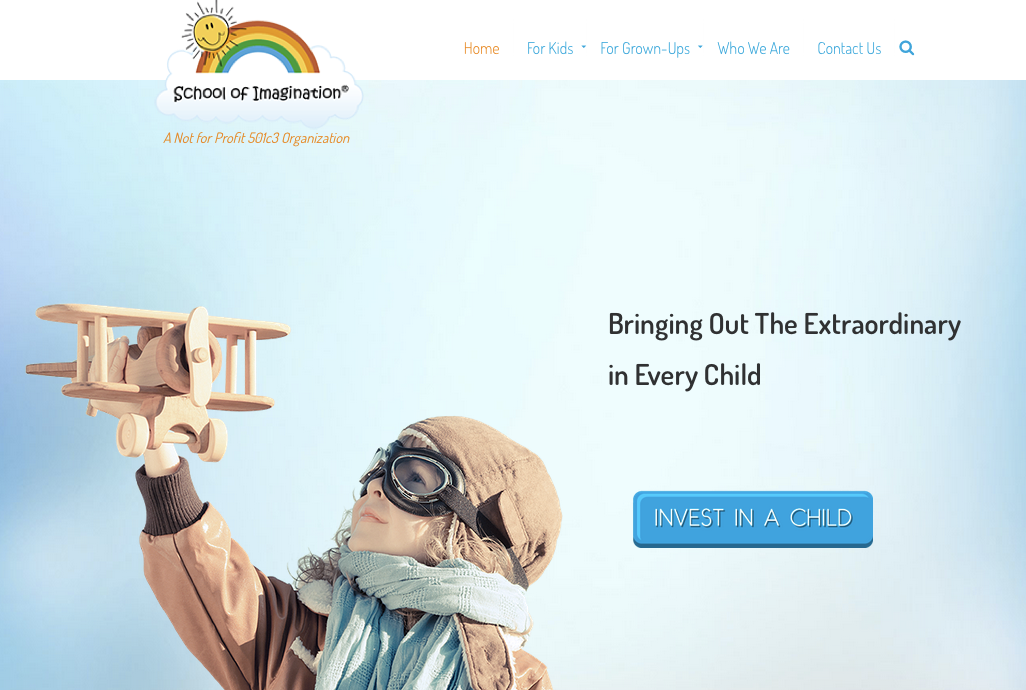 Our online donations have skyrocketed more than 200% since moving away from the standard PayPal link methodology. With frictionless Stripe integration and data pushed to Google Sheets, we not only have gotten more online donations than ever before, but are more easily able to stay connected with our donors. – Mitch Sigman
Boosting Fundraising With An Online Event Registration Tool
Fundraising is vital for any nonprofit, and Happy Talkers is no exception. With the incredible success in collecting online donations, they decided to also use Alchemer for their fundraising events.
The advantage of using Alchemer over other event registration tools is that it gives us the ability to customize and ask more pertinent questions. – Mitch Sigman
The annual pancake breakfast with Santa is just one example where this organization uses a survey payment form for event registration.
Since some of the autistic and disabled students aren't able to go to the mall to visit Santa, inviting Santa to their facility keeps these kids from feeling like they are missing out as well as raise funds.
The registration form starts by asking how many will be attending the event. In then asks about:
Special needs and precautions (this can be a scary time for some kids)
Sensitivity issues that Santa should know about
Gift requests (Santa does read all letters the children have sent)
Extra pancake orders
"We couldn't have collected this information using Eventbrite or other event registration tools", says Mitch. "The staff of most nonprofit organizations are dedicated to service, not administration. So often, events are avoided because the organization doesn't have the bandwidth to manage the registration, communication and bookkeeping. With Alchemer, we hosted five fundraisers in 2014-2015 compared to one the year prior."
Qualifying Candidates Using An Online Job Application Form
Like most nonprofits, this organization supplements its staff with volunteers. To make it easier for people to apply for employment and volunteer positions they added a Join Our Team button in the footer of their website that takes users to an employment application form.
The application form collects basic contact information and other pertinent questions depending on the position the applicant is applying for. Adding logic keeps the questions relevant for the position being applied for.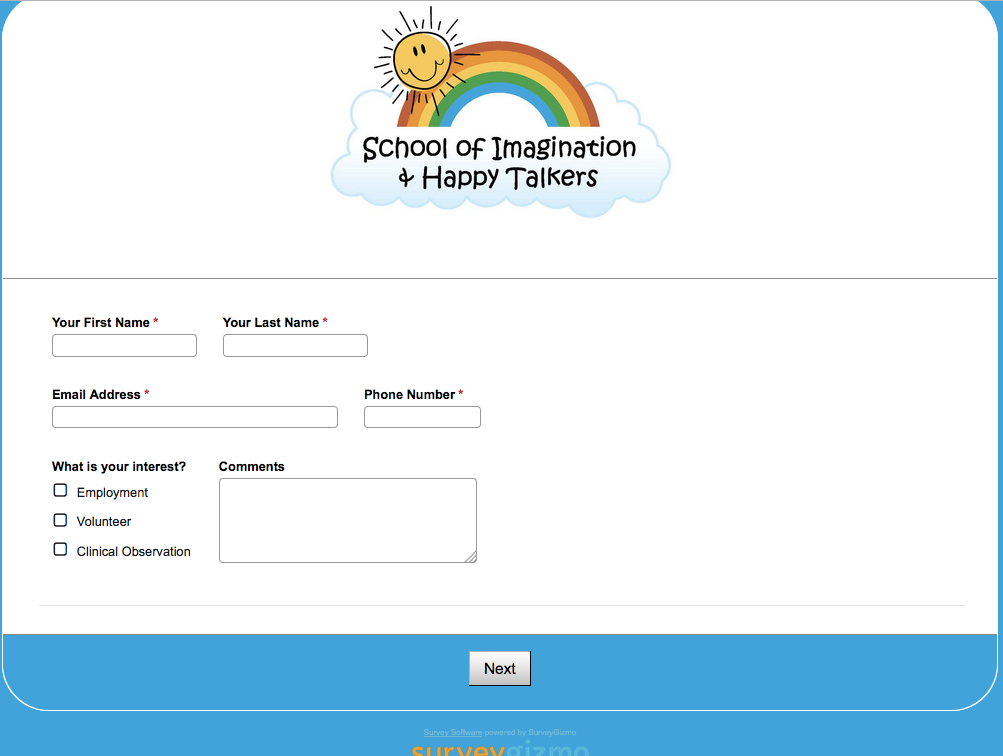 The form also allows applicants to upload resumes, and other related documents such as clinician license, references, etc. so that all of the data is in one place.
Again, email notifications are used to immediately alert the administrative team when there is a new response so that they can quickly follow up.
Weeding through candidates is time-consuming effort. Thanks to Alchemer, we are able to qualify candidates and seamlessly gather their credentials. This interview and on-boarding process has gone from weeks, to only a few days.- Mitch Sigman
Automate Administrative Tasks
Using a survey to collect additional information from new hires such as clinician licenses, liability insurance, employee photo, tshirt size, favorite hobbies, anniversary dates, etch, helps the administrative staff keep directories and calendars updated without having to manually enter it.
Generate Staff Directory
The survey integration with Google Docs has automated passing employee information into the administrative directory. The employee directory is comprehensive but select fields are automatically pushed to a spreadsheet to create a staff directory that all staff members can access.
Integrate With Google Calendar
The second integration uses Zapier to update a Google Calendar that contains staff birthdays, work anniversaries, and important dates such as license and liability insurance renewal dates. Now they recognize and celebrate milestone dates and prevent critical deadlines such expiration dates from being overlooked.
Automating the staff directory and calendar has tremendously reduced our administrative workload.

We used to manually email and follow up with all 40 employees to update their information. Then copy and paste it to a spreadsheet, followed by creating calendar events for their birthday and anniversary.

Now, Alchemer's tool emails and reminds staff to update information, populates the Google sheet, and creates the calendar events, automatically. – Mitch Sigman
As this organization's business plans have evolved, they continue to find new ways to use online surveys to consolidate administrative tasks, reduce paperwork, and automate data processes.
Now they use it to execute:
Newsletters
Timesheet tracking
Employee of the month elections
Embracing State of the Art Methodology and Technology
The School of Imagination and Happy Talkers uses nothing but the latest methodologies in their education and therapy programs.
Moving to a state of the art facility with the latest broadband Internet technology provided by Cisco and Microsoft has allowed them to expand their program to support more families.
Streamlining their business processes by incorporating an advanced survey tool with data integration and automation features was the next logical step in keeping their focus on the most important task: the children.