The survey login action has been around for a while, but we've freshened it up with the Version 4 update.
What is the login action?
The login action allows you to require a password before anyone starts your survey. It's not only a great way to protect your survey from unwanted survey takers, but it's also a great way to pre-populate answers you already know from survey takers.
By pre-populating data from the survey takers you already know, you can increase response rates because all the survey taker has to do is confirm their data and move on to the more important questions — the ones you need answers to!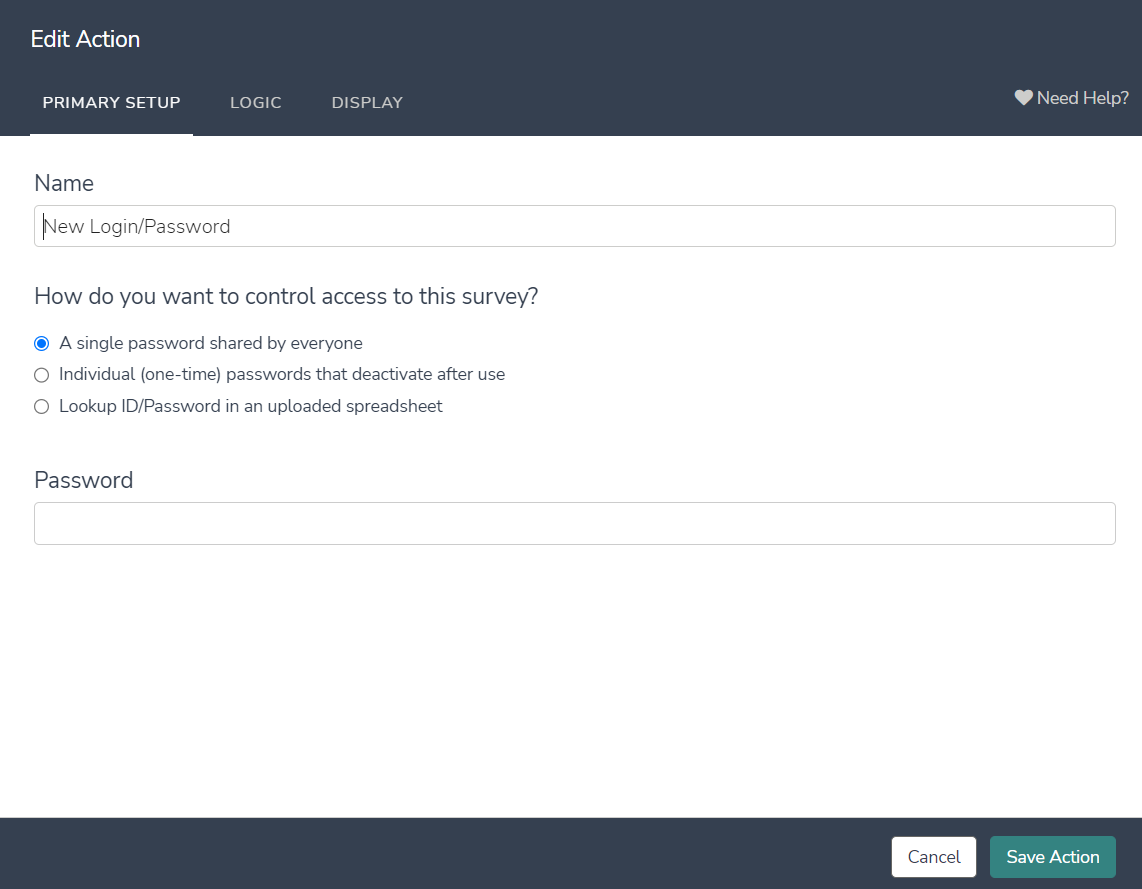 In the above screenshot, you can see the features of the Login action and that you have the ability to give everyone the same password, give out individual one-time use passwords, or assign an ID and password to an individual. You also have the ability to have us pre-populate the one time use passwords or make your own.
Normally, you'd put this at the beginning of your survey in order to confirm that the people taking your survey are the ones that you want.
Check out the full tutorial on how to set up the login/password action.
Using the Login Action for HR
We've seen the login action used in a variety of ways and for a variety of reasons.
Let's say you're on the HR team and wanted to do a survey of the Marketing department.
From onboarding documents, you already know each individual's name, address, phone number, etc, but you want that information to be attached to their survey. And since you already have them there, you might as well have them confirm that data.
By using the pre-population ability of the login action, you're able to upload the information you already know about the person, assign them a login and password and then hand that out to the person before they take the survey.
It's a pretty easy way to have someone confirm data you already know and get answers to the new questions you want to find out about.
Using the Login Action for a Contest
Another example of how you could use the login action is if you were running a contest and only wanted respondents to participate after they received an email from you.
You could pre-populate their login and password into the email and then have them use that login and password as the first step in your survey as their "entry ticket" to the contest.
We're sure there are ton of other unique ways to use the Login Action and would love to hear about it! Please feel free to share with the group by leaving how you use the Login Action in the comments.