The following data on mobile surveys and interaction and response rates is from our 2022 Mobile App Customer Engagement Report.
Mobile interaction and response rate benchmarks
Companies continued using their apps to engage regularly with consumers as mobile became a primary way for them to communicate. In response, consumers interacted more with brands through their apps.
At year end, interaction rates remained equal to what they were in 2020 at 26%. The average response rate to in-app interactions was 91%—which means that the overwhelming majority of consumers who were interacted with responded to the brand's outreach.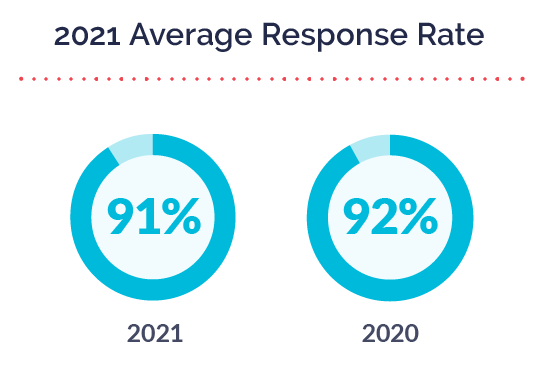 While correlation isn't causation, looking at overlapping data points can help us infer what bets paid off for mobile product teams, along with where they can adjust their roadmaps to improve. In 2021, there was correlation between interaction rates and retention rates. Business Services and Personal Services apps had both high interaction and retention rates, while Healthcare and Education apps had low interaction and retention rates.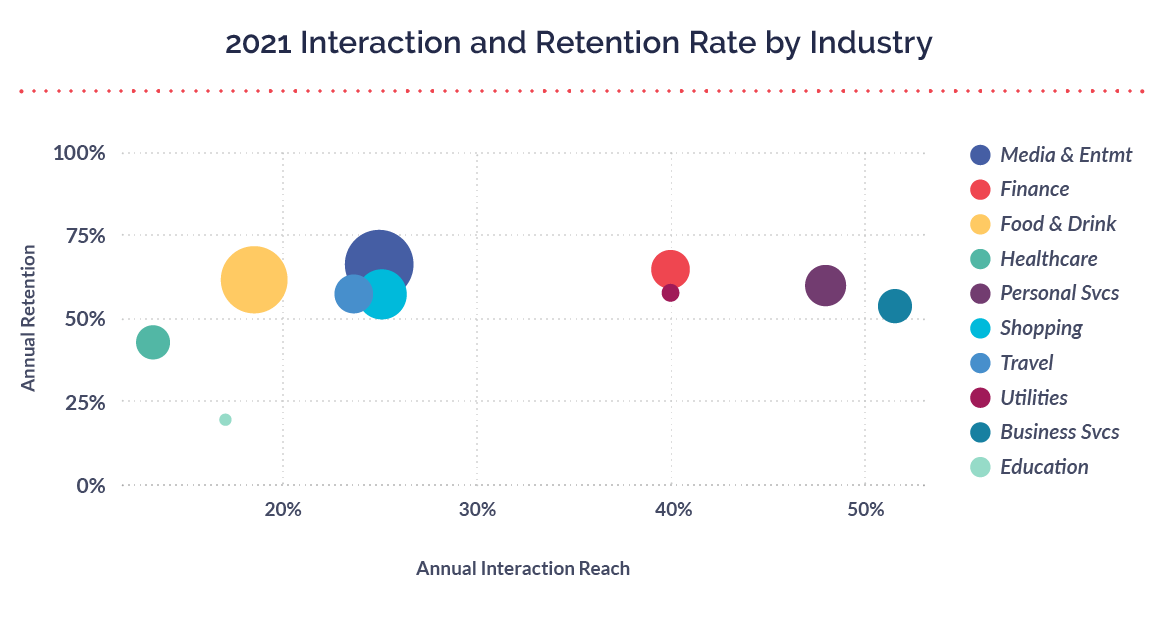 There was also correlation between interaction rate and Love Percent. Brands who interacted with a higher number of consumers tended to have a better Love Percent, as seen in Media and Entertainment apps. Education apps fell on the opposite side of the spectrum, with both low interaction rates and Love Percents.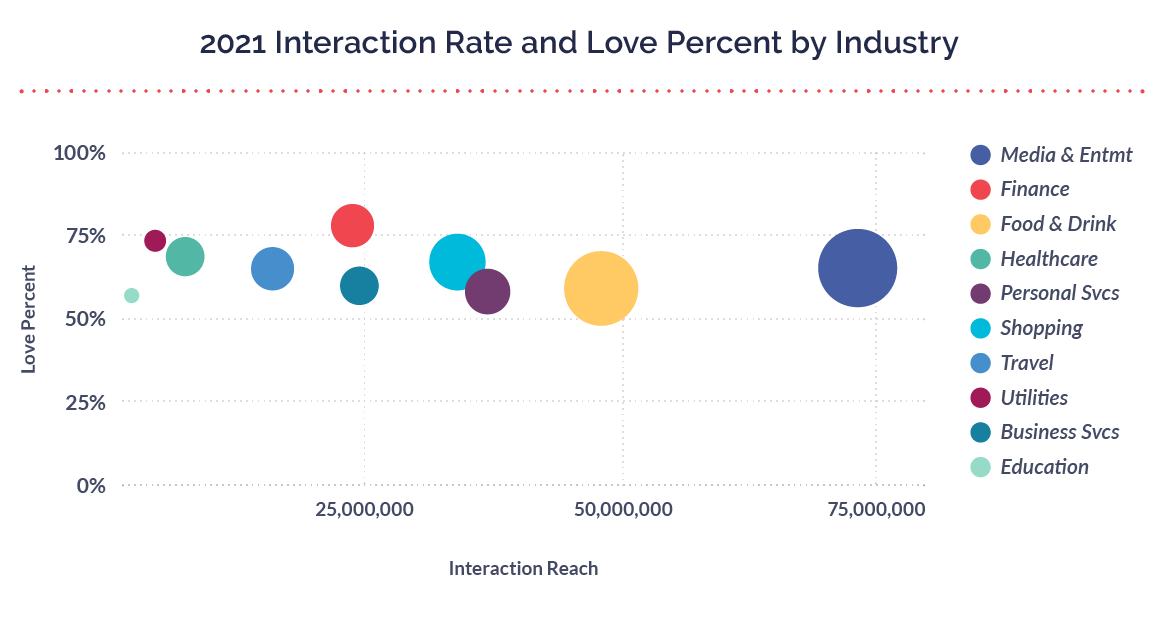 Mobile survey benchmarks
The best decisions are informed by an abundance of data from a representative cross section of your customer base, and mobile surveys are often the best way to get it. Mobile surveys are powerful in understanding sentiment, but only if they're shown at the right place and time within the app, to the right consumer segment.
There was a 9% increase in the number of surveys sent in 2021 from 2020. Brands are talking to more consumers and are more comfortable engaging with them over longer periods of time, particularly when around closing feedback loops by telling consumers their voices were heard. Over the past four years, we've seen the volume of in-app surveys grow exponentially.

On average, most brands only hear from less than 1% of their customers surveyed. Our research shows the average response rate for in-app surveys was 13%. While 2021's response rates were slightly lower than in 2020 (16%), they're an off-the-charts comparison to the industry standard of 1%. Many companies broadened their survey audiences this year in response to continued high MAU, and mobile teams have diverse intentions with the surveys they send. While the survey response rate decreased slightly, the number of customers prompted went way up—a tradeoff that still indicates success in connecting with consumers for their feedback.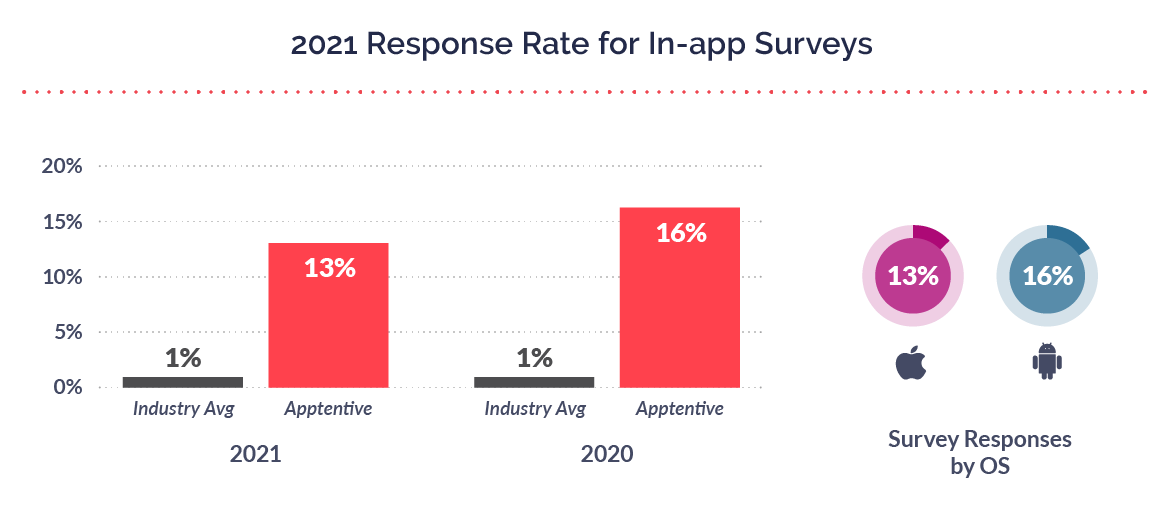 Not all surveys are delivered in the same way, and when consumers are given the choice to opt in or out, response rates soar. Surveys
that are linked to using an Alchemer Mobile (formerly Apptentive) Note, saw an average response rate of 50%. In other words, half of all end-consumers
across both operating systems responded to Note-linked surveys.
The average NPS for Alchemer Mobile (formerly Apptentive) customers in 2021 was +54 ("good" scores typically fall between +40-50, depending on industry). But NPS is just a surface-level indicator. NPS as it exists today does not help companies understand customer emotion in real time, nor does it give insight into how emotions shift through customer journeys.
At Alchemer Mobile (formerly Apptentive), we advocate for our customers to run non-biased, open-ended surveys over—or in addition to—NPS in order to truly dig into customer emotion driving sentiment. This means our customers don't only target their fans in order to get a high result. Instead, they ask for feedback from happy and unhappy customers alike, which allows teams to holistically understand what's driving their customer experience and how they can have a bigger impact.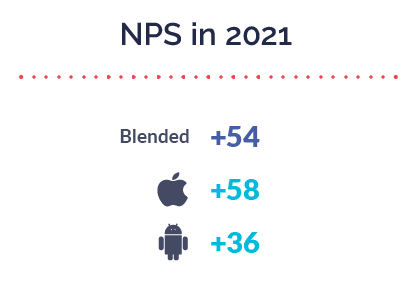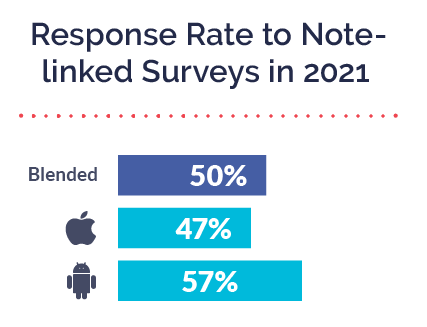 Want to see how specific categories compare as well as the macro trends we identified in our 2022 Mobile Customer Engagement Report? Download your copy here.