It's no secret we're a little obsessed with mobile ratings and reviews. They're a predominant factor in how well apps rank, the rare social proof in a crowded app market, and a validation of your product.
At the same time, they can be a PR nightmare or altogether elusive, leaving you aghast at why your app has been rated ten times while an app like Facebook has over 42 million reviews. To dive into the good, the bad, and the ugly of how mobile ratings affect your brand's reputation, we recently distributed a nationwide survey to smartphone owners across the United States.
In short, here's what we found:
The Good
Mobile apps can positively affect a brand's reputation in countless ways. Our survey showed that in many cases, high ratings and positive reviews drove insane amounts of downloads for respondents.
1. 77% of people read at least one review before downloading an app. (Tweet this)
2. 70% of people say that seeing a four or five-star app store rating for a brand's app leaves them with a more positive view of the brand as a whole. (Tweet this)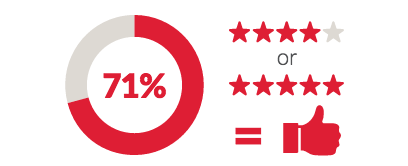 3. People are 8x more likely to download a highly rated app of an unknown brand than a poorly rated app of a known brand. (Tweet this)
4. Jumping from a two to a four-star average rating can effectively double your app store conversion by as much as 680%. (Tweet this)
5. 42% view mobile ratings and reviews as equally or more trustworthy than personal recommendations. (Tweet this)
6. 75% of people identified mobile ratings as a key driver for downloading an app. (Tweet this)
The Bad
A lack of investment in mobile is a red flag to consumers that the entire customer experience is lacking—no matter how widely recognized the brand name is. Mobile has become so important to consumers that if it's ignored, brands risk damaging their hard earned reputation; a situation that can equal a loss in revenue and loyal customers.
7. 73.2% of people indicate being likely to leave a review after a negative app experience. (Tweet this)
8. 56% of people say a one or two-star app negatively impacts brand image. (Tweet this)
9. 55% of respondents said a one or two-star app store rating of a well-known brand's app negatively impacts their view of the brand as a whole. (Tweet this)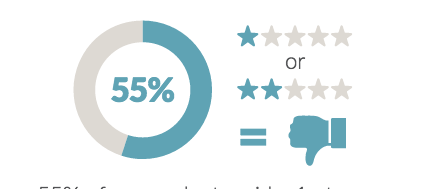 The Ugly
As the app marketplace continues to grow, so do consumer expectations. Whether your app is in the App Store, Google Play, or elsewhere, app categories continue to become increasingly competitive when it comes to boosting downloads due to potential customers expecting more from their apps.
10. 46% of respondents say the minimum average star rating they'd consider acceptable when evaluating an app to download is 4-stars. (Tweet this)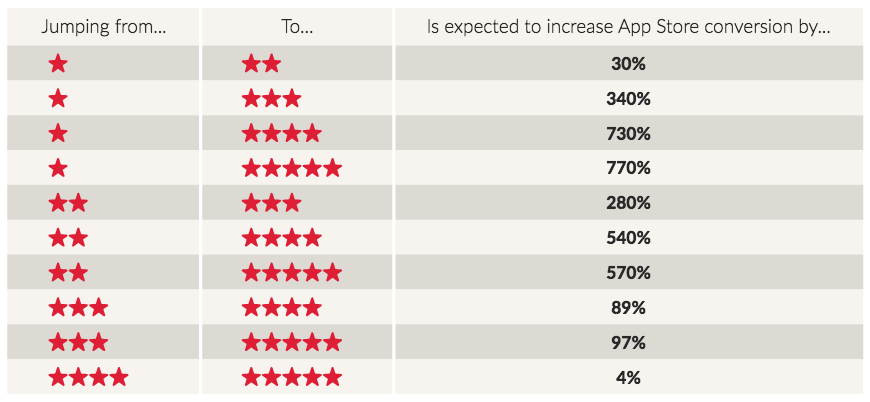 11. Only 12% of people would even consider downloading a two-star app. (Tweet this)
12. Only 36% of those surveyed have left a review in the past 12 months. (Tweet this)
13. Two-thirds of all apps have never been rated. (Tweet this)
Take control of your mobile ratings today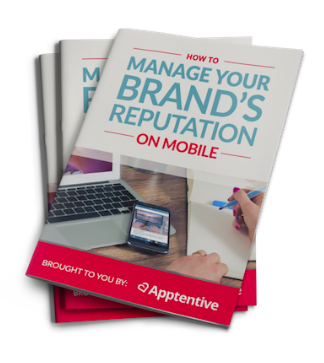 Learn how you can use these 13 stats to make your mobile ratings work for you, rather than against you. Our free guide, How to Manage Your Brand's Reputation on Mobile, walks you through everything you need to know to drive more five-star reviews for your app. Inside, you'll find actionable tips for boosting your brand image, the impact star ratings have on app store discoverability and conversion, and never-before-seen data on the links between mobile ratings and brand perception.
Download the guide here, and let us know what you think in the comments below!