New Integration Simplifies Responding to Feedback and Collaborating on Survey Design
By Vanessa Bagnato, Director of Product Marketing, Alchemer
In September 2022, the Alchemer product team launched the Microsoft Teams integration, expanding the list of available integrations for our platform. Alchemer integrations automate putting customer and employee feedback into the systems you use every day, allowing your people to take immediate action.
The Alchemer Microsoft Teams integration accelerates closing the loop by allowing you to receive alerts in your Teams channels based on activity in your Alchemer surveys. You can set up surveys and responses with triggers so a Microsoft Teams message can be sent to your chosen channels. This functionality allows you to disseminate important feedback and information faster than relying on email notifications.
The integration is so easy to set up and add to a survey, that you don't need your Alchemer admin or IT team to help you.
"The Alchemer Microsoft Teams integration reinforces our product strategy of being action-forward, agile, and accessible to help customers act on feedback immediately," said Peter Zaidel, Director of Product Management.
To schedule a demo of the Alchemer Microsoft Teams Integration, please contact your Alchemer Customer Success Manager, call 1-800-609-6480, or visit www.alchemer.com/integrations
Automatically Share Feedback
With the addition of the Microsoft Teams integration, the Alchemer Enterprise Platform gives you a flexible and easy-to-use framework for collecting customer feedback, wiring that feedback into your organization so that the right people within Microsoft Teams can take action and conduct the necessary analysis.
The Alchemer Microsoft Teams integration allows you to set up actions within surveys to automatically send responses and data from a survey to channels in Microsoft Teams. This is ideal for companies wanting to view and act quickly on feedback from internal and external audiences as it's received.

Easily Collaborate Before Project Launching
With the Alchemer Microsoft Teams integration, you can create card actions – buttons along the bottom of the message card – that allow team members to take immediate action. One of these buttons can be Test Survey, which takes you directly to the Test link, where you can test the survey and leave comments for survey builders. Another button is Edit Survey, so that as you collect the list of requested edits, you can go straight to the Build tab of your survey.
This helps in designing surveys because you can click and go straight to the right survey to edit and test without searching around for the link buried in an email. You can also leave comments right in the Microsoft Teams channel, and even tag a stakeholder to take a follow-up action. By messaging stakeholders in real-time, you can work together to design a survey that will get the results you want and need.
Inviting people to work this way, as opposed to using email or having several meetings, allows for greater collaboration while shortening your time to market and ensuring that your survey asks the right questions to get the desired results.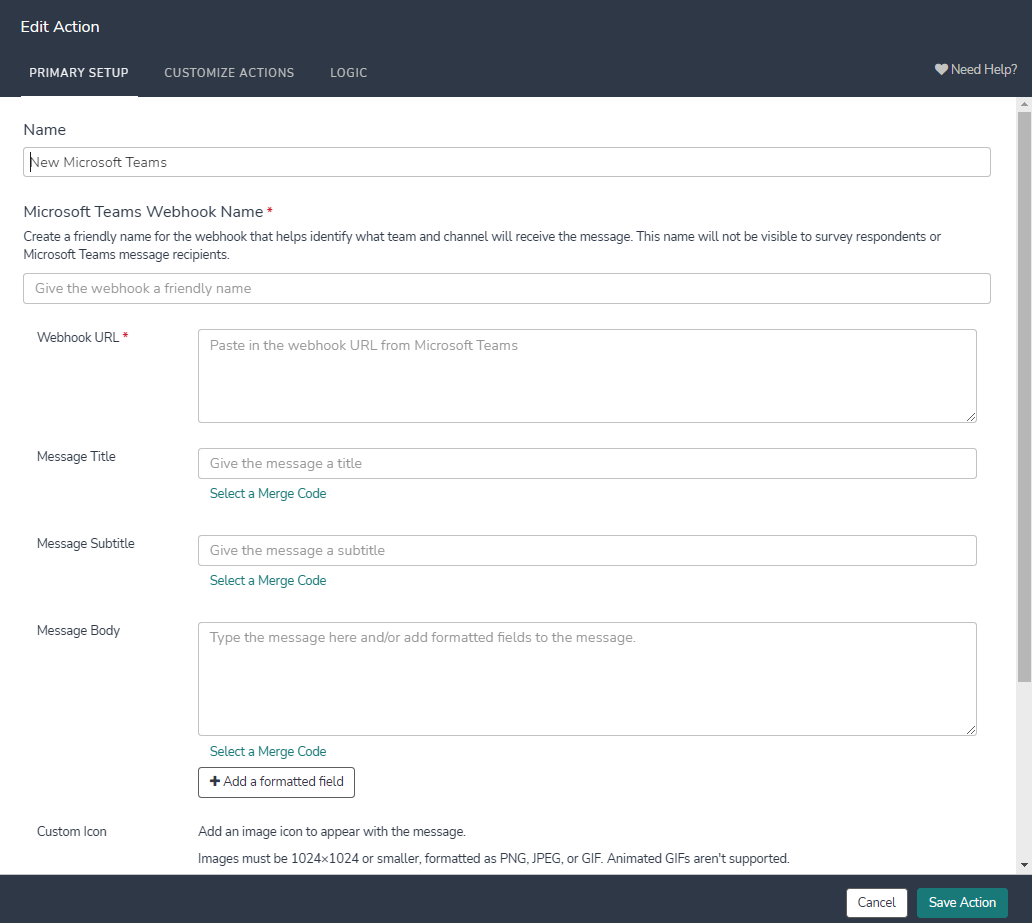 Monitoring and Acting on Results Before Aggregation
While we don't often recommend changing surveys while they are in the field, the Alchemer Microsoft Teams integration allows you to see the results you are receiving early, so you can adjust the survey to get better results.
The Alchemer Microsoft Teams integration uses this same approach to allow you to monitor results as soon as the feedback is received. Then you can click on the View Response or Track Quota card action buttons to view additional detail and progress tracking. This is especially important for customer satisfaction surveys, such as CSAT or Net Promoter Score (NPS®), which you can set up to send to specific channels to easily monitor individual responses as they are collected, rather than waiting for the project to complete or a set timeframe to end.
The Struggle to Act is Real
Right now, effectively addressing customer feedback is a struggle for 76% of all businesses with a VoC strategy. Internal and external feedback requires quick and appropriate action to get the right information into the hands of the people who can act on it and improve a customer's experience in real-time.
New Alchemer University Content
Inside the Alchemer University Integrations Program, you can find a new course for the Alchemer Microsoft Teams integration.
The course covers:
Introduction to the Microsoft Teams Integration
Building a Microsoft Teams Action
Microsoft Teams Integration Use Cases
By the end of this course, you will be able to:
Describe the functionality of the Alchemer Microsoft Teams integration
Locate resources on how to obtain a webhook URL from Microsoft Teams
Connect Alchemer with a Microsoft Teams channel via Webhook
Add a Microsoft Teams action to a project
Customize a Microsoft Teams message
Add card actions to a Microsoft Teams message
Identify use cases for the Alchemer Microsoft Teams integration
To navigate to this course:
Log in to your Alchemer Account
Register or click to the Integrations Program
Open the Integrations: Microsoft Teams Course
For more information or for a demo of the Alchemer Microsoft Teams Integration, please contact your Alchemer Customer Success Manager, call 1-800-609-6480, or visit www.alchemer.com/integrations