While travel looks like it will remain relatively unpopular in the first half of 2021 due to COVID concerns, travel brands are gearing up for a surge of travelers in the second half of the year.
We hesitate to say anything such as, "Things will likely be back to normal," because things never will truly go back to "normal." The phrase "new normal" is overused, but it's honest. The way consumers interact with brands through their mobile devices has fundamentally changed – forever. Even as travel restrictions lift and people begin exploring the world again, the way in which they interact with technology has changed and their expectations for brands have never been higher.
Back in May of 2020, we dug into the mobile data to reveal changes in DAU (daily active users) across different industries. For the travel category, the data looked vastly different than any other industry. If we look at the charts below, you'll see data from two apps: An airline app and a lodging app. As you can see, they both saw massive drops in DAU after COVID began to take hold.
But we anticipate DAU to spike back up here in the second half of 2021, so brands need to start preparing now.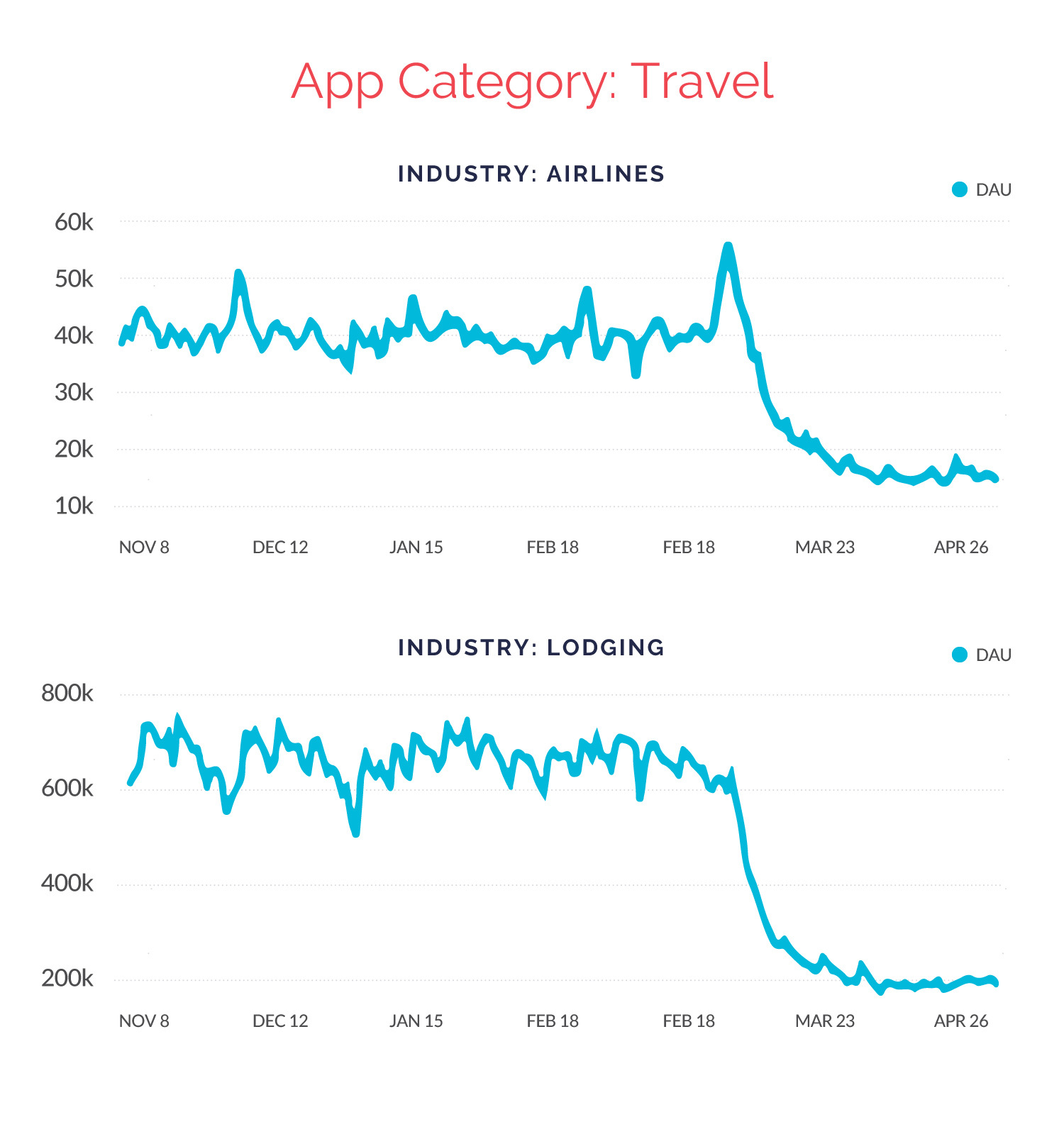 Key Mobile App Strategies for Travel Brands During the Reopening Process
Personalization
Ultimately, most mobile marketers and digital transformation experts know that more personalized experiences lead to better brand loyalty and therefore less churn. As people begin to travel again, this hunger for personalized experiences will be heightened. Especially when their safety is a top priority, people want to know brands are taking care of them and their families. Creating personalized, targeted mobile experiences is an easy way to show them this across digital touchpoints.
An easy way to do this is by using gratitude as an opportunity to follow-up with customers and ask for feedback. For example, if someone uses your mobile check-in experience, send them a message a week later thanking them and then asking how you can improve. Again, this makes it more personal and less transactional.
Helpfulness
New apps for mindfulness, therapy, working out, and more have increased dramatically in popularity. In fact, a new "Helpfulness" category was added to Apple's 2020 awards.
But how does being helpful translate to travel and hospitality apps? Here are a few simple ways these brands can be more helpful:
Create more self-service options within your app like mobile check-in, digital room service menus, mobile keys, and more.
Listen to your customers by proactively asking for feedback.
Start tracking customer emotion as a key data point now so you can see changes over time. If you see a trend of people who were previously happy with your service suddenly switch to unhappy, you know it's time to intervene. Being able to anticipate and proactively address problems like this will win brand loyalty from those customers.
Tag common errors to help prioritize your product roadmap and identify high-priority bugs faster.
Make it easy and fast for people to contact you with questions, issues, or feedback.
Provide a quality onboarding experience so you can quickly convert people to loyalty members.
Design intuitive UI so people can find what they need quickly.
Notify customers of any changes to the app and then ask for feedback after launch.
Transparency
When it comes down to it, even when COVID restrictions are completely lifted, people will still have safety and health concerns. And these worries will likely linger for years to come. While some people will be jumping at the opportunity to travel again, some will be incredibly hesitant. Regardless of sentiment, one thing is for sure: We as consumers have grown accustomed to radical transparency from all brands, particularly when it comes to health and safety. This seeps into every aspect of the business from in-app communication to marketing campaigns and more. Transparency is no longer a nice-to-have; it's essential.
Investment
One of the biggest changes we're seeing with our customers in the travel category today is their commitment to more investments in the mobile app experience. Many product teams are seeing a shift in budget with more money allocated to app updates, mobile marketing, and more. This makes sense, especially when we consider how for almost every category except for the travel industry, DAU increased quite dramatically in the last year. As travel reopens, people will start to use their travel apps again and expect the same level of performance and excellence as they have seen from other industries over the last year. If you're a product leader, prepare to allocate more funds to perfecting and continuously improving the mobile app experience.
---
Ready to take your app to the next level? We'll get you the tools in place to reopen successfully and our world-class customer success team will help you develop strategies to navigate this "new normal" in 2021 and beyond. Connect with us today!