Custom data management plus Mobile SDKs plug-ins updated
By Mel Fox, Product Manager for Alchemer Mobile, and Vanessa Bagnato, Director of Product Marketing at Alchemer
In May, we released updates to the Alchemer Mobile SDKs and Dashboard, including the management of custom data so you can target audiences more precisely; and SDKs for supported development frameworks. These new features are the direct result of customer requests and are available immediately when you log into your Alchemer Mobile account, and in the latest versions of all the Mobile SDKs. We continue to enhance our SDKs and Dashboard, and we will release new features and updates regularly.
Custom Data Management Now Available in the Dashboard
You can now manage and target audiences more precisely using the custom data brought into your Dashboard via your mobile apps. This new feature, available in your Settings, allows you to hide the unnecessary person and/or device custom data attributes to make targeting for all interactions easier. Log into your account today; then go to Settings to access this new feature. To learn more about using custom data, visit the help documentation.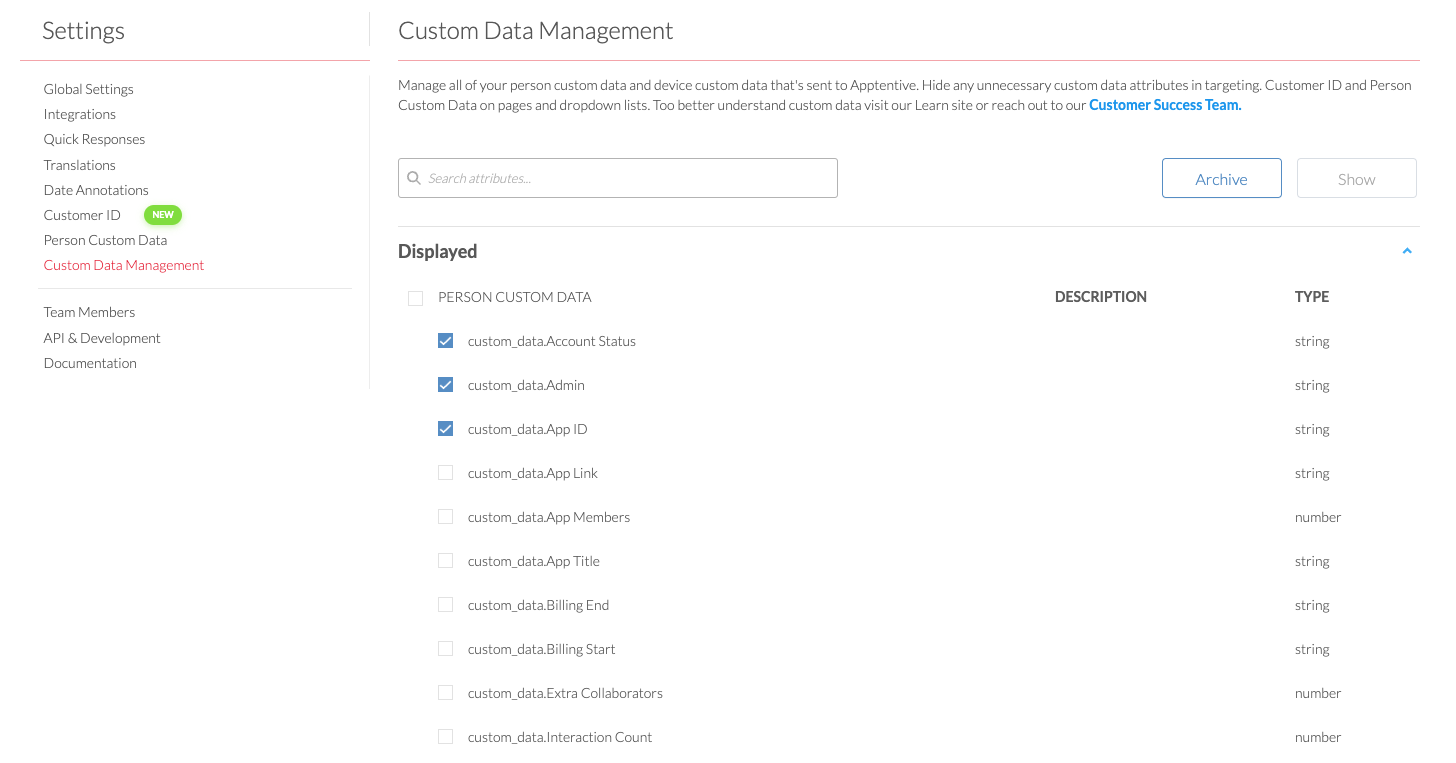 Android and iOS 6.0 SDKs Now Available for 7 Development Frameworks
For customers using Cordova, Flutter, React Native, mParticle, and/or Xamarin development frameworks, you now have access to the latest features and improvements we've made with the 6.0 SDK, including Accessible out-of-the-box designs, Response Targeting, and additional layers of customization. To learn more and to get started with your migration to 6.0, select a migration guide from the list below:
Reminder: Data Privacy Management Added to API
We improved data privacy management with a new API call that enables you to access all data stored for a customer and make a request to delete the stored data.​ To access and use this new API call, please contact your Customer Success Manager so that they can provide you with the API key.
Available Today
All these updates are currently available in the latest versions of the Mobile SDKs and Dashboard. For more information, contact your Customer Success Manager, or view our help documentation and developer guides.