Many brands today may think they build customer-centric products based on feedback from a majority, but they couldn't be further from the truth. In reality, our data shows that brands only hear from less than one percent of their customer base, which we call the "vocal minority."
As a year-over-year trend, brands are now able to expect to hear from roughly 20 percent of their consumers if their interactions are thoughtful and well-timed. Alchemer Mobile (formerly Apptentive) customers, on average, interacted with 24 percent of their consumers in 2019.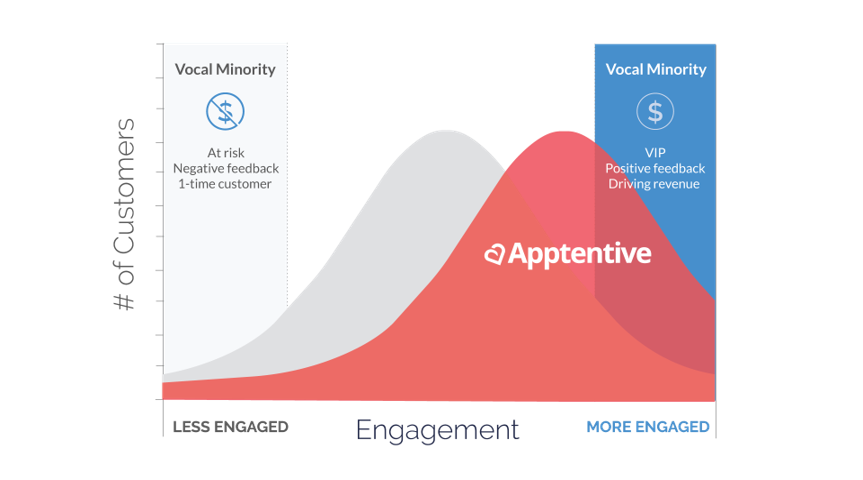 For multiple years running, data has shown us that well-timed in-app interactions improve customer engagement and response rates. In 2019, 92 percent of people across all in-app interactions responded to this outreach. Through proactive engagement and creating customer feedback loops,
Alchemer Mobile (formerly Apptentive) has helped our customers boost engagement to 23 percent, reaching over 20 times more consumers than the conventional rate.
In turn, our customers are able to be more dollar efficient, can better prioritize product planning, and can expand their loyal segment of customers through listening and responding.

However, winning brands regularly iterate on what the right "mobile moment" and communication loop looks like for them. Personalizing, segmenting, and following up on feedback should be a never-ending piece of any mobile strategy.
Want to see more 2020 benchmarks for surveys, messages, ratings and reviews, and more? Download the master 2020 Benchmark Report or the specific report for your individual category.