Applying PIE: Potential, Importance, and Ease to your marketing and branding strategy.
Knowing your core brand attributes, sometimes referred to as brand values, can lead to smarter decisions, hyper-focused advertising efforts, and higher ROI by hitting your key audience at the right time with the right message and offering the right product or service.
A stat that sticks out in my head when helping companies work through a branding exercise like this is that over 60 percent of customers have a relationship with a brand because they share the same values in their life. That number alone should highlight the importance of laser focusing on the values that are important to your customers.
With over 50 percent of people lacking trust for brands due to false advertising and empty promises — essentially brands who don't do what they say they're going to do — positioning your brand and following through in every way possible from your product or service down to customer experience is more critical than ever to keep those loyal customers happy. But first, nailing down a solid brand position that makes the light bulb go off for your customers is a must.
Identifying Brand Attributes
Ask yourself these four questions, says David Smith of Envision Creative Group, when kicking off a brand positioning exercise:
Who are you?

Your brand, no matter what size the company is or the industry it is in, should be instantly recognizable and consistent —  from social media to large display billboards in Times Square and a TV ad that runs on a global level to how it looks alongside other products on a shop shelf.

What do you do?

From the very first time someone interacts with your brand, they should know what product or service you offer. Never leave them guessing what you do or offer.

How are you better?

 Why is your product or service any different from your leading competitors? Make this loud and clear from the very beginning. By doing so, it eliminates any risk of having your customers leave you for the competition.

Who is your target market?

This is where market research plays a fundamental role and one that we cannot emphasize enough. You simply cannot have enough data about your target audience. The more you know, the more targeted your marketing and advertising will be and the message you're sending will resonate with your target audience.
"Remember, brand positioning isn't just about your logo, website, brochure, design, or marketing; it's about the entire customer experience," says Smith.
When you set out to position your brand, it's difficult to know exactly where to begin. Every brand has a list of attributes — price, customization, high-end — but they may only be applicable to a segment of your customer base, which may not resonate with other key audiences and unintentionally be alienating potential loyal customers.
To ensure your product or services are positioned for every audience you're seeking connection with, list out all of the attributes for all current and potential audiences. An example from Scott Lerman's Building Better Brands – A Comprehensive Guide to Brand Strategy and Identity Development below provides a foundation you can work from when sitting down to list the attributes pertaining to your brand.
"For example, if you were seeking a financial advisor, you would research the offers of a number of providers. One might claim superior results through a 'proprietary process,' another backing of a 'large research department,' and a third that they only represent 'ethical and green' investments. All of those attributes would go into a comprehensive territory map of the industry. A positioning map populated by every important attribute for an arena is a critical starting point for defining a positioning for any brand." – Scott Lerman (2013)
Consider filling out the following chart to determine the kind of attributes broken down by five territories — Assets, Offer, Approach, Skills, Mission.

P.I.E
Don't let the list you create using the above table be the end all be all of brand positioning. "While they give you a sense of what's part of the arena, you'll need to identify the most powerful attributes to gain real competitive advantage. There are three dimensions that define an ideal attribute: potential, importance, and ease," says Lerman.
Potential: one attribute over another that supplies your audience choice. Lerman recommends to choose attributes with the highest potential to suede someone and allows your brand to find it's pocket in the market.
Importance: ranking of the attributes that influence choice from most to least. Research some top brands and see how they rank their brand's attributes that influence choice from most to least.
Ease: Combines many factors:
Cost/price

How an attribute fits your brand's character

Permission –

Will your target audiences believe it's possible for you to deliver what you're promising? If the clothing company Patagonia said it was going to make smartphones you'd likely doubt it. The point here is getting your audience to accept a change of that magnitude wouldn't be easy.
You have your list of brand attributes. We've reviewed Lerman's PIE model. Now, the next step is to evaluate the list of attributes from the table above and determine the ones with the greatest potential, importance, and ease. This is the part of the process where you get laser-focused on what matters most and comprises your brand.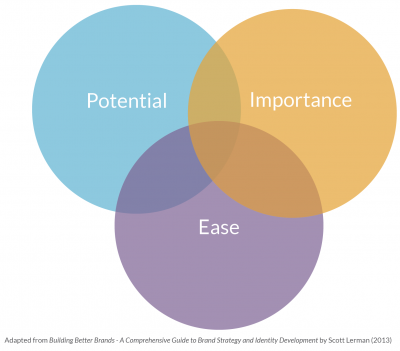 "Distribute the attributes in the diagram — those that deliver all three dimensions go into the overlap in the center. Others will fit into one or, into the overlap between two dimensions. Step back. Take a close look at these three zones," says Lerman.
Some of the attributes will fall outside of the sweet spot — the diagram's center — but that does not mean these attributes are not important to achieve a brand-wide view. Some outliers may offer new ideas and innovation but are not high priority to own the market space today while others attributes don't help your brand stand out amongst its competitors, but you still need to deliver on them to develop an even playing field.
Put simply, you can learn from every attribute you listed, but for the sake of prioritization and marketing dollars, focus on the ones that meet Lerman's PIE model — potential, importance, and ease — and once those are met, start moving outward to the reaming outlining attributes.
We've seen companies apply this exercise to firm up their attribute list and work on evaluation from there. From there, we tend to recommend conducting field quantitative research to pinpoint with surgical precision the exact potential, importance, and ease of the holistic brand view.