Every year, we publish our annual Mobile Customer Engagement Benchmark Report. The report is meant to serve as a yardstick for companies seeking to understand how their metrics stack up against the market. We went one step further this year, and sliced the data even more to reveal industry-specific insights.
In this post, we'll dive into the benchmarks specifically for Food and Drink brands, and then provide some strategies for companies in that category to improve their customer experience.
The Importance of Examining Industry Benchmarks
What if you could get a daily pulse on how your customers feel and how that changes over time? What if you could watch how customer sentiment changes in real-time following version releases, feature releases, and more? It could be the driving force in making data-driven product roadmap decisions and having a comprehensive view of customer sentiment. It's possible, but in order to gauge true sentiment, you need to hear from a broad segment of your customer base. The truth is that most brands only hear from less than one percent of their customer base, which we call the "vocal minority." The vocal minority is made of up of two groups of customers: those who are at risk for churning because they had a bad experience with you, and those who are VIPs or your most loyal happy customers. Their public commentary is only a small fraction of the private feedback brands should be getting.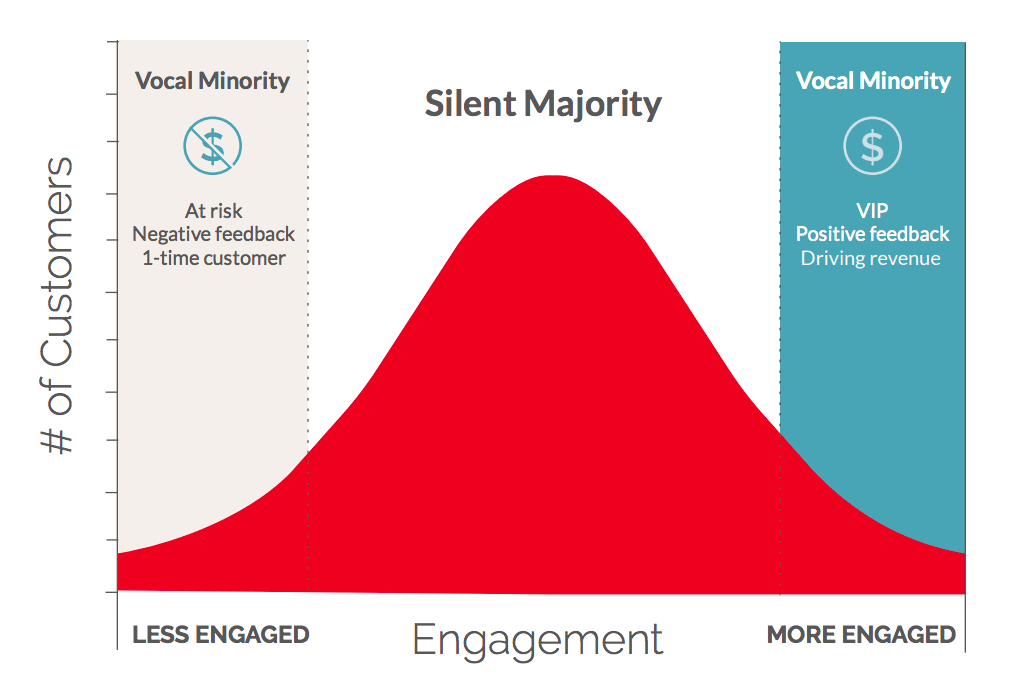 While the feedback from the vocal minority is very valuable, it is dangerous for a brand to act on feedback that doesn't accurately represent the majority of its customers. You want to hear from the largest possible base of your customers to get truly actionable and comprehensive feedback.
You don't want to wait for customers to reach out to you, but proactively reach out to them and make their feedback a part of your product roadmap.
Brands that measure customer sentiment on a yearly, quarterly, or even monthly basis experience a disconnect between their actions and the consequences of how their actions make their customers feel. Daily measurement of customer sentiment provides a precise look at the cause and effect of changes you're making, and is the only true way to measure customer health. Having your finger on the daily pulse of customer sentiment allows you to act quickly if customers respond negatively, and enables you to repeat successes.
Here are the benchmarks for mobile apps in the Food and Drink industry.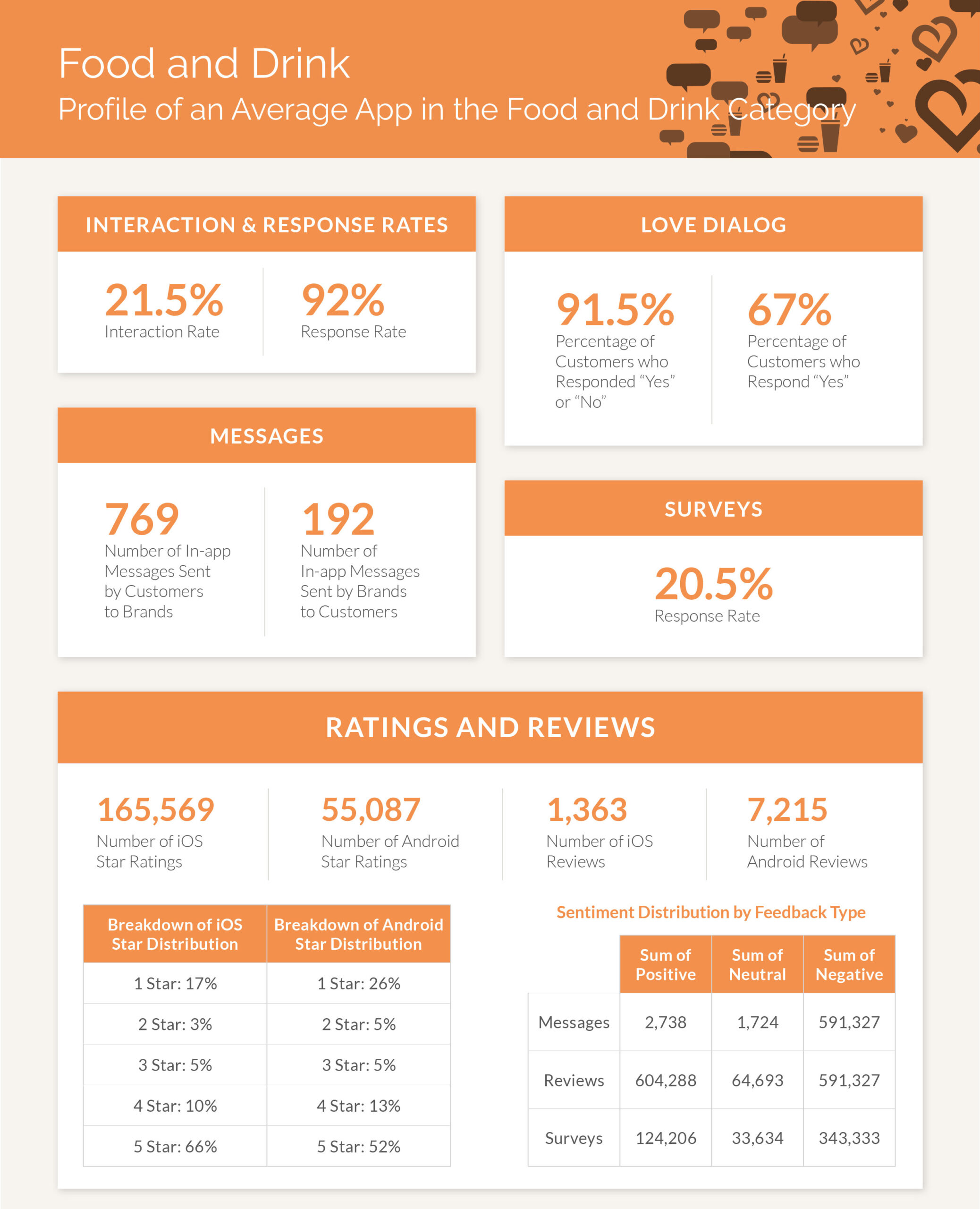 Tips for Food and Drink Brands to Improve Customer Engagement
1. Invest in Customer Loyalty
Loyalty programs provide quick-service restaurants (QSRs) an effective and efficient tool to incentivize customers to place repeat orders. Customers now expect to gain points and achieve milestones for purchases made through apps. Especially with high-volume food and beverage brands that offer mobile order and pay, incorporating a loyalty program within the app is absolutely imperative.
It's common knowledge that loyalty and reward programs work wonders to keep customers coming back time and time again. If you look at almost any major food or drink brand, you'll find a reward or loyalty program tied to their growth strategy.
So, why is this? Reward programs work because they:
Retain and engage customers better: Gamification through points and achievements keeps people coming back to the app time and time again. Ultimately, when people are more engaged beyond the point of purchase, they're more likely to stick around.
Save money and resources: It costs far more for companies to acquire new customers than it does to sell to an existing one. Brands save money by increasing retention and activating their current customers for repeat purchases.
Increase the number of referrals: Killing two birds with one stone, companies can reward customers for referring friends. This keeps the current customer happy and engaged while the brands gain a new customer at a much lower cost.
Adding a loyalty program into your mobile app will help you acquire valuable data about your customers' experience. Engaging with rewards members via mobile will help inform your product roadmap. A better understanding how they use your app and consistently gathering feedback will help you continuously iterate and improve your CX. In asking for feedback from loyalty members at the right time and place, you're showing them that you care about their opinion and give them a platform for their voice to be heard. Since reward members tend to spend more, it's critical to foster the relationships with this select group of customers. Customer feedback is key to doing this effectively.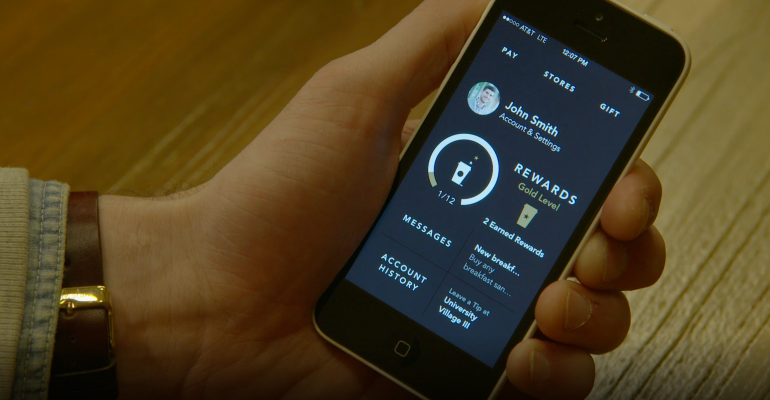 Perhaps the most important reason brands should incorporate their rewards program into their mobile app is the ability to collect valuable customer analytics.
By encouraging a larger chunk of customers to engage with your mobile app, you'll be able to track and understand their experience better. You'll be one step closer to unlocking the CX data from the 99 percent of customers you're not currently hearing from. Once they're active within your app, you can begin gathering feedback that will help inform your mobile marketing strategy and product roadmap.
All in all, incorporating an in-app loyalty program into your mobile strategy is absolutely imperative for increasing app retention, engaging customers, and driving mobile sales.
Want to see some examples of leading food and drink brands with impressive loyalty programs? Check out our recent blog post where we examine the loyalty programs at Starbucks, Chick-fil-A, Dunkin' Donuts, and Domino's.
2. Don't Forget About the Effectiveness of In-App Coupons
In the world of fast-changing, sophisticated technology, we sometimes forget the basics. We get distracted by the newest, shiniest thing on the market and lose sight of tried and true strategies such as discounts, coupons, and promos.
For QSRs, discounting has always been a key component to driving sales. Before the world of mobile ordering and social media, coupons, promos, and deals were a standard way to encourage repeat and first-time business to their brick-and-mortar locations.
The urgency and scarcity conveyed by limited-time deals make customers feel more inclined to purchase something they probably would not have even considered previously. For example, if you tell customers that only the first 50 people into the store get free fries on Friday, more people than normal will suddenly have a craving for fries and have the urge to visit your store. This simple approach to sales is often forgotten in the digital world as we become distracted by flashier strategies.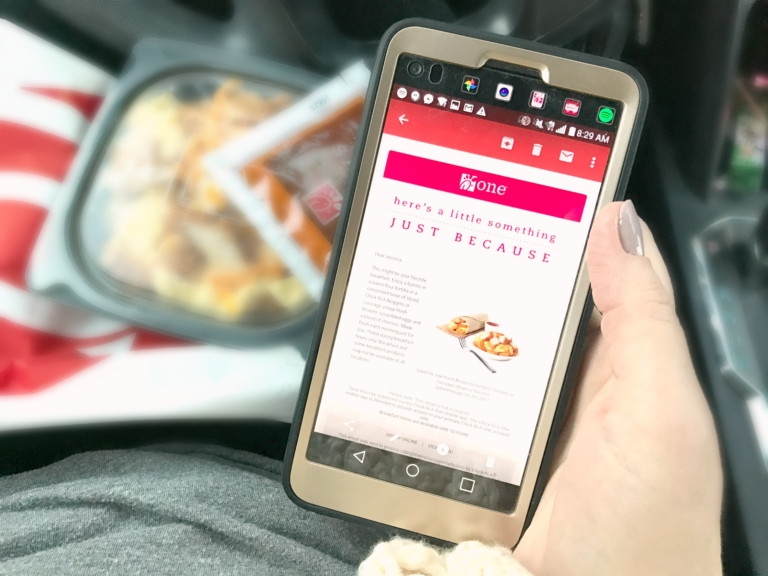 Learn how McDonald's, Domino's, and Chick-fil-A embrace this simple strategy within their digital experience and maximize mobile-only deals, coupons, and promos 
here
.
Although we just highlighted some of the amazing ways coupons, discounts, and deals can help drive app downloads and increase sales, that shouldn't be your only mobile marketing strategy. If you're investing money and resources into getting customers onto your platform, you need to also be investing in creating a seamless customer experience. There's only so much free food can do to compensate for a messy UI or flawed ordering system. The best way to identify these areas for improvement is to build your product roadmap using customer data and feedback.
3. Focus on Providing a Seamless Customer Experience
Mobile order and pay can improve the in-store experience for QSRs tremendously. But the logistics of merging the digital and real-world can be tricky. The most important aspect of a smooth mobile ordering ecosystem is feedback-driven innovation. Rolling out product updates and introducing a new mobile ordering system can only be successful by embracing a customer-centric approach.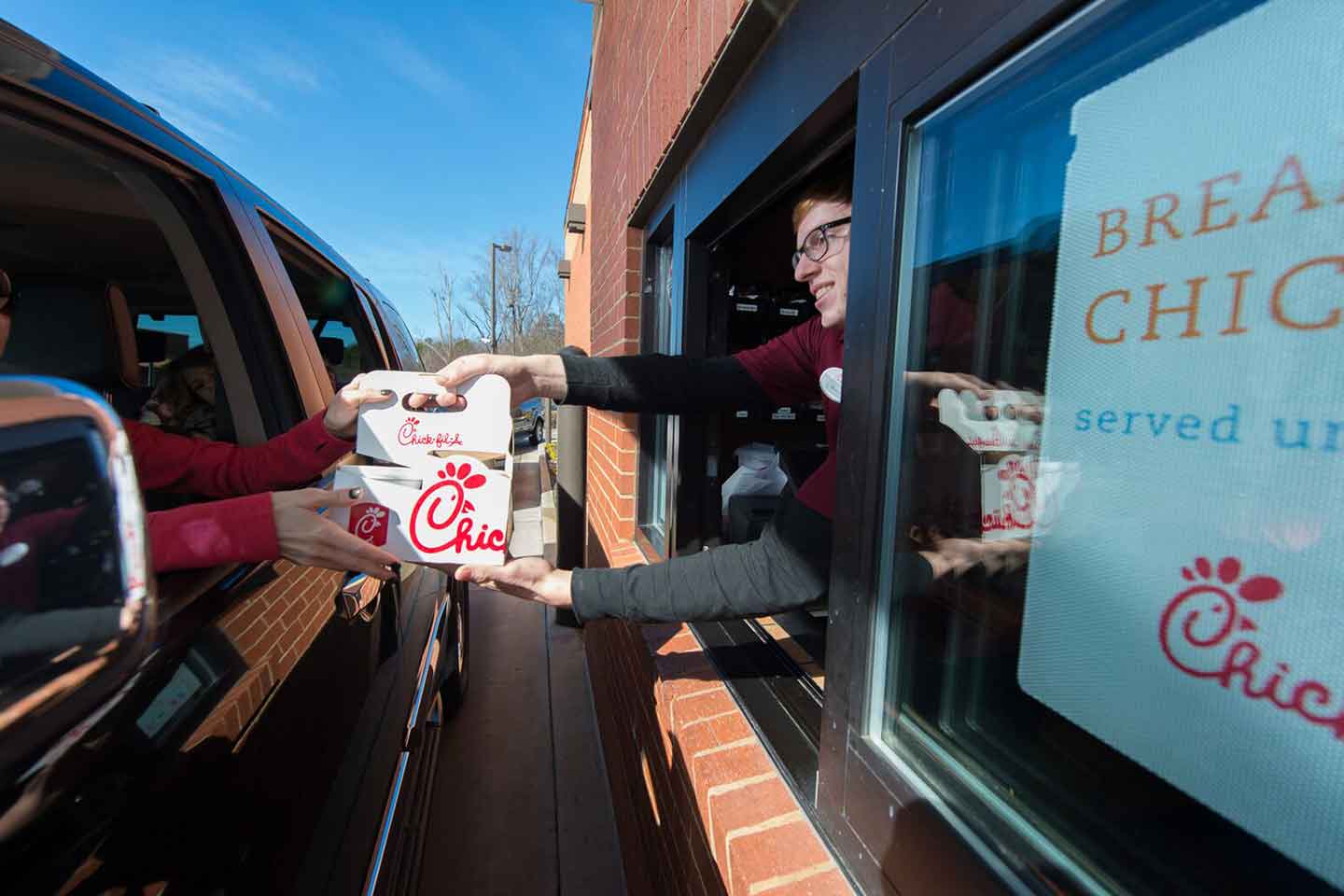 If you're looking to further integrate your in-person and digital customer experiences, these three brands are ones to watch. Starbucks has been the clear leader in this space for years now, but other brands like Dunkin' and Chick-fil-A are developing innovative new strategies to tie the two worlds together.
In all three instances here
, customer feedback was the core driver for change.
4. Listen Deeply to Your Customers
The food and drink category is extremely competitive and dynamic. There's always another delivery app or loyalty program trying to lure customers away. According to a study by PwC, even when people love a company or product, fifty-nine percent will still walk away after several bad experiences, and 17 percent after just one bad experience.
So, if you have a food delivery app and there are unexplained delays in delivery or a surprise charge that wasn't explicitly stated or there's no delivery progress tracker, it's almost inevitable that a customer will never use your app again, and will also likely leave you a bad rating or review. Reach out proactively to your customers by pre-empting issues. If you experience a lot of traffic on a particular Saturday night, consider using a Note to communicate possible delays to your customers. Make sure it is easy for customers to contact you in real-time, and incorporate an in-app feedback button that people can use to connect with your customer service team. Customers shouldn't have to leave the app or look up some phone number to call you when something goes wrong. Make it easy for them to leave feedback and communicate where they already are: their phones.
5. Keep Your Foot on the Gas When it Comes to Five-star Ratings
Obviously ratings and reviews still matter quite a bit when it comes to downloads, but a major missed opportunity for brands is to understand the "why" behind the feedback and following up accordingly.
However, Food and Drink apps face a unique challenge when it comes to driving five-star ratings. As we already shared, Food and Drink as an industry is competitive in a way that others aren't (for example, you aren't as likely to switch between clothing brands as much as you are to switch between which coffee you prefer).
Additionally, Food and Drink apps tend to be more transactional than other app categories, and consumers notice small in-app changes right away, which has a direct impact on ratings. Listening deeply to customers will help intercept negative sentiment before ratings are left, but nonetheless, executing a strong ratings strategy is imperative for Food and Drink success.
Need help improving your customer experience? We'd love to chat!