According to RetailMeNot, approximately 80 percent of customers are more loyal to brands that offer rewards programs and 70 percent are more likely to participate in a loyalty program if they can access it through their mobile device. Given this, 88 percent of retailers plan on investing more in mobile marketing than any other channel.
Customers now expect to gain points and achieve milestones for purchases made through apps. Especially with high-volume food and beverage brands that offer mobile order and pay, incorporating a loyalty program within the app is absolutely imperative.
Here's why reward programs work
It's common knowledge in the retail world that loyalty and reward programs work wonders to keep customers coming back time and time again. If you look at almost any major retailer, you'll find a reward or loyalty program tied to their growth strategy.
So, why is this? Reward programs work because they:
Retain and engage customers better: Gamification through points and achievements keeps people coming back to the app time and time again. Ultimately, when people are more engaged beyond the point of purchase, they're more likely to stick around.
Save money and resources: It costs far more for companies to acquire new customers than it does to sell to an existing one. Brands save money by increasing retention and activating their current customers for repeat purchases.
Increase the number of referrals: Killing two birds with one stone, companies can reward customers for referring friends. This keeps the current customer happy and engaged while the brands gain a new customer at a much lower cost.
Mobile loyalty experiences are more successful
Mobile apps have completely changed the way reward programs work. They're easier to use, completely customizable, convenient, and overall provide a more robust customer experience. On top of that, mobile phones are constantly attached to your customers, easily accessible at any moment. Brands are just a tap away at all times.
Using a mobile rewards account is so much faster than traditional plastic rewards cards or manually providing an email address at every point of purchase. Most retail apps also offer mobile order and pay, so integrating that experience with loyalty programs is a no-brainer. In combining your loyalty experience with the mobile payment system, you're removing friction from the buying process and therefore encouraging repeat business.
Customers can also instantly see their loyalty status or points at any time with mobile reward programs. They can watch these metrics change in real-time, providing instant gratification with each purchase. The gamification of earning points and achieving milestones gets customers to come back to check their status again and again. Adding a bit of competition to your mobile experience will engage customers and drive retention.
With mobile apps, companies also have the flexibility to completely customize the customer experience. They can offer personalized deals, treats on birthdays, and recognition for anniversaries. They can update the visual experience at any time as well, further enhancing that brand recognition and connection. Each one of these quickly customizable components makes for a better, more personal experience with your company. Interacting with customers on a regular basis in a personalized manner builds an emotional connection with the brand. And we all know important emotion is for driving purchase decisions.
Finally, adding a loyalty program into your mobile app will help you acquire valuable data about your customers' experience. Engaging with rewards members via mobile will help inform your product roadmap. Better understanding how they use your app and consistently gathering feedback will help you continuously iterate and improve your CX. In asking for feedback from loyalty members at the right time and place, you're showing them that you care about their opinion and give them a platform for their voice to be heard. Since reward members tend to spend more, it's critical to foster the relationships with this select group of customers. Customer feedback is key to doing this effectively.  
How major retail brands use mobile loyalty programs
Starbucks
This wouldn't be a blog post about rewards programs if we didn't mention Starbucks. Forever the leader in this space, Starbucks is the aspirational example for a successful mobile rewards program. From their calling all reward program customers "members" to providing points for every dollar spent, Starbucks accumulates thousands of loyal, active, and satisfied app customers.
One of the biggest draws of the Starbucks app is the ability to order ahead and skip the line. This ties into one of the reasons why reward programs are so compelling. When people feel like they're part of the "in crowd" or have some sense of exclusivity, superiority, etc. they become hooked.
The UI of the Starbucks app is another reason why their loyalty program has been so successful. The beautiful app design allows users to clearly see their points, rewards, and membership status. You can even see how far away you are from achieving your next reward, further motivating you to spend more. When an app is easy to use like this, it eliminates friction and accelerates the buying process.
Chick-fil-A
Chick-fil-A's app-based loyalty program, Chick-fil-A One lets customers earn points for every dollar spent. Achieving different tiers provide an element of competition.  Customers can even gift rewards easily directly from their mobile devices. Incentivizing people with free food to join the loyalty program and download the app has worked wonders for the brand. The proof is in the pudding: A mobile product manager at Chick-fil-A recently reported that reward members tend to spend more money and visit the chain more frequently.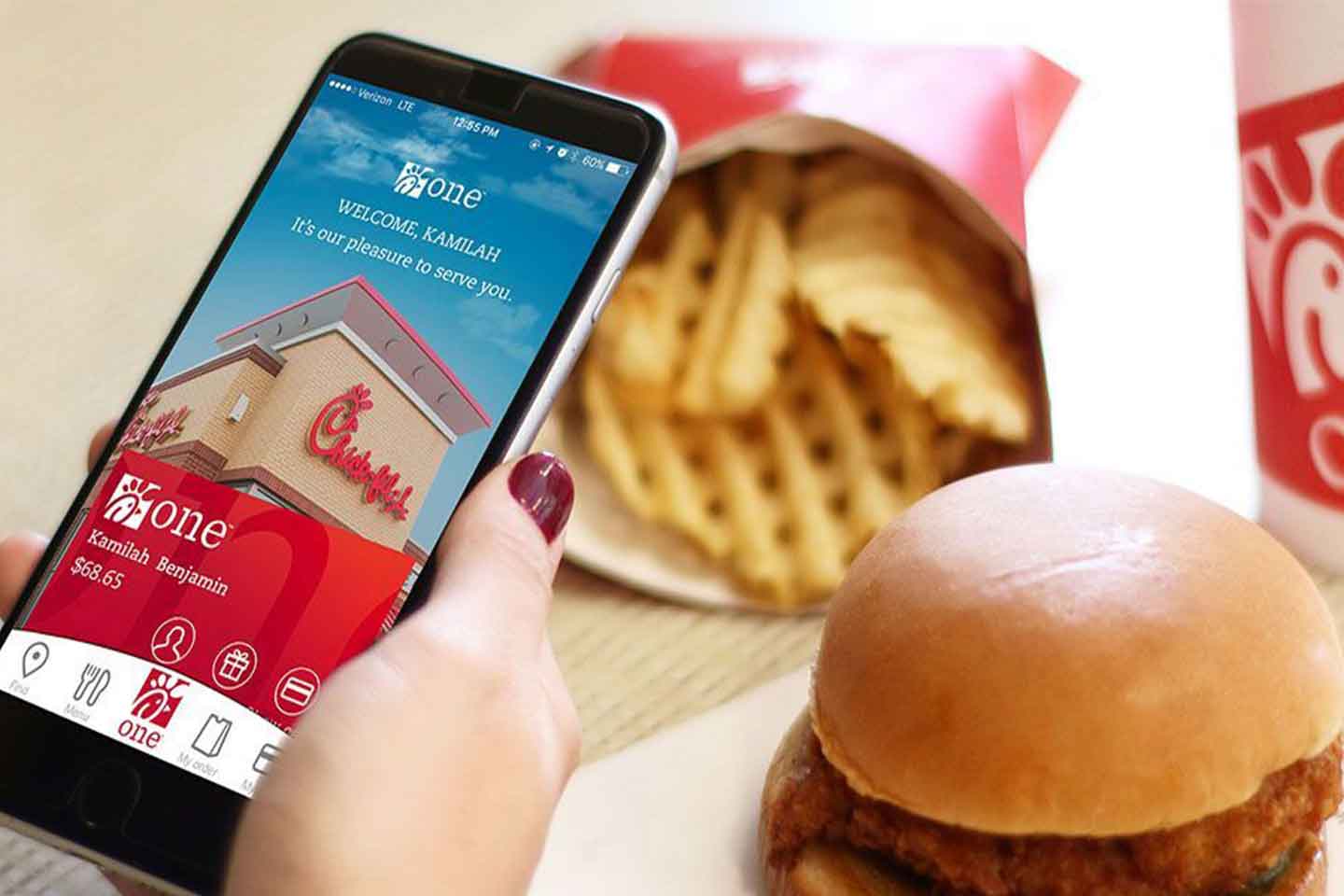 Domino's
Everyone loves free pizza. In fact, over 20 million people love it so much, they joined Domino's Pizza's Piece of the Pie Rewards program. This staggering number is proof that a solid loyalty program and a quality mobile app can scale quickly when executed correctly. Now, roughly 65 percent of Domino's orders are placed digitally.
Domino's took it one step further this year in their mobile-only Points for Pies campaign. A bit of a PR gimmick at first, this mobile marketing strategy actually significantly boosted loyalty, drove sales, and increased reward memberships.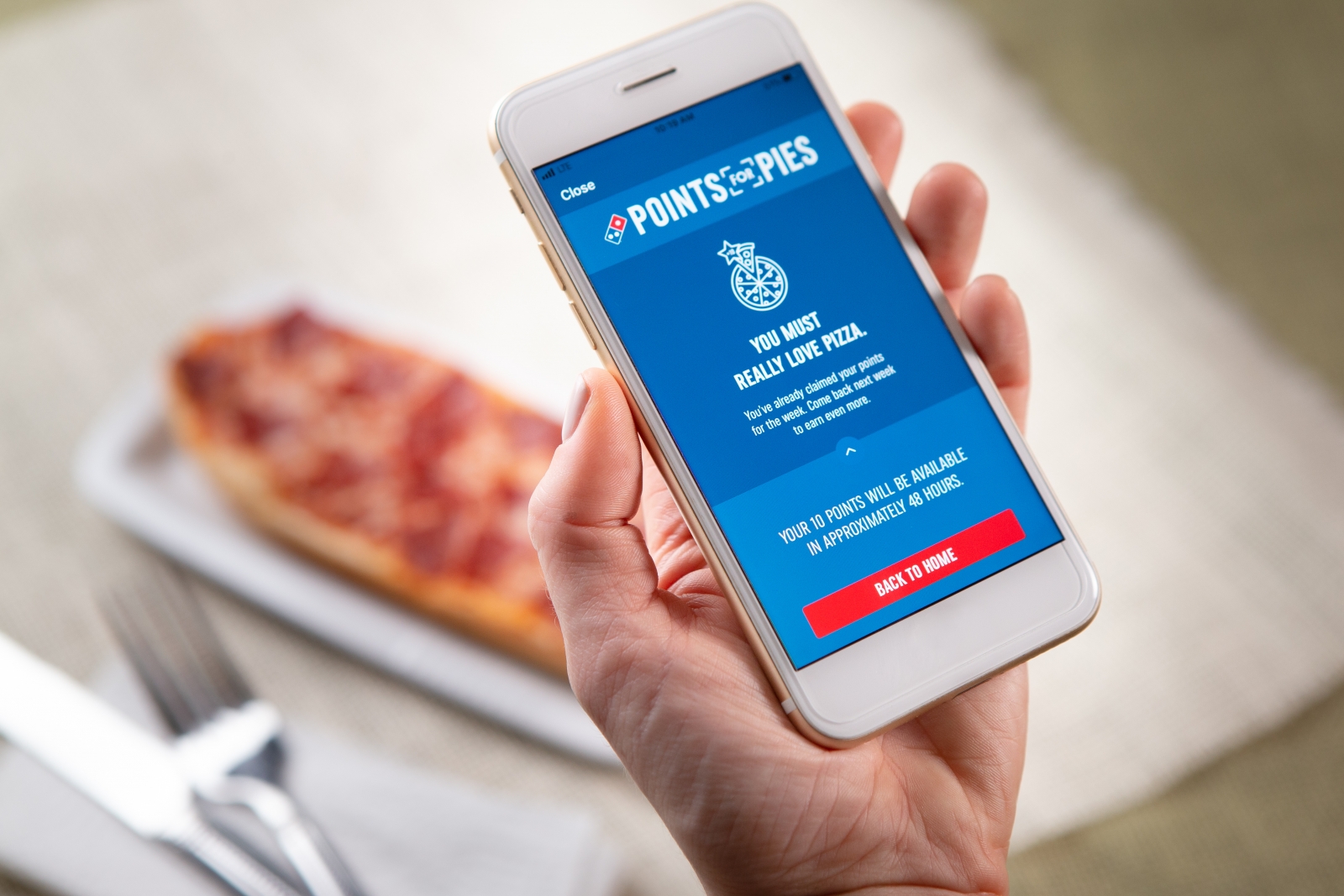 Dunkin'
The DD Perks loyalty program grew 33 percent last year, exceeding eight million members. On top of that, it's reported 80 percent of those customers used mobile ordering at least once. This means approximately 6.4 million highly-engaged people used the Dunkin' mobile app. If that's not proof that mobile apps can drive significant growth for loyalty programs, we don't know what is.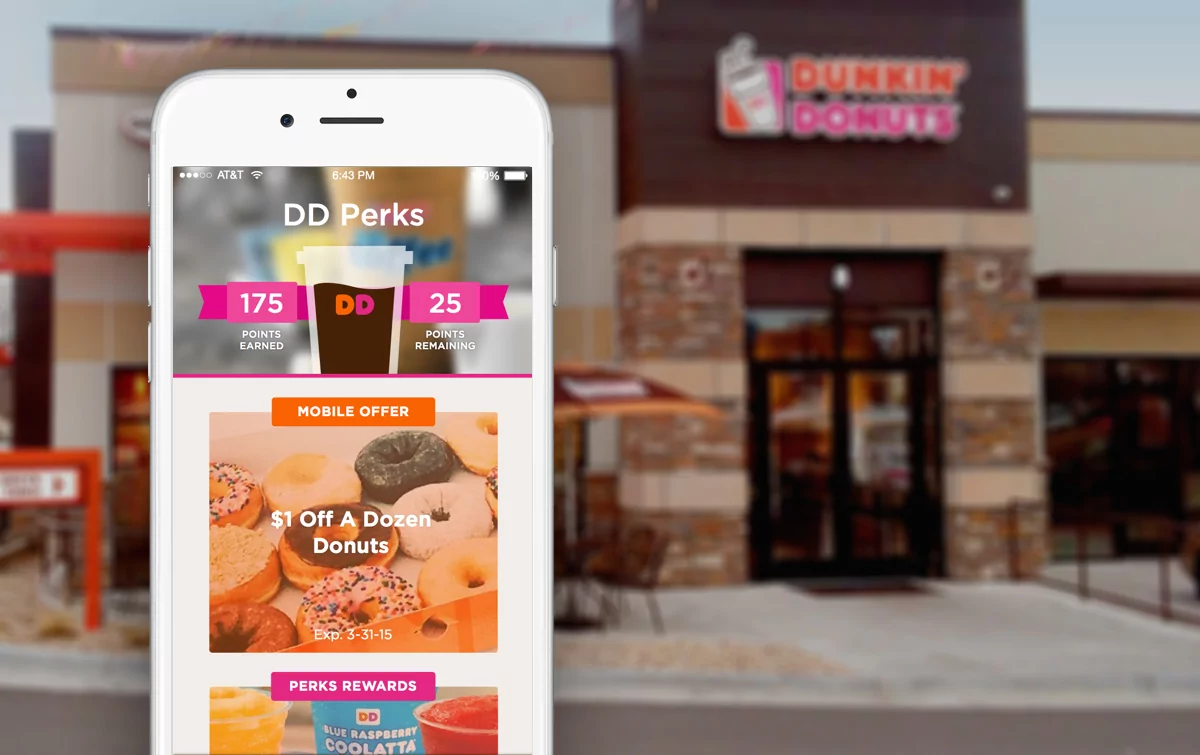 It's clear in-app reward programs can significantly improve customer engagement. The gamification and instant gratification of mobile rewards encourage customers to return time and time again to your app. Your retail brand can also drive sales with your mobile app by building relationships and creating highly customized and targeted offers.
Perhaps the most important reason brands should incorporate their rewards program into their mobile app is the ability to collect valuable customer analytics. By encouraging a larger chunk of customers to engage with your mobile app, you'll be able to track and understand their experience better. Once they're active within your app, you can begin gathering feedback that will help inform your mobile marketing strategy and product roadmap.
All in all, incorporating an in-app loyalty program into your mobile strategy is absolutely imperative for increasing app retention, engaging customers, and driving mobile sales.
Ready to take the next step in improving your mobile customer experience? You can start gathering insightful feedback today with a demo of Alchemer Mobile (formerly Apptentive).