Results from the Alchemer Customer Survey
In August we ran a survey of our customer base to get to know who is using Alchemer and for what. Below you'll find how people use Alchemer, how long people stay with Alchemer/SurveyGizmo, what steps people took to acquire Alchemer, and what are the most important deciding factors in selecting a survey platform. You can also see what pizza toppings and ice-cream flavors our audience prefers.
Some of the results we predicted (pepperoni pizza is the most popular), some just make sense (question types is the highest-ranked feature), and some we didn't expect (mint chocolate chip ice cream just barely lost to chocolate).
All of the charts were automatically generated using the Alchemer reporting features.
How People Use Alchemer
Most of the customers we surveyed use Alchemer for Market Research and Customer Feedback.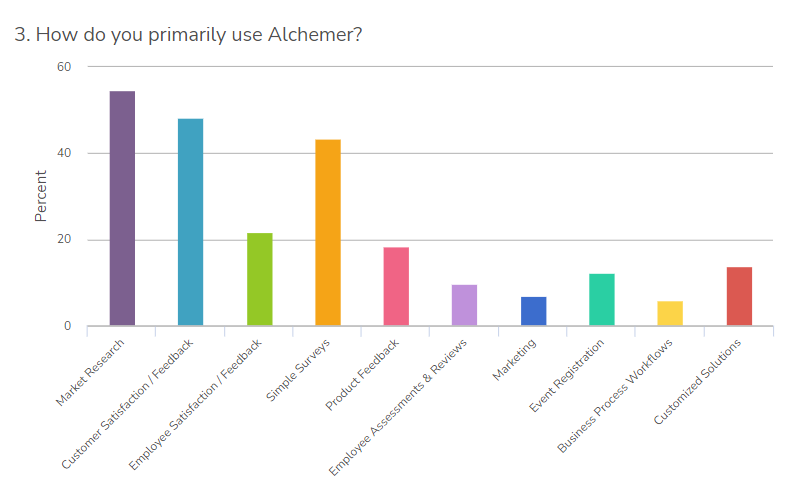 People also use Alchemer for Human Resources (HR) functions, such as Employee Satisfaction, Feedback, and Employee Assessments and Reviews. One of the nice things about the Alchemer platform is that you can use Alchemer to perform HR functions as well as collect market and customer feedback.
Length of Stay
When we asked people how long they have been Alchemer/SurveyGizmo customers, more than half have been with us for more than three years.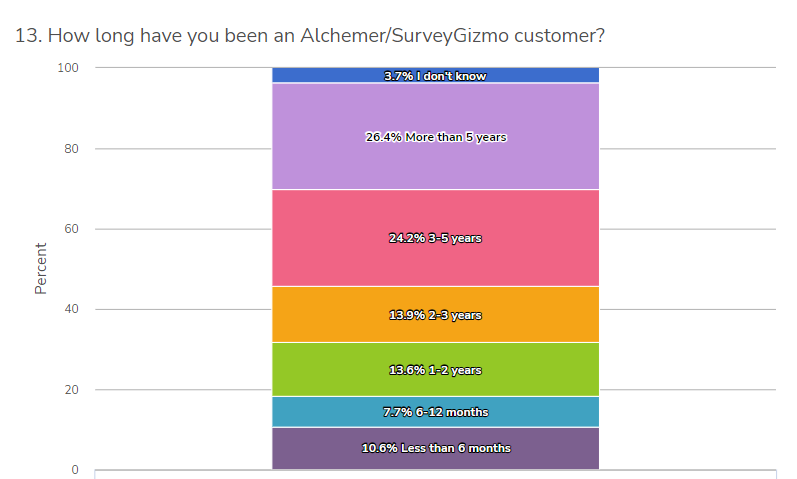 Deciding Factors
We asked people to sort-rank a list of features (and we apologize for making it such a long list), and not surprisingly, Question Types came out on top. Alchemer Collaborator (our entry-level product) has more question types (25) than any of the major players. Alchemer Professional offers 29 question types, and Alchemer Full Access features 43 – almost double our closest competitor.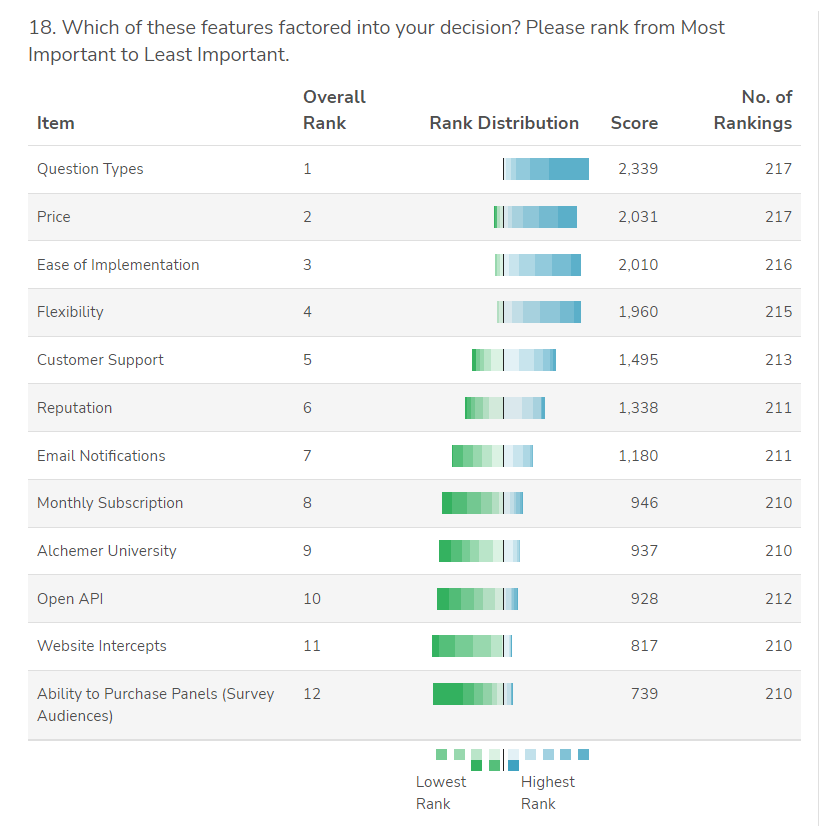 What Steps You Took
Most people started using Alchemer via the free trial. A lot of people also started a free account before moving to a subscription, and almost as many people talked to a salesperson first. Surprisingly, only 18% inherited Alchemer/SurveyGizmo.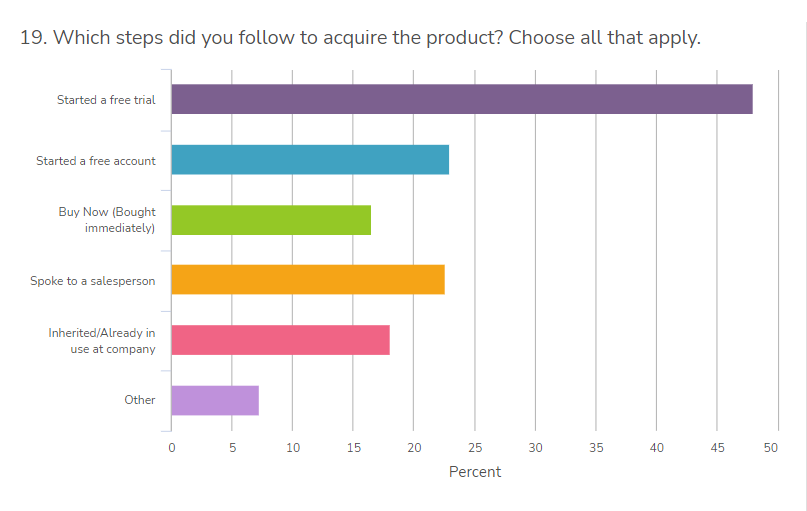 Favorite Flavors
When we asked people for their favorite pizza toppings, we expected pepperoni and cheese to compete, but veggies and prosciutto (ham) beat out cheese for second and third behind pepperoni (although, if you combine cheese and extra cheese, that would sneak into second place at 16.8%.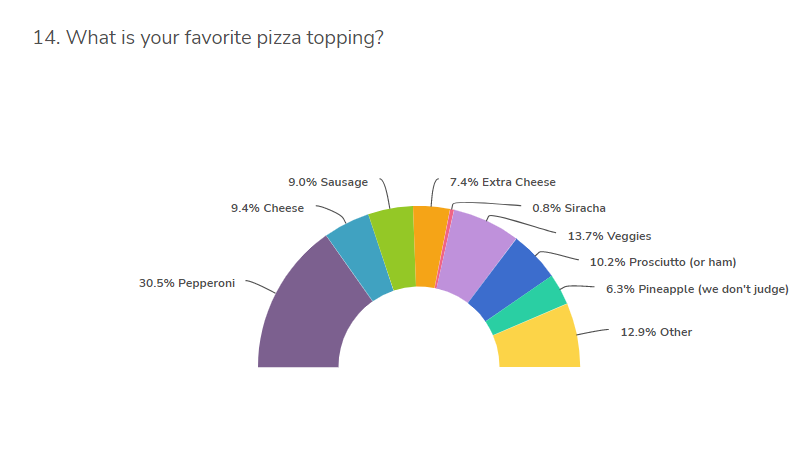 When it came to ice cream, the big winner was Other. Mint Chocolate Chip just lost out to Chocolate by ½ of a percent, with Vanilla coming third.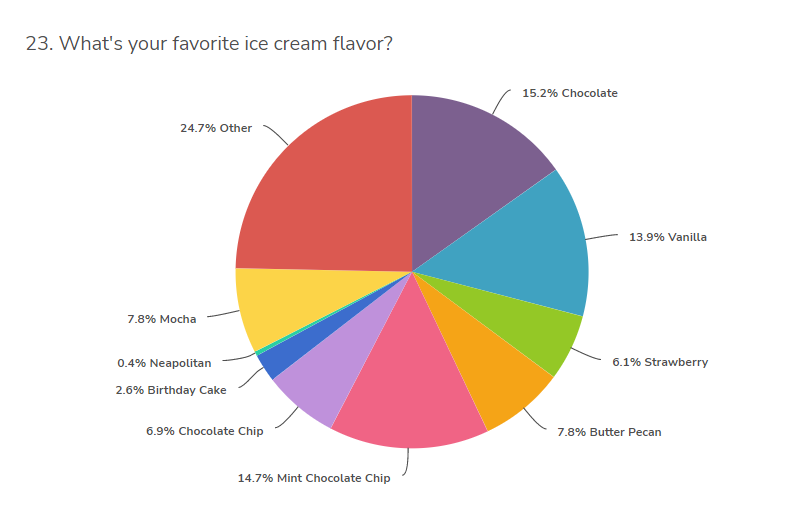 In the "Other" category, Caramel, Coffee, and Butter Cream were the standouts.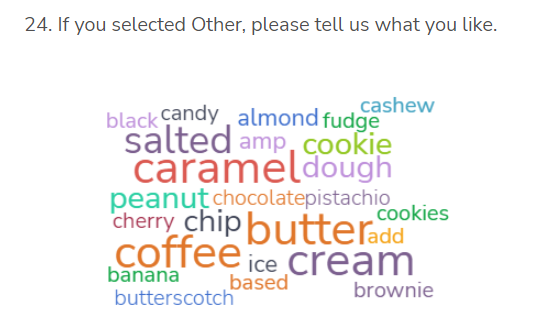 Thank You
Thank you again to everybody who participated in our summer survey. Your feedback on products, sources of information, and uses really helps us know our market better. It also helps us realize where we should be focusing our efforts in the future.