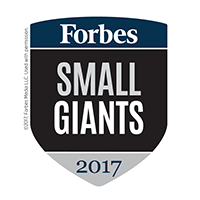 If you asked me back in 2005 that one day I would be reading about my company in Forbes — circulated to well over 3.5 million people — I would have laughed in disbelief. Here we are 12 years later, and Alchemer is listed as one of Forbes Best Small Companies in America. I'm repeating that one in my head… Alchemer, a small Colorado shop is considered one of 25 top small companies in America, and we got this designation from a well-respected publication. I am delighted.
So, what does this mean?
What we see operating today is a platform that has morphed into a mighty behemoth of a solution that helps to solve some of today's biggest data insights challenges yet.

Our customers are the reason why we are here
I could write an entire post about the Alchemer platform and what it offers to the market. I could write an entirely separate post about the talent we have working here at SG, and the direct impact they have on how innovative and agile our product is.
But I want to use this space here to share our sincere appreciation and gratitude for our customers. It's because of you, we are here today. You push us to be better, you challenge us to solve complex problems, and you show us our truest potential.
Our customers from Microsoft and IBM, FedEx, GE, Bloomberg, Medtronic to Habitat for Humanity, Lyft, FuelCycle and IKEA are real leaders that thoroughly grasp the power that information can bring to a modern business. Not only do you understand this is becoming standard practice, but you harness the potential that all that information can have on your decisions, establishing benchmarks, best practices, and staying ahead of the competition because you are more informed and empowered.
When I need to take a second to step back, I often fall back on what author and teacher Stephen Few wrote in his 2012 book: "Numbers have an important story to tell, and it is up to us to help them tell it." Here at Alchemer, we are in the business of storytelling through visualized data and information, and there are important stories businesses need to tell each day to succeed, even if it may not seem as obvious as it should.
Most of our customers would say that Alchemer is in the breakthrough business. We exist to help professionals collect and use information more easily, thoroughly and quickly than ever before — no matter how complex their challenge — so that they can know the unknown, reveal the reality and seize new opportunities.
From the very beginning, we have stood for information. In today's business landscape, information is the source of all great decisions, stunning breakthroughs, and game-changing achievements. Our customers have literally shaped each generation of Alchemer through their honesty, trust, and patience. They have helped identify and utilize our biggest advantages in the marketplace of affordability, scalability, 100 percent customization, and control.
And while the information will always exist with or without Alchemer, it likes to hide in the nooks and crannies, stuck in organizational blind spots or in plain sight where no one has thought to look.
Back in 2005, I told myself this company would be founded on two guiding principles, and in this particular order:
Clients and employees first

Incredible solutions
Our mission, to empower professionals to make informed decisions, has helped us stay on track with each of these principles.
Employees describe our culture as "magnetic, fun, and contagious." Our clients have become accustomed to our customer-centric mindset that is professional, approachable, credible, causal, formidable, and fun. From day one Alchemer has been solely driven by a "with, not for" mentality, and it has done quite well for our clients and us.
This designation is nothing short of an honor, and I feel deeply humbled, but know this: we are the Alchemer we are today — with over 100 employees spread across Boulder, Seattle, St. Louis, and Maine, with customers around the world — all because our customers are everything to us. We can't wait to see what is in store for the rest of 2017.